Five reasons to collect Joan Miró 's lithographs:
1. One of the most easily recognizable artist, Joan Miró belonged to a circle of Surrealist and Dadaist artists in Paris (Picasso, Max Jacob, Ernest Hemingway, etc.), yet he never subscribed to a particular movement or style. Instead, he developed a sophisticated system of symbols and icons that were all his own.
2. Though Miró began his practice as a painter, he returned to his homeland of Spain after World War II where he expanded his practice, collaborating with poets like André Breton, and experimenting with alternatives to painting: printmaking, ceramics, sculpture, and tapestries.
3. This lithograph was produced posthumously in 1975 by Polígrafa Obra Gráfica in Barcelona, Spain. The edition publisher, established in 1964, is known for its high quality editions with some of the most recognized artists of today—like Henry Moore, Francis Bacon , Robert Motherwell , Ed Ruscha , Alex Katz , Helen Frankenthaler , and Max Ernst among many others.
4. Maravillas con variaciones acrósticas en el jardín de Miró IV was referenced in Patrick Cramer's catalogue raisonnés Joan Miró: The Illustrated Books (published in 1989) and Joan Miró: The Lithographer V, 1972-1975 (published in 1992.)
5. Miró's work is found in collections all around the world, including the Museum of Modern Art, Tate Britain, and the Reina Sofia in Madrid, among others. Join these institutions in adding Miró's work to your collection!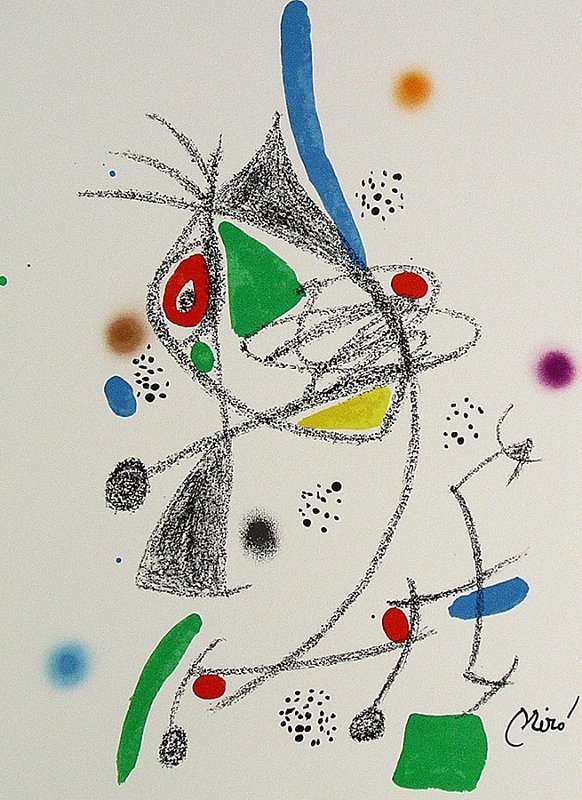 Maravillas con variaciones acrósticas en el jardín de Miró IV (1975) is available on Artspace for $573
[related-works-module]