Here are four reasons why you should add this print of Jordan Wolfson's 2017 piece Untitled to your collection:
1. Jordan Wolfson is undeniably a rising star in the art world. Spanning media including video and film, sculptural installation and virtual reality, his sensational works are characteristically controversial.
2. His provocatively titled Colored Sculpture (2016) (which debuted at David Zwirner and has since travelled to the Tate Modern in London) and his 2017 virtual reality piece Real Violence at the 2017 Whitney Biennial are Wolfson's most recent spats with controversy over the violent nature of the works. Still, Wolfson's works remain jarring and irreplaceable contributions to how we perceive and relate to violence and entertainment, and how the two are often blurred in contemporary society.
3. That being said, this untitled 2017 print is relatively lighter fare—in fact, it's kind of cute!
4. This edition was printed by Parkett—a globally renowned studio that collaborates directly with top-tier artists to create truly spectacular editions that can be anything from prints, objects, installations, to unique works of art. With 101 books and 270 in-depth artists' collaborations published, Parkett is a one-of-a-kind time capsule and a venerated archive of contemporary art.
5. This print, full of profanity, is a great way to hint at how you really feel when out-of-town relatives-in-law visit without, you know... screaming it over dinner. Let your freak flag fly!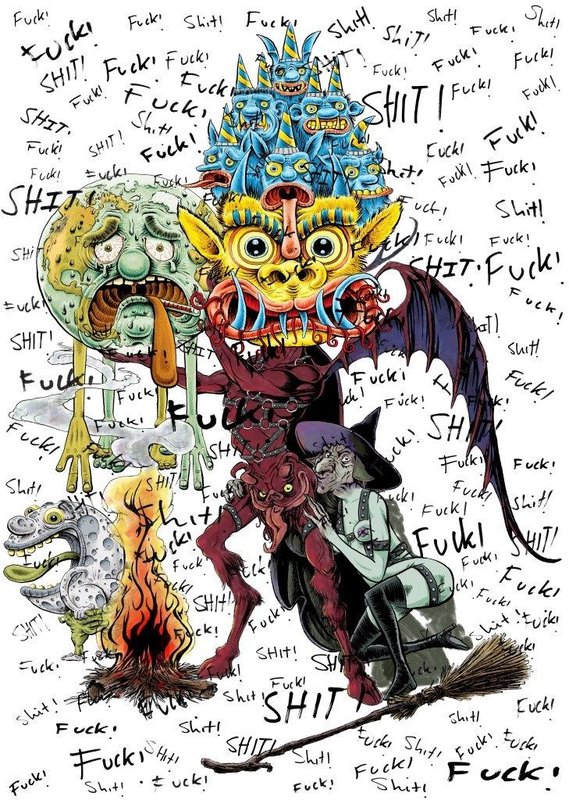 Untitled (2017) is available on Artspace for $2500 or as low as $220/mo.