Here are seven reasons why Guy Overfelt 's Sujet Poisson Bong (After Picasso) is worth adding to your collection:
1. You read that right. Guy Overpelt's Sujet Poisson Bong (After Picasso) is… a bong, to be blunt. Whether or not you partake (or shall we say, par-toke?) in intoxicating inhalation, this functional water pipe settles in nicely on any shelf or coffee table. Doobie-ous? Don't be. Sujet Poisson Bong (After Picasso) is sure to exceed your high expectations.
2. Sujet Poisson Bong (After Picasso) is a near-exact replica of Pablo Picasso 's famous 1954 earthenware vessel, Sujet Poisson (Fish Subject). A wry experiment in forgery, Sujet Poisson Bong (After Picasso) challenges the cult of the icon, and the relationship between the author and the intoxicating effect it has on the viewer.
3. Perhaps best known for his car sculptures, Guy Overfelt has made a name for himself by exploring notions of the American Dream via car culture. He often references—and re-contextualizing through printmaking, performance, and sculpture—automotive brands, and considers himself a post-conceptual artist.
4. Of Overfelt's work  in an exhibition at New York's prestigious White Columns, critic Roberta Smith wrote in the New York Times that his "Conceptual Art antics combine aspects of Chris Burden, Vito Acconci, Don Celander, Julia Scher and even Rirkrit Tiravanija."
5. You may have seen his work in a recently aired documentary film called Burning Rubber on Bravo. The artist has also been reviewed in featured in publications like The New York Times, New Yorker, Art Papers, Time Out, Surface Magazine, and many others.
6. Guy Overfelt's work has been exhibited internationally in museums and galleries like the the Oakland Museum of California, Jack Hanley Gallery, White Columns, the Guangzhou Triennial in China and the Havana Biennial in Cuba.
7. The price of Picasso Bong is $420...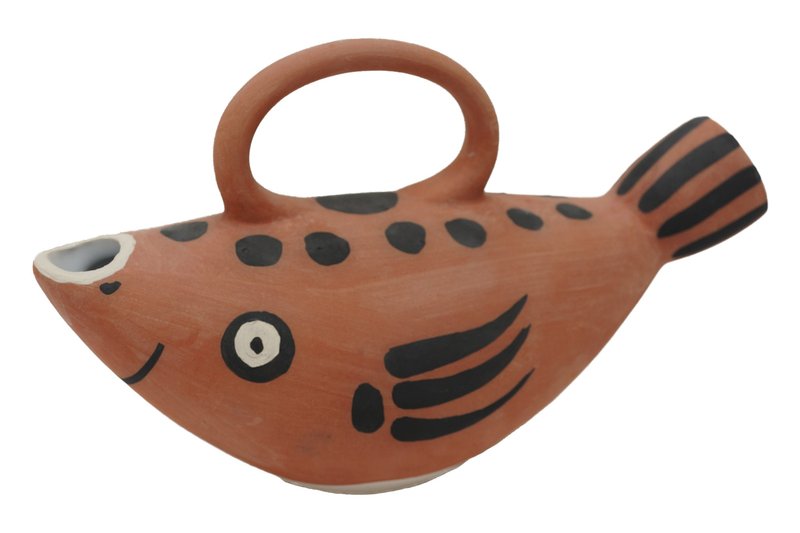 Picasso Bong is available on Artspace for $420
RELATED ARTICLES:
4 Reasons to Collect Pilar Wiley's Patterned Ceramic Vessels
For Good Luck: Collect Jiha Moon's Ceramic Fortune Cookies
8 Game-Changing Contemporary Ceramists to Add to Your Collection