Five reasons to collect Mr.'s lithographic prints:
1. Perrotin gallery in Paris is mounting a solo exhibition of Mr.'s work, opening January 19 and on view until March 9. The exhibition, entitled "Mr.'s Melancholy Walk Around the Town," represents and exudes the bustling chaos of the metropolis, and the isolated sense of loneliness and melancholy that comes with inhabiting it.
2. A former protégé of Takashi Murakami , the Japanese artist Mr. was included in Murakami's 2000 exhibition "Super Flat," which launched him towards international recognition.
3. He's since exhibited his work at the Seattle Art Museum, the Japan Society in New York, the Museum of Fine Arts, Houston, and the Musée d'art Contemporain de Lyon among many others. He's represented by Perrotin and Lehman Maupin.
4. A self-proclaimed Otaku (a Japanese term for people with an obsessive interest in anime and manga), Mr. appropriates the anime/manga style to depict boys and girls—sometimes portrayed as innocent, and sometimes represented with more sinister, violent, or sexualized undertones.
5. Making Things Right (2006) is an incredibly detailed offset lithograph (roughly 24 inches by 35 inches) with speech bubbles depicted "zoomed in" scenes. The armor-clad figures call to mind Henry Darger's Vivian Girls of the "Realms of the Unreal," albeit with a manga spin. It's truly a steal for $750.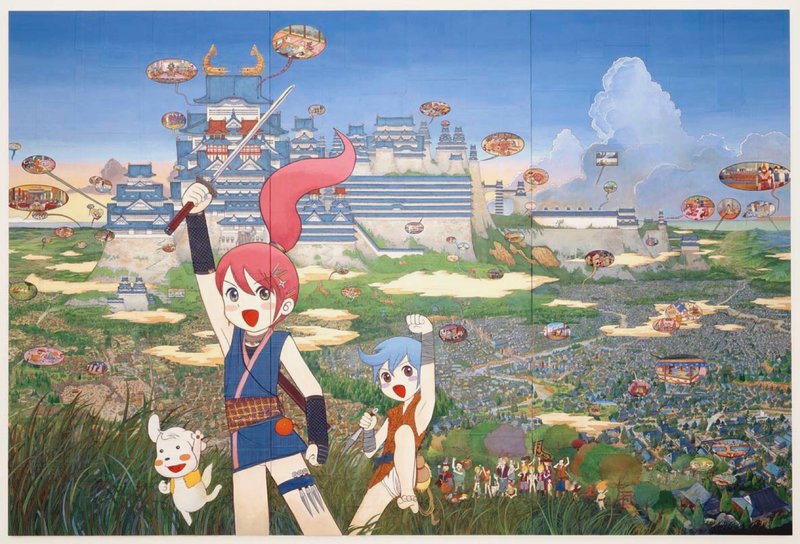 Making Things Right (2006) is available on Artspace for $750
[related-works-module]