In April 1930, Dutch artist Theo van Doesburg wrote his Manifesto for Concrete Art in the only ever issue of Art Concret magazine, published in Paris. Born out of a reaction to the growing Surrealist movement and emerging from the aftermath of De Stijl, Concrete Art placed its emphasis on geometrical abstraction, and set out rules for artists to adhere to. Work would be universal; it would be planned not spontaneous; it would be built up purely of surfaces and colors; it would always aim for clarity and simplicity and it would avoid Impressionism.
"Today, the idea of 'artistic form' is as obsolete as the idea of 'natural form', van Doesburg wrote. "We establish the period of pure painting by constructing 'spiritual form'. Creative spirit becomes concrete."
Van Doesburg died in 1931 but the movement lived on, particularly through the work of designer Max Bill of the Bauhaus who organized Concrete Art's first group show in 1944 and would go on to curate retrospectives and publish monthly bulletins around the theme, as well as promoting it across Latin America. Post-World War Two, the movement spread with its rules and principles incorporated by other art groups and movements. The work that has resulted is diverse and multi-faceted, but always clean, always striking and always visually impactful. Here are the best pieces from the Artspace archive, which have been inspired by Concrete Art, and are available now.
Shizuko Yoshikawa - Geometric Composition - Constructive Art, Concrete Art, Konkrete Kunst (1994)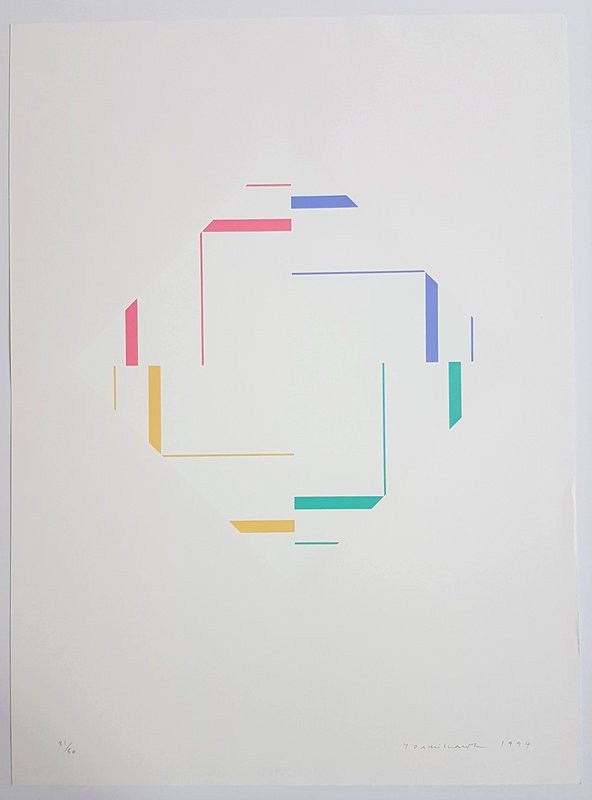 Shizuko Yoshikawa is an abstract painter born in 1934 in Japan. She was one of the first Japanese students to attend the Ulm School of Design, the German institution generally regarded as the successor to the Bauhaus. Having married Swiss designer Josef Müller-Brockmann, she would spend most of her life in Switzerland, until her death in 2019.
She's a notable figure within Concrete Art for several reasons – partly her uncommon Japanese heritage, but also for being a woman working within a discipline which was typically very male-dominated. Her monograph describes her painting – marked by a slightly lighter, more spacious feel than the work of many of her male peers – as combining 'the rational concepts of European modern art with the poetry and ease of the Zen tradition.' This piece dates from 1994, Yoshikawa's arrangement of pink, green, blue and yellow angles printed as a color silkscreen, signed and dated in an edition of 50. A perfect piece by one of the unsung talents of Concrete Art. Take a closer look here.
Imre Kosics, - Untitled from La Lune en Rodage III (1971)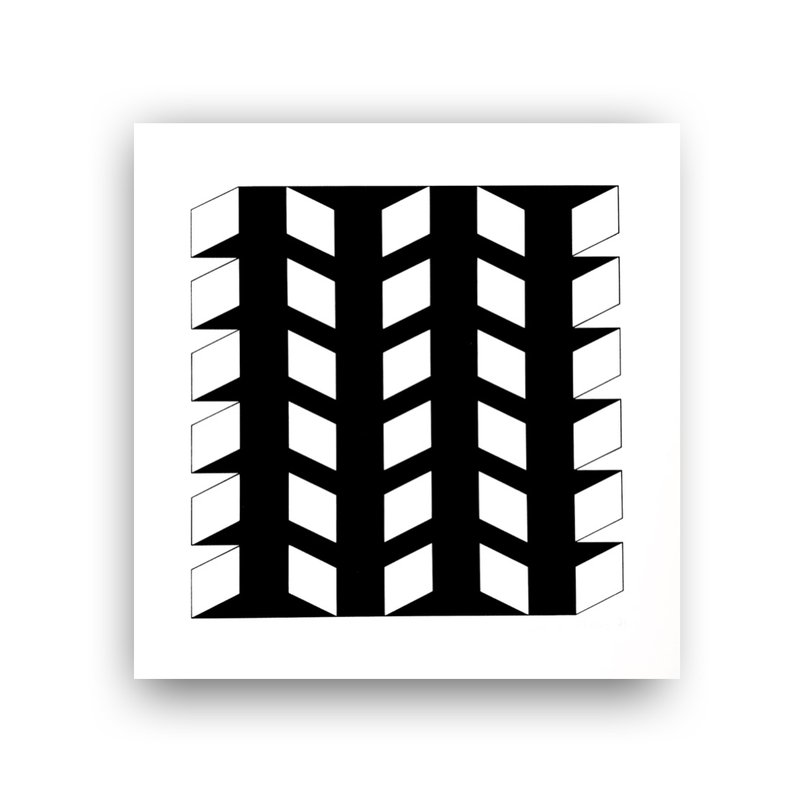 Hungarian-German graphic artist Imre Kosics learned his craft and developed as an artist through some of Europe's most turbulent years. Beginning his studies in 1958 at the College of Fine Arts in Hamburg, he formally emigrated from Communist-controlled Europe to Germany a year later, eventually settling in Dusseldorf in 1971. The late Seventies and early Eighties saw him take up a residency at the Stedelijk Museum in Amsterdam with other postings following at MoMA PS1 in New York and the Department of Sculpture in Reykjavik.
In Kosics' earlier work he moved through experiments with more standard figurative work, but from 1968 he radically altered course and started to explore how shape, line and negative space could be used to create an image, while aggressively paring his palette down to black and white. The large-scale paintings he produced from this point on are the product of an artist with a complete grasp of form, optical effects and geometry. What appears to be incredibly simple work reveals real depth and complexity the longer you work with it. This edition is an edition of 230 and is signed in pencil. Take a closer look here.

Yves Klein - Monique (ANT 57), 2004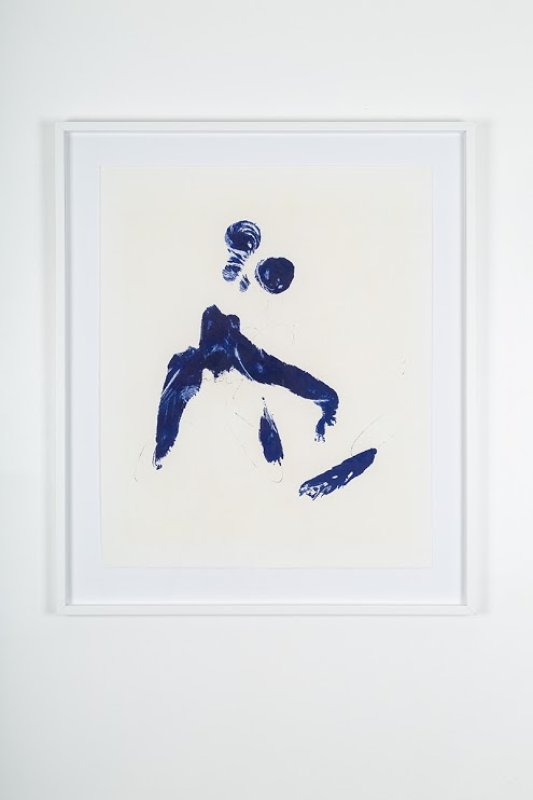 Few artists took the principles of Concrete Art and reduced them so efficiently as Yves Klein. Born in 1928 in Nice, France, Klein's parents were both painters from the Paris avant-garde and after a period travelling through Europe and Japan in his early twenties, Klein settled in the French capital. Even in his early work he had begun to explore deeply key themes of monochromaticism, infinity, repetition and minimalism. In 1957 he settled on the key motif with which he would be associated, when he developed his own blue pigment, later named IKB ('International Klein Blue'). This deep, radiant shade became indelibly associated with Klein and drove his attempts to create works which were to be 'the ashes of his art', traces of emotion that the human eye could not normally see. With this rigor and focus Klein applied himself to painting, sculpture, art and performance.
Monique (ANT 57) is a lithograph of a Klein piece originally painted around 1960 from dry pigment and synthetic resin onto canvas-mounted paper. This formed part of Klein's Anthropométries series, in which the artist used his female models as 'living paintbrushes' to create studies of the human body and its measurements. With the models covered in IKB paint, Klein directed them to produce imprints of their bodies while an audience enjoyed a blue cocktail and listened to a performance of his Monotone Symphony – a single note played for 20 minutes, followed by 20 minutes of silence. 'In this way, I stayed clean,' explained Klein. 'I no longer dirtied myself with color, not even the tips of my fingers.' This lithograph is a numbered edition of 300, certified by Archive Yves Klein. Take a closer look here.

Jo Niemeyer, - Variation 78 I (1978)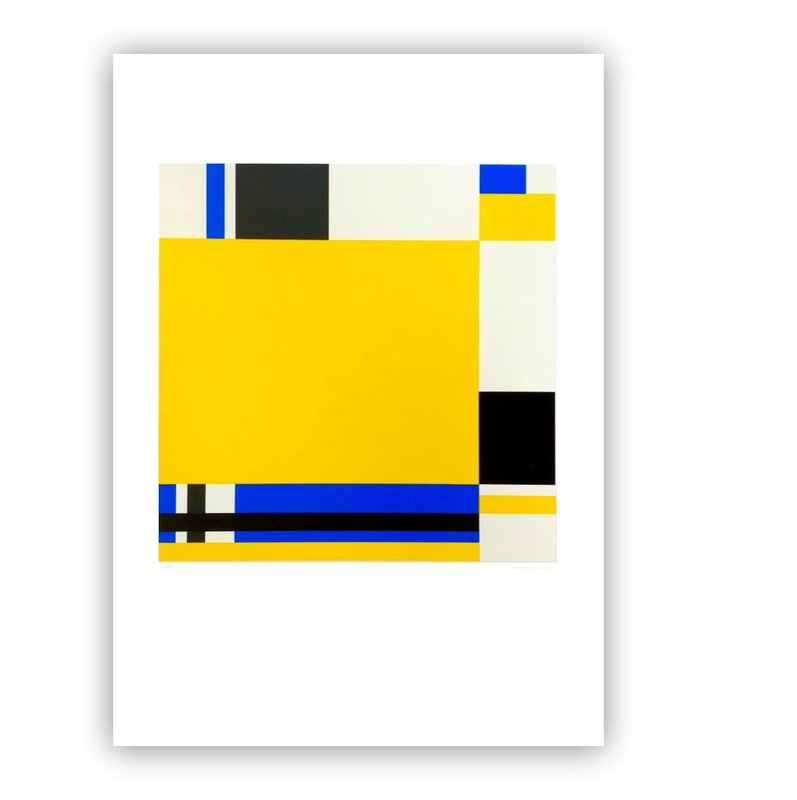 Jo Niemeyer was born in 1946 in Germany to an artistic family. His father was a painter who had seen much of his work destroyed during World War Two after being labelled 'degenerate'; his mother was a textile designer and oversaw a handloom-weaving factory at the State School for Arts and Crafts in Saabrucken. Having first studied photography and graphic, Niemeyer eventually combined these disparate influences in 1966 with the creation of his first geometric painting.
Working extensively in Helsinki he studied Finnish architecture, was a keen skier and drew great inspiration from the interplay of clouds, light and space in nature when creating his own art. As well as his graphic work, he has created vast land-art projects, geometric sculptures, digital projects and in 1986 even seen his work applied to the body of a Porsche 959 for the Le Mans race. This silkscreen print of his Variation 78 I piece is limited to an edition of 75, and comes signed and numbered in pencil by the artist. Take a closer look here.
Piet Mondrian - Large Square Serving Tray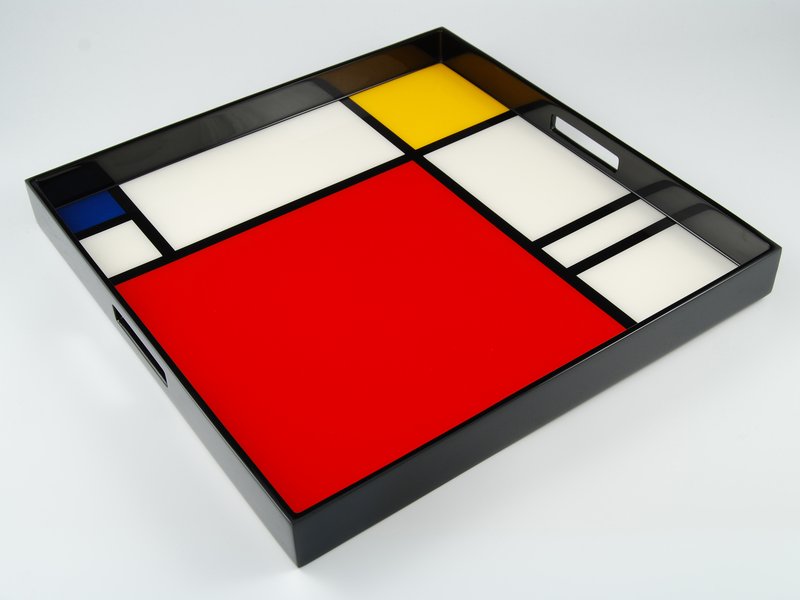 Dutch painter Piet Mondrian is best known for his Composition paintings, lines, white squares and colored shapes, arranged into deceptively simple, grid-based patterns. Having moved to Paris in 1912 he was heavily influenced at first by Cubism, but following his move back to Amsterdam he simplified, purified and refined this geometric approach down into his own purist take on it.
In Mondrian's visual world, there are two opposing forces – the vertical and the horizontal, and his constant examination of the interplay between them, interspersed with primary colours, would eventually resolve into what he termed Neo-Plasticism. His influence has loomed large over much of what came later – the Bauhaus, pop art, minimalism, fashion design and graphic design. This piece applies one of Mondrian's most famous grids to a tray, crafted in lacquered wood and stamped for authentication by the Mondrian Foundation. Take a closer look here.
RELATED ARTICLES
Amazing Artists who Worked Best in Isolation
The Artspace Group Show: Contemporary Landscapes