While the world around us may seem increasingly precarious and uncertain, there's joy, escapism, and significant anxiety relief to be found in the realm of aesthetics. In a study from the University of Westminster, participants' overall stress was proven to decrease markedly after 35 minutes of art exploration—the brain is hard-wired to process emotion, which activates our pleasure and reward centers. Artistic engagement of any description improves cognitive activity and lowers cortisol levels  -  all the more reason to start considering art ownership as part of your program to center yourself in incalculable times.
Here at Artspace, we've put together a gallery of beautiful, ataractic artworks to help mend the nerves. Here are ten pieces of the thousands on offer at Artspace that will transport you to a different dimension, away from the madness of this moment in time.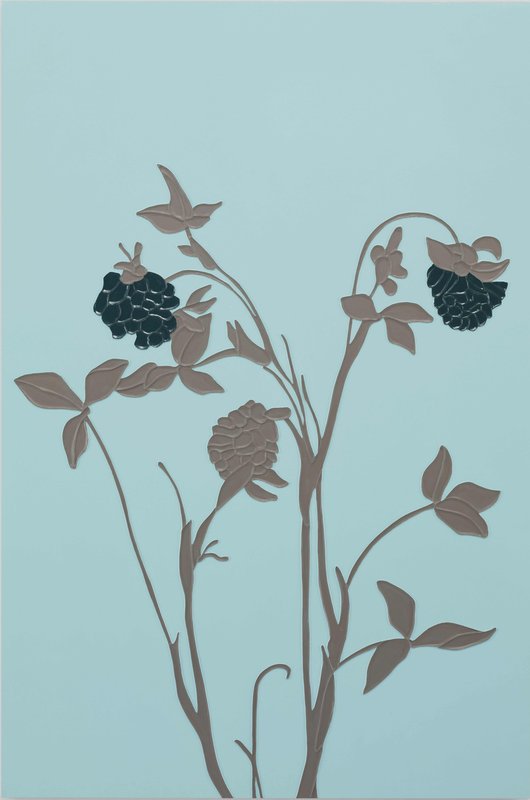 Linocut on Somerset Soft White 300 gsm paper, 25.59" x 17.32", edition of 65, available right now for $2,404
It doesn't get much prettier than this elegant little print by legendary YBA and tireless aesthete, Gary Hume. The king of subtle displacement, this piece is less a commentary on compositional slippage than a triumph of economic decoration—just the vibe we're going for right now. The icy background is puncturated perfectly by heather gray and deep, potent turquoise, recalling references as diverse as the Aesthetic Movement's plush interiors and the high-shine material deliverance of the Post-Minimalists. Quiet, but never unassuming, Morning will prove a resplendent addition and no small amount of inspiration to any home workspace hang.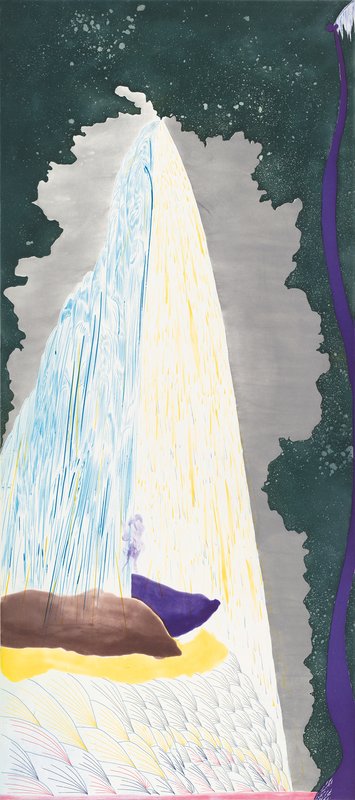 Color spite bite and sugar lift aquatints with hard ground etching and drypoint, 54" x 28", available now for $6,000
In keeping with the YBA theme, here's a slow, dreamy print by Chris Ofili, featuring poetic color interplay, soft edges, and the kind of other-wordly visual pacing built to whisk the viewer away. This piece hails from a series tracking Ofili's explorations of Trinidad, where he is currently based, and draws from personal photographs, cultural archives, and found documents to form its gentle collage. There's a musical quality to this piece, and the artful centrality of its light source feels almost symphonic in its deployment, a compositional thoroughfare designed to pace the eye. Last Night, New Day blooms for the viewer, beckoning us through each piece of the visual palimpsest.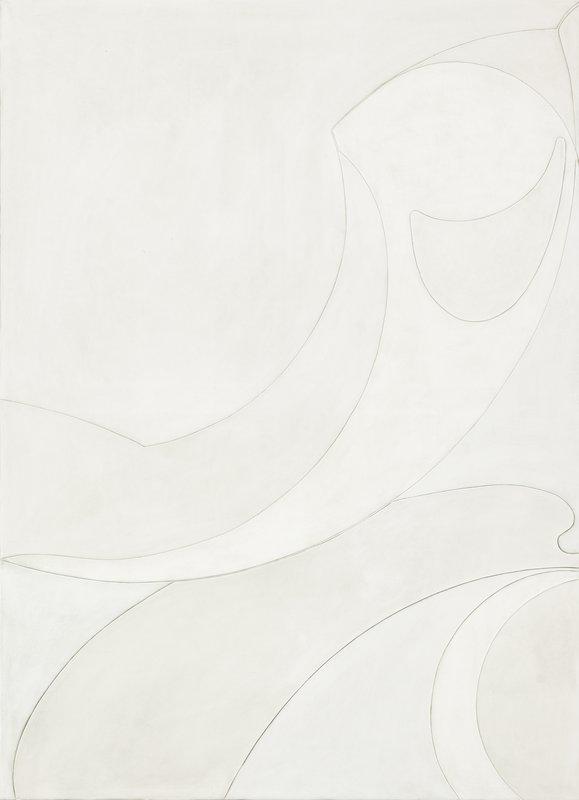 Oil on canvas, 70.87" x 51.18", unique work, available now for $4,281
There's really no one better than Deininger, whose paintings combine architectural precision with an exquisite grace heretofore unseen outside of the old school Modernists. One can't help but recall the styles of under-rated masters like Charles Scheeler and the Precisionists in her meticulous linework and design-inspired tonal dynamics. This piece is a symphony in cream, letting texture tell its story in a whisper akin to visual ASMR. Deininger is the undisputed queen of balance; she understands how to lock in harmony without eradicating needful risk, and the results, while calculated, never betray a glint of sweat. Nowhere is the complexity of her oeuvre on better display than in Untitled, where, in the absence of color, the scaffolding of her abilities is laid bare to spectacular effect.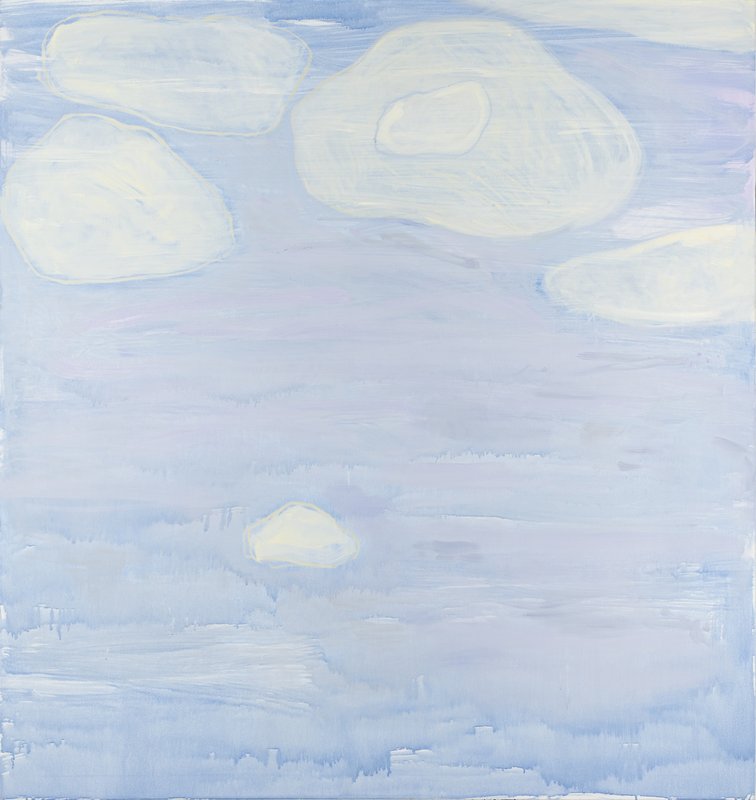 Oil and acrylic on canvas, 72" x 68", unique work, available now for $6,500
There's little tension to speak of in this lovely, buoyant painting by Canadian artist Smith, who started painting sky-scapes with her non-dominant hand after nerve damage threatened to close shop on her painting practice. Sunny, bright, and explicitly healing, this piece is sure to raise even the lowest of spirits, and does so in a breezy display of textural prowess that belies a casual tone. Drips, layers, and gorgeous moments of skipping striation provide unexpected moments of interest; the glimmers of transparency she achieves provide welcomes caesuras in this dreamy piece.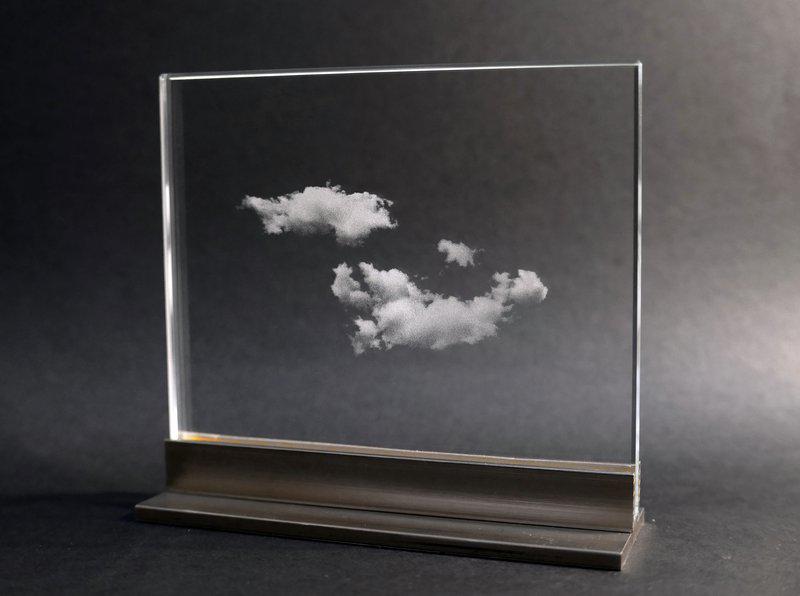 Laser engraving inside glass, 4.53" x 5.12" x .39", unique work, available now for $1,647
While we're on the subject of clouds, how precious is this piece? Parisian artist Charbonnel is all about the relationship between nature and science, and this breath of fresh air captures that liminal materiality in utterly delightful terms. Nephele 5 looks like a cross-section of a passing moment, the sort of "capture" that speaks to Charbonnel's capacity for immediacy without resorting to shock. The resulting sculpture feels like a sample from a reverie, small,  intimate, and astonishing.
Gingumo [slver cloud] orange yellow, 2014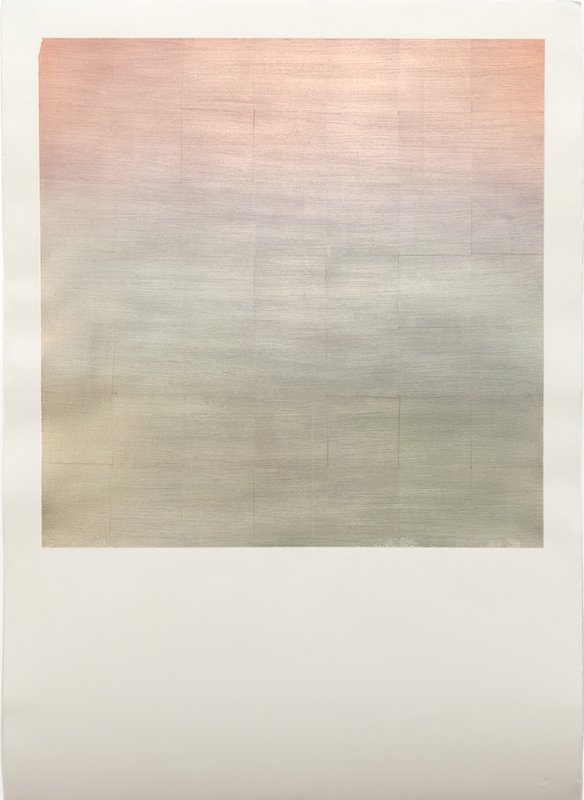 Acrylic and silver leaf on Arches Cover, 41.38" x 29.50", edition of 5, available now for $2,400
Ando makes airy, meditative, process-based works using patinas, acids, and sandpaper on anodised steel or aluminum. These techniques reflect her heritage as the daughter of Buddhist priests and swordmakers, artisans for whom procedure and lifestyle were held as sacred and production served as a by-product of faith. Her pieces, slow moving, methodical, and sweet, hum with the soft undulations of a mantra, and feel warm, personal, and proximate.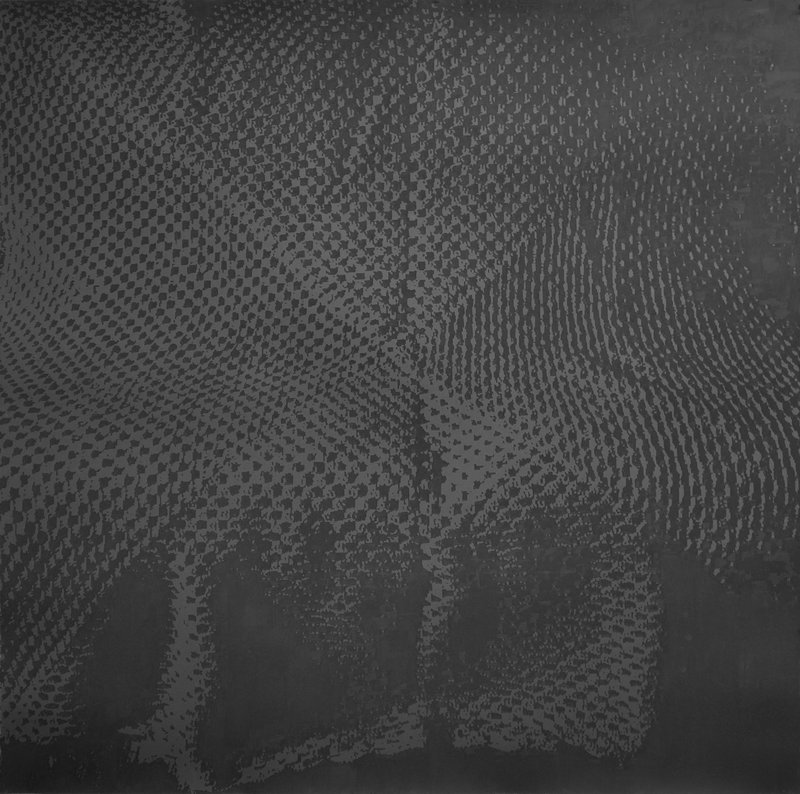 Charcoal on black paper, 50" x 50", unique work, available now for $4,800
This lush interpretation of space and texture by Hudson Valley artist Mahr feels as velvety as it does hypnotic, a winning combination for the synesthetic amongst you. This satisfying piece has the kind of field depth anyone can get lost inside, a testament to Mahr's delicate touch and confident hand. Overlay has an interesting material overture, offering the binaristic finish of a print with just a deft charcoal mark. This particular work articulates surface through gradation, a trick of the eye that allows the viewer to ride the swell of movement achieved.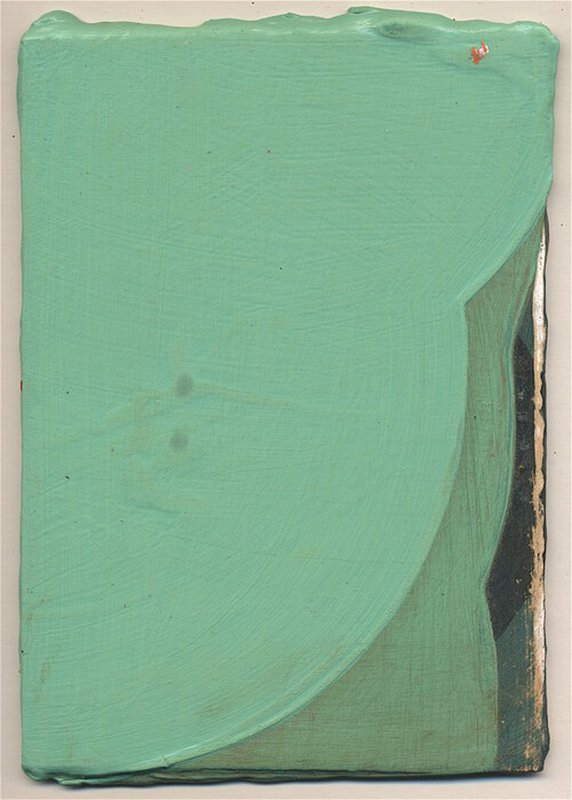 Acrylic on board, 7.50" x 5.50", unique work, available now for $250
Kansas native Nugent makes thoughtful, haptic paintings that beg the touch of a viewer's eye. Devotional, yet gestural, her acrylics toy with intimacy, reifying abstraction with a winking, understated flirtation. Nugent's sense of touch is evident in this piece, especially in the upper right hand corner, where a fleck of orange ruptures a brushy plane of creamy turquoise. Her crooning, felt relationship with the edge, sometimes subsumed by paint, sometimes carefully framed or carved free, imbues the piece with a haunting corporeality, bolstered by her grungy, studio-inflected treatment of the acrylic's surface.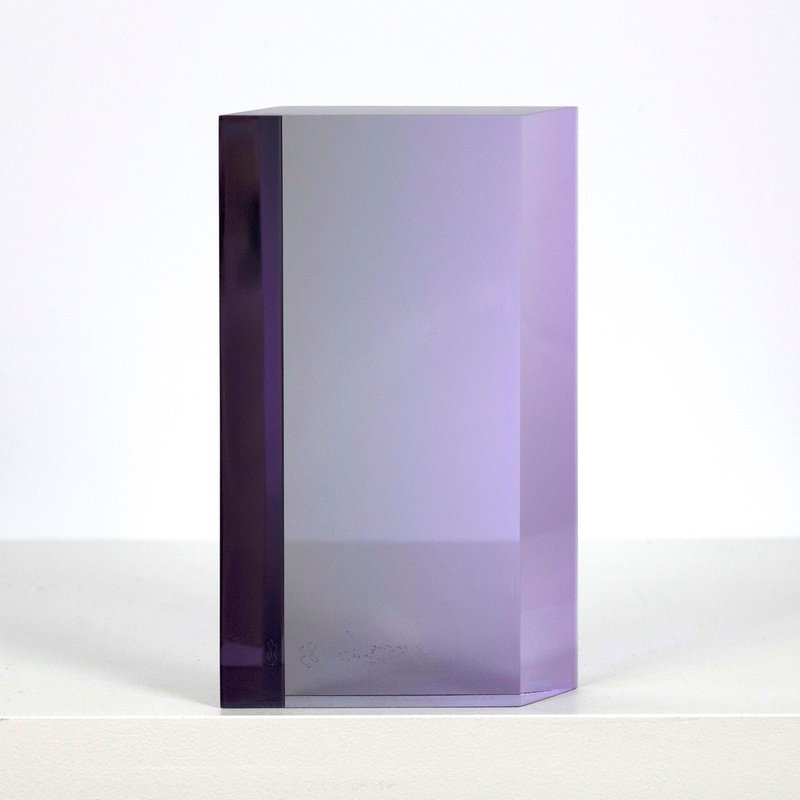 Acrylic sculpture, 7.50" x 4.50" x 1.50", available now for $2,350
This darling throwback typifies everything we love about the late '60s minimalist sculpture that changed the landscape of contemporary art. Yugoslavian-born Mihich combines romance and geometry in this sleek, gorgeous monolith. Mihich is a legend who came to fame with Californian minimalists nearly 50 years ago, and has long been considered a "plastics pioneer", elevating the form through dogged experimentation. This paean to form, to the simple majesty of a shape, creates its own perspectival semiotics, recalling the grandeur of a skyscraper tandem with the magic of a prism.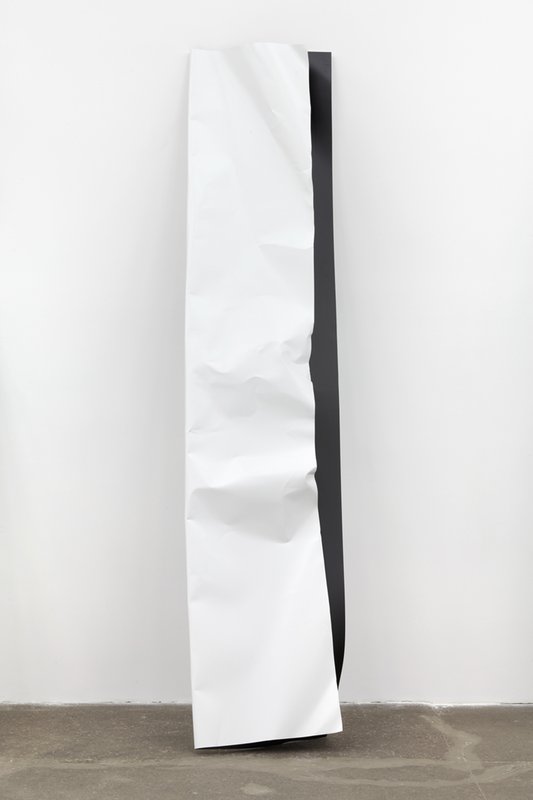 A luminum and powder-coated aluminum, 120" x 26", unique work, available now for $24,000
Is there anything more divine than this? Lopez's reserved, achingly ideal sculptures build upon John Chamberlain's legacy with an almost religious restraint, fashioning totems from unlikely sources. This leaning wonder reminds viewers precisely why formalism will always be relevant and abstraction can absolutely translate the sublime for viewers. Blue Angel is a study in striking intervention, the expert crumples, the poetic folds, the transformation of something both clinical and discarded into something organically beautiful.
RELATED ARTICLES
Amazing Artists who Worked Best in Isolation
The Artspace Group Show: Contemporary Landscapes