The history of photography itself is intrinsically bound up with that of architectural photography. The world's oldest surviving camera photograph – View From The Window at Le Gras – was created by Nicéphore Niépce around 1827 and shows the buildings on his estate as viewed from his window. The desire to document our surroundings has remained constant among photographers ever since. No building operates solely in a functional capacity – some are works of art in their own right, some are cultural symbols and some are hugely evocative memory-triggers. At times they can be all three, their significance shifting with time and history. These are some of our favourite pieces currently on Artspace by artists who have documented their physical environment and made us look at it afresh.
Brasilia Cathedral at night, 2015, Andrew Prokos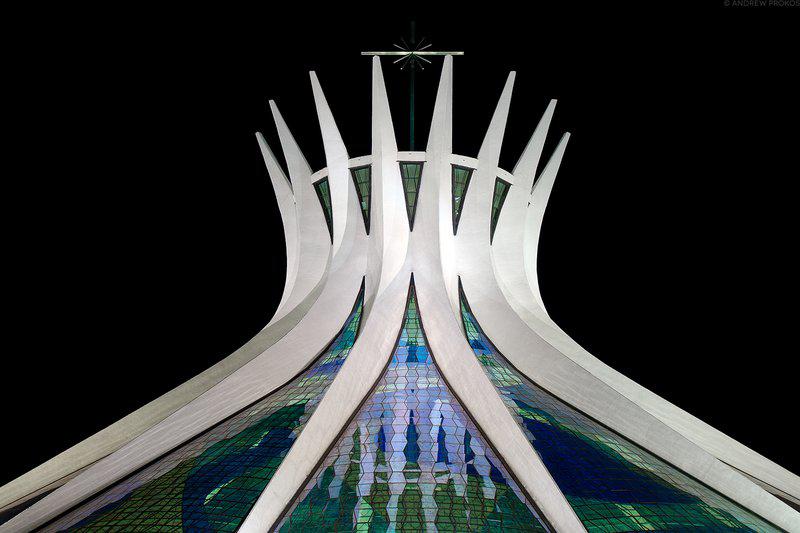 As a fine art photographer, Andrew Prokos (b. Chicago, 1971) has documented some of the world's most stunning urban environments. Shooting at very high resolution, and often utilising exposure times of up to 30 minutes his images have a still, eerie beauty. He has shot New York City, Roman ruins, the UAE and the strange structures of amusement parks, but perhaps his most celebrated series arose from his travels to Brasilia in 2012-13, when he extensively documented the architecture of Oscar Niemeyer's radical modernist utopia. Using the city's water features to build reflections into his composition and setting the structures against dramatic blue black skies. This shot – of the vast crown at the top of the hyperboloid concrete structure of the Cathedral of Brasilia – is perhaps his best and comes as an archival pigment print, signed and numbered.
Library Hall 2015, 2020, Reinhard Görner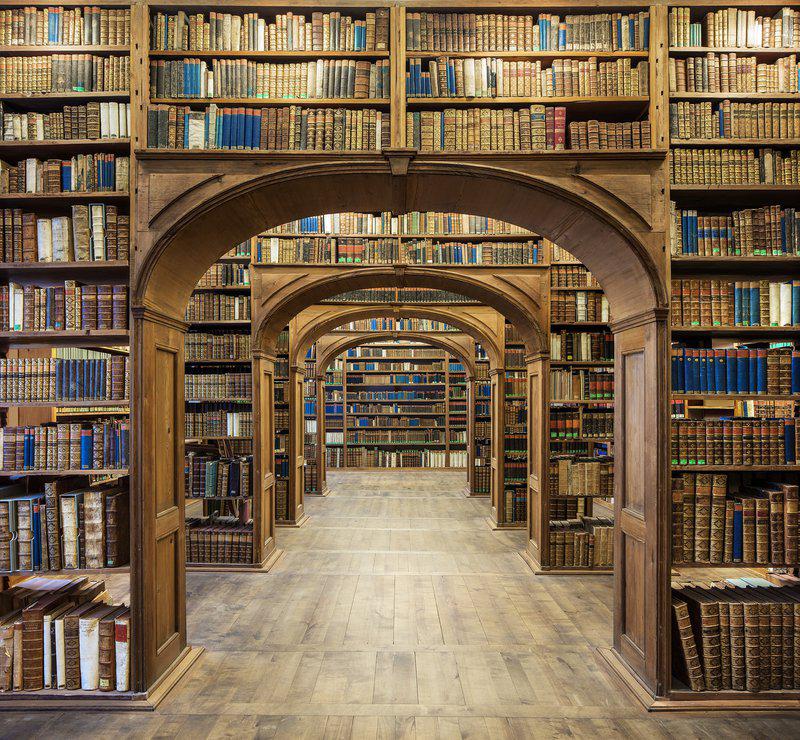 Reinhard Görner is one of the most influential figures in modern European photography. Born in Leipzig in 1950 and working with large format cameras (both analogue and digital), his vast photographs of palaces, reading rooms, museums and public spaces have told the story of the continent's industrial-cultural past and influenced the likes of Andreas Gursky, Candida Höfer and Thomas Ruff who came later and pushed this language further still as part of the Düsseldorf group. Having first photographed a library in 2005 while working for the architect Sir Norman Foster, documenting the newly built Philological Library of the Free University in Berlin, Görner would describe his epiphany as occurring in the New York public library two years later.
"When I entered the hall, I immediately plunged into an atmosphere of absolute silence and concentration. The huge space resembled a cathedral, the wooden partition where a librarian was quietly sorting some papers recalled the impression of an Orthodox church iconostasis…Readers, immersed in their studies didn't notice my entrance." Since then he has documented numerous libraries, including this photograph of the Upper Lusatian Library of Sciences, Goerlitz, Germany. "Images of libraries tell us stories of times when people found wisdom and knowledge from reading books and evenings were shared while reading aloud to one another," he writes. "Those were the times when the world seemed so simple that it fit between the covers of a book."
Stardust, Las Vegas, c. 1968, Denise Scott Brown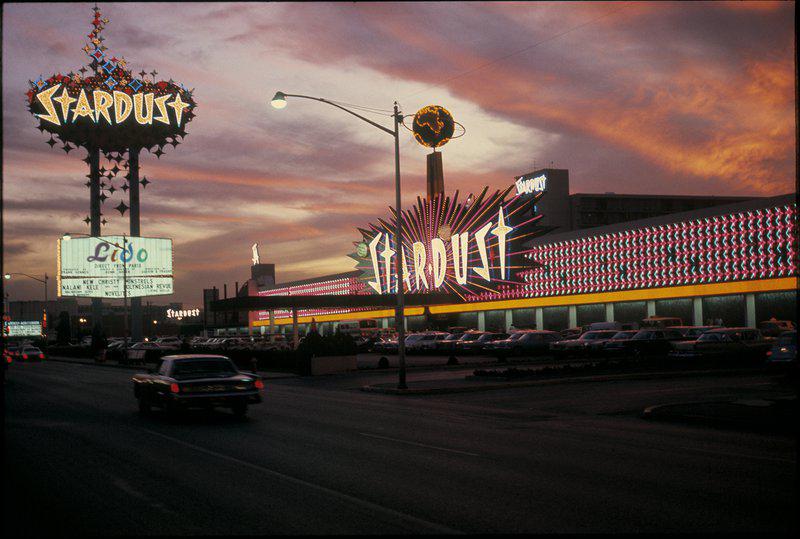 Denise Scott Brown is one of the most wide-ranging, accomplished figures in the field of urban design. As an architect, planner, writer and educator she has devoted her career to studying and shaping the world we live in, while knocking down the barriers which were placed in the path of a woman operating in what was seen as a 'male' field. One of her best-known pieces of work was Learning From Las Vegas, a visual and intellectual study of the desert city created with her husband Robert Venturi, and one of the seminal books of postmodernism. Since they were shown at the 2016 Venice Biennale , the research photographs that Scott Brown took during the project have been exhibited multiple times in London and the US, these reference materials becoming works of art in their own right. The watercolour skies, deep colours and radiant neon of her images make this limited, signed and numbered giclée print a perfect document of her work and ethos.
Anonymous Object 3, 2016, Mikkel Johnsen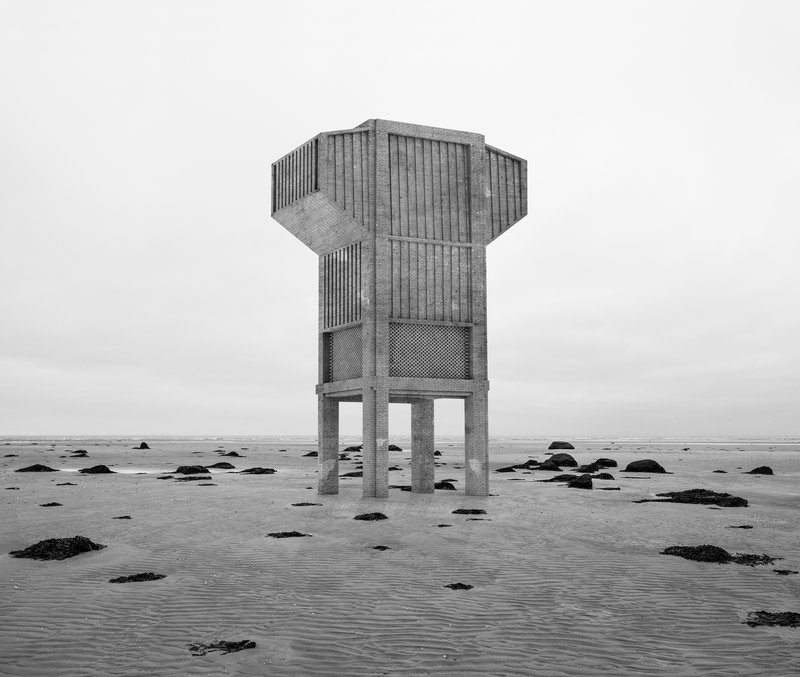 Danish Artist Mikkel Johnsen's large-scale photographs appear on first glance to show derelict industrial structures, concrete relics of Europe's industrial era. But as you engage with them, an uncanny sense emerges and each poses questions with no answers – why has that vast concrete globe been built at low tide? What was the purpose of that mottled, funnel-shaped concrete building positioned over a path? And in the case of Anonymous Object 3, who would build a concrete watchtower with no means of accessing it and no apertures through which to watch any approaching boats? Each of these images is in fact a carefully composed hybrid, months' worth of images combined into this imaginary environment, elements from different views, places and structures seamlessly stitched together. The end result succeeds in reminding you how absurd and damaging much of human intervention is in the natural landscape and how alien so many of our impacts are. This edition of six is an Inkjet print on Hahnemühle Fine Art Baryta Paper and comes signed and numbered.
Girl in Window, Los Angeles, 1999, Wim Wenders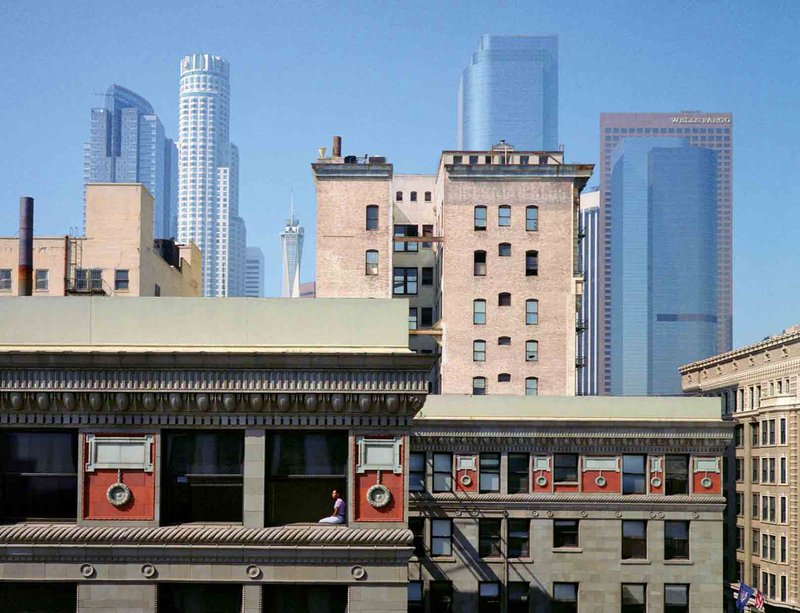 Having first worked as an artist before establishing himself as a film director, Wim Wenders has, since the early 1980s, run his two creative careers in tandem, with a large degree of overlap between the two both aesthetically and creatively. Following the breakthrough movie success of Paris, Texas in 1984, more attention was paid to Wenders' visual art and particularly the photographs that he took while researching films and scouting locations. His acclaimed Written In The West series grew out of the Paris, Texas shoot, while his work on Buena Vista Social Club also produced a book length photographic study of the film's musicians and the Havana that they occupied. This photograph of Downtown Los Angeles in 1999 has a true cinematic quality to it – a young woman sits quietly in a window, high above the city streets. The red and grey reliefs on the building form a repeating pattern in the distance, while the skyscrapers fade and soften into the background like painted scenery. This edition of 100 is a Fine Art Premium-Print on Hahnemühle Photo Rag 308g and comes signed and numbered by Wenders.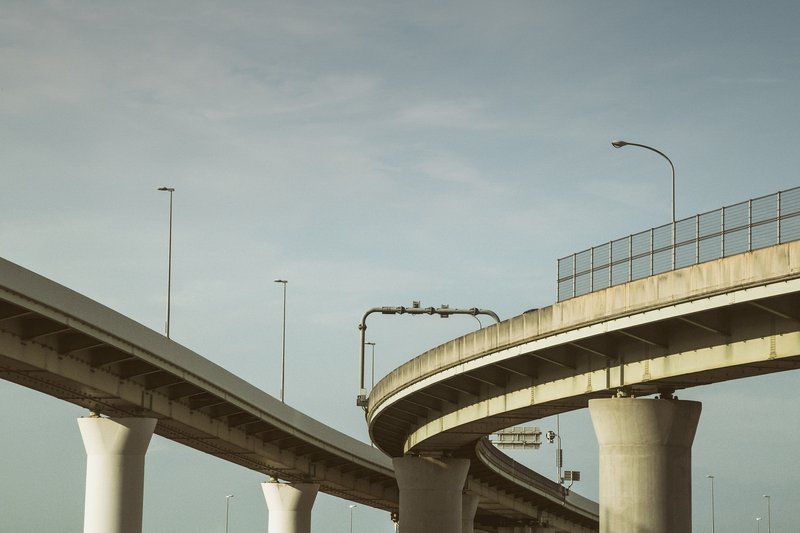 Francesco Romero is a former musician and producer who switched his creative practice to photography. "I'm based mostly in Italy where I focus on themes of absence, decay and isolationism from a graphical and geometric point of view," he writes. "A fascination with the dystopian aspect of everyday life led me to decontextualize details, landscapes, and architecture, allowing them to stand alone as alien images." Music is a strong inspiration in his work, drawing on the minimalist aesthetic and ambience of Detroit/German techno, early US hardcore and industrial music. While his work captures the clean lines and forms of Brutalist architecture, the clarity and detail of his images shows the marks and stains of time which have aged these structures and made them part of their environment. Romero is also one third of the Disconnect Box project, exploring themes of disconnection "through photography, design and scent."