"Even the smallest feline is a masterpiece". So, supposedly, said Leonardo da Vinci, who made numerous drawings of stretching, tumbling kitties, and even planned a painting of the infant Christ cuddling a pet puss, which we know from his 1478 sketch, Study for the Madonna and Child with Cat. While this canvas is either lost to time, or (more likely, given Leonardo's status as the Italian Renaissance's great procrastinator) never made it off the drawing board in the first place, his preoccupation with the feline form has been shared by artists throughout history. We might think of ancient Egyptian statues of the slinky, divinely beautiful cat goddess Bastet, the playful rococo fur-balls of François Boucher and Jean-Honoré Fragonard, Pablo Picasso's images of bristling, murderous tabbies, and the disarming and vaguely kinky kitties that populate the work of Balthus, a painter who christened himself 'the King of cats'. Then, of course, there is the deluge of feline imagery that swamps the internet in the form of memes such as Lolcats, I Can Has Cheezburger?, and Kitlers (photographs of blameless kittens whose markings give them an unfortunate resemblance to the Fuhrer).
Perhaps it is the cat's anthropomorphic qualities, or its alien intelligence, or else its capacity for unintended humour, which has seen image makers return time and again to this subject. Or maybe it is simply that, in the words of the French philosopher Émile-Auguste Chartier, these creatures are "aesthetically perfect". Here, we gather together 5 works from the Artspace store that celebrate felines in all their strange glory. As the great writer – and celebrated kitty lover – Colette once put it: "There are no ordinary cats".
Daido Moriyama, Record No. 18, Taipei (2010, printed 2013)
Often named as Japan's most important living photographer, Daido Moriyama has said that "I sometimes feel that the way I am when I take street snaps, my mode of being, is very close to that of dogs, cats, or insects. I realize my eyes become like that". Best known for his iconic shot Stray Dog, Misawa (1971), in which a homeless pup stares out of the image with almost unbearable pathos, Moriyama claims to be "more of a cat person, these days", a fact that's perhaps attested to by his photograph Record. No. 18, Taipei. Here, the photographer crouches at pavement level to capture a skinny, tiger-striped kitten eking out an existence on the streets of the Taiwanese capital. All ears, whiskers, snout and paws, this infant cat seems composed almost wholly of sensory apparatus, as though to survive it must remain constantly alert to the city's signals: the blast of car horns and the smell of abandoned takeaways, the heat of a temporary shelter and the vibrations of a scurrying mouse.
Looking at Moriyama's image, we see that only a few inches must have separated the photographer and his subject. Ears and tail pricked up, legs tensed, the kitten is surely ready to run at any moment, but right now it pauses to contemplate the strange, ape-like being that squats on the sidewalk, with its smooth skin and single, glassy eye. Whose world are we in, here? Taiwan is, like all cities, a human construct, but we might wonder who really knows it best. The species that built it, or beings like this perky feline, who scampers nightly across its rooftops, and whose street map is not a thing of paper or of pixels, but of sights and sounds and scents. Own your own Moriyama now.
William Kentridge, Reclining Figure with Cat (2016)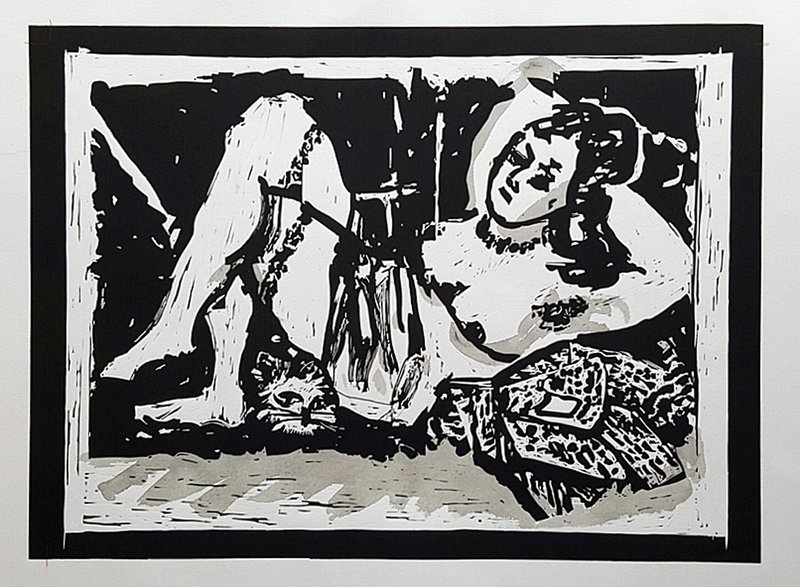 "Of all God's creatures", wrote Mark Twain, "there is only one that cannot be made slave of the leash. That one is the cat". It follows that these creatures have often functioned as symbols of personal liberty, even willfulness, especially in the domestic sphere. Felines are also often imaginatively linked to female sexuality, and these twin associations have given rise to a distinct subgenre of the nude, which pairs a naked woman with a cat. The most famous example is Edouard Manet's painting Olympia (1863), in which a prostitute and her pussy stare out at the viewer (the French artist's visual / verbal punning is very much intentional) although many other notable artists have explored this trope, among them Leonard Tsuguharu Foujita, Felix Vallotton, André Derain, Franz Marc, Ernst Ludwig Kirchner, and, of course, Balthus and Picasso. What unites these works is the way they contrast two species-specific responses to the female sitter's naked body: the utter indifference of the cat, and the excitement of the human viewer, who is pretty much always assumed to be male.
Created in 2016, William Kentridge's linocut Reclining Figure with Cat is a recent addition to this subgenre, and one that – given his status as South Africa's preeminent contemporary artist, celebrated for his explorations of colonialism, the dreams and nightmares of revolutionary politics, and theories of time and relativity – at first sight seems to tack surprisingly close to its 19th and 20th century forebears. This, though, may be the artist's point. Two temporalities co-exist in this image. The first is art history, emblematized by the reclining figure. The second is a permanent, a-historical present, which plays out in the animal consciousness of the cat. Can these time codes be reconciled, even merged? The look on the whiskery feline's face suggests they cannot. Own your own William Kentridge now.
David Shrigley, Ornament Cat Toy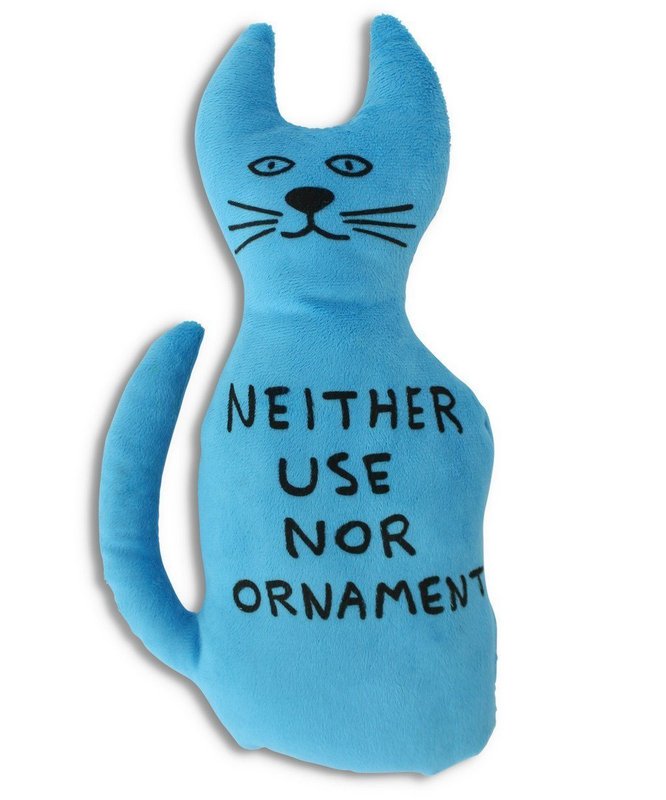 At first glance, this work by David Shrigley seems like a straightforward prospect: a plush toy for a pet feline to bat about the sitting room, before returning to licking its own hind quarters, or staring disconcertingly at a wall. And yet, the more we contemplate this object, the stranger it becomes. At almost a foot tall, it is considerably larger than the mouse-sized playthings with which cats customarily amuse themselves. Moreover, it is not an abstract shape such as ball or cube, or fashioned into an effigy of feline prey such as a bird or rodent, but rather mimics the cat's own form. Translate these properties into human terms, and we'd be looking at something decidedly uncanny – a 1:1 scale model of an adult homo sapiens, designed to be playfully 'murdered' by its flesh-and-blood counterpart.
Significantly, Shrigley's piece bears the words 'NEITHER USE NOR ORNAMENT' across its bright blue polyester chest, in the artist's signature faux-naïve script. Echoing both the designer William Morris' dictum 'Have nothing in your house that you do not know to be useful, or believe to be beautiful', and the philosopher Martin Heidegger's distinction between objects that are 'ready-to-hand' and 'present-at-hand', Shrigley's phrase appears to suggest that this plush moggy is not a tool, nor is it a work of art. What is it then? His slyly humorous point seems to be that 'toy' and 'ornament' are human categories, and as such are meaningless to the feline mind. What's suggested, here, is an understanding of reality – an ontology – that lays outside homo sapiens' experience. We might see this object as a sculpture by a Turner Prize-shortlisted artist. What Mr. Tiddles might make of it remains tantalizingly unknowable. Own your own Shrigley now.
Katy Moran, primal cat (variation) (2015)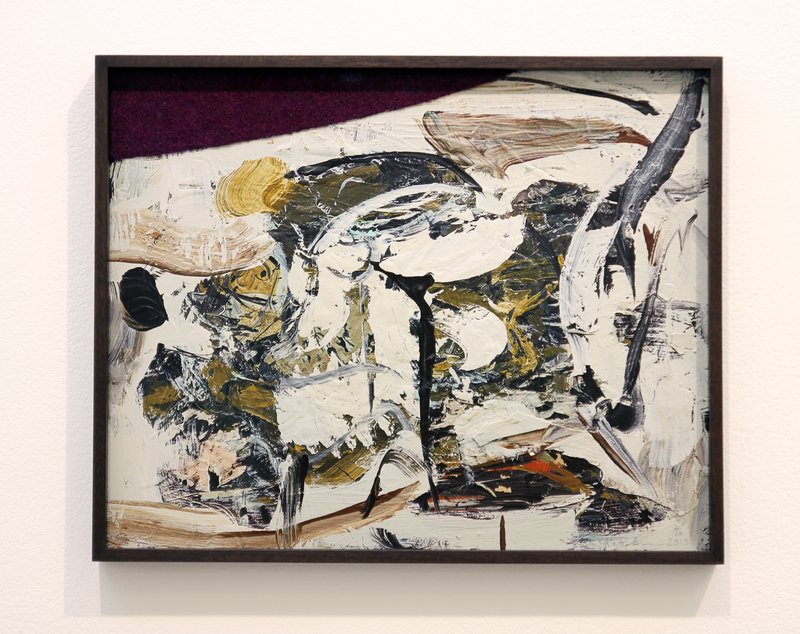 This is the 19th Century American poet Emily Dickinson describing her cat attempting to pounce on a robin: "She sights a bird – she chuckles– / She flattens – then she crawls– / She runs without the look of feet – Her eyes increase to Balls–". Reading these lines, we're reminded of the fluidity, the almost supernatural animation, of the feline body when it's on the prowl. Dickinson's kitty does not catch its prey, but it is this very lack of success that allows the poet to capture the creature's spirit: "The Hopes so juicy ripening– / You almost bathed your Tongue– / When Bliss disclosed a hundred Toes– / And fled with every one–". The feline, here, is not a four-legged companion, but a blur of countless, ecstatically violent limbs, guided by a pitiless instinct that, in a human, would be the sure mark of a cackling psychopath.
Looking at the noted British painter Katy Moran's print primal cat (variation), we're reminded of the animal nature of the domestic moggy that Dickinson so ably evokes. Verging on full-blown abstraction, this work is not so much an image of a cat as of its energy, its red-in-tooth-and-claw intensity. Moran has described painting as being "about pretending you are out of control, trying to introduce accident, chance, and things that are unplanned […] more than anything you have consciously or intellectually conceived". Mark-making, for this artist, is a matter of instinct, and like Dickinson's feline, she accesses a kind of deep, creaturely flow to bring her kinetic vision into being. Own your own Katy Moran now.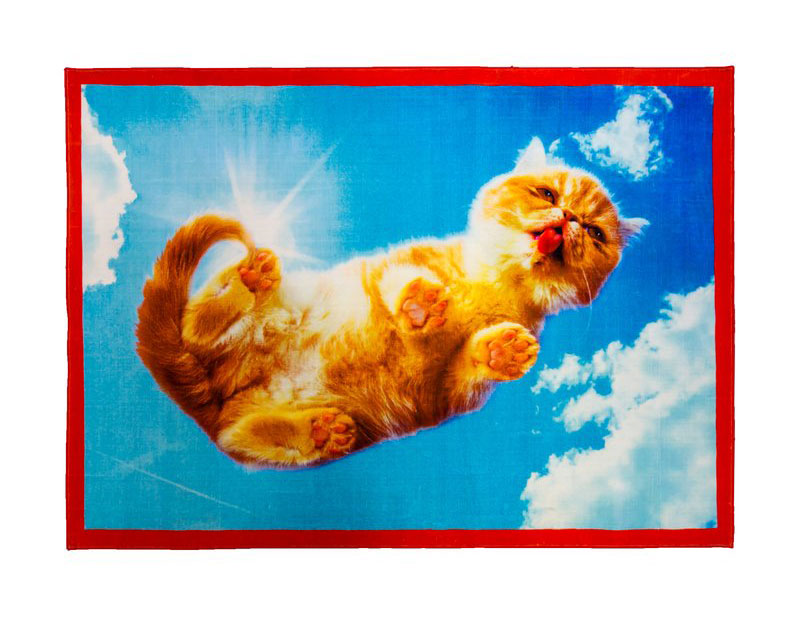 "The Internet is made of kittens" ran the headline for a widely circulated 2009 salon.com article on the rise of feline meme culture, and over a decade later, this trend shows little sign of abating. Made under the rubric of Toiletpaper magazine (an ongoing project with the photographer Pierpaolo Ferrari) in collaboration with the design house Seletti, Maurizio Cattelan's rug Sky sees the art world's most notorious prankster transform a throwaway image macro into a piece of luxury homeware. The textile is printed with a photograph of a cat shot from below, the flattened pads of its paws suggesting that it's wandered onto the glass of a flatbed scanner. Tongue lolling out, it seems to be licking its own shadowy reflection, like a feline Narcissus. Behind it, a sun blazes in a blue sky, and the impression is of a ceiling painting in a baroque church, where the heavenly host, or even Christ Himself, has been replaced by a single, rather daft-looking ginger moggy.
Like many of Cattelan's most famous works – his meteor-stricken pope, La Nona Ora (1999), say, or his sculpture of a boyish Hitler at prayer, Him (2001) – Sky plays on the persistence of religious iconography and intellectual habits in our increasingly secular age. Cat as god? Well, it was good enough for the ancient Egyptians. Who knows, in centuries to come, when alien archeologists sift through the wreckage of early 21st century civilization, perhaps they will conclude that the reason we shared such a vast number of kitty memes was because we considered these four-legged creatures to be divine. Own your own Maurizio Cattelan now.
Browse more cat-related art and design here or check out our edit in the module below.
[Cats-module]
Related articles
The Artspace Group Show: Text As Art -Art As Text