Your new Katherine Bernhardt work has arrived, you've worked out where to hang it, and your friends are coming over to dinner tonight and you're going to be looking for some admiration over your latest smart buy. So what are you going to say when they ask you about the artist who Jerry Saltz infamously called "the female bad-boy of New York painting"? Don't panic. Here are a few simple answers to their questions that'll make you an instant expert. Haven't actually bought one of her prints yet? Take a look here.
Katherine Bernhardt? I'm sure I know that name.
Perhaps you do. She is a 45-year-old, Missouri-born, Brooklyn-based, hotly tipped American painter best known for her bright, splashy canvases that reference motifs from the detritus of consumerist imagery – cigarettes, Doritos, felt-tipped pens, basketballs, ET heads and Nike swooshes – often alongside images from the natural world – think birds, flowers, or hammerhead sharks.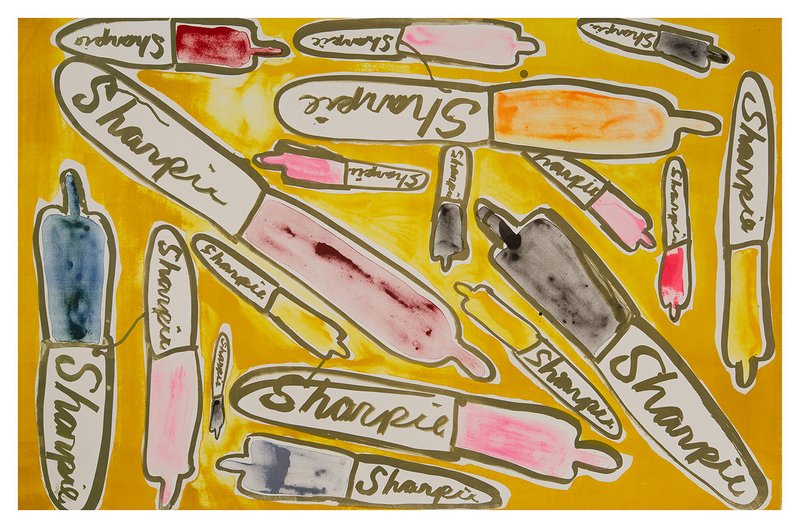 Sharpies , 2019 , by Katherine Bernhardt
Where does she fit in? There something a bit poppy about her work, but it also reminds me of Neo-Expressionism .
There are plenty of terms to reach for. Roberta Smith in The New York Times called her "a latter-day Pop Art process painter who looks to Color Field painting for her strong, soaked color and fast, no-margin-for-error technique." Fellow critic Jerry Saltz has likened Bernhardt to Basquiat , saying her paintings "exude obsession, endlessness, and germinating optical power." Louise Elderton, writing in the Phaidon book, Vitamin P3: New Perspectives in Painting , said "The products depicted by Bernhardt are reminiscent of the 'emoji' world in which so many of us now live, where the object is reduced to an icon, and we are constantly approached as potential consumers." Meanwhile Bernhardt herself says she is a "tropical, futuristic hippie."
A hippie? So is she into psychedelia?
Not really. Bernhardt trained at the Art Institute of Chicago, and New York's School of Visual Arts and has said in the past that she admires artists such as Paul Gauguin and Henri Matisse , as well as contemporary artists such as Peter Doig , Chris Ofili , Laura Owens , and the 1970s and 80s American Pattern and Decoration art movement. But she's also attracted to quotidian visual references such as the cigarettes she smokes - Newport 100s – and the items in her own home, including Mr Coffee – "an amazing machine that brews my coffee every morning."
Tellingly, in a recent GQ profile, Bernhardt revealed that her childhood home in the suburbs of St Louis was filled with junk. "Newspapers, ice cream molds, Scottish terrier paraphernalia," she recalled. "All the furniture from people's estates that died. Just everything. I remember we had a playroom that was really full of stuff—my dad got mad, he came and raked it out."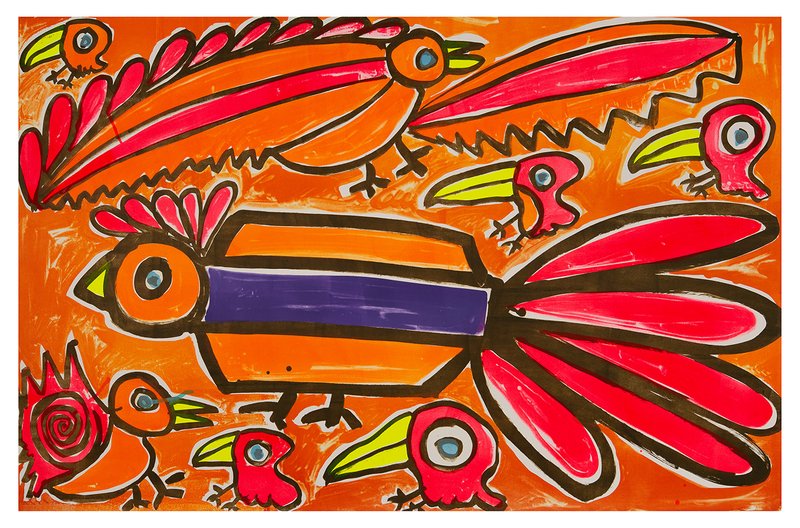 Guadalajara , 2019, by Katherine Berndhardt
Who did she come up alongside? Where has she shown?
Since 2009, she has shown with CANADA in New York, which also shows artists such as Joe Bradley (now with Gagosian); she's also represented by Carl Freedman Gallery ( Billy Childish , Nel Aerts ) in London, and Xavier Hufkens ( Louise Bourgeois , Willem de Kooning , Tracey Emin ) in Brussels. In a 2015 article, Jerry Saltz likened her to fellow painter Dana Schutz (best known for her inclusion in the 2017 Whitney Biennale); and, Bernhardt herself admires fellow artists such as Sterling Ruby and David Shrigley.
She's less well known than many of them, though that's rapidly changing, with an increased public profile, and a new show coming up at CANADA in 2020. In fact, prices are already pointing upwards. In November 2019, Bernhardt's Doritos and Cigarettes painting from 2014 went for more than twice its high estimate of $18,000, selling for $43,750 at Phillips in New York; the following month a small 30.6 x 91.8 cm (12 x 36 1/8 in.) painting of a single cigarette by Bernhardt achieved a similar leap, going for twice its estimate (£4,000 - £6,000) at Phillips in London, when it sold for £11,875. Meanwhile Artspace's own Mr. Coffee with Fries print from 2015, has seen similar rises on the secondary market.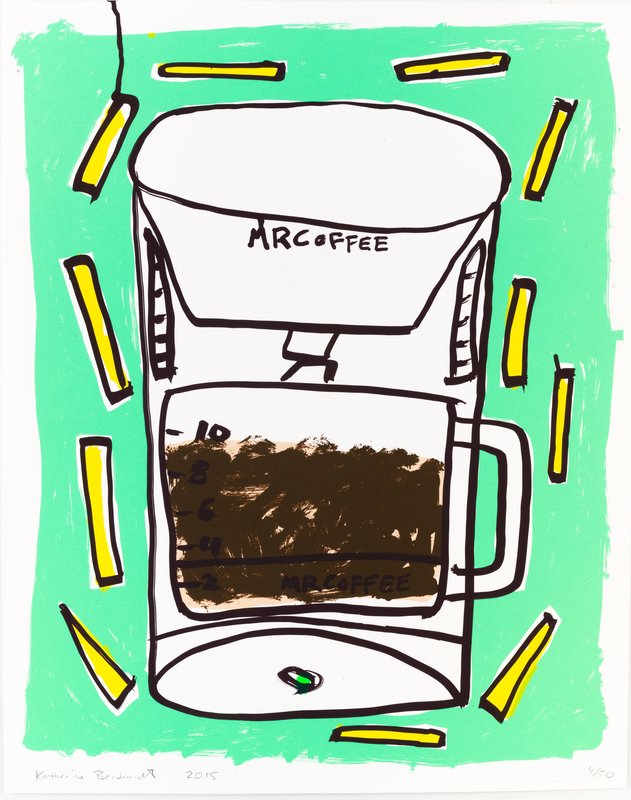 Mr. Coffee with Fries , 2015, by Katherine Bernhardt
Has she always painted like this?
Not exactly. When Jerry Saltz filed his second glowing review of Bernhardt's work for the Village Voice back in 2001, the painter was producing paint smeared – but visually appealing – portraits of supermodels, often copied from the pages of magazines.
Tell me about her Moroccan connection.
In 2007 Bernhardt visited Morocco and was enraptured by the country's carpet-making tradition. "Oh my god. The color combinations, the texture, the weaving skill, the symbolism—it's like everything in one," she told Artspace back in 2015. She went on to work with Moroccan weavers, she married a Moroccan rug seller, Youssef Jdia, and imported Moroccan carpets into New York.
Jdia and Bernhardt have since divorced, but many believe that shift towards repetitive, pattern-like painting was heavily influenced by North African decorative traditions.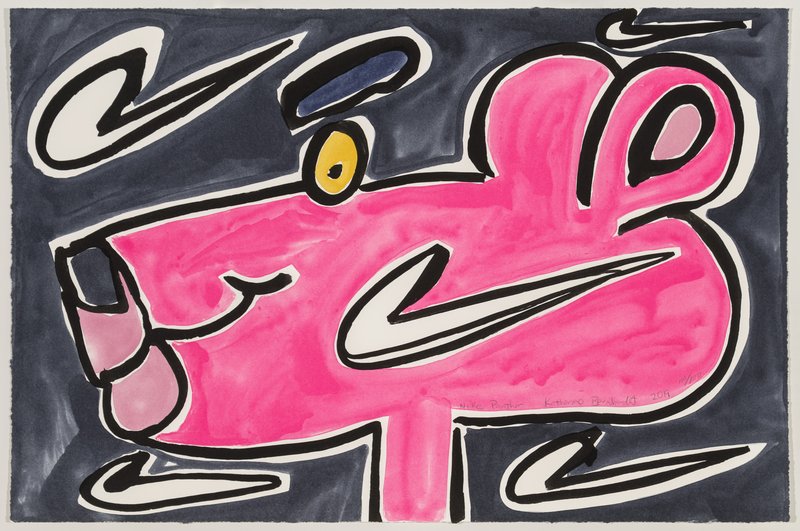 Nike Panther , 2019, by Katherine Bernhardt
So, is she a figurative painter?
Not really. Bernhardt prefers the term 'pattern painting', distinguishing her decal-like depictions of, say, a flower, from the more faithful depictions of florals you might see in a Georgia O'Keeffe . "I don't even make figurative paintings anymore," she told Artspace in 2015. "I'm only making pattern paintings now."
Can I read much into the objects in the paintings?
As much or as little as you want to. "I like the interpretation," she said in her Artspace interview , "Someone also said that the paintings are also about environmental hazards, and I'm into that idea too. Sharks in water with toilet paper—OK, yeah, the oceans are trashed, so maybe they're about environmentalism. I like that."
However, she also resists interpretation to some degree, or at least feels its an unnecessary exercise, if you really want to enjoy her art. "I think good painting doesn't need all of that. I think the best painters don't intellectualize their own art—they just make stuff. It's more about color choices and color combinations."
I love it, but I want to say something like 'my child could paint this'?
Please, please don't. Katherine has heard this before, and has a word for people like you. "Lots of people like to say, 'Oh, my child could have painted that. It looks like a kid did it. These people are haters. Actually, I just make it look easy. Try making it yourself before judging. I dare you."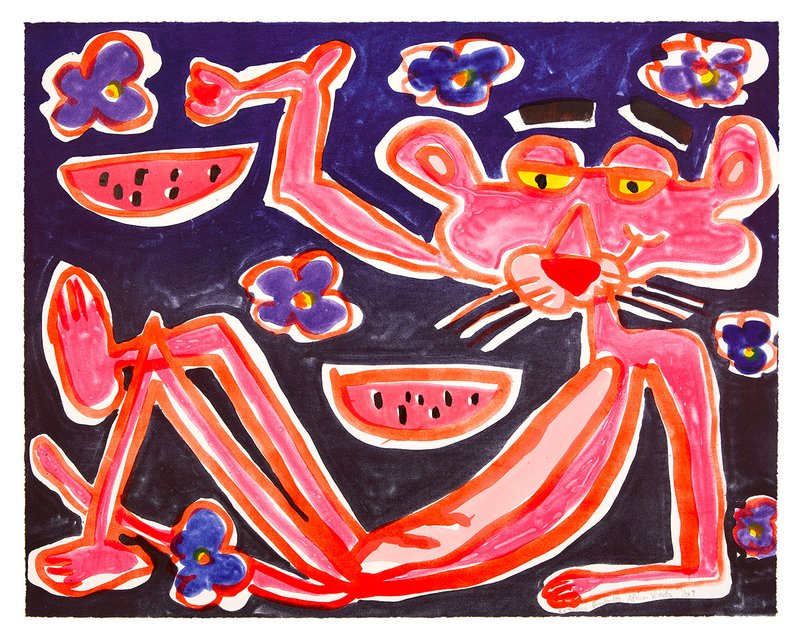 African Violet , 2019, by Katherine Bernhardt
She'd call me a hater? I like that attitude.
That's certainly part of Bernhardt's charm. An uncompromising artist and single mother, who makes her own bootleg Balenciaga sweatshirts, and isn't afraid to both show at fine-art galleries and collaborate with Chanel, Jerry Saltz has called Bernhardt a "female bad-boy painter".
OK, what could I hang this next to?
Try her with fellow female non-conformists such as Rose Wylie or Etel Adnan . She'd also go with pretty much all pop, including these works by Eduardo Paolozzi to Takashi Murakami . She'd also work with (and maybe also make for a rather nice clash) with Doug Aitken . She's also in this Artspace collection . Finally, while we're at it, why not try her next to the king of appropriation (and another master colorist) Warhol . After all, Roberta Smith says Bernhardt paints "as Andy Warhol might have without silk-screens."
[KatherinePassnotes-module]
RELATED ARTICLES
How to Look at the 2015 Artspace x NADA Editions
Katherine Bernhardt on Her New Paintings and Why She Loves the Tropics
The Detroit Art Collector Developing Downtown With an Eye for Public Art