This past July, the first annual Detroit Art Week (DAW) brought collectors, writers, artists, and art enthusiasts to Motor City for a self-guided tour of its complex and dynamic art scene. (We wrote about it in depth in " Detroit Art Week Illuminates the Artists of 'Old' and 'New' Detroit—And the Complexities of a Gentrifying Art Hub .") So much of what we saw during DAW felt very "Detroit"—artist projects in abandoned buildings, scrappy artist-run and do-it-your-self studio facilities, and outsider art projects spanning several blocks of derilict landscape. But as a foil to this ground-up approach to art-community building, we also visited the immaculate home of Anthony and JJ Curis, a young couple that combines Anthony's history of real estate development with a passion for public art and metropolitan revitalization.
In a city that's seen stark and drastic swings between economic prosperity and depression, the downtown is currently seeing major development, and the city as a whole is becoming gentrified. (Read our piece about "artwashing" and gentrification in New York here .) Understanding the perspective of a former real estate developer also seems very "Detroit," and offers insight into how city planners and devlopers working to revitalize downtown areas might look towards artists and public arts initiatives to help not only beautify spaces, but also unite those that inhabit them. As owners of the gallery Library Street Collective in downtown, and as collectors of both internationally renowned artists and local Detroiters alike, the Curis's have made it their mission to make developing Detroit synonymous with public art appreciation. They've been working with the city of Detroit to bring art into city-owned spaces, and see their public art projects as amenities for the diverse groups of people that spend time in those spaces. Here, Anthony discusses how he and JJ first got into the world of collecting, their many art-related projects in Detroit, and advice for new collectors just starting out.
When and how did you start collecting?
My wife is from Indianapolis and her family was pretty involved in the institutions there. But the first step was experiencing art in museums or galleries, and eventually meeting artists and getting to know them, becoming friends with them, and eventually starting to collect.
We tend to collect people who we really enjoy and people that we work with in exhibitions or public projects. Our five-year-old son, Connor, feels a sense of ownership of the work in our home because he knows all the artists and has had the chance to spend time with them. Our house has had an open door for the last couple years in terms of artists coming in town or staying with us, so he's been able to spend a lot of time with artists and he appreciates it, which is cool.
Do you have advice for new collectors who are interested in having personal relationships with artists but don't know how to go about doing that?
It's really all about the personal connection, and that can come in many different ways: mutual friends, attending exhibitions of artists in other cities, other random circumstances. But that personal connection is really important. The work that's in our home is so special because we take pride, not only the pieces, but also in the relationships.
I'm always curious about collecting couples where both people are really passionate about art. Does it just so happen that you both have really similar taste? Or do you disagree a lot?
We actually have very different tastes! But we both share the mindset of the personal connection. So it starts there, then we each have our own thoughts and ideas and feedback on individual ideas, and then it just sort of happens.
What was the first piece you ever collected?
It was a work from Tyree Guyton, the artist behind the Heidelberg Project. I've been on the board of directors for the Heidelberg for about six or seven years now. So we've been able to get quite close with Tyree and his wife Jenenne Whitfield.
Is it important to you to collect local artists from the Detroit area?
Yeah. We do a lot of work now with Detroit-based artists. Our collection is pretty broad, but there are a number of Detroit-based artists in our personal collection.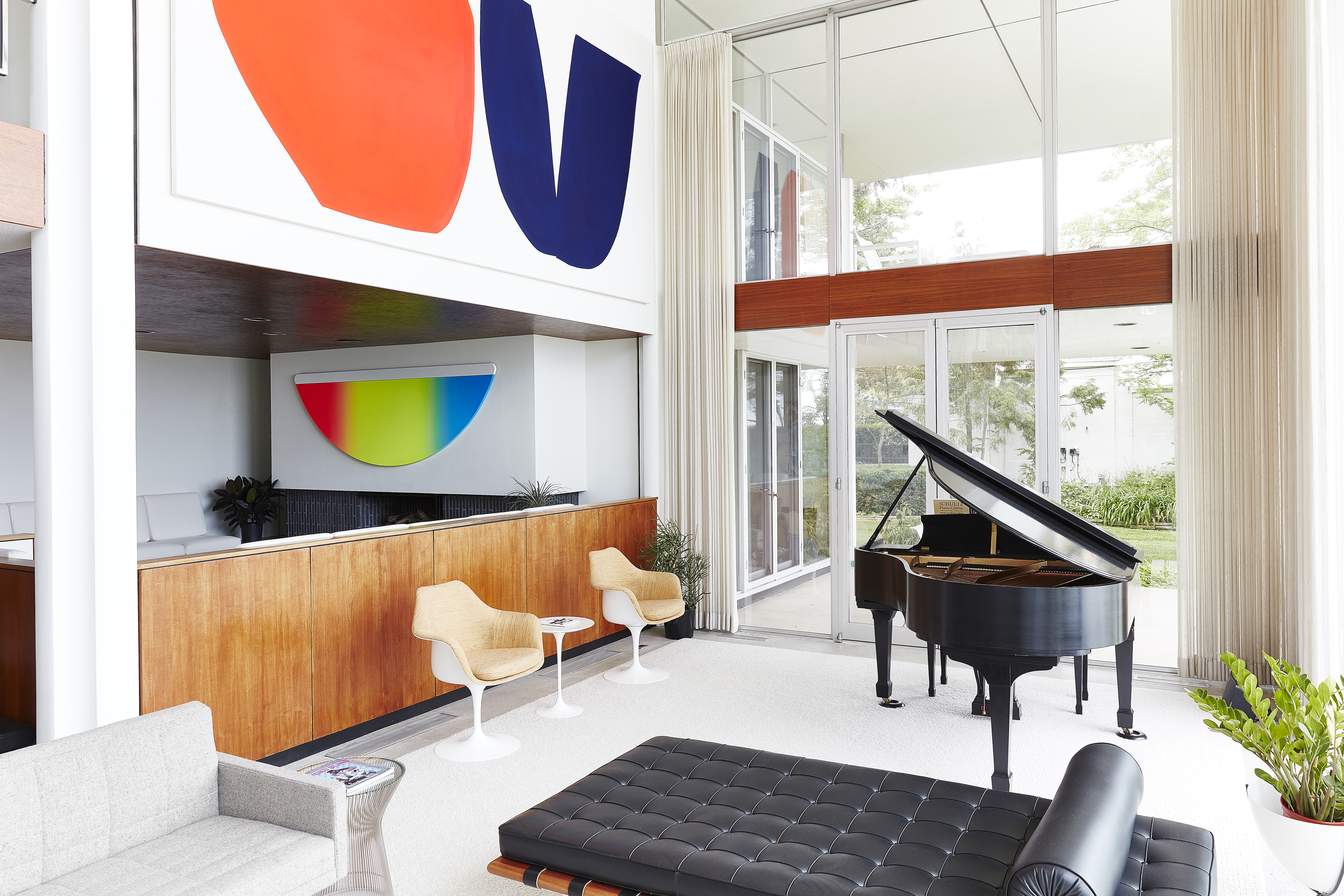 Inside the Curis's home. Works by Greg Bogin and Paul Kremer. Photo: Peter Lustyk. Courtesy of Library Street Collective.
I want to switch over to talking a bit about your house. Can you tell me its history?
Our home was built in 1962. The architect was William Kessler, who built the place for a guy named Hawkins Ferry. Hawkins was an iconic philanthropist and art collector in the Detroit area. His family owned the Ferry Seed Company. Hawkins really dedicated his life to philanthropic efforts and raising the profile of arts and culture in Detroit. So he had William Kessler design a home for him on the lakefront of Grosse Pointe Shores. His number one priority was entertaining. He liked to have people here and hosted events for DIA and other institutions, non-profits, and museums in the Detroit area.
But Hawkins primarily also had one of the most important local collections in the last hundred years, which he ultimately bequeathed it to the Detroit Institute of Arts. And so he tasked Kessler with building a home that could really showcase the work. If you go on the balconies that face the back lake, there are glass windows that look back into the home, giving you different perspectives back inside the space.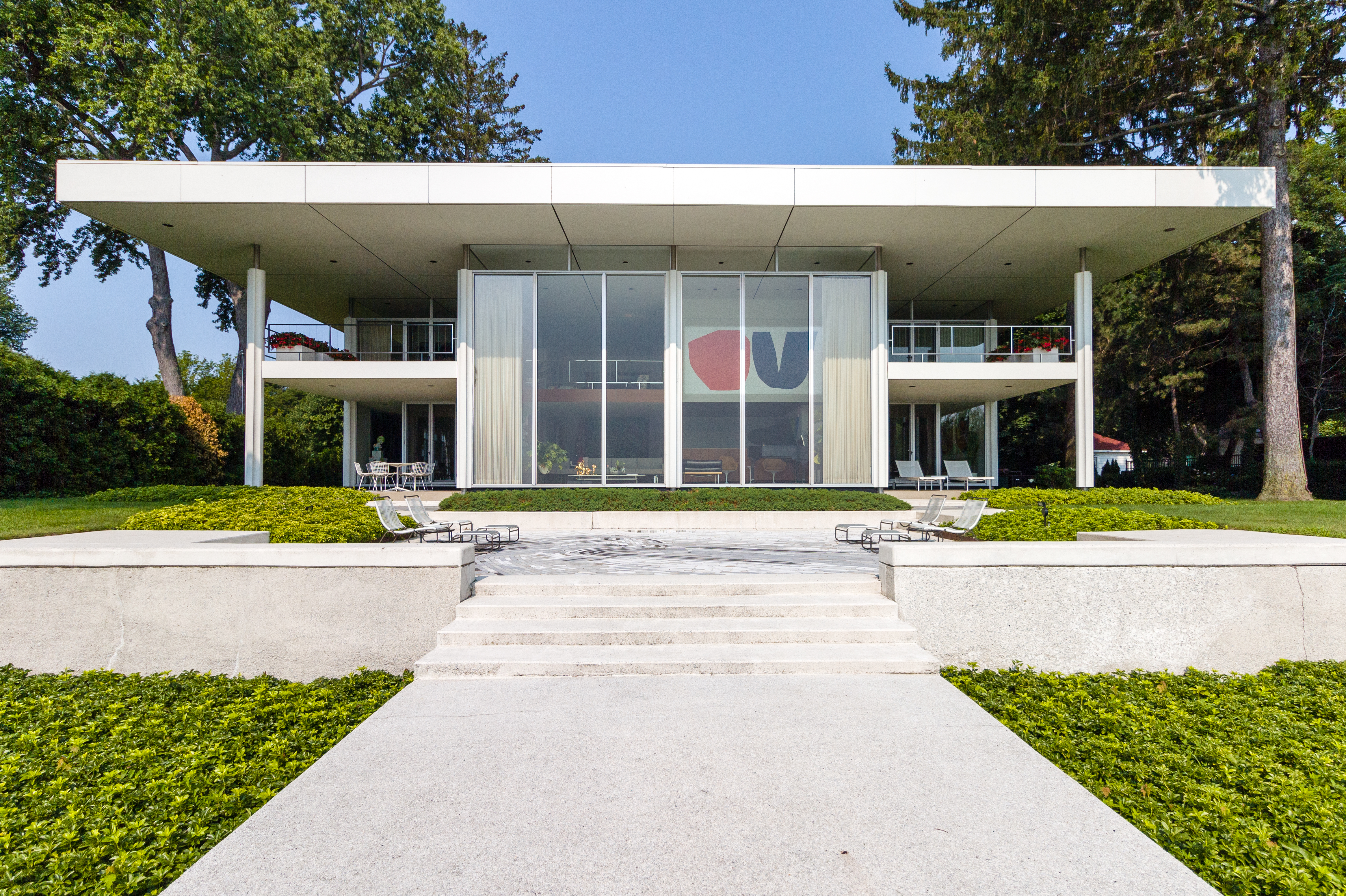 A view from the lake into the back side of the W. Hawkins Ferry House. Photo: Peter Andrew Lusztyk. Courtesy Library Street Collective.
When I visited, I realized no matter where you're standing inside the house, you can see multiple rooms at once, and multiple walls at once, so you're never really closed off from the rest of the house.
Definitely.
Did you decide to live here, at least in part, because you knew that it would be a great place for your collection?
Yeah. We have a lot of personal interest in art but also architecture, history, and design. So all of those things played into our decision. That being said, moving here was also a challenge because the home had fallen on some tough times. But we knew that if we were going to restore it, we had to do a complete historic restoration and bring it back to the original intent. When we got it, things like the kitchen were totally gutted; the bar area, and the original slit windows in certain rooms were removed and replaced with normal rectangular windows. So it's been challenging, but at the same time, it's a big part of who we are and what we do.
When we first saw that there was a really good chance we'd get the home, immediately we began researching the home, the history of Hawkins, and the things that he had done. Knowing how important his home was to the creative art scene in Detroit and how all these major works are in the DIA, we wondered if we could also use the home for public use. So last year we did an exhibit with the Museum of Contemporary Art Detroit. We worked with thirty-six artists to create site-specific works that were installed all over the house. Our collection went out, and these artworks came in. We had a huge opening, a one-night thing, with tickets sold. And all the proceeds went to the museum. It was the museum's largest benefit they've ever had. And it was a pretty amazing exhibition: Katherine Bernhardt , KAWS , Sanford Biggers , Nina Chanel Abney . Tons of artists came in town for the opening. It was really fun for us. Though it's a private home, and it needs to stay that way because it's our home, we do plan to find other ways we can use it in a public way.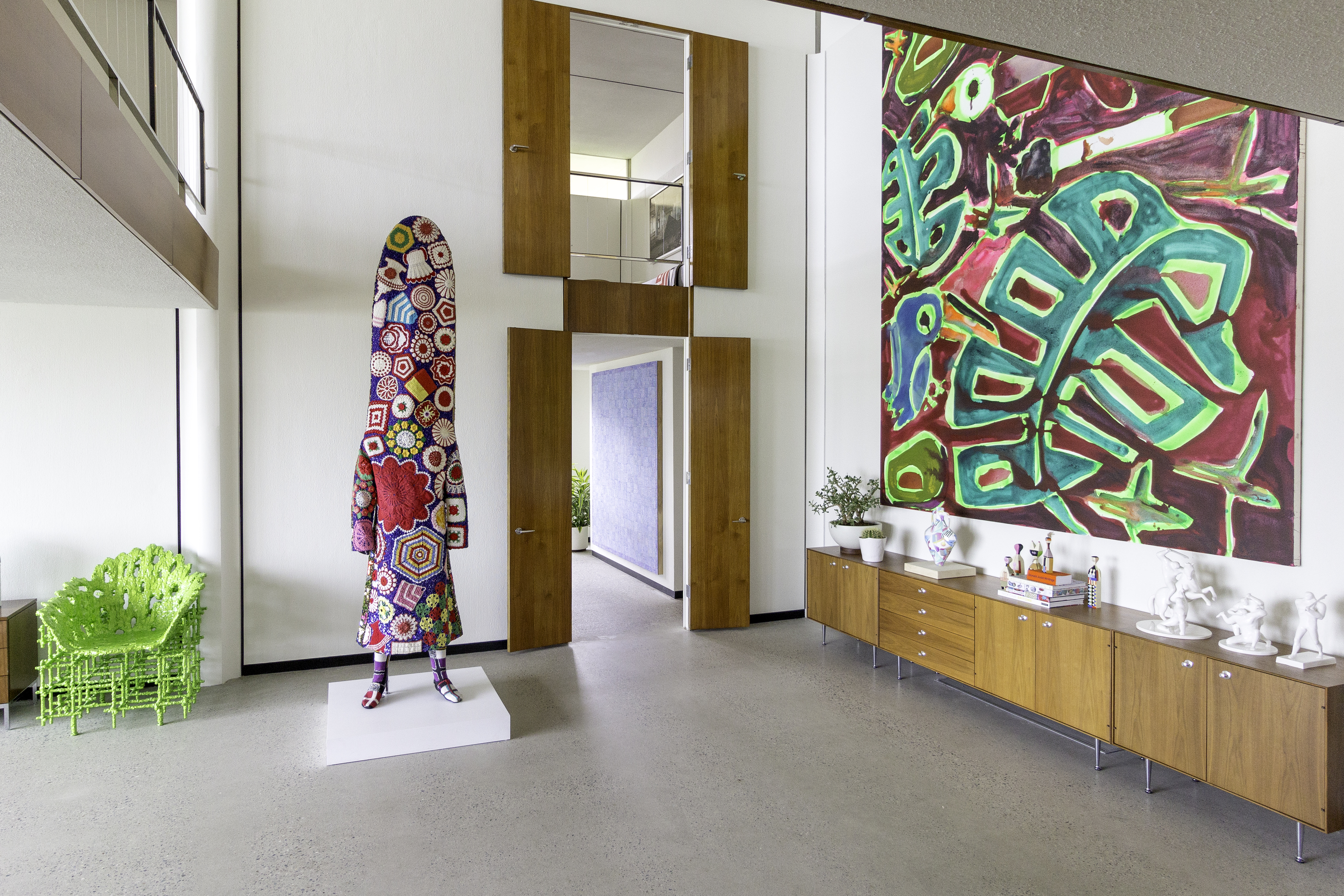 Works by Chris Schanck, Nick Cave, and Katherine Bernhardt. Photo by Alessandra Ferrara. Courtesy of Library Street Collective.
You also own the Library Street Collective, a gallery in downtown Detroit, which you started six years ago. How did that come about?
We bought a building in downtown Detroit and we were restoring and renovating that building. A friend was going to open a restaurant in the first floor retail space. This was eight years ago, when things in Detroit, particularly in Downtown, were a lot different than they are today. But we also hadn't realized that the investment that had to go into the space to even make it usable for a restaurant, and in turn what that restaurant would pay based on current market conditions, ­­didn't make any sense. So we went our separate ways. In the end, we were left with this vacant retail space and had to figure out what to do with it.
At that point, JJ and I had really started to get interested in art as a way to make change in the city. I'm a real estate developer. She was in public accounting, but was looking to do something that she enjoyed which would also benefit Detroit. So we had this idea of opening a gallery, but we didn't want to be isolated to the brick and mortar. For so many galleries, that's their focus. But we wanted to get involved in larger-scale public projects and change Detroit in a positive way.
Take the Belt Alley, for example. A couple of years ago, that was a dirt road. There was nothing back there. And that has been one of our larger public projects over the last couple years: working with some private entities and the city of Detroit to transform a dirt road that you wouldn't want to be caught dead on at night, and reimagining it with the arts as a catalyst. So we've been working to redevelop that space, and now it's one of the busiest pedestrian spaces in the entire city.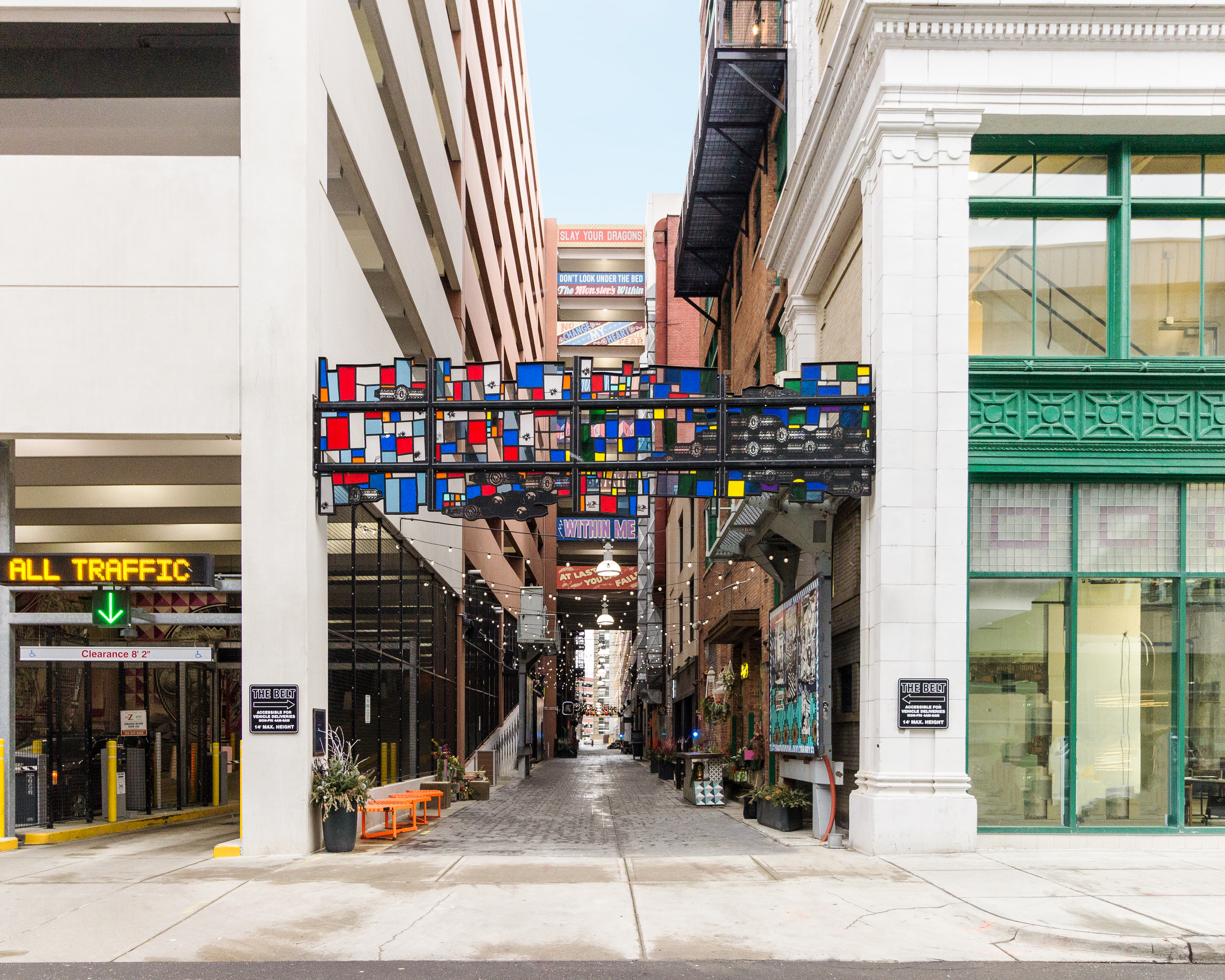 Tom Fruin's "Grand Rive Gate" in the Belt Alley. Photo: Alessandra Ferrara. Courtesy of Library Street Collective.
But there's a whole other side to that, because once we got through the public infrastructure––the seating and the benches and the lighting––it was like, how do we keep people here? Because it's one thing to have people come through and see some public art, and another to really create a neighborhood. So that's when we partnered with a friend of ours named Joe Robinson to start opening bars and restaurants. So we have a place called Standby, which, thanks to Joe, has been nominated for a James Beard Award two years in a row. And then a place called the Skip, and another one called Loiza, which is in an outdoor environment with public art. We fabricated this sculpture that sits in the alley and basically doubles as a Puerto Rican-themed cocktail bar. It all started when the hurricane hit Puerto Rico, Carlos Rolón and I started talking about ways we could help, and we came up with this idea to build out this sculpture. When we opened it up, we had salsa music and dancing and the vast majority of proceeds raised were sent to Puerto Rico for hurricane relief efforts.
Last week, we opened a place called Deluxx Fluxx. Deluxx Fluxx was originally started eight years ago by the artists Faile as an immersive environment with old arcade games that had been aesthetically modified and reprogrammed so that they deal with things like gentrification. To find a permanent home for it, we built out this whole space for it; it expands what Deluxe Flux is. It's also a music venue and bar instead of just being an arcade. Drake and Migos threw their after-parties there last night. We do tons of other programming in the alley also: music programming, events where there have been 10,000 people on opening night. It's pretty wild.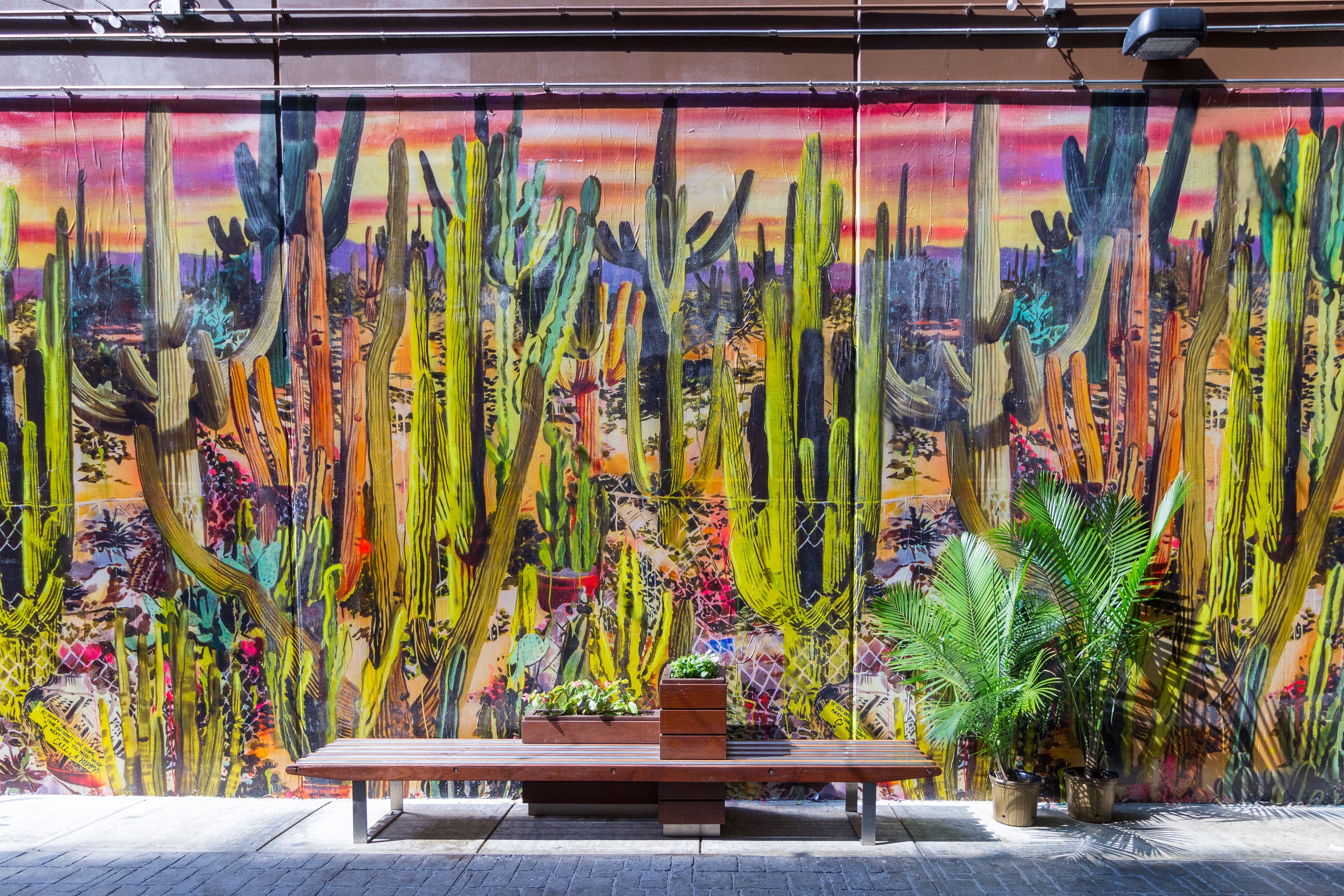 "Crazy from the Heat" by Rosson Crow in the Belt. Photo by Alessandra Ferrara. Courtesy of Library Street Collective.
Do you have any artists on your wish list that you want to work with or collect?
Tschabalala Self . She's someone who's work we've really come to enjoy. Tony Matelli , who's in an upcoming exhibition with us. We'd love to own his sculptural work one day.
Do you have advice for young collectors who might feel intimidated by the world of collecting or don't consider themselves collectors but might want to be involved on a more meaningful level?
It may sound cliché, but collect what you love. So many collectors collect something because it's a good investment. And I understand that. But for JJ and I, our personal collection is something we intend on having forever. We're going to be living with these pieces; they're our little family. That barrier—the feeling like collecting is something elite—was a misconception we had as well. Especially as two people who were interested in the arts but didn't have a background in it, we felt like we were outsiders. And maybe we are, but that's ok. We quickly realized that when your intentions are good and you're sincere, those barriers break down pretty quickly in terms of artists and their communication with you. So a lot of artists who, a few years ago, we assumed would never want to work with us, are interested in working with us now.
RELATED ARTICLES:
Detroit Art Week Illuminates the Artists of "Old" and "New" Detroit—And the Complexities of a Gentrifying Art Hub