A few years ago, actress and model Brooke Shields renovated her Greenwich Village townhouse on West 10th Street to great fanfare—and more than a little controversy among her neighbors, who complained of the constant construction. Today, the interior of the home, designed by David Flint Wood and MADE architects, showcases Shields's blooming art collection, as the actress—once a personal friend to Andy Warhol and Keith Haring—has turned to collecting art since joining the board of the New York Academy of Art.
Shields, who was famously photographed by Richard Avedon (for Calvin Klein), Bruce Weber, and Ron Galella, found photography a convenient introduction into the art world, including in her collection a portrait of Jackie Kennedy Onassis—a gift from Galella. She soon expanded into painting, with works by Malcolm Liepki, Hunt Slonem, and Will Cotton.
Shields recently told the New York Times that she's never spent more than $7,000 on a painting—an admirable achievment considering the formidable barrier to entry for new and young collectors, if not for the fact that the most prominent works of Shields's collection were gifts from Warhol and Haring themselves. Haring, in particular, was invited to birthday parties for the young model, and Shields's collection includes a unique drawing by the artist made on wrapping paper, which reads, "Happy 21 Brooke."
RELATED: Who Does Sofia Coppola Collect? See Inside The "Virgin Suicides" Auteur's Dreamy Art Collection
Shields currently sits on the board of the New York Academy of Art, an institution she first became involved with after attending a lecture by Cotton, and which piqued her interest in collecting art. In 2016, she took a more high-profile role, co-curating (with president David Kratz) the academy's booth at Nova's Ark Project in Bridgehampton, New York. Titled "Call of the Wild," Shields's curatorial debut featured thirty-some paintings, prints, and sculptures by alumni of the New York Academy of Arts, including Dina Brodsky, John O'Reilly (whom Artspace interviewed), and Nicolas V. Sanchez, in a show "themed around the animal kingdom and the natural world."
Below, we've gathered a number of artists who appear in Shields's collection, with an eye toward afforability, inspired by Shields's $7,000 threshold.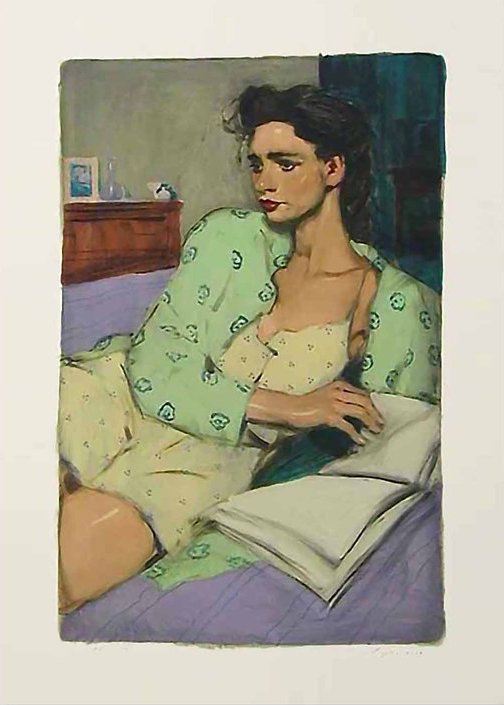 Malcolm Liepke's Reading in Bed (2001) is available on Artspace for $1,800
Perched on a mantel in Shields's casual dining area is an oil painting by Malcolm Liepke, depicting five men gathered for a meal. Leipke's wet-on-wet brushwork portrays young men and women in intensely intimate moments. Leipke has shown his works in exhibitions worldwide including Nikola Rukaj Gallery, Toronto; Albemarle Gallery, London; Arcadia Fine Arts, New York; Track 16 Gallery, Santa Monica, CA; and Buschlen Mowatt Gallery, Vancouver, B.C., among others.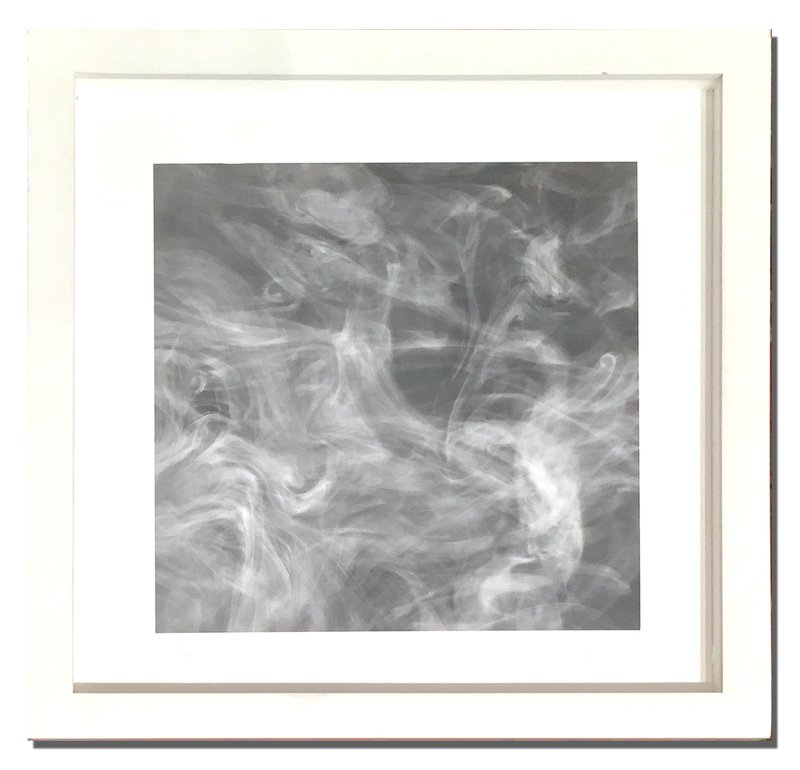 Adam Fuss's From the Series My Ghost (Smoke)—AF#957 (1999) is available on Artspace for $5,000
Shields holds an iconic photogram of a child's christening dress from the artist's My Ghost series, which she displays as a part of a collection of fashion photographs, including works by Richard Avedon and Annie Leibovitz. Adam Fuss's photograms of smoke from the same series are more overtly ethereal. His work is included in the collections of the Museum of Modern Art, the Metropolitan Museum of Art, the Whitney Museum of American Art, and the San Francisco Museum of Modern Art, among many others.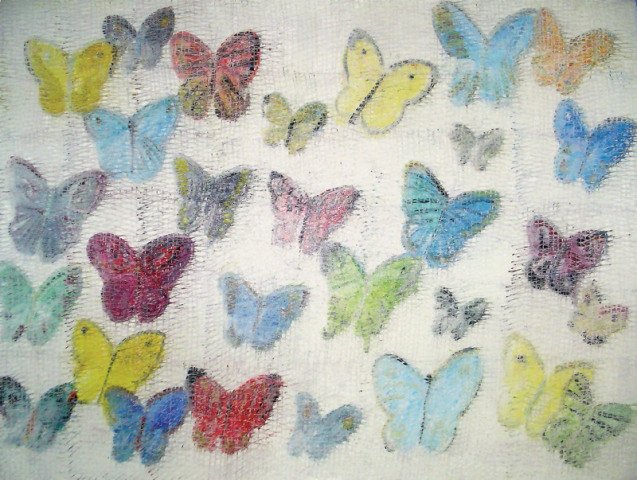 Hunt Slonem's Reflections (2008) is available on Artspace for $1,000
Hunt Slonem, widely known for his paintings of birds and butterflies, developed a fascination with these exotic figures during both childhood trips to Hawaii and time spent in Managua, Nicaragua. In her collection, Shields holds three paintings of rabbits, hung vertically as a triptych. Slonem's creations are part of the permanent collections of over 80 museums including the Metropolitan Museum of Art, the Solomon R. Guggenheim Museum, and the Whitney Museum of American Art.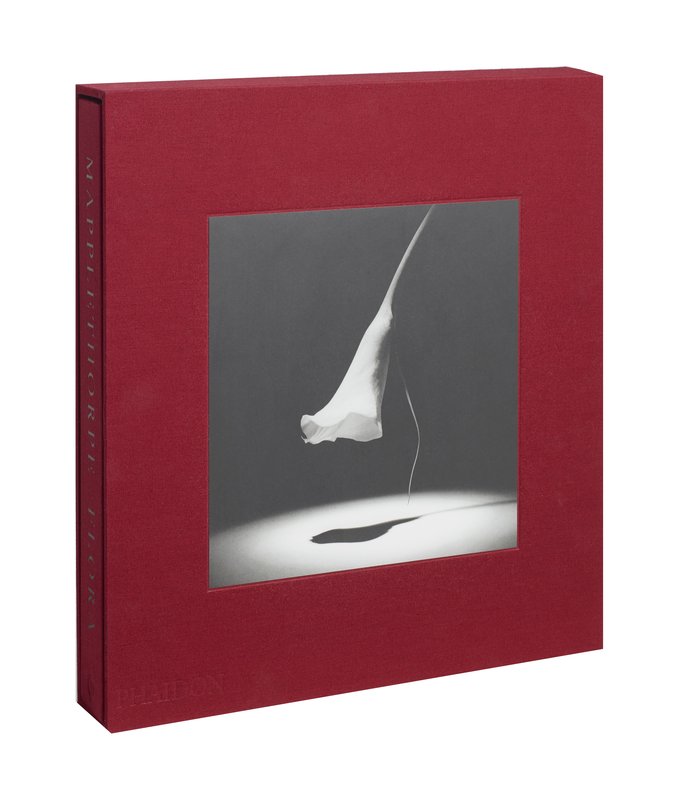 Robert Mapplethorpe's Mapplethorpe Flora: The Complete Flowers (2016) is available on Artspace for $175
Chalk it up to her time as a model, but Shields's living room is full of monographs by the most famous fashion photographers, including Richard Avedon, Bruce Weber—both of whom shot Shields in iconic campaigns for Calvin Klein and Barney's, respectively—Alfred Stieglitz, and George Hurrell. Among the prints lining the living room wall is a photograph by Robert Mapplethorpe, who is best known for his self-portraits and documentation of the queer S&M scene. More suitable for a living space is a book of his lesser-known but equally provocative flora still lifes.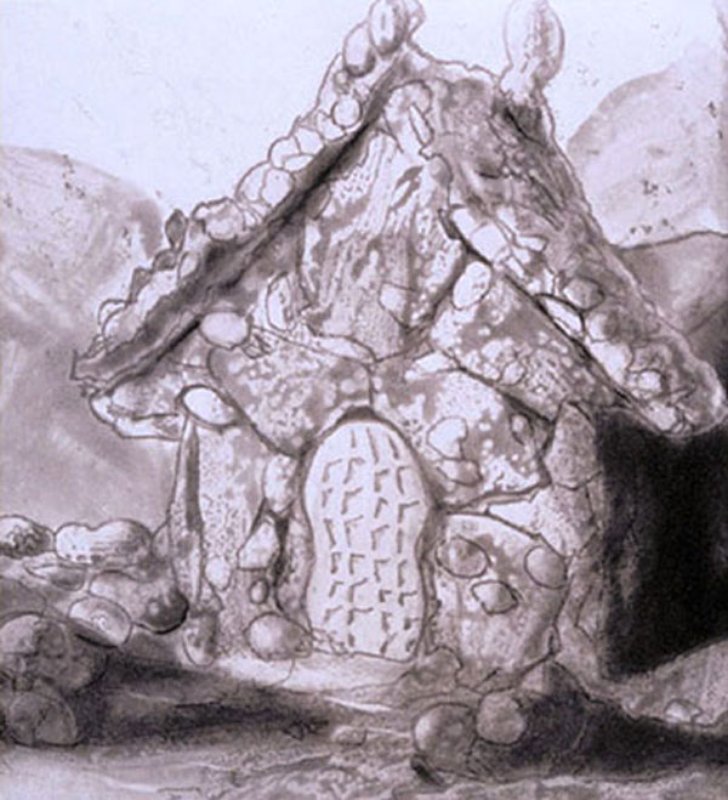 Will Cotton's Peanut Butter Brittle House (2002) is available on Artspace for $2,000
After seeing prints of his work in a magazine, Shields fell in love with Will Cotton's saccharine paintings. On their tenth wedding anniversary, Sheilds's husband, producer Chris Henchy, commissioned Cotton to paint two portraits of their two daughters. Shields and Cotton have since grown close due to their joint involvement with the New York Academy of Arts, of which Shields now sits on the board.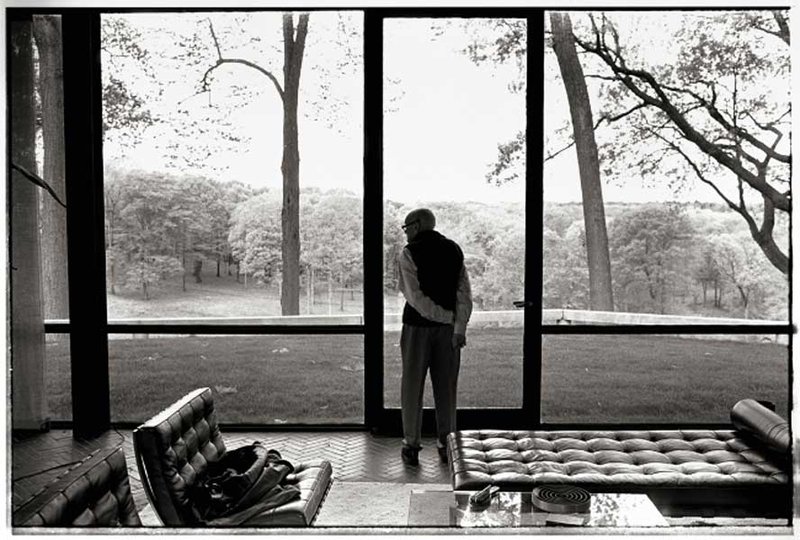 Annie Leibovitz's Philip Johnson, New Canaan, Connecticut (2002) is available on Artspace for $12,500
Perhaps one of the most iconic fashion photographers working today, Annie Leibovitz is a natural fit for Shields's collection, as Leibovitz's work has also found acceptance in the art world, with her considered compositions, fantastic sets, and cinematic style. In addition to receiving a Lifetime Achievement Award from the International Center of Photography and numerous other awards, Leibovitz's work is held by the National Portrait Galleries of both Washington, DC, and London; the Brooklyn Museum; Maison Européenne de la Photographie, Paris; and the Hermitage Museum, St. Petersburg, Russia.
RELATED: The Female Gaze: 10 Women Who Changed Fashion Photography As We Know It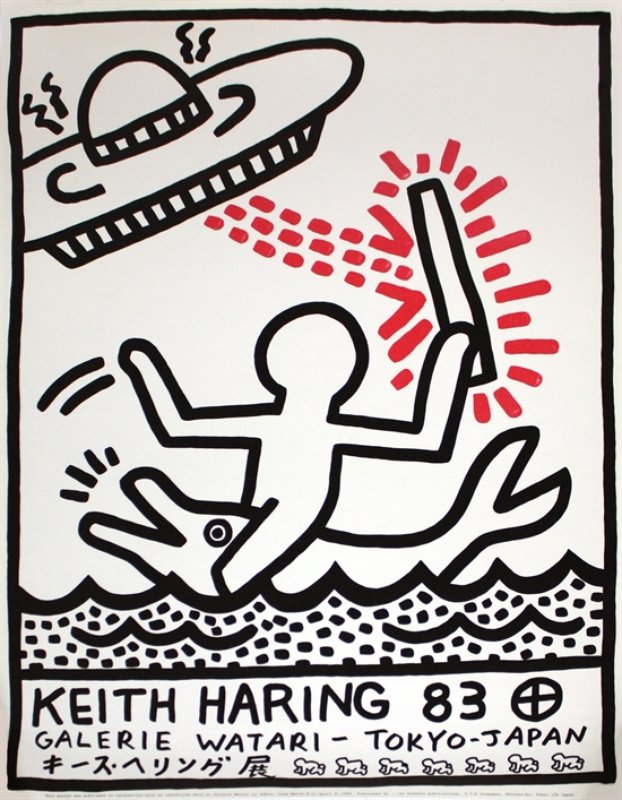 Keith Haring's Galerie Watari (1983) is available on Artspace for $1,250
Shields has a number of works by Keith Haring, which were gifts by the artist himself. One, a drawing that reads "Happy 21 Brooke," was used to wrap a gift for the actress on her birthday. A second work by the artist mounts the fire place in her living room, between two portraits of her daughts by Cotton. Shields first became familiar with Haring while regularly passing by his famed "Crack Is Wack" mural in East Harlem.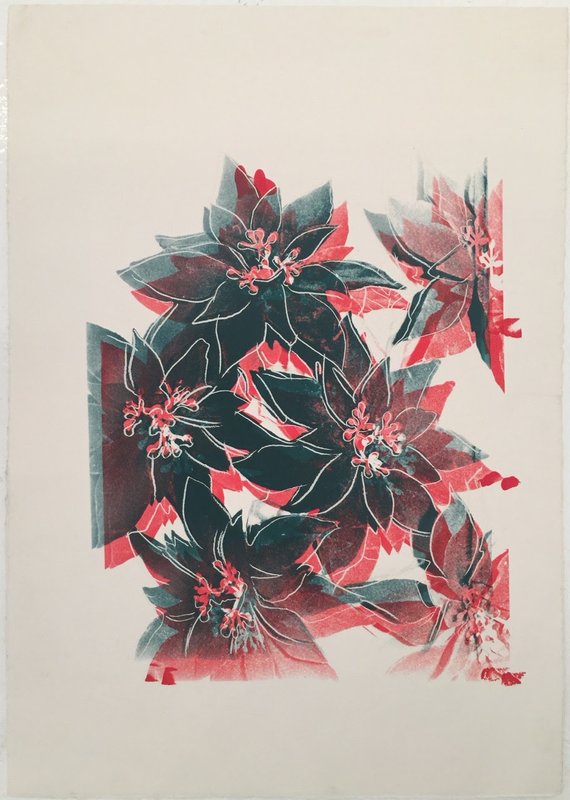 Andy Warhol's Poinsettias (1985) is available on Artspace for $10,000 – 15,000
Perhaps the most valuable work of her collection, Shields's Warhol hangs in her laundry room. A regular of Studio 54 when she was a teenager (she attended the famed opening on April 26, 1977 when she was just 11 years old), Shields got her Warhol from the artist himself, who was also a regular at her birthday parties.
[related-works-module]