It's Fashion Week in New York, meaning the city is flush with models wearing the latest styles and (if they're lucky) being tailed by a skilled photographer. The world of fashion photography has long been a boy's club, with figures like Richard Avedon and Helmut Newton historically setting the tone. Though somewhat lesser-known outside of the industry, their female counterparts are perhaps even more important for the development of fashion imagery as they challenged simple sexualization in favor of complicating and empowering their subjects. These 10 female photographers from Phaidon's The Fashion Bookrepresent some of the most important figures in the history of the industry—aspiring fashionistas, take note.
CORINNE DAY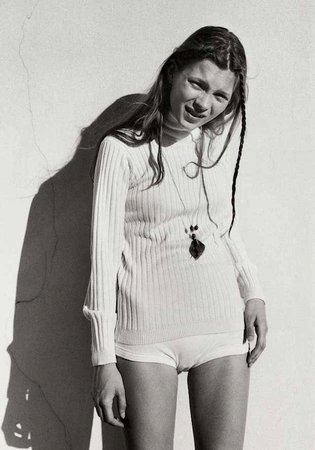 Kate Moss, 1990
In this picture, from the series that introduced Kate Moss to the world, Corinne Day aimed to capture, "a teenage sexuality which I love. I want to make my images as documentary as possible, an image of life that is real." Day's style rejects everything that fashion photography has traditionally stood for—glamour, sexiness, and sophistication—by shooting skinny girls in cheap nylon amidst squat-like squalor. Her anti-fashion attitude exemplified the mood of the 1990s. Herself an ex-model, Day discovered her subjects in the street. She launched the career of Kate Moss when the model was just fifteen. Day is credited with starting the trend for prepubescent-looking waifs. Vogue editor Alexandra Shulman, however, defended her work as "a celebration of vulnerability and joyousness." In 2011 Gimpel Fils Gallery, London, mounted the exhibition "Corinne Day. The Face," the first solo exhibition of her work since her untimely death in 2010.
DEBORAH TURBEVILLE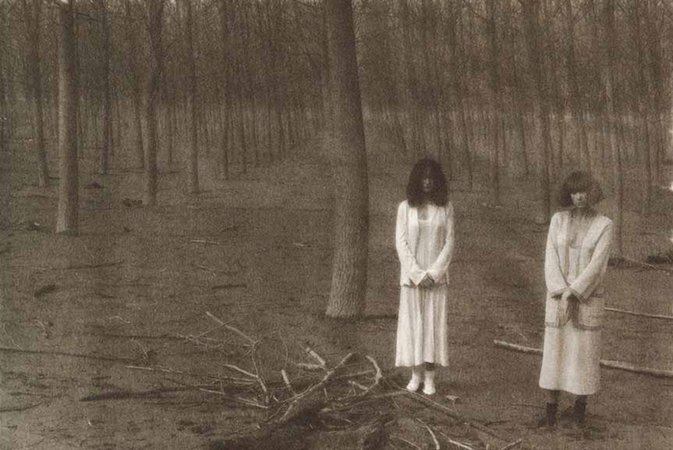 Isabelle Weingarten and Ella Milewiecz, 1978
Models Isabelle Weingarten and Ella Milewiecz become part of Deborah Turbeville's dreamscape. A typical shot, it depicts motionless subjects who pose in a group but without relating to one another. Turbeville's career path was a tortuous journey through fashion—an experience that gave her a deep understanding of clothes. Having arrived in New York in 1956, she worked as a model and moved on to assist designer Claire McCardell. She then turned to magazines, becoming a fashion editor for Mademoiselle. In 1966 she changed course again. Turbeville became a freelance photographer for Harper's Bazaar after being inspired by a talk given by Richard Avedon. By 1972 she was working for the cult magazine Nova in London. Her haunting style was very different from other fashion photography of the time and yet it was intriguing rather than alienating.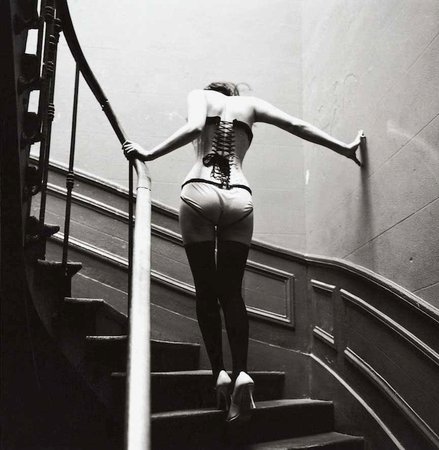 Iris Palmer, 1996
Wearing towering heels, stockings, silk underwear, and corset, model Iris Palmer presents a traditionally provocative figure. Many observers are surprised to find that von Unwerth, the photographer, is a woman. She encourages her subjects to look sensual and her success stems from the fact that she projects these images from a female perspective. "The models love to look sexy," she says. "They all like to be photographed in that way." Von Unwerth "discovered" the supermodel Claudia Schiffer in 1992 when she photographed her for Guess? Jeans. She has also famously created advertising images for Wonderbra, Katharine Hamnett, and Gianfranco Ferré. Von Unwerth left her native Germany in 1974 to begin a modeling career in Paris, becoming a photographer ten years later. She has grown to be a key image-maker through her editorial work for Vogue, The Face, Interview, and even Playboy.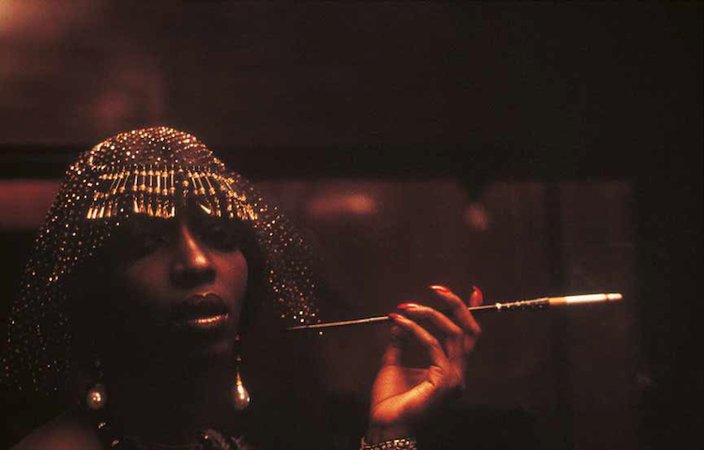 Lanvin model at Mappins, Paris, 1977
Eve Arnold's camera picked up the gold beaded skullcap, glossed lips, and lacquered nails of a model backstage at a Lanvin show in 1977. Arnold rarely used studios; relying instead on natural light she was dependent on her hand-held Nikon. Her work was always respectful and sympathetic to its subject, background details were never an afterthought—Arnold insisted, "You have to take advantage of the variables. It might be the smile, the gesture, the light. None of which you can predict." She took pictures of black women modeling in Harlem fashion shows in 1948 and continued the project for two years, until Picture Post published her story. As a result, she was offered a job as the first female stringer for the Magnum Photos agency. A long friendship with Marilyn Monroe produced some of her best-known images. But Arnold's work covered a broad spectrum—"everything from serious disaster to Hollywood hoop-la."
FRANCES MCLAUGHLIN-GILL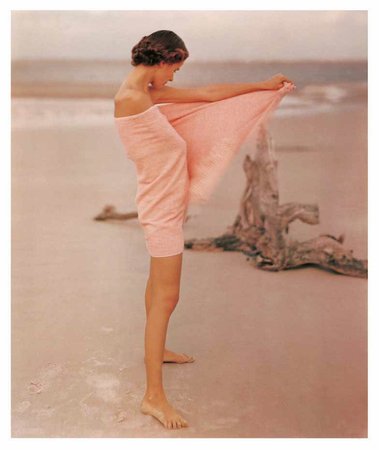 Carol McCarlson on the beach, St Augustine, Florida, 1948
This picture could be placed in any year since the one it was taken: 1948. The subject, Carol McCarlson, dries herself on a Florida beach; it is a picture that uses the blur of her oscillating towel to lend a naturalness for which its photographer is known. In 1941, Frances McLaughlin-Gill and her twin sister Kathryn entered a photography competition in Vogue. Both were finalists and Kathryn landed a job with Vogue photographer Toni Frissell. It was she who recommended that Frances should be introduced to her art director Alexander Liberman. He hired McLaughlin-Gill in 1943 and she came to illustrate the lives of the new young market for Glamour and Vogue, making relaxed depictions of real scenes the context for the burgeoning teenage and American sportswear markets. McLaughlin-Gill also added a spirit of informality to the stiff, grown-up couture of the 1950s.
[related-works-module]
LEE MILLER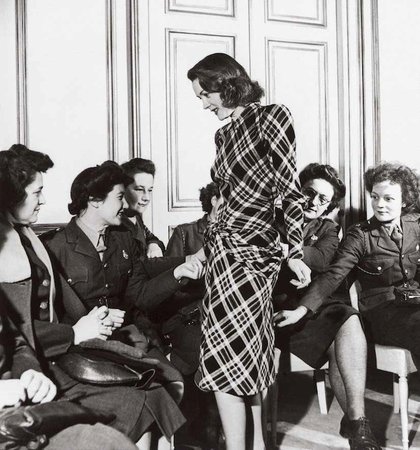 Service women at a fashion salon, Paris, 1944
A model, with her painted nails, lipstick, coiffed hair, and bias-cut dress, is a tantalizing vision for the servicewomen she parades for. One stretches her arm to feel the cloth, the wearing of which, for most, would have been an impossible dream. Her unconscious touch renders the model as unreal as the image she projects. American photographer Lee Miller is known for her poignant photographs taken during the Second World War as a member of the London War Correspondents' Corps. During this time, however, she also worked for Vogue. Her captivating photograph shows that Paris couture had lost none of its power during the War, and the city was well positioned to re-establish itself as a fashion leader. In the late 1920s Miller was a model, photographer, and writer for Vogue in New York. In 1929 she moved to Paris, where she lived and worked with Man Ray and was friendly with Picasso and the Surrealists.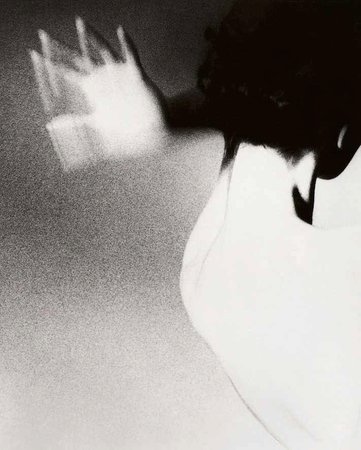 Barbara Mullen, c.1950
"I almost always focus on a long, elegant neck," said Bassman of this photograph featured in Harper's Bazaar. Her shadowy, sensual pictures are known for their gentle intimacy, "Women didn't have to seduce me the way they did male photographers. There was a kind of inner calm between the model and myself." Her images were created by innovative printing techniques such as bleaching areas to give results that resembled charcoal drawings, recalling Bassman's early career as a fashion illustrator before being apprenticed to Alexey Brodovitch. Bassman's work is more evocative of moods than subjects and has not always been understood. Carmel Snow, former editor of Harper's Bazaar, once berated Bassman for photographing a diaphanous Piguet gown to resemble butterfly wings, saying, "You are not here to make art, you are here to photograph buttons and bows"—a landmark in the debate about the purpose of fashion photography.
LOUISE DAHL-WOLFE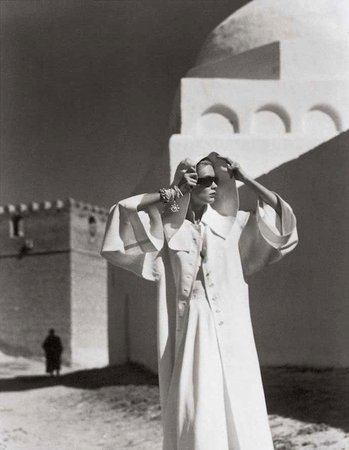 Grès coat, Egypt, 1950
Beneath the Cairo sun, model Nathalie shades herself in a cotton robe by Alix Grès. Louise Dahl-Wolfe, the photographer, often cast her images in bright sunlight. Beaches, deserts, and sunny plains were her natural domain, first for compositions in black and white and later for some of the most sumptuous photographs ever taken of swimwear, playsuits, and the exoticism of modern fashion. Her most frequent editor-stylist was Diana Vreeland. The unpretentious Dahl-Wolfe and the extravagant Vreeland were an odd couple in style, but together they became collaborator-adventurers in seeking out an ambient naturalism for the modern woman. Vreeland's flamboyance and artifice were sweetly tempered by Dahl-Wolfe's interest in portraiture and in landscape. Even in the most glamorous image, Dahl-Wolfe displays her inquiring mind and analytical insight, giving photography character, and idiosyncrasy.
SARAH MOON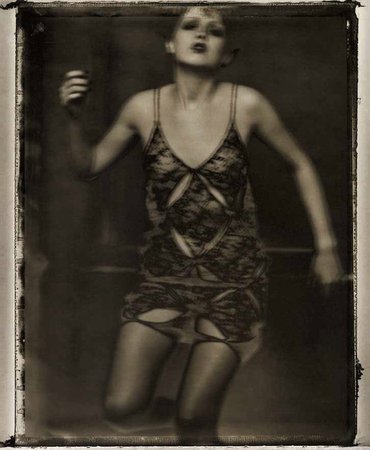 Katia wears Enrica Massei, 1997
A Sarah Moon photograph is almost always a dreamy, soft-focus trip back to the fashion mood of the 1920s and 1930s. When she photographed the Pirelli Calendar in 1972, it was a groundbreaking event: not only was she the first woman to do so (she was chosen to pacify objections from the feminist movement), but she was also the first to show fully exposed breasts. Moon spent much of the 1960s as a fashion model, but towards the end of that decade turned to photography. Her first assignment was an advertising campaign for Cacharel, which led to editorial work for Nova, Vogue, Harper's Bazaar, and Elle. Subsequent advertising campaigns for Biba cosmetics summed up the fashion mood of the early 1970s. Moon has since moved beyond the constraints of fashion and into the sphere of fine art photography. Her work has remained muted, somewhat surreal, and always beautiful.
TONI FRISSELL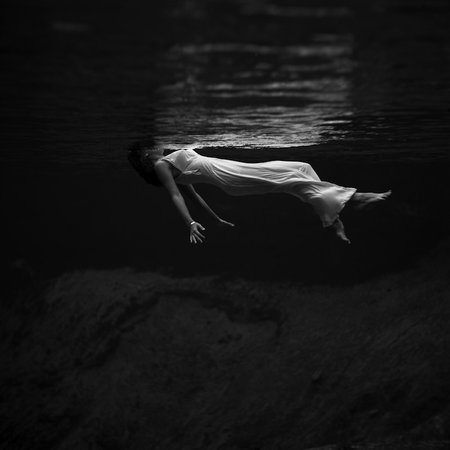 Weeki Wachee Spring, Florida, 1947
Toni Frissell's fashion photographs of the 1930s through to the 1950s captured the idyllic sense of the rich at play. Here, a model swims in her gown to illustrate its flowing material. With the innate nonchalance of an aristocrat, Frissell documented her world of wealthy playgrounds. Some of her vivid fashion images were of the beach, featuring playful swimwear and recreation dresses, and crisp tennis outfits. Frissell loved the outdoor setting and sunlight's play at least as much as the clothes or model, and let that casual naturalism permeate photographs for Vogue and Harper's Bazaar. Frissell's images appear effortless, whether of dogs, children, foxhunting, war or fashion. She mingled the snapshot's vitality and compassion with traditional composition. Frissell recorded a charmed life in every way, including radiant photographs of the 1953 wedding of John F. Kennedy and Jacqueline Bouvier.
[related-works-module]