Born in the 1990s—the decade of the World Wide Web, virtual networking, and cyberspace—the Relational Aesthetics movement saw artists hoping to foster interaction and communication between artist and viewer through participatory installations and events. Relational artists rejected making conventional art objects, instead opting to engage audiences by creating situations that call for—and sometimes force—interpersonal interaction. This essay from Phaidon's Art in Time details this experimental and at times controversial movement that pushed the boundaries of art's definition.
"Relational aesthetics" is a term coined by curator Nicolas Bourriaud for the exhibition "Traffic," held at the CAPC musée d'art con­temporain de Bordeaux in 1996. It refers to installations and interactive events designed to facilitate community among participants (both artists and viewers). Rather than producing objects for individual aesthetic contemplation, Relational artists attempt to produce new human relationships through collective experiences. These practices have their roots in earlier art movements, namely Dada, Conceptual art, Fluxus, and Allan Kaprow's "Happenings."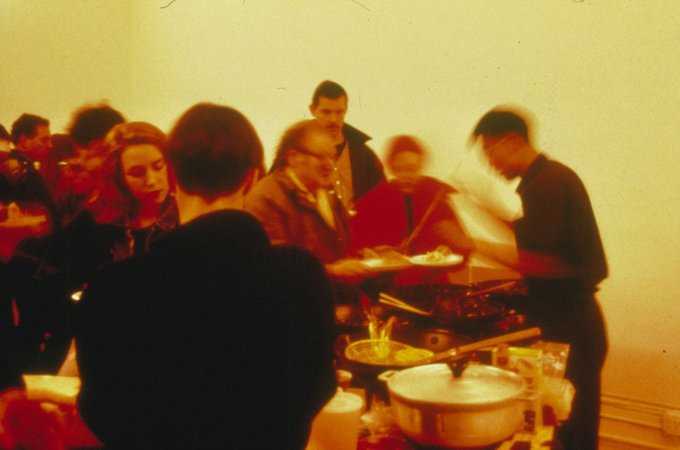 Rirkrit Tiravanija's Pad Thai, 1990
Rirkrit Tiravanija (b. 1961), in perhaps the most iconic work of Relational art, Pad Thai (later renamed untitled/Free/Still), moved all the contents of an art gallery storeroom and office into the exhibition space and staged his work in the back rooms; the art consisted of cooking Thai cuisine for his audience. The viewers became active par­ticipants, first locating the backrooms, then consuming the food and engaging in con­versations with the artist and one another, instead of quietly looking at objects in an exhibition space. The community in Stream­side Day, by Pierre Huyghe (b. 1962), con­sisted in part of a parade and celebration in a suburban development in New York State. Members of the Streamside community can choose to execute the celebration again each year, a bit like playing a composer's score.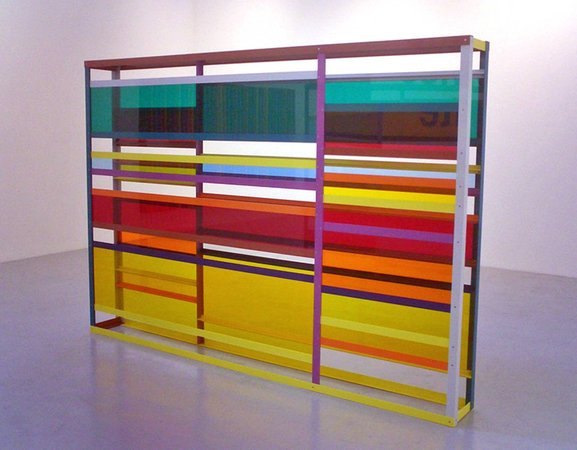 Liam Gillick's Big Conference Centre Limitation Screen, 1998
Big Conference Centre Limitation Screen, by Liam Gillick (b. 1964), explores archi­tecture's role in human interactions. Part Minimalist sculpture, part corporate capitalist architecture—consider portable screens used to create cubical walls or temporary meeting areas—his structure is seen by Gillick ultimately as a mere "backdrop or décor" for the interactivity of audiences. For VB 35 at New York's Guggenheim Museum, Vanessa Beecroft (b. 1969) instructed her live models to stand motionless, clad in designer shoes and rhinestone bikinis, or in some cases simply in designer shoes. Guests of the exhibition had an uncanny encounter with figures that resembled fashion advertising images but were in fact live human beings.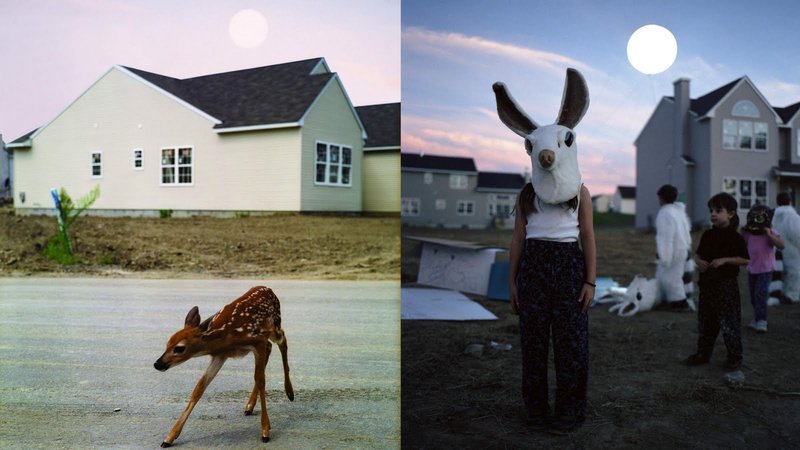 Pierre Huyghe's Streamside Day, 2003
Relational art has met with criticism, most notably from art scholar Claire Bishop, who, while interrogating the kinds of relationships this art produces, argued that such artists as Tiravanija and Gillick do not so much democratize art as simply reinforce their pre-existing, closed art world and thus ignore its implicit class pol­itics. For Bishop, Relational artist Thomas Hirschhorn (b. 1957) offers an alternative by highlighting underlying social antago­nisms. For "Documenta 11," held in Kassel, Germany, in 2002, Hirschhorn worked with locals in a nearby low-income, immigrant neighborhood to erect a temporary structure that served as a site for com­munity debates on the writings of French philosopher Georges Bataille. Com­posed of cardboard and scrap wood, the Bataille Monument's "do-it-yourself" aesthetic willfully defied the refinement of museum and gallery spaces. Participants from the neighborhood could, and did, voice their opinions on Bataille in the monument's makeshift television studio, thus becoming part of the art while viewing it.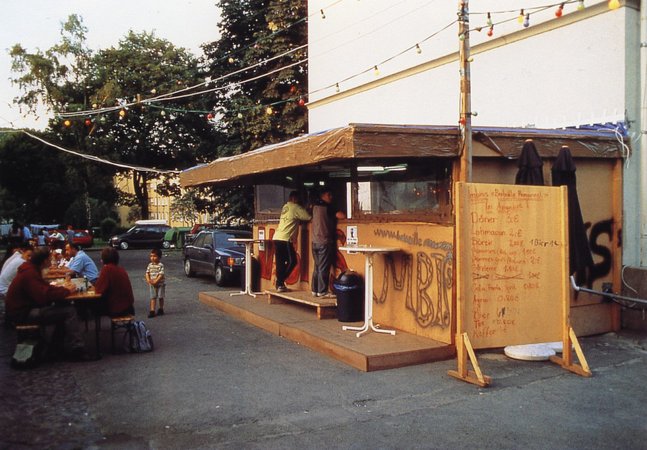 Thomas Hirschhorn's Bataille Monument, 2002
[related-works-module]