The word "Minimalism" evokes rigid, geometric forms, void of emotion and evidence of the artists' hand. But what was Post-Minimalism? On the one hand, Post-Minimalist artists pushed Minimalism's ideas of non-traditional sculpture-making that heavily emphasized materiality, while, on the other, imbued the work with expression and emotion, often having the artist's process, actions, and emotional state visible in the end result. This brief essay from Phaidon'sArt in Time shows us some of the key artists of this significant movement, whose conceptual as well as aesthetic strategies remain important to this day.
 [Click Here To Browse Post-Minimalist Works On Artspace]
Post-Minimalist artists in the late 1960s and early 1970s rejected the pure geometry, intellectual rationality and exclusive use of industrial materials of Minimalism Instead, these artists returned to irregular and organic forms, and mixed different media. Some Post-Minimalist art is also known as "Process art" because the art­ists often let their material processes, such as pouring or wrapping, reveal themselves in the finished form of their objects.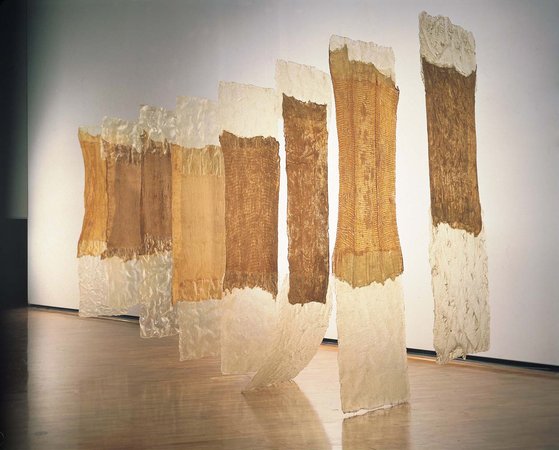 Eva Hesse's Contingent, 1969

The aesthetic of Post-Minimalism was established in 1966 in the exhibition "Eccen­tric Abstraction," curated by Lucy Lippard at the Fischbach Gallery in New York City (though the term was not coined until 1971). Its characteristics are most clearly seen in the 1968 work Contingent, by Eva Hesse (1936–70). The sculpture's hanging sheets of latex and muslin (cheesecloth) have an organic quality, like layers of skin shed from some giant creature. The work seems fragile and absurdist: the artist said she "wanted to make paintings that hung from the ceiling." At the time, Hesse was battling brain cancer, to which she succumbed the following year, and she was unapologetic about letting her art mirror her life.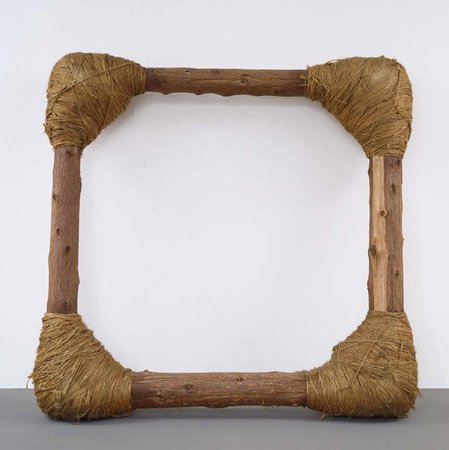 Jackie Winsor's Bound Square, 1972
Process was a key component of much Post-Minimalist work. Bound Square, by Jackie Winsor (b. 1941), consists of twine she made from hemp that she then proceed­ed to wrap around four logs to create what looks like a primitivist picture frame. The sense of the repetitive labor involved in binding the corners is inescapable.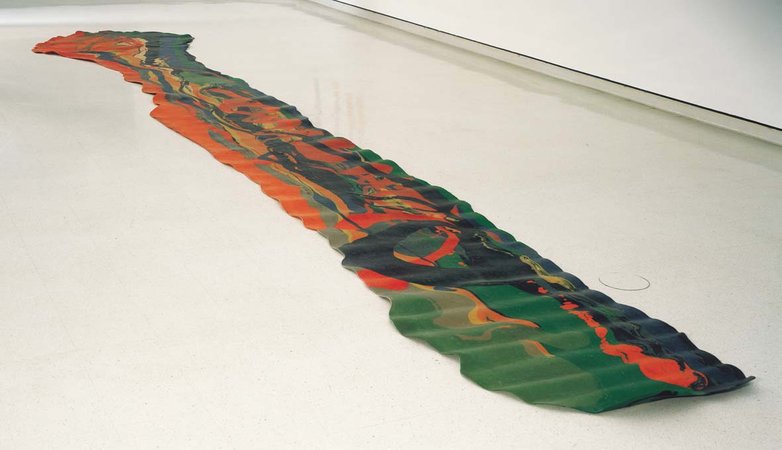 Lynda Benglis's Fallen Painting, 1968 
Lynda Benglis (b. 1941) allowed mate­rial processes to determine the form of her sculpture, often created from poured latex rubber that creates a formless mass of color swirls or pillows on the floor. Fallen Painting pokes fun at what Benglis called the "macho and sexist game" of the mostly male Abstract Expressionist style. The work slyly suggests that a grand, large scale painting of, say, Jackson Pollock has fallen off the wall and lies flac­cid and impotent on the floor. The process of art-making played an important role in the work of the Abstract Expressionists, especially those canvases categorized as "action painting", but its purpose was not the same as that of the Post-Minimalists. For Pollock and his fellow painters, process was used primarily to express personal feelings, rather than to explore the materials and forms of the artwork itself.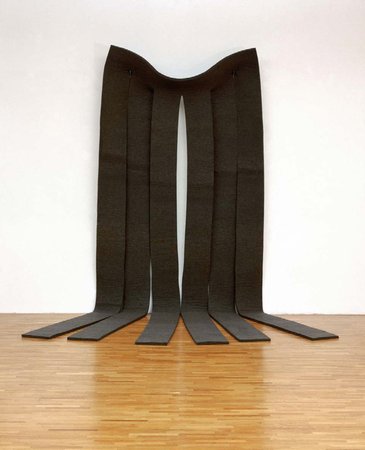 Robert Morris' Untitled, 1969
The response of materials to the laws of gravity also plays a role in the work of Rob­ert Morris (b. 1931). In the untitled sculpture shown here, he cut five slits into a large sheet of industrial felt. By simply tacking it to the wall, the downward pull of gravity created the form of the piece. This surren­der to gravity, process, and chance signaled a new way of making art, in contrast to the pristine, prefabricated geometries of his former Minimalist work.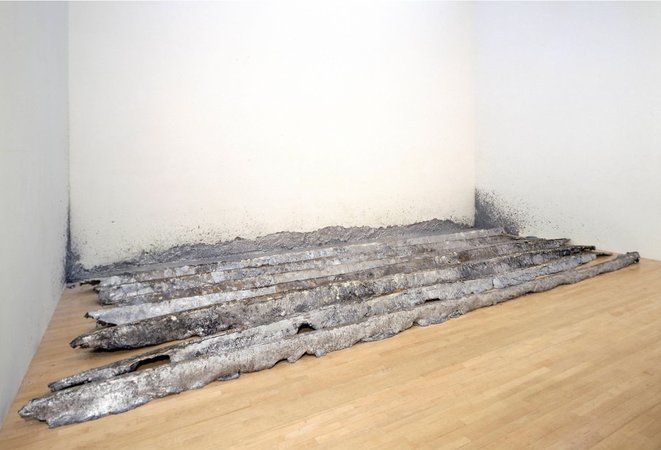 Richard Serra's Gutter Corner Splash- Night Shift, 1969/1995 
Another Post-Minimalist, Richard Serra (b. 1939), highlighted process by making a series of sculptures about singular actions. His Verb List (1967–8) is a written list of verbs associated with sculpture—"to hammer", "to carve", "to bend", etc. Throwing Lead (1968) was derived from that list and involved Serra throwing molten lead in the ware­house of his New York dealer, Leo Castelli. The work should not be mistaken for a performance for its own sake, for while it was about "throwing" rather than a finished form, the action constituted Serra's recon­ception of sculpture not as a material, but as an activity done to a material.
[related-works-module]