Ever since Sofia Coppola 's directorial debut, The Virgin Suicides , was released in 1999, her girly, shimmery, blush-pink aesthetic has been seized upon by bored teenagers and high-powered designers alike. (An entire makeup company was even started based on what's now called "The Virgin Suicides aesthetic.") Characterized by lace-filtered light, opalescent lipgloss, dazzling lens flares, chalky pastels, and dreamy soundtracks, The Virgin Suicides allowed Sofia—the daughter of famed director Francis Ford Coppola ( Apocalypse Now, The Godfather trilogy, The Outsiders )—to make her own name not only as a filmmaker, but as a style idol.
The Virgin Suicides chronicles the short lives of the Lisbon girls—four sisters on the brink of womanhood in the '70s, overly sheltered by their suburban parents, repressing their own sexual desire while the object of everyone else's. "We felt the imprisonment of being a girl, the way it made your mind active and dreamy," a voice-over explains, "and how you ended up knowing which colors went together."
Coppola's oeuvre continued to explore the delicate transitional state between female adolescence and adulthood. Scarlett Johansson 's character in Lost in Translation (2003), the role played by Virgin Suicides star Kirsten Dunst in Marie Antoinette (2006), Elle Fanning 's character in Somewhere (2010), and Emma Watson 's role in The Bling Ring (2013) all share a kind of melancholy that comes from somehow being trapped in the wrong decade, the wrong continent, the wrong social stratus. This dark beauty is uniquely Coppola, yet relatable to anyone with a bittersweet nostalgia for coming-of-age.
Coppola's style and grace justify her cult following—which includes other high profile celebrity-designers like Marc Jacobs , whom has asked the filmmaker to collaborate on several occasions. "Not only was I attracted to how she looked, her sense of style," explains Jacobs to Dazed , "I was drawn to her manner, her behavior, her life, her ambitions and creativity… She represented everything I am drawn to." In 2008, Coppola designed a capsule collection for Louis Vuitton when she couldn't find what she was looking for in stores. The soft leather satchels in colors like dove gray and oxblood were such a hit that, in 2012, Marc Jacobs invited her to design a resort collection.
It's clear that Coppola's taste is worth emulating. The aesthetic that made The Virgin Suicide s the beginning of an infectious stylistic movement runs through everything Coppola touches. Her clothing, her homes, and, of course, her art. Often attending Chelsea gallery openings on the arm of her friend Rainer Judd (the daughter of Minimalist Donald Judd ), Coppola began collecting photography at a young age before delving into contemporary painters and mixed-media artists. So what does " The Virgin Suicides Aesthetic" look like when it's applied to art collecting? Here's a glimpse of the style icon's taste in fine art, as demonstrated through the distinctive artists she collects.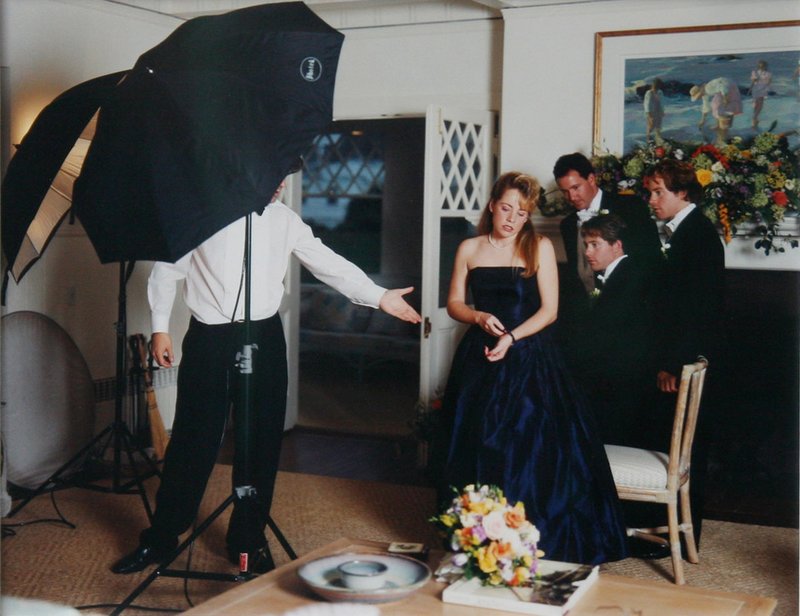 The Bridesmaid (1994) by Tina Barney is available on Artspace for $2,500


In 1991, Coppola studied photography at CalArts in her hometown of Los Angeles. Her stint as an art student didn't last long, but Coppola's love for photography only continued to grow. "My first purchase was a Bill Owens photo from his series on suburbia. My mother bought it for me at an art fair in San Francisco," says Coppola to GQ . "I started with photography—it's more affordable."
Among the first photographers collected by the young Coppola was Tina Barney , an artist best known for capturing her privileged East Coast family and friends using large format color photography that straddles the line between candid and tableau. The photograph pictured above is part of the artist's "Theater of Manners" series that captured family events during the '80s and '90s.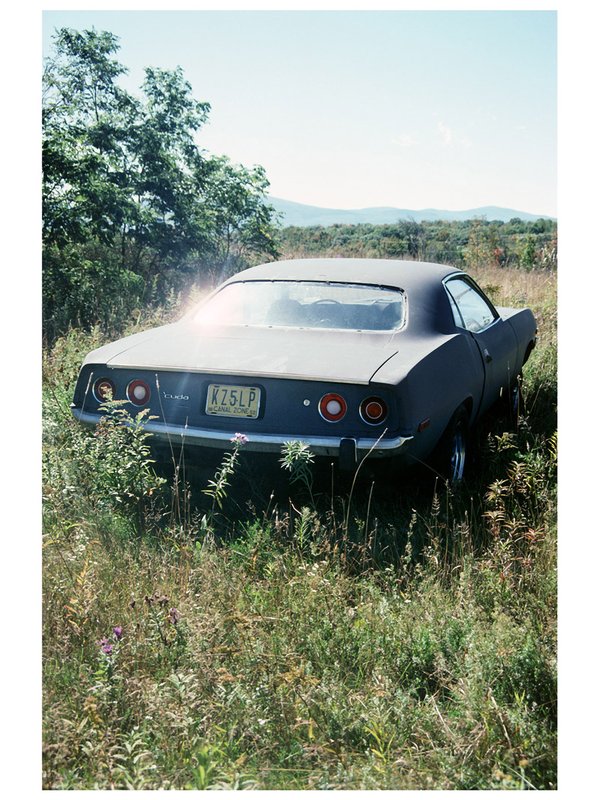 Untitled (upstate) (2006) by Richard Prince is available on Artspace for $15,000


As Coppola became more serious about collecting, she branched out from photography to explore new genres—the art of Richard Prince was an easy transition. Using appropriated photographic imagery, the artist critiques American culture by reframing its archetypes, icons, and myths while challenging consumer advertising, fame-seeking, and mainstream humor.
Elizabeth Peyton


Nick (Poquatuck Park) by Elizabeth Peyton hung in Sofia Coppola's SoHo loft


Nick (Poquatuck Park) by Elizabeth Peyton initially hung in the dining room in Coppola's former SoHo loft before traveling with her to her current townhouse residence in the West Village. It's not hard to link Coppola's dark and dreamy fascination with adolescence and the angsty portraits by Peyton.
Elliot (1999) by Elizabeth Peyton is available on Artspace for $2,500


Peyton's work rose to popularity in the '90s, with distinctively idealized, feminized, and androgynized depictions of males. Described by the New York Times as "a forerunner of new Realism," Peyton held a mid-career survey at the New Museum entitled "Live Forever: Elizabeth Peyton" in 2008.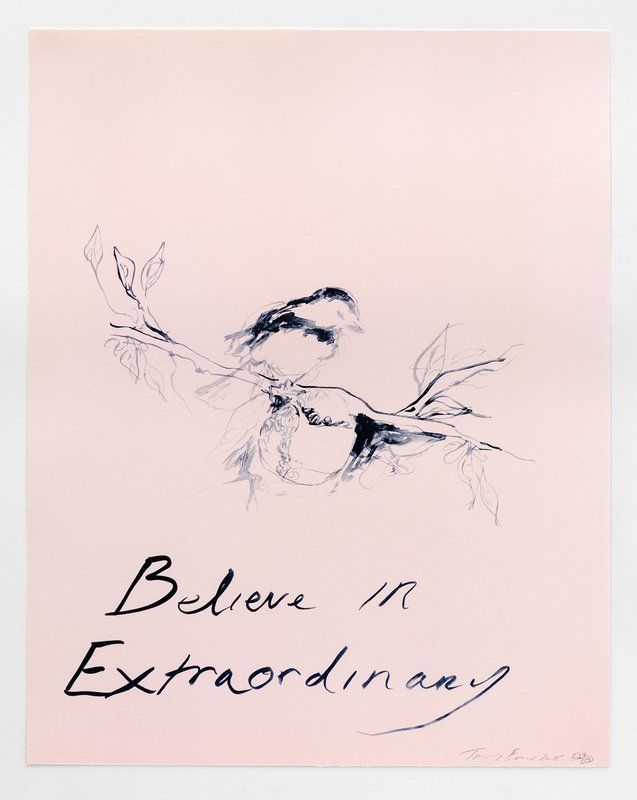 Believe in Extraordinary (2015) is available on Artspace for $1,700


Near the aforementioned piece by Peyton hangs a work by Tracey Emin in the upstairs living room of Coppola's West Village townhouse. A prolific British artist, known for her contributions to the Young British Artists movement of the 1990s, Emin shares Coppola's exploration of adolescence and sexuality. Anyone else noticing a '90s-artist trend going on?
Cold Beer... by Ed Ruscha is pictured behind Sofia Coppola sitting in her office.


A pioneer of the 1960s Los Angeles art scene, the iconic Ed Ruscha is reportedly Coppola's favorite artist. Ruscha's embrace of Hollywood vernacular aligns with Coppola's storylines that revolve around L.A. celebrity culture ( The Bling Ring, Somewhere .) In her office, Coppola casually displays Ruscha's Cold Beer... , a print the director ended up with after she used it to dress the set of Somewhere . Stephen Dorff—who in the film played the lead role of a bad-boy actor who's recovering from an injury in the famed Chateau Marmont hotel in Beverly Hills when his happy-go-lucky teenage daughter shows up to the live with him—discovered this particular Ruscha work.
"So I met Ed (Ruscha) again at one of his shows at Larry Gagosian's gallery," Dorff told Interview , "and I was at his studio randomly when I had gotten back from Paris. I was excited about getting the part [in Somewhere ], but I couldn't really tell anybody... but at Ed's studio, I did leak it to him. So then I was walking around the studio and I saw a smaller painting called Cold Beer Beautiful Girls . I said, 'Oh, wow. You know, it's so weird, but I think Sofia is a fan of yours. We were talking about you a little bit when I was over there, and it's just weird to be here now and then to see this picture. I think this would be really cool as set dressing in his hotel room—you know, like the character went out and bought it? Just hanging there…." The rest is history.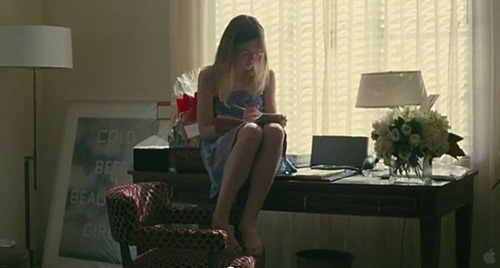 Film still from Somewhere (2010)


The same limited-edition print owned by Coppola, discovered by Stephen Dorff, and used on the Somewhere set is available for sale on Artspace . Click on the image for more details.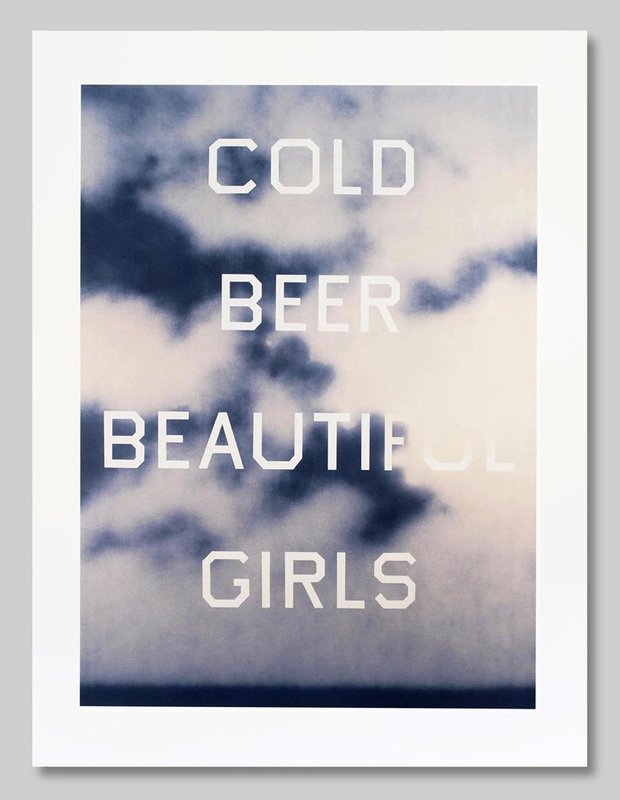 Cold Beer, ... (2009) by Ed Ruscha is available on Artspace for $65,000
Risaku Suzuki

Sakura (2002) by Risaku Suzuki


Cherry blossoms are a recurring theme Lost in Translation , which is set in Japan—the country native to artist Risaku Suzuki . "I fell in love with his cherry blossom photographs and recently ordered a print from my apartment," Coppola has said. The photograph hangs above the director's bed.
Sofia Coppola in her bedroom with Sakura by Risaku Suzuki
Juergen Teller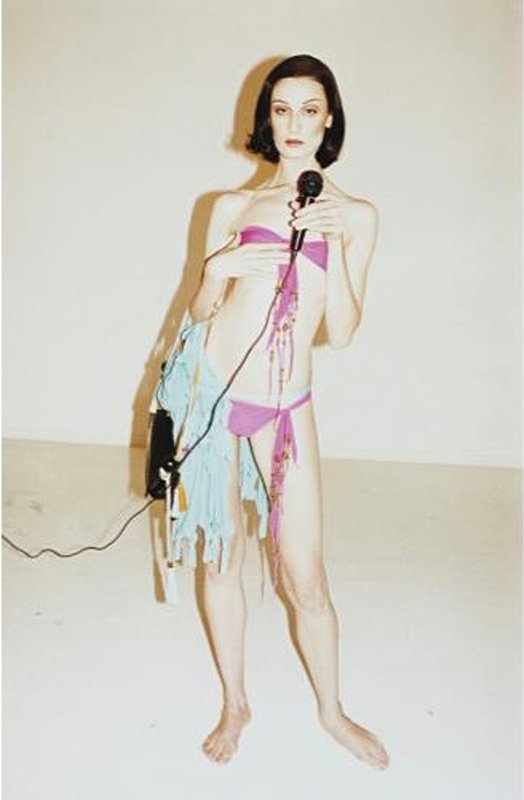 Erin O'Connor in Paris (2004) by Juergen Teller is available on Artspace for $1,260


Coppola's relationship with Juergen Teller —an artist who can straddle the line between fine art and commercial fashion photography, with an edge too often unsuccessfully copied by others in the field—is more than that of a collector and artist. Coppola worked with Teller on the campaign for Marc Jacobs's first fragrance in 2001. Coppola modeled in her pool before road tripping to Big Sur with Teller for a second photo shoot. "It was just a fun, lost weekend," Coppola tells Harper's Bazaar , "an escape from real life."
[related-works-module]