When the
NADA 
art fair kicks off with a VIP preview on Thursday morning, many passionate collectors of contemporary art will be waiting at the gate. Few of them, however, can claim to be as enthusiastic about NADA as the Chicago-based couple
Robert
and
Nancy Mollers
, who are regulars at the organization's fairs in Miami, Cologne, and New York and often host NADA-related events at their home during
EXPO Chicago
. Their 2,300-square-foot apartment is packed floor to ceiling with discoveries from their fair-going expeditions, among them works by NADA artists like
Trudy Benson
,
Allyson Vieira
, and
William J. O'Brien
.
The Mollers have found NADA simpatico in part because they themselves don't fit the stereotype of the private-jetting, black-AmEx-flaunting Art Basel collector. Since the 1970s, Robert, a former teacher in the Chicago public schools, and Nancy, who worked in risk assessment management, have managed to assemble a sizable collection— including museum-quality pieces by
Ed Paschke
,
Wolfgang Tillmans
, and
Mary Heilmann
—on what is by art-world standards a modest budget. As collectors, they are low-maintenance but high-energy, attributes that could just as easily describe NADA Miami Beach.
In an interview with Artspace, the Mollers spoke about the difficulty of making room for all their acquisitions, their advice for new collectors, and the wellspring of their love for all things NADA.
How long have you been going to NADA?
Bob: We've been going to NADA in New York, Miami, and Cologne for the past few years at least. We have been going to NADA Miami Beach since it was at the Ice Palace. Heather Hubbs, the director of NADA, is a very good friend of ours. Back in 2001 she organized "The Stray Show" in Chicago, which was a precursor to NADA in a way. It was an offsite fair during Art Chicago that was affordable for younger galleries—dealers like Lisa Cooley, who was then working for a gallery in Houston called Mixture, or Shane Campbell, who was operating out of his home in Oak Park. I see it as the seed that developed into what NADA is today, once Heather left Chicago and went to New York. She really has an eye for now, or even tomorrow.
So you were going to NADA before it was NADA!
B: Right. We always thought it was interesting, because it was fun stuff. The dealers didn't have to spend too much money to participate, and it was just a good all-around feeling—sort of like what NADA is now, except that NADA has become more of a serious fair. People are in line when the door opens, and major contemporary collectors are there waiting to get in. Which is great—I'm happy for the dealers. I think most collectors, in a way, wouldn't mind being dealers. But we all know it's really a lot more difficult than most people would imagine.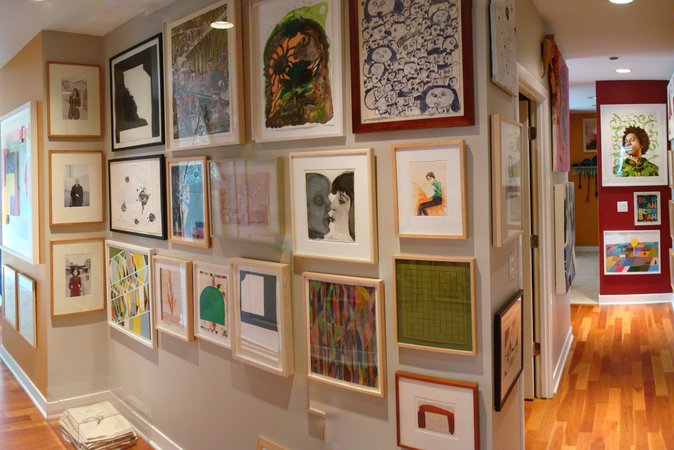 What do you like about NADA specifically, compared to other fairs?
B: We like the young dealers, the new dealers—I'm going to use the term "young," even though I don't necessarily mean young in age. They're approachable. We like the artists they show, which are usually at a much more comfortable price point for us. There's just some sort of excitement to them. We don't buy art just because it's a NADA dealer or NADA artist, but it's a very comfortable fit for people like us who look for younger artists and maybe at a lower price point. At the mega-fairs, six and seven figures seems to be the norm. 
The NADA fairs generally are separate from the big fairs in New York and Miami—but in Cologne they're intermixed and it doesn't make any difference. It's not like you're walking through and you say, "Oh, now we're in the junior varsity." The point is, the work is holding up with the more established galleries there.
How do you think NADA has managed to retain its friendly, upstart vibe as it has matured and attracted ultra-serious collectors?
B: If you're a younger dealer—and, again, that doesn't mean the dealer has to necessarily be a certain age—it generally does pay to be friendly. Most of the people we have dealt with at NADA are very willing to talk and learn and discuss art. We had a NADA reception two years in a row during the Chicago art fair, and they're all really great people.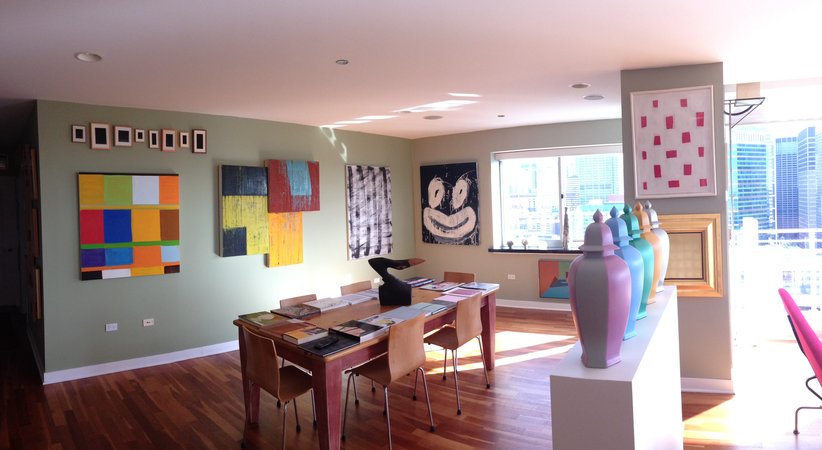 What are some of your favorite discoveries from NADA?
B: Wow, that's a tough one. When you're in the art world and you travel, you see the work in more than one location sometimes. There's an artist we've seen in a gallery on the Lower East Side and at NADA that we are looking into: Alexander Tovborg, who shows with Nicelle Beauchene. He's interesting—we don't have a work by him yet, but we want one. Then there's Trudy Benson, with Lisa Cooley, and Sadie Benning, at Calicoon.
Nancy: We look at things in a variety of places, including online. If we see something of interest, we research it. And then if we're at NADA or another fair, we can see the work in person and possibly make a purchase.
B: With the Tovborg work, when we were at NADA New York last May they had some beauties. But we had a long cab ride going from Chelsea to the NADA fair, and by the time we got there they were all spoken for. Otherwise we probably would have bought one.
NADA is known for being a festive environment, as well as a friendly one. What's the craziest experience you've had at a NADA fair?
B: We probably don't hang around long enough to have one! We're old folks. We're invited to countless dinners in Miami that start at 9 o'clock, but we tell people that at that hour we're lucky to be awake—which is pretty much the truth. We're not party animals. Even in the city here, we don't really go to openings. We're retired—we can go to galleries and museums anytime we want. Contemporary art, though, can keep your mind young, because there's always something new, something interesting. It's not like classical music—and I love classical music, but unless you discover a composer that hasn't been discovered, it's pretty much set. In contemporary art today, somebody is doing something somewhere that maybe five years from now everyone's going to be crazy about. Being in the art world keeps you young—it's like being a college professor.
Speaking of college professors, I hear that you are very involved with the art schools in Chicago.
Our favorite groups to have at the collection are the art students who come in classes from the School of the Art Institute of Chicago, undergrad and graduate. These are the type of artists that will probably be picked up, if they're really good, by a NADA dealer. Generally the session is three hours—the first hour is just looking around and asking questions. Then it's two hours of talking, whatever they want to talk about. The art students, when they come in, are rather reserved. But we tell the professors ahead of time that they're allowed to photograph. Some collectors don't allow you to do that. We like to do that, and then sometimes I ask them to send me the photographs too, because it's fun to see how people interact with art. We live in a building with 200 units, and the people in 195 of the units would think we're crazy if they came into our home.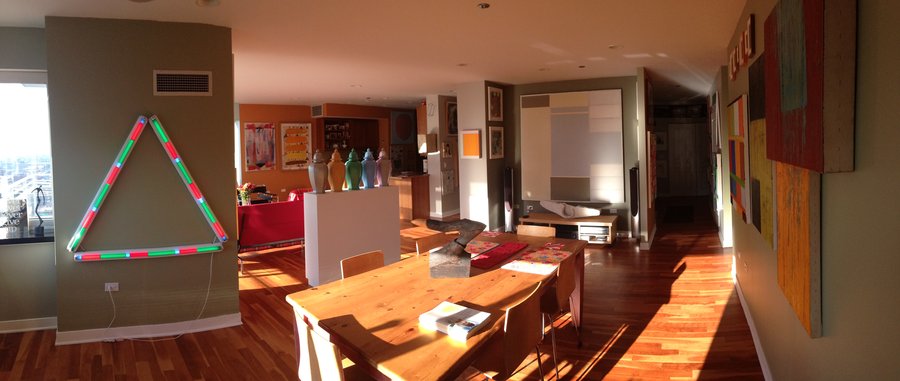 How do you fit new purchases into your collection?
B: We have a home with at least 250 pieces in 2,300 square feet, and there isn't much room to add things. We donate a lot of work and we give work to friends to have in their homes, but we really like to live with our collection. We don't like to keep it in storage. We have works that are over 40 years old hanging in the collection with work where the paint is still drying. It's sort of fun that way. And the people who come to visit enjoy seeing that, rather than what you would call the "Top 40." Some people ask us, "How do you do it?," and I tell them the truth—we just put it where it fits, physically. We've even turned a storage room into an office, which gave us three more walls. But we've really run out of space. People joke, "The ceiling is available."
How else has your collection evolved over the years? Does it have a particular concentration or aesthetic?
N: We've never limited ourselves to a particular style. It's a mixture that's evolved over time.
B: Being from Chicago, which has a great history of the Chicago Imagists, we started getting into the art world in the early '70s. The figure was in everybody's work—Jim Nutt, Gladys Nilsson, Karl Wirsum, Ed Paschke. These are people who work with the figure in a very vivid, distorted, colorful way. Then, through an exhibit at the Art Institute of Chicago, we became very interested in the Funk Art of the San Francisco Bay Area. Later, in Chicago, Donald Young and Rhona Hoffman opened up a gallery that started showing people like Donald Judd and Robert Mangold, and we started to get a different aesthetic. A lot of these artists were way out of our ballpark price-wise, but we have found that it's very important to see these shows anyway because then when you see work by artists who are younger and less expensive you can relate it to the big picture. That's why Nancy and I frequent the art museums here. We can walk to the Art Institute from our home. Then, all of a sudden, the art fairs developed. Art Chicago was the first major art fair in the United States. Everybody from around the world was coming to Chicago, to display things we had never seen before in our lives.
What are some of the key works in your collection?
B: That's like asking us which is our favorite! It's really difficult. But there's a piece that's 40 years old—my wife's portrait by Ed Paschke—that is sort of an historic piece. We acquired Wolfgang Tillmans early. We acquired a piece that's no longer in our collection, the Félix González-Torres light-bulb piece—that's now in the Fogg Art Museum at Harvard. We have a mixture of young artists and older artists. Recently, we have been acquiring works by artists more our age, mainly because they are really great artists and the price point is just like that of young contemporary artists. So we figured, why not pick up some of those? I'm talking about artists like Joyce Pensato, Stanley Whitney, Sadie Benning, Hans-Peter Feldmann, and Imi Knoebel, the last of whom we've followed for 40 years.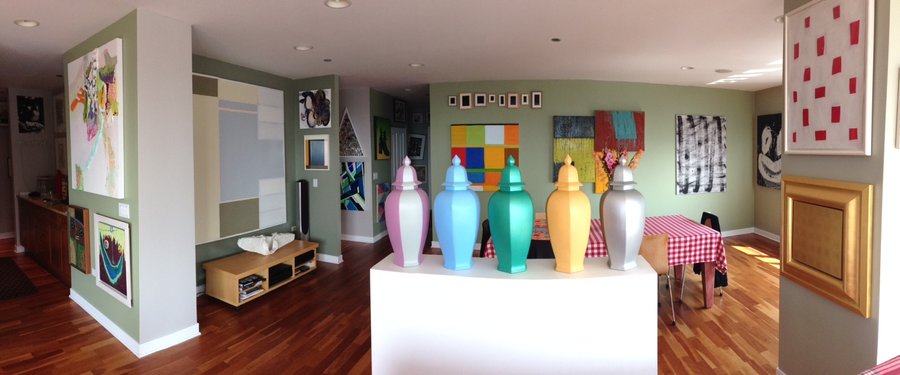 What are some of the other principles that have guided you as collectors?
B: From day one, we have limited ourselves to buying only works by living artists. We very rarely sell anything, and we very rarely buy at auction. And since we don't have children, all of the works have been selected by various museums in our trust. Works that haven't been selected will be distributed to friends, and our entire estate is to be set up as an endowment for acquisitions in prints and drawings at the Art Institute of Chicago. Even though neither of us will be here someday, we still will be acquiring art!
N: And by living artists.
B: I joke with some of our curators that if they rub us the wrong way, we're going to send it all to cat shelters!
What advice would you give to the first-time NADA collector?
B: For most people who have never bought art, that's a very tough move, be it $100, $1,000, or $10,000. That's the hardest thing, whether you're a multimillionaire or just a student. So what I would say is: go ahead and acquire a work and live with it. What's the worst thing that's going to happen? You'll live with it for a few years and maybe trade it or sell it if you don't like it. You just learn to live with things. Because sometimes art isn't instantaneous. We've learned that some work takes years to fully appreciate, and we don't always buy what instantly hits us. Sometimes work that's a little more difficult is the kind of work that grows on you and becomes significant later. So my first advice is, go for it!
N: But by the same token, we've invited friends to the art fair in Chicago and they sometimes feel like they're novices. We tell them not to feel any obligation to buy anything, especially at the price points of some of the works at the fair. It's a learning process—sometimes you just have to look at art for a while and see what you like or don't like, and talk to the dealer and learn about some of the artists that catch your eye. Then, like Bob said, if you really like it and it's affordable, go for it.
B: Don't be intimidated. You have to take that jump sometime. If you go to the bigger fairs, they're much more intimidating if you haven't had experience. We can go to major galleries and they know us. Jay Jopling at White Cube always knows us, because Art Chicago was the first art fair he ever participated in and we were one of his first customers. Even though we're not in that ballpark economically, if they see you around enough over the years they know you. At NADA everybody's new, in a way. You're all sort of in the same ballpark, collector and dealer and artist. It's a comfortable situation to begin in, and even to maintain over the years. We've been in this for over 40 years, and we like NADA—and if we were in our first year, it would be the place to go.