"Living in a Philip Johnson building, you have to be creative and do everything you can to create more wall space," Chiswell Langhorne explained while showing us around his glass-walled SoHo apartment. As a result, the New York collector and screenwriter, who is developing a television drama about the art world ("kind of a 'Mad Men' about a superdealer"), is always on the lookout for new ways to install art in his home. (He has more display options at his house in Sag Harbor, where works by Dan Colen, Wolfgang Tillmans, and Cy Twombly hang in an airy modernist house designed by Annabelle Selldorf.)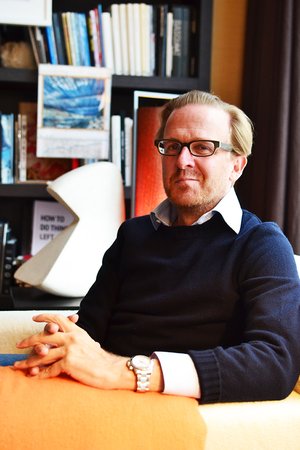 To carve out more room for art in his Manhattan home, he's stashed his living-room television behind a sliding Frederick Værslev painting and adopted an unusual installation method in his intimate library. There, smaller works by Erica Baum, Joe Bradley, Elad Lassry, and others hang right over his shelves of art books and ephemera, design objects, and curiosities from the natural world. In effect, it's a modern-day version of the 18th-century wunderkammer. Here, below, is a guided tour of his home.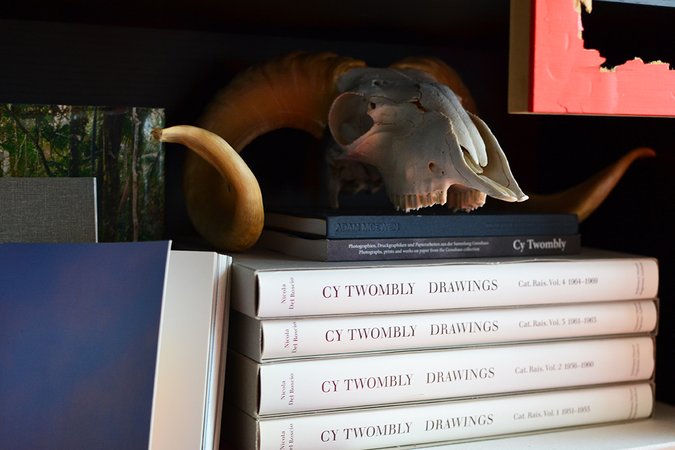 "It really started off as a library, and I have a lot of art books particularly. Cy Twombly's my favorite artist, and I try to track down every Twombly book—if a 13-year-old writes a report on Twombly and there's pictures in it, I'm going to try to track that down!"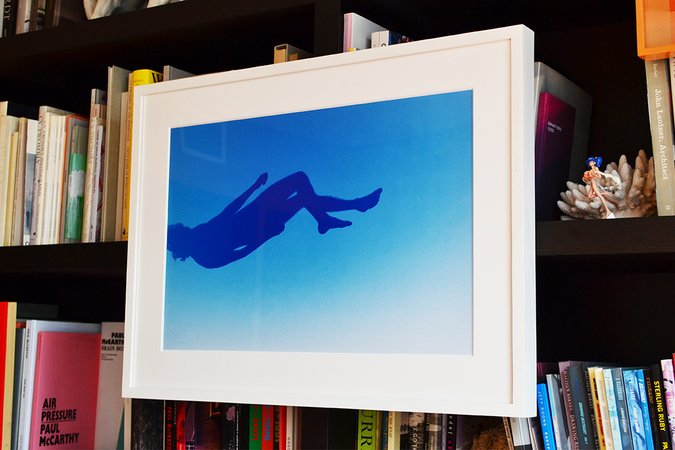 "The installation probably started with the Ryan McGinley, the figure falling [Blue Falling, 2007-8]. I put it there and then it started to look strange without other works. It became a great place to put smaller works by younger artists."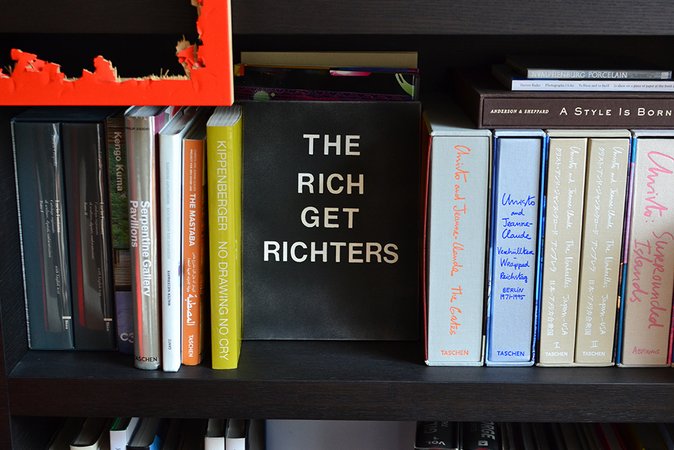 "I'm a writer, so I gravitate to text-based works. With the Rich Get Richters [by Leo Fitzpatrick, 2013] and the Hot Artists, which is a zine that superimposes artist's faces over pornography, the tone is playful and fun as opposed to academic and super-serious—even though there are academic books in there."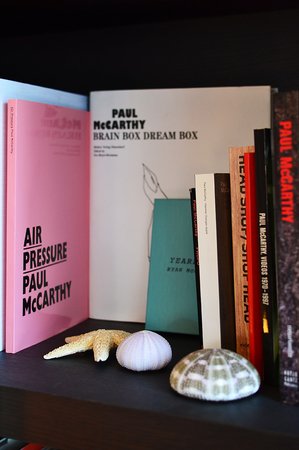 "I started off as a writer of horror, so I have a real affinity for Paul McCarthy. Wouldn't he be so great to make a horror movie? There are so many elements he explores that, being a horror writer, I have to explore. I have some of his works on paper, in Sag Harbor. He's another artist whose books I collect."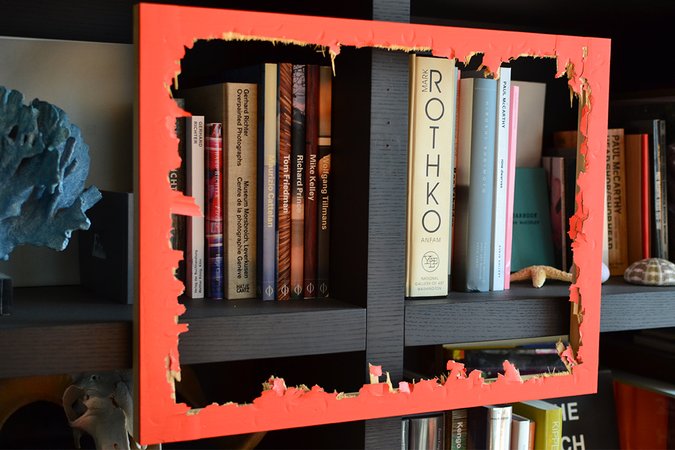 "The frame piece is by Mathew Deleget [No Mans Land, 2008]. I saw his work in Art Miami in 2013, at the Peter Blake gallery booth. I find it very hard to go to fairs, because there's so much visual information. I just thought it was interesting that someone was showing canvases with the center missing."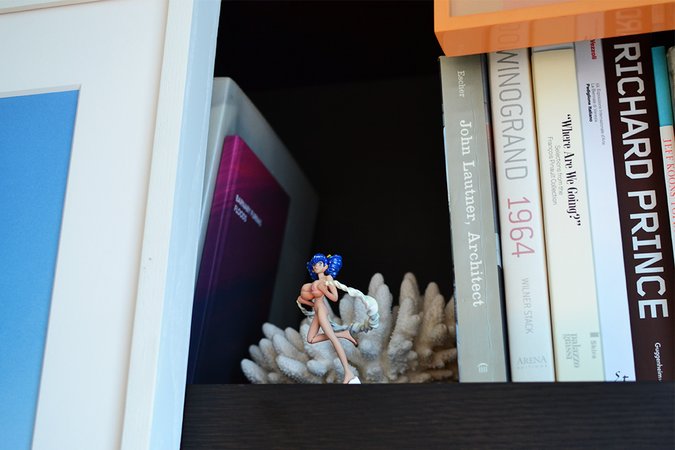 "The library is also a good place to show off other interests.This is a Murakami toy I bought off eBay. I'm obsessed with Stanley Kubrick so I also just bought a toy from 2001, a plastic re-creation of the monolith from the film."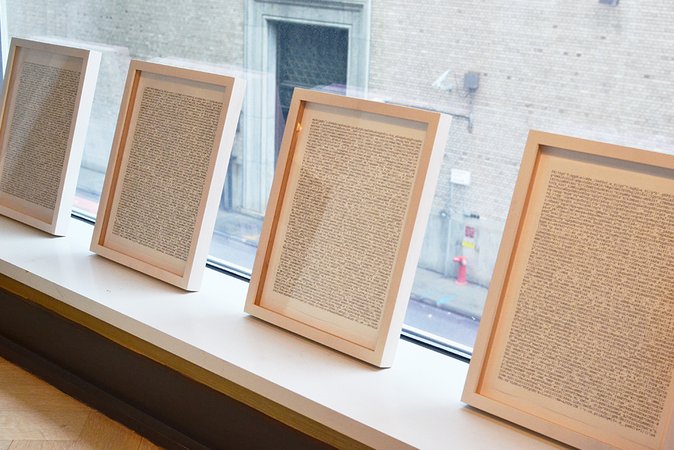 "I'm still trying to think of innovative ways to create more wall space. I'd flirted with the idea of even putting paintings here, on the windows, but I haven't quite gotten there yet. This is a Darren Bader work [[four] 11 x 8.5 in x very-tiny in (27.9 x 21.6 x very-tiny cm), not dated]. It's the computer code for an image, which if you can copy it all down and feed it into your computer, you'll find out what it is. I have yet to do that!"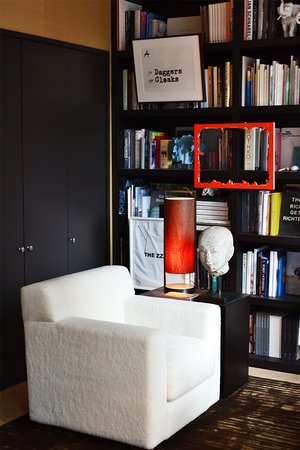 "I do switch around small works, and nothing's locked into place. I'm still at a stage where I don't have any work in storage. I love to live with it. I find it really inspiring and I want to see it, so I'll start putting it over books."
RELATED LINKS:
Collector's Corner: Amy Phelan's Scene-Stealing, Art-Bedecked Staircase