"People often say that collectors are competitive—that they don't share what they're looking at, they don't exchange ideas," says Bernard Lumpkin. His own experience has been different, as a collector (together with his husband Carmine Boccuzzi) of contemporary African American art and a strong advocate for diversity in museums. "We're always on the chase, but there's a larger mission to what we do—working with artists of color, at a time when there's an acknowledged need for more education and more exposure."
Lumpkin and Boccuzzi have just returned from Los Angeles, where they were visiting artist studios with director Thelma Golden of the Studio Museum in Harlem (where Bernard is a trustee). The trip was also a chance to revisit the roots of their collection; although they are based in New York, where Boccuzzi is a partner at Cleary, Gottlieb, Steen & Hamilton and where they are raising their 21-month-old twins Lucy and Felix, L.A. looms large in their family history and their identities as collectors. Lumpkin's African American father grew up in the city's South Central neighborhood, and his earliest memory of art is a visit to the Watts Towers with his uncle. About six years ago, when his father fell ill, Lumpkin returned to the city to care for him and found himself rethinking the direction of his and Bocuzzi's then-nascent collection.
"My father told me a lot of stories about growing up—about what it was like being black in Watts, about his own journey out of that," Lumpkin recalls. "I came home and looked at the art on the walls and realized I wanted to continue exploring those stories and those issues. We had work by African American artists, but it wasn't a focus and it wasn't a purpose. It wasn't patronage, supporting artists who might not have received proper credit or supporting the institutions in their own efforts to diversify."
In just a few years, the collection has evolved to articulate both a strong point of view and a vision of a more inclusive art world. It emphasizes emerging African American artists, but it's also richly contextual and intergenerational; new stars like Jacolby Satterwhite and Deana Lawson mingle with trailblazing figures from earlier generations, such as Norman Lewis and Adrian Piper. The couple's efforts continue at the Studio Museum and at MoMA and the Whitney, where Lumpkin serves on committees dedicated to education and diversity, and at their alma mater Yale, where they visit students in the MFA program and support shows such as the current "Black Pulp" (at the school's Edgewood Gallery through March 11). As contemporary art collectors in New York in 2016, they're ever "on the chase," as Lumpkin said. But as Boccuzzi observes, "What's exciting is the constant newness of ideas in the house, people talking about art."
Lumpkin and Boccuzzi will open their Tribeca home to Armory VIPs this week. Last month, they gave Artspace a special preview; here, Lumpkin discusses highlights from the collection and offers some advice on "collecting with a conscience."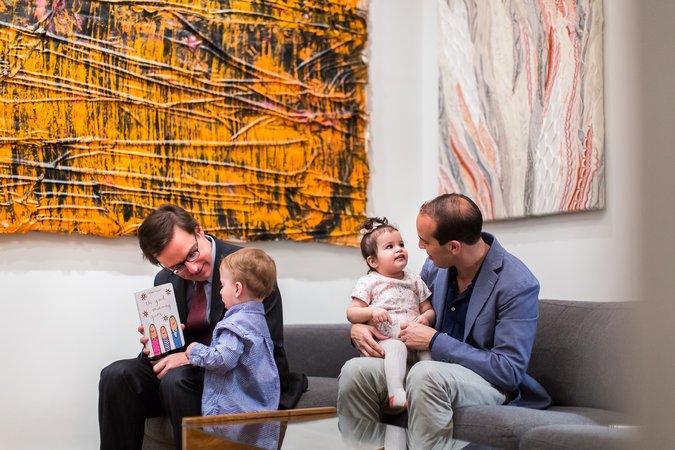 Carmine Boccuzzi and Bernard Lumpkin in their family room, with twins Lucy and Felix, below works by Angel Otero (left, Untitled (Orange), 2011) and Jayson Musson (right, Untitled, 2012).
All photographs, Scott Rudd for Artspace
ADRIAN PIPER
My Calling (Card) #1, 1986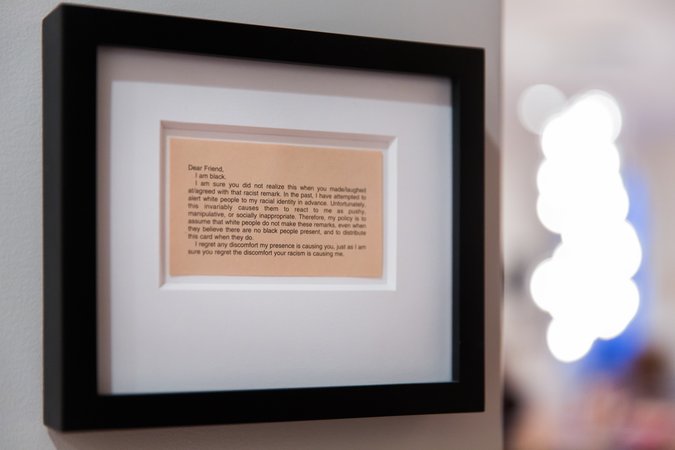 "This calling card by Adrian Piper speaks very personally to me. One of the stories that I'm trying to tell with the collection is where I come from. A lot of people meet me and they don't know, based on the way I look, that my father was African American—that he grew up in South Central Los Angeles. People will come over and they'll say, 'Bernard, why do you collect so many black artists?' And it's clear that they don't understand my personal, familial connection to African American art.
"I think about that with the children, too. I want to teach them, 'You might not look like your grandparents, and people may never think that you're black and they may not know that and they may not need to know. But you need to go out into the world having this history. This is your family, whether it's visible or not.' Having two dads, having an unusual ethnic/racial background, is something that's not going to be self-evident when people meet them."
CLIFFORD OWENS
Anthology (Nsenga Knight), 2011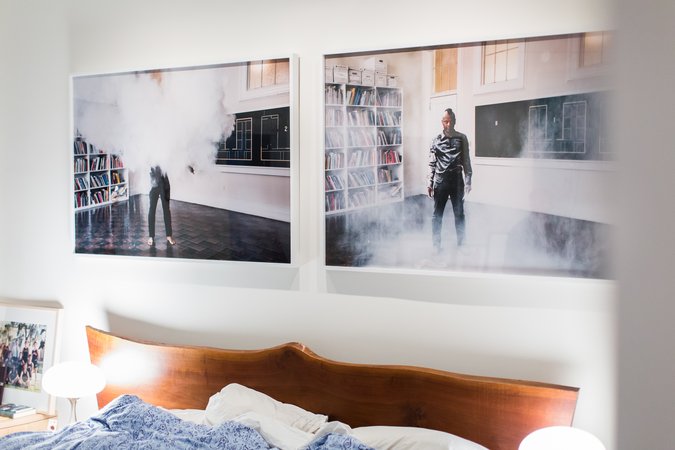 "Collecting is about building relationships with curators, other collectors, and educators, but first and foremost with artists. I met Cliff early on through the Studio Museum and through performances, primarily. He built a reputation around doing performance art and working in a well-considered, thoughtful vein in terms of how his own work fits into a canon of African American performance artists. Now, with Jacolby Satterwhite and Kalup Linzy, people sort of have a sense of black performance art, but it's actually a tradition that has existed for many years."
WILLIAM POPE.L
Foraging (The Air Itself/Dark Version), 1995-2001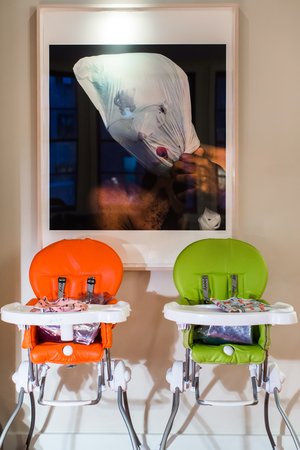 "My sister is the performance artist Narcissister, so performance is something I think about and talk about with her a lot. One of the great things about performance art, and institutions like MoMA that are actively engaged in developing it, is that you can support the artist by supporting the museum's acquisition of a work. I was at MoMA today meeting with a curator about a performance artist whose work the museum is looking to acquire. In this particular case, the way I'm reflecting my support and my excitement for this artist is to help the museum acquire a work. That way the work can live in a way that it was meant to."
JACOLBY SATTERWHITE
Reifying Desire 5, 2013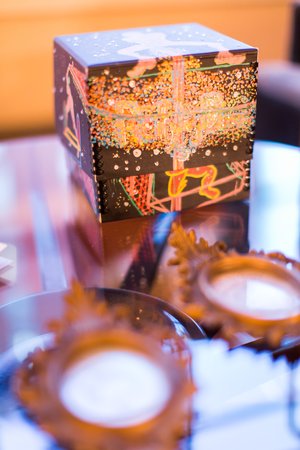 "Performance artists do make documentation or ephemera related to the performances. This box is by Jacolby Satterwhite—he makes a box for every video he does, with a screener of the video. We have video art as well as performance art, and it's the same sort of issue: What's the best context for the work to live in, and how is the work going to reach more people? With performance art, I'm thankful I'm the kind of collector that also has relationships with museums."
JORDAN CASTEEL
Kenny, 2014
DAVID HAMMMONS
(untitled)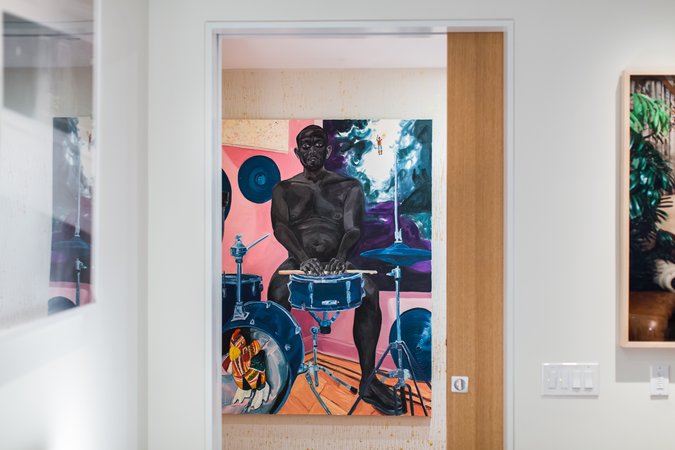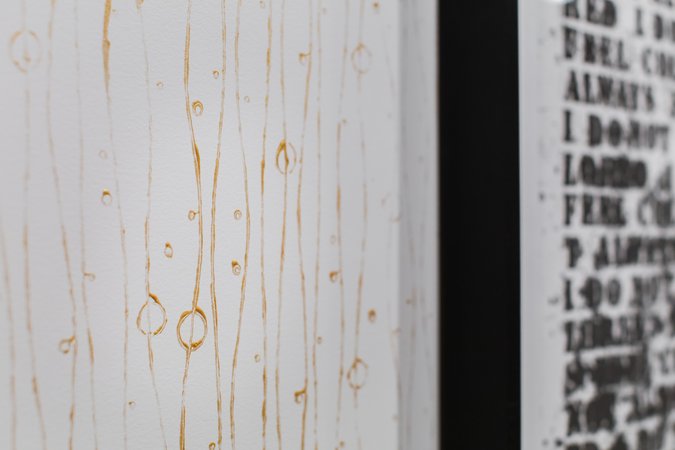 "Jordan and I met doing studio visits at Yale. She's now in the artist-in-residence program at the Studio Museum. It's a really competitive program—they have great artists involved, like Mark Bradford, Mickalene Thomas, and Lorna Simpson. This is a painting from a recent show she had in the fall at the gallery there. The design on the wall behind it is by David Hammons—he designed paint rollers, and we applied it.
"One of the pleasures of working with younger artists is that you get to build relationships with them that extend beyond their work and can help grow their career. You get to help them not just by buying their work—you can help them by connecting them with a gallery, introducing them to a curator, helping them with the basics of finance and accounting. The schools focus primarily on educating them as artists, and they don't necessarily emphasize the practical reality of what happens once they get their degree. I was speaking with a group of Columbia MFA students, and they said, 'We don't get that advice in school, but we need it—where can we get it?' And I said, 'Talk to people like me.'"
MICKALENE THOMAS
Mary J. Me, 2002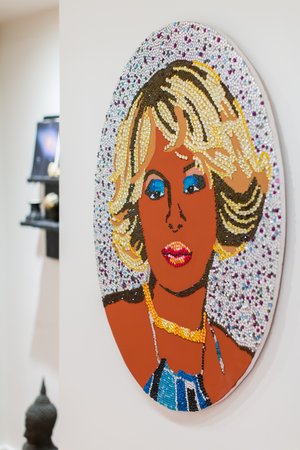 "What I love about this work is that it was included in Mickalene's MFA thesis show at Yale. A lot of artists' work will evolve over the course of their career, and in art school they haven't necessarily landed on the style or even the medium that will come to define their work. But Mickalene was already interested in portraits, and using rhinestones and referencing popular culture and her personal history in her work. So this is an example, for me, of how early on she was hitting her stride and making work that would come to define her career."

Left:
RASHID JOHNSON
Head to the Sky, 2014

Right:
HENRY TAYLOR
The Sweet William Rorex, Jr, 2010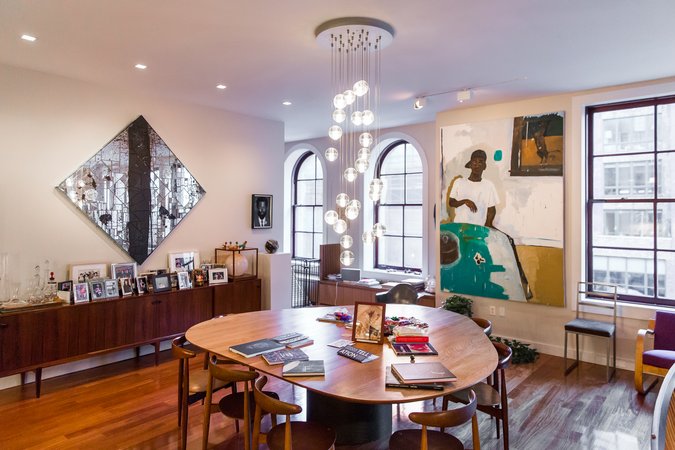 "Rashid's work is conceptually and intellectually rigorous while also packing a punch aesthetically. He works with different materials, like shea butter, black wax, and books. So there's many different entry points, and I feel like you really see the artist's mind at work. He's also using materials that are not traditional art materials, that have meanings embedded in them that are very culturally specific and contemporary and accessible in a way that's different from his larger conceptual framework. Rashid is also one of the artists I really enjoy having conversations with, about his own work and about other artists and contemporary art practices.
"The Henry Taylor is one of our favorite works. It was included in the survey show of his work at MoMA PS1 in 2012. I fell in love with the painting when I first saw it, but Henry, as he sometimes likes to do, was still working on it even after it was hanging in the gallery. So I kept going back to the gallery and asking: Is it done yet? Henry is an artist we collect in depth and he's also a friend, and this painting has a very sweet inscription to me on the back."   

KERRY JAMES MARSHALL
Den Mother, 1996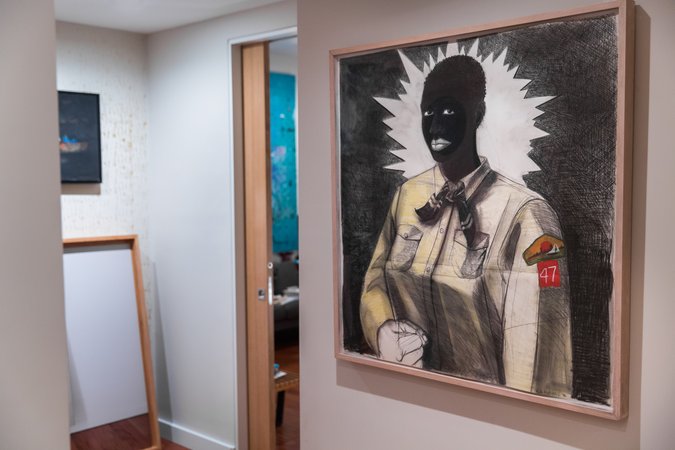 "Museums have a lot of work to do, and the way that they do it is very important. It can't just be about checking a box—'oh, we need a painting by Howardena Pindell,' or 'we need a painting by Norman Lewis.' It needs to be part of a program. Real and concrete change on the issue of diversity will only happen when all parties come to the table—and at all levels: artists, curators, educators, patrons, and museum directors all working together.
"There has been progress on the curatorial front, in increasing exhibitions of African American artists. The Archibald Motley show at the Whitney was really great. MoMA will be doing shows with major African American artists in the coming years. The Metropolitan Museum of Art, in its new Met Breuer building, will mount the New York edition of the Kerry James Marshall survey— that's really important. There's progress being made now—what I'm saying now couldn't have been said five years ago.
"How do we fix racism, how do we fix inequality in this country? I think people are more aware of the role that art can play in doing that, in teaching people about where they came from and giving them a broader humanity."