If you know that Anderson Cooper's mother is Gloria Vanderbilt—the New York ingenue-turned-grande dame who made a name for herself in fashion, art, and literature (in addition to being the wealthy heiress of the Vanderbilt railroad fortune)—then the fact that the silver-maned CNN anchor burns with a passion for fine art might not seem that farfetched. But then again, Cooper isn't your typical son of a Manhattan socialite.
Though Cooper grew up on the Upper East Side, his calling led him elsewhere. Roughing it in gritty, war-torn corners of the globe, Cooper has delivered innumerable tragic stories with the urgency and grace that make him the most beloved TV journalists today.
The nine-Emmy-award-winning newsman hosts "Anderson Cooper 360," is a regular correspondent for CBS's "60 Minutes," and his first memoir, Dispatches from the Edge, topped the New York Time's bestseller list. So what does all this have to do with art, you ask? Not much at all—which is why it's all the more surprising that the jet-setting anchor can find the time to attend art fairs and auctions and keep up with what's going on in the art world. In fact, Cooper has a surprising amount of overlap with the art scene in New York, and here is how.
1. Cooper Paid $1.4 Million for a Jeff Koons


And... the piece wasn't even fabricated yet! In 2014 during Sean Penn's Help Haiti Home gala, Cooper found himself reaching deep in his pockets to battle his fellow CNN host Piers Morgan in a bidding war for the high-priced prize that ultimately left Cooper the victor, to the tune of $1.4 million. The lot's bidding opened with Penn explaining that, with a little arm-twisting from Charlize Theron, he no longer wanted to be a gun owner. "The highest bidder gets every single one of my guns put in the hands of this iconic artist and sculpture… Koons will decommission [and] render inactive all of my cowardly killing machines"—by melting them down and using the metal to make a sculpture. Lessening the potential for gun violence while simultaneously making art? That's a scoop right on Cooper's beat.
2. Cooper's Baby Picture Once Hung in the Getty


A very young baby, N.Y.C. 1968


Why? Because Diane Arbus took the photograph. Known for capturing life on the fringes, Arbus switched it up by pursuing a portraiture project that documented people that the artist found "elegant." For three weeks, she visited Cooper's parents, who knew the artist socially, to take pictures. "My mom said that Diane latched onto me when she first arrived and became obsessed with photographing me," the anchor recounted to Harper's Bazaar.
"I grew up with the pictures [Arbus took of me] in the house, but when I was 11 or 12, there was a show of Diane's work in New York, and they used this picture on the invitation," he continued. "So I went to the show, and then I started to read more about her and got interested in her work. I met her daughter Doon, who actually gave me a copy of the picture, and then I bought another copy at a gallery. I look at auction catalogues and track it now and then when it comes up. I know that Elton John had one, and I think Annie Leibovitz as well. I saw a copy hanging in someone's house once, and I didn't know if I should point it out or not—it was one of those awkward things."

Cooper has one print hanging in the stairwell of his converted firehouse home in the Village, and the other is in his house in Connecticut. The photograph was originally published in the 1968 Harper's Bazaar Valentine issue, and was later featured in Arbus's retrospective at the Museum of Modern Art in 1972. In 2012, the photograph hung at the J. Paul Getty Museum in Los Angeles in the exhibition "Portraits of Renown: Photography and the Cult of Celebrity."
3. Njideka Akunyili Crosby Is Cooper's Favorite Artist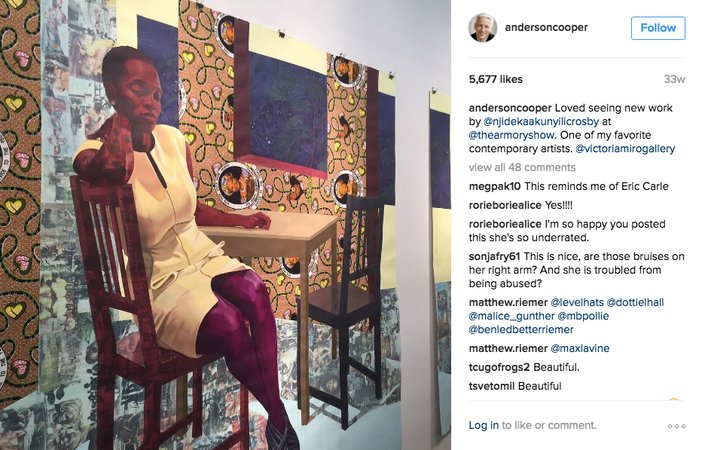 Or at least it seems that way on Instagram, where he's posted at least a few paintings from the Nigerian-born, Los Angeles-based artist. Crosby's canvases—which combine collage, drawing, painting, printmaking, and photo transfers—reference African culture while being firmly rooted in the history of Western painting. Cooper saw a 2016 Crosby diptych (priced at $75,000 and sold to a museum) in Victoria Miro's booth at the Armory in New York. He posted an image of the work with the caption "one of my favorite contemporary artists" and in another post, celebrated her inclusion in the Hammer Museum. Cooper has also posted images of paintings by Nicole Eisenman, Mark Bradford, Ravi Zupa, Adrian Ghenie, and Nathaniel Mary Quinn.
[related-works-module]
4. Cooper Bought a Somewhat Creepy Unfinished Old Master Portrait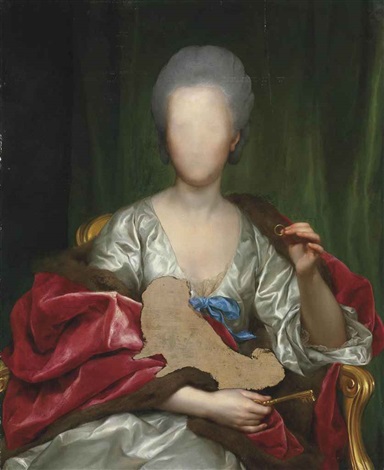 During his lunch break one day recently, Cooper left his desk to swing by the Park Avenue Armory during the European Fine Art Fair and bought Anton Raphael Mengs's unfinished Portrait of Mariana de Silva y Sarmiento, Duquesa de Huescar for $275,000. Cooper told Artnews, "My partner collects Old Masters—I collect more contemporary, but at a certain point, you can collect both." This piece looks like it could be either—the portrait, which was painted in 1775, looks postmodern in its obliteration of the face and missing dog. (It could be by Gideon Rubin or Hans-Peter Feldmann, for instance.) Like Cooper, the artwork was also famous: it was featured prominently in the Met Breuer's inaugural show, "Unfinished: Thoughts Left Visible."
5. You Can See Some of Cooper's Collection in an H&M Video

Fast fashion retailer H&M produced a promotional video with a strange premise: David Beckham, who in the spot spends most of his time modeling menswear in photoshoots, is shadowed by comedian Kevin Hart, who is preparing to play Beckham in an upcoming movie. Where does Anderson Cooper fit into this tomfoolery? The video is shot almost entirely inside the anchor's Manhattan home. You'll see the walls studded with black-and-white photographs of trees, hand-painted signs, vintage gymnasium posters, and a whole bunch of ships. Whether or not these were planted by H&M or hung by Cooper himself, we can't exactly be sure. For that, let's throw back to the anchor. Anderson?