For the last few years, Detroit seemed to be on the tip of every artist's tongue. With low living expenses and cheap space, it's an attractive city to young artists looking to spread out and focus on their practice without the pressure of needing to work full time. And for galleries, basing operations in Detroit not only has the benefit of low overhead (making expensive art fairs more feasible), it also makes the big-fish-in-a-small-pond scenario likely to aid winning the affections of mid-western collectors.
But while we've been hearing murmurs surrounding Detroit's up-and-coming art scene for years, these claims have felt largely vague and abstract. What, exactly, are we talking about when we talk about the Detroit art scene? Who is it for? And is this newfound appreciation for Detroit symptomatic of the art industry's tendency to colonize and gentrify spaces, effectively pushing natives (and their narratives) out of the fold?
Detroit has always had a history of art and culture—but perhaps those creating it have been so marginalized by the art world that they've only recently been "discovered" by those outside of their own communities. To satisfy my curiosity, I witnessed the Detroit art scene for myself last week—along with its political, racial, and socio-economic complexities—when I visited the city for the first annual Detroit Art Week.
Spearheaded by Amani Olu, who owns public relations agency Olu & Company, Detroit Art Week (DAW) brought collectors, arts professionals, and press to the motor city for a carefully curated, jam-packed weekend of events: artist lectures, studio visits, gallery tours, parties and dinners—attended by (mostly) New Yorkers, local Detroiters, and folks from nearby-ish cities like Cleveland and Chicago. And while much of the buzz surrounding Detroit can be attributed to a revitalization of downtown and recent projects by non-native transplants, Olu kicked off the weekend with an event that reminded us that though these newer movers and shakers may be responsible for putting Detroit on the map, there have always been innovative artists living and working in Detroit.
Carole Harris and Allie McGhee, two Detroit-born Black artists in their 70s, were DAW's honorees, and they gave an artist talk at the Detroit Institute of Art Friday night, followed by a reception for their two-person show at the museum, curated by Olu specifically for DAW. The talk began with the two artists describing their work. Harris, a textile artist, was calculated in her responses to the moderator's (Olu's) prompts. (A stand-out moment of the talk was in response to Olu's question, "Do you see your work as part of a movement that could be called Detroit Black Abstract Expressionism?" Harris's answer: "Do you think anyone ever asked the cave men if what they did was called 'cave painting'? I just do what I know, and what I know is my experience as a Black women from Detroit.") Though her wit isn't lost in her work, her pieces are a bit more nostalgic and emotional. The artist collects fabric from her family and friends to stitch together wall hangings that, though rooted in the tradition of quilting, are far more expressive and abstracted to be called quilts. Inspired by jazz, blues, and gospel, in addition to her lived experience as a resident of Detroit throughout its economic pendulum-like swings, her pieces are embedded with traces of their materials' former lives.
Beside her sat a tall and soft-spoken Allie McGhee, who described having his first art studio, at the age of 11, in a family member's basement. McGhee's signature style is achieved by pouring paint and using a stick to push it around the canvas, making swirling colors that bleed into one another. Jazz music, or more specifically, the improvisational methods that jazz affords, has been a major influence for the artist, along with science and biology. "Everything in art already exists in the human body: explosions, repetition, movement… In every body there's a Kandinsky," said McGhee on stage. "Art deals with speed, light, form, shape, restitution—the same elements that scientists work with." Studio visits with scientists from the University of Michigan helped solidify the artist's perspective.
While I came to this talk to learn about the work of Harris and McGhee, I came away with a glimpse into the Detroit art world that I hadn't expected. The event felt less like an artist talk, and more like a celebration; a long-overdue homecoming of sorts; a neighborly acknowledgement of institutional success. The auditorium was packed (Aleiya Lindsey, who helped organize DAW, commented that she'd never seen the lecture hall that full for a talk unrelated to a major exhibition), and was filled with the artists' peers. When McGhee mentioned which high school he went to (Harris attended the same one), the audience cheered with pride in their shared alma mater. During the Q&A session following the moderated talk, a women stood up, introduced herself, and McGhee responded with recognition: "Oh hey there, nice to see you again. How's the family?" The conversation wasn't confined to the stage between moderator and panelist; instead, a call-and-response-type exchange ensued, where resonating statements from the artists elicited cheers, applause, and affirmative hums. While the audience was undoubtedly there to learn, they were also there to support, and to bear witness to the making of art history. At one point during the talk, Harris said, "Look at us. We're here in the DIA!" We celebrated with her, and I must admit it was nothing short of heart-warming.
Harris and McGhee are, of course, two of the many artists of an older generation who have only recently found the success they likely deserved decades ago, and who were likely overlooked because they are artists of color, and living in a city that's, well, anywhere but New York or Los Angeles—artists like McArthur Binion in Chicago, Sam Gilliam in DC, and the late Jack Whitten, are just a few names on that same list. The second half of the discussion focused on this topic, with one audience asking, "This is great and all, but how do we make sure the history books include us?"
RELATED ARTICLE SERIES: The Other Art History
"Detroit is an 85-percent Black city, and I wanted Detroit Art Week to start with artists who represent that," Olu, who is Black, told me. "The foundation of this thriving art scene didn't start when the New York Times said you could get a house for $500. [Carole Harris and Allie McGee] are glowing examples of artists who have making art in Detroit since the '60s."
In the days that followed, Detroit Art Week presented another side of Detroit's art scene: a newer, whiter, less native one that simultaneously managed to feel very "Detroit"—or at least what I, a New York-based artist and writer who had never been to Detroit before, imagined it would be. And economically speaking, it was very diverse. In addition to visits to commercial galleries with international audiences (David Klein Gallery, Reyes Projects, Bahamas Biennale, Wasserman Projects), and a collection tour in the jaw-dropping mid-century home of JJ and Anthony Curis, the tour included quite a few artist-run projects that likely wouldn't have been feasible in a city that wasn't largely abandoned.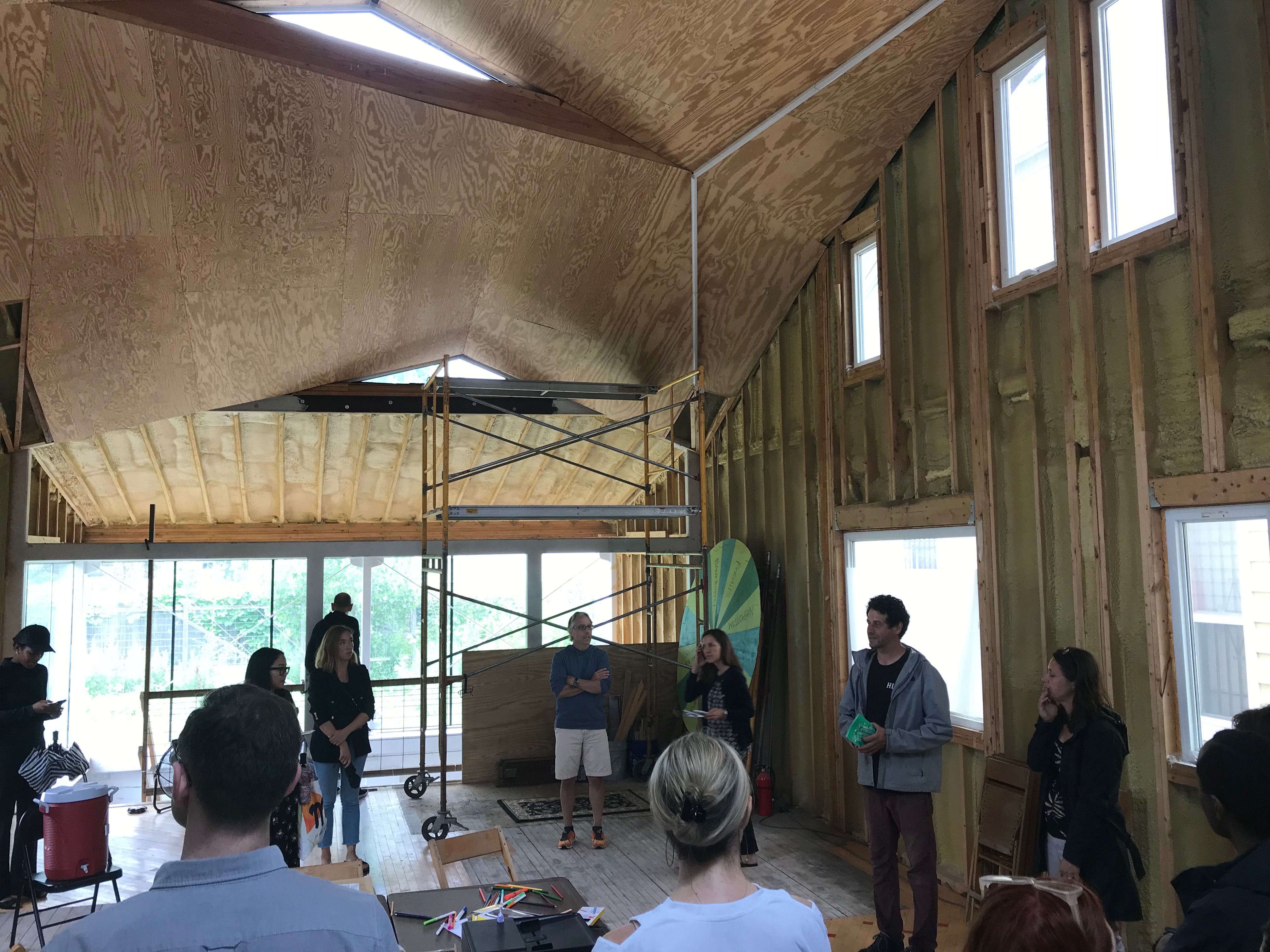 Squash House, Power House Projects. Photo: Artspace.
Power House Productions, for instance, bought five abandoned homes within a two-block radius, gutted them, and rebuilt them as artworks. For example, the interior of Squash House, when complete, will be a squash court; in the backyard will grow a squash garden. Down the street at Play House, the entire interior of a small building acts as a stage, replete with a trap door to the basement, and permanent stage lighting hung from two-story-high ceilings. Nearby they've built a skate park, frequented by skaters in the neighborhood, that includes several site specific Nari Ward sculptures. Supported by grants from The Andy Warhol Foundation, The Knight Foundation, the National Endowment for the Arts, and many others, the project "integrates arts and culture into the daily life of our diverse Detroit neighborhood, creating public space for the exchange of ideas, opinion and experiences," according to an informational handout.
I spoke to several neighbors of the project (they've asked to remain anonymous) who were happy to see the skate park flourish, along with Play House, which is currently being cared for and used by local theater group The Hinterlands, and the Bangla School of Music, which offers language classes and public concerts. But they also harbored a healthy dose of skepticism. Despite receiving hundreds of thousands of dollars in grant money for community betterment, most of the Power House Production houses remain empty and untouched, making their neighbors wonder whether the neighborhood really needs a squash court (who plays squash?), who these projects are really for, and whether buying houses just to leave them unused is a worthwhile allotment of grant money aimed to support the community. (According to these neighbors, another Power House Productions house, Sound House, has remained virtually empty for years save for a few guided tours for visitors like me.)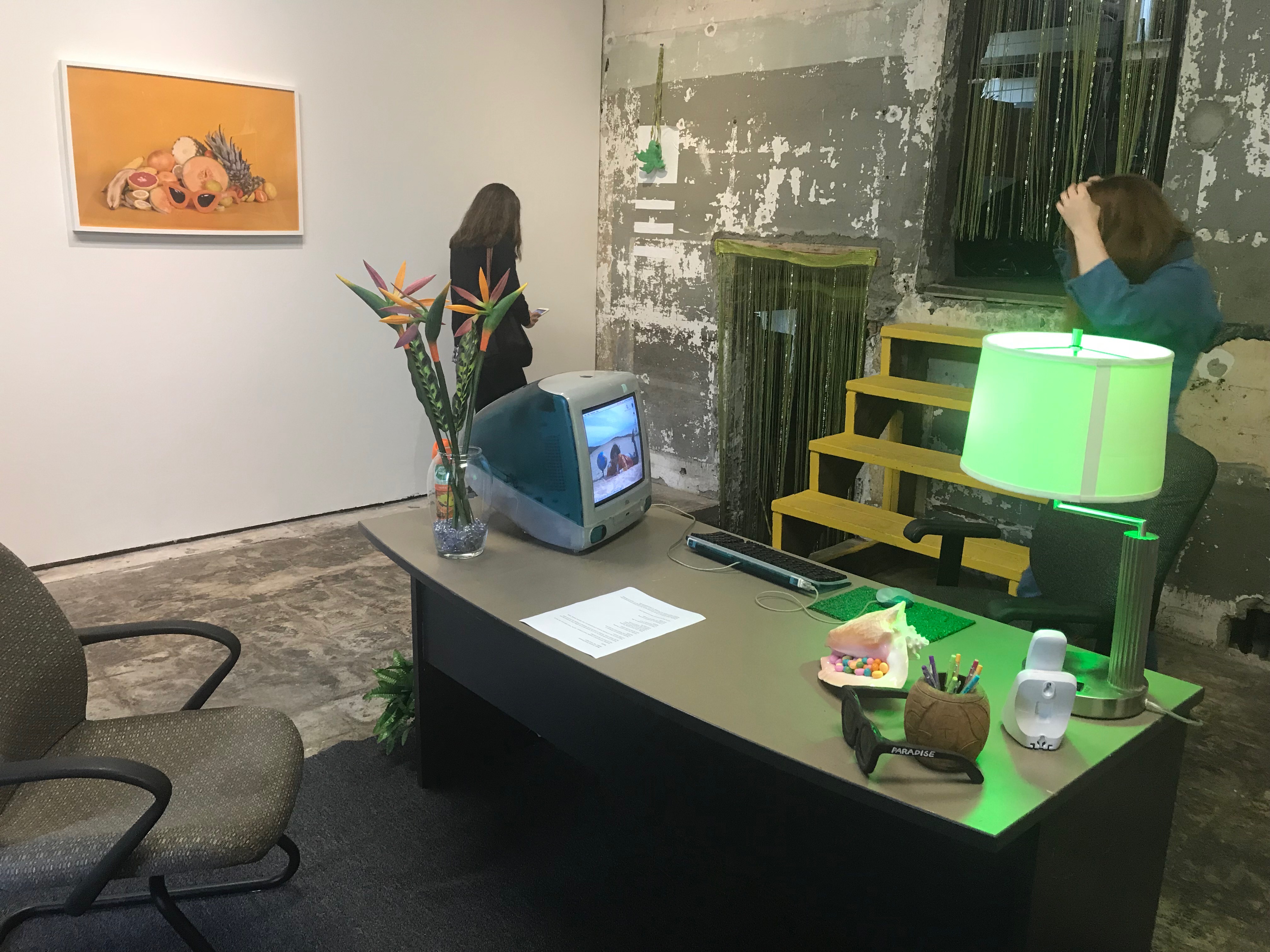 Jova Lynne, "The Agent," at Popps Emporium. Photo: Artspace.
Another project, Popp's Emporium, is again an ongoing construction project in the works. When founders Faina Lerman and Graem Whyte, both artists, bought the building in 2011, it was a mess. "There was literally poop on the walls," says Lerman, before saying with sarcasm, "So it was exactly like every other building you can buy in Detroit." The restoration project became and artwork in itself: left-over mattresses, ripped-up carpet, and chunks of drop-down ceiling became raw material for a site-specific installation—before making way for their store-front project space. "Our approach includes a philosophical reinterpretation of blight, not as an affliction, but a starting point that provides raw materials and inspiration for performances, traditional and nontraditional installations, and architectural interventions within the surrounding neighborhood," reads a text on the project's website. Currently on view is "The Agent" by Jamaican-born artist Jova Lynne, the third installment of an ongoing series about "paradise," tourism, and colonialism. Set up like a travel agency (albeit with the artist's own travel posters and sculptural additions), visitors fill out a questionnaire about their fantasy travel destination ("Do you want to have your hair braided?")—and the artist responds with a tongue-and-cheek itinerary.
It's hard not to see a bit of irony in this particular installation given the context of the aforementioned quote from Popps' mission statement... Is "blight" on the travel agent's questionnaire? Are economically depressed neighborhoods an artist's idea of paradise? Again I spoke to neighbors about the community's response to the project, which unlike Power House Project, seems to be very supportive. While slowly rehabilitating the building, Lerman and Whyte became friendly with their fellow neighbors, many of whom were rebuilding their own homes, and they began to share tools and construction tips—inspiring the duo to start plans to open a tool lending library, along with a community center offering chess and tea, on the building's second floor.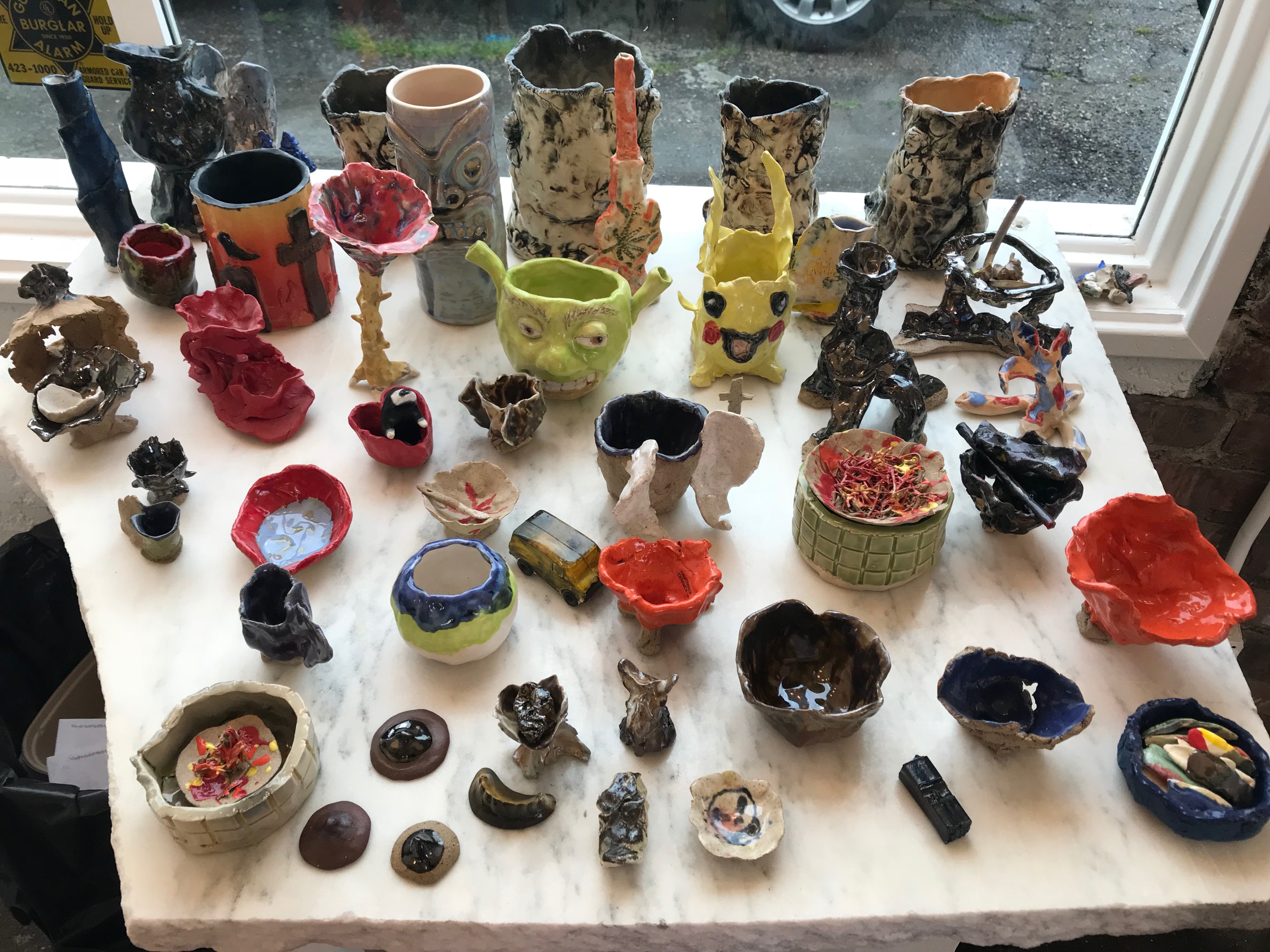 Works for sale at Hamtramck Ceramck. Photo: Artspace.
In the same neighborhood of Hamtramck, a collective of ceramicists—Ben Saginaw, Patrick Quinn, Amber Locke, and Braden Baer—create works that they show and sell collectively, when they aren't working on each of their solo endeavors. The two-room ceramic studio has an open door policy, making it a drop-in spot for a much larger network of people than their tight-knit collective encompasses—from kids who play in the lot across the street and step in to fire small pieces at no charge, to seasoned ceramicists who pay the collective a small fee to rent out an entire kiln. As someone who's dabbled in ceramics myself in New York City, which requires hundreds of dollars a month just to set foot in a studio, plus extra arm-and-a-leg-type costs for firing, this lackadaisical approach to "studio membership" seemed too good to be true. And yet what set Hamtramck Ceramck's elevator pitch apart from some of the other's mentioned here, was a lack of grant funding (the artists's sales pay for studio), and a lack of a mission statement that claims to revitalize the community... Making me wonder whether the key to being useful to a community lies in the ability to simply align one's own best interests (access to art-making facilities) with something the a neighborhood lacks (access to art-making facilities).
Like all cities, but especially those along the rust belt that have seen their fair share of economic instability, Detroit is a complex place. And its art scene, a combination of "old Detroit" mainstays like Harris and McGhee and more recent "fresh blood" is too. It feels to me like the kind of place that affords artists the space to create art freely, for curators and gallerists to flex their experimental and non-traditional muscles, and for collectives to thrive. But it also became clear that with that sense of opportunity, comes also a palpable sense of guilt—and the self-imposed pressure to "give back" to the community—or at least to appear to be. But if helping the community is really the end goal, is art the best way to get there? Is it wrong for artists to simply make work that isn't community-oriented? Because making work that isn't, but says it is, seems even worse.
Detroit is working it out, like so many quickly gentrifying cities and neighborhoods are. And now that Detroit Art Week has laid down its foundation with the intention of recurring once every summer, I for one can't wait to come back next year to see how this quickly evolving art hub will change, however incrementally, as it becomes more and more illuminated in the global spotlight. Olu's plans for DAW are evolving as well: next year resident galleries, artists, and initiatives will have the opportunity to submit proposals to an open call. Though it seems the weekend couldn't have been any more jam-packed that it already was, this promises even more diverse programing in the years to come. With Detroit's art world strewn across a giant, sprawling urban landscape, with few connecting dots in between, the curated selection of events and the guided tour that DAW offered seemed absolutely necessary for an out-of-towner—but like any tourist experience, there's always value in keeping your ear on the ground and stepping off the bus.
RELATED COLLECTION: Collect the Stars of Detroit Art Week