The narrative has been told many times over, but in case you need a refresher—in 2013, Detroit filed for bankruptcy, making it the largest U.S. city to do so. Detroit's recovery has often been glamorized, its cheap real estate and dwindling population being the perfect mixture for a cultural renaissance. While the hype can often be excessive and often problematic, a thriving art scene has always been central to Detroit. The College for Creative Studies and Cranbrook Academy of Art, along world-renowned institutions like the Museum of Contemporary Art Detroit and the Detroit Institute of Arts, keep the creative juices flowing in the city. In response, Detroit's gallery scene is bubbling with possibilities—from postgraduates looking to start non-commercial project spaces, to former residents moving back to reinvigorate their hometown. Below are eight spaces working to make Detroit a not-to-miss art destination.
LIBRARY STREET COLLECTIVE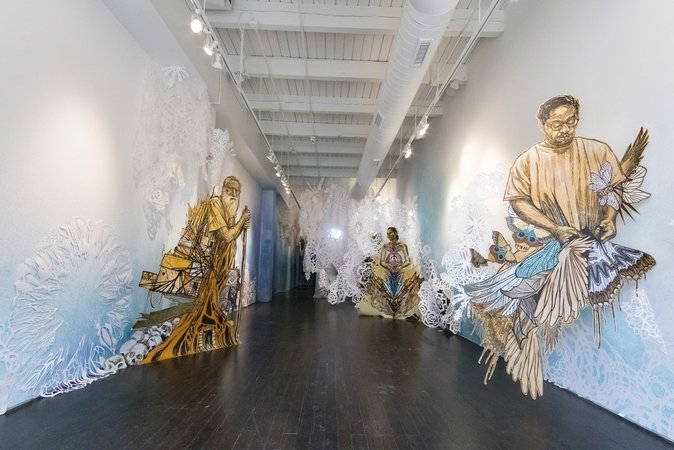 Installation view of Swoon's The Light After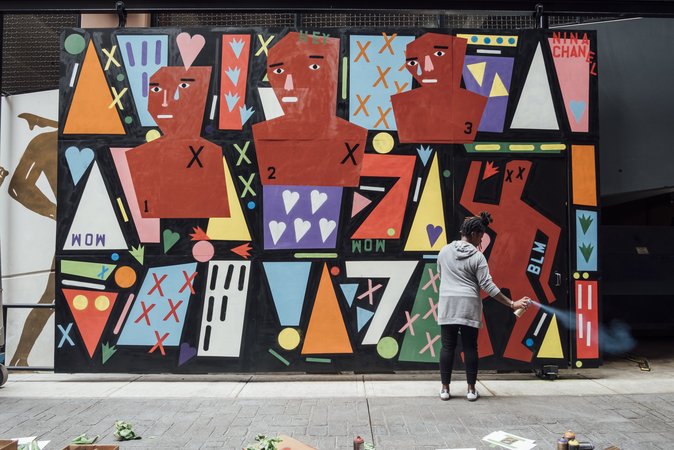 Mural by Nina Chanel Abney, Always a Winner
Located in the center of Downtown Detroit, Library Street Collective is one of the city's most prominent commercial galleries. Most commonly exhibiting vibrant abstractions and street-art-inspired installations, Library Street is the place to go to see big, bright, sensational work. An excellent example of this is Swoon 's exhibit from November of last year, involving floor-to-ceiling hand cut paper with illustrations musing on the transition between life and death. Library also isn't afraid to move beyond its walls, commissioning large and powerful murals by Nina Chanel Abney , Aryz, and Shepard Fairey .
REYES PROJECTS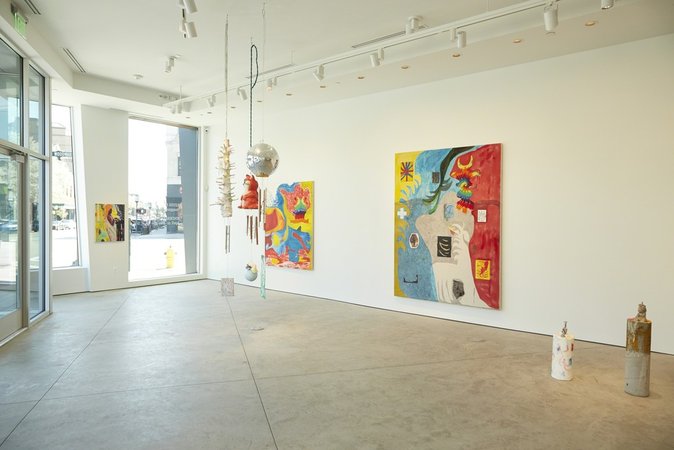 Installation view of Undercover Boss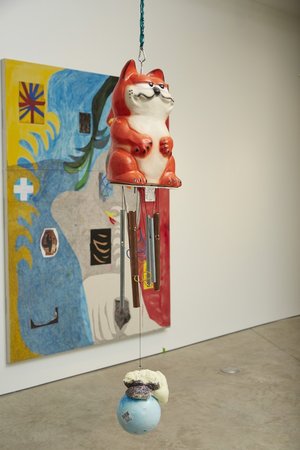 Jonathan Rajewski, Garfield Chime
Neighborhood: Birmingham (outside Detroit)
Address: 100 S Old Woodward Avenue, Birmingham MI
Currently on view: Undercover Boss
Cutting her teeth at various commercial galleries, including New York's Marlborough Chelsea, Terese Reyes moved to Detroit to be a part of something new. Reyes opened her new gallery just last month in Birmingham, Michigan—a 25-minute drive from the city proper. The inaugural group show, Undercover Boss, features fun and colorful works from well-known brothers Scott and Tyson Reeder , artist-turned-model Jane Moseley, and artist-skateboarder Tony Cox. The true surprise comes from the delightfully kitschy wind chimes made by up-and-comer Jonathan Rajewski, which were also a standout at Reyes' Dallas Art Fair booth. Backed by a dearth of experience coupled with an excitement for the adventure ahead makes Reyes Projects, without a doubt, one to watch.
WASSERMAN PROJECTS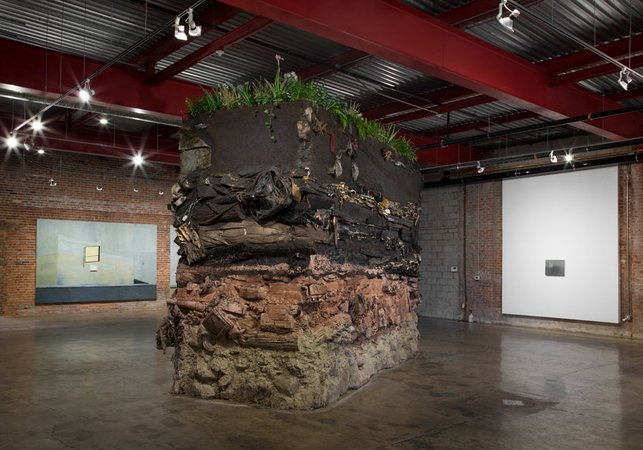 Installation view of current show "City of Queen Anne's Lace"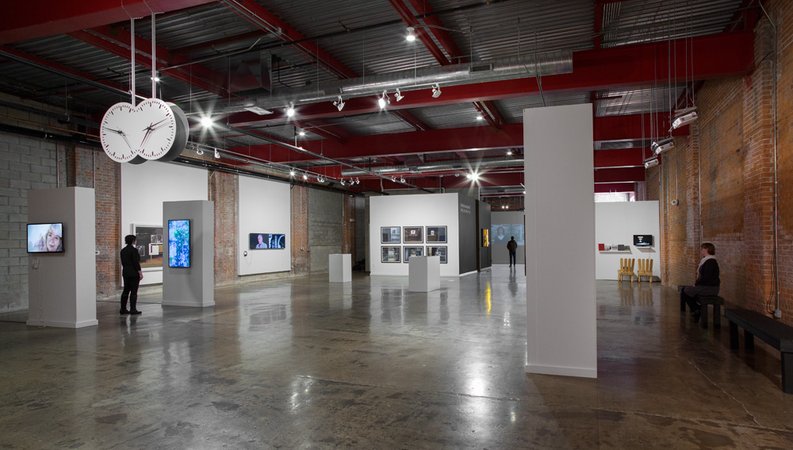 Installation view of Esther Shalev-Gerz's retrospective Space Between Time
Neighborhood: Eastern Market
Address: 3434 Russell Street, #502
Currently on view: Alejandro Campins and José Yaque
CEOs fro non-art companies have certainly been known to collect art—but can they deal it? After hearing whispers and shouts about the renewed popularity of Detroit, Gary Wasserman, CEO of Allied Metals Corporation, decided to leave Miami and head back to his childhood home to see if the buzz was real. After feeling the excitement from locals and newcomers, he decided to open Wasserman Projects in an old fire station, offering over 5,000 square feet of exhibition space. When you look up information about Wasserman Projects, you'll inevitably come across a plethora of articles about Koen Vanmechelen's show from last winter, featuring live chickens inside of the gallery. However, their exhibition history offers so much more to explore. In 2016, they presented a retrospective of Lithuaian artist Esther Shalev-Gerz and in 2017 they staged a group show of Old Master paintings from Colnaghi's collection, putting their programming more in line with an institution than your typical contemporary gallery. It's definitely worth checking out, especially after picking up some fresh fruits and veggies at the nearby Eastside Market.
N'NAMDI CENTER FOR CONTEMPORARY ART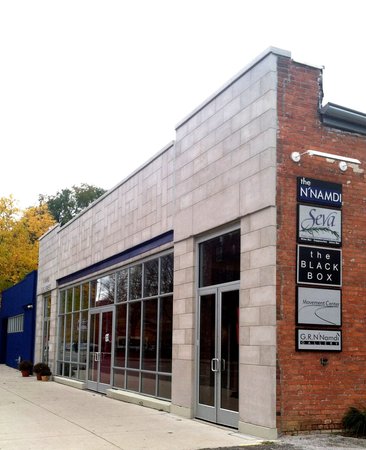 N'Namdi Center for Contemporary Art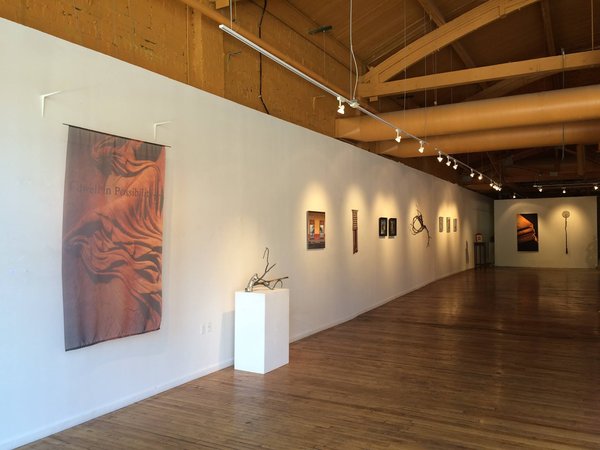 Installation view from Essay'd IV
Neighborhood: Midtown
Address: 52 E. Forest Avenue
Currently on view: Artis Lane and Stephon Senegal
George N'Namdi is a Detroit icon and for good reason. After earning a masters in education from Ohio State University and, later, a Ph.D in Psychology from the University of Michigan, N'Namdi worked as a therapist at Milan Federal Prison, a professor at the University of Michigan, and later co-founded the well-regarded Nataki Talibah Schoolhouse near Southfield. With an eye towards education and community engagement, N'Namdi decided to open a fine art gallery in 1981, believing that "art is an essential part of the psychological well-being of the community" and should be available to all. Now, the original gallery has blossomed into a formidable complex—featuring four exhibition spaces, a blackbox theater, and a vegetarian restaurant. Their programming offers a great variety, with some months featuring an array of local artists while other months feature mini-retrospectives of legendary African-American artists, thanks to George N'Namdi's private collection. He's been building the collection for over forty years and has amassed an impressive array of work, from legends like David Hammons , Howardena Pindell, and Jacob Lawrence among others. The N'Namdi Center for Contemporary Art is not only beautiful and impressive but also incredibly important—as gentrification can whitewash neighborhoods and entire cultural histories, the N'Namdi Center makes sure the city's African-American heritage and creative contributions will not be pushed aside.
SIMONE DESOUSA GALLERY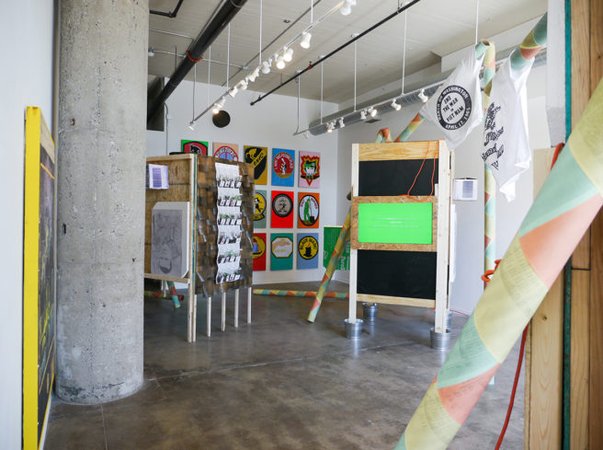 Installation view of Delights of the Garden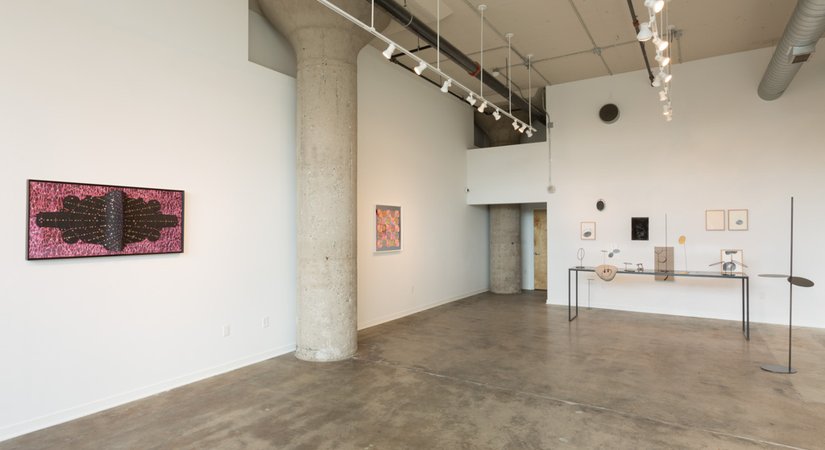 Installation view of A Very Complete Opposite
Neighborhood: Midtown
Address: 444 W. Willis, Units 111 & 112
Currently on view: Michael Luchs
Simone DeSousa initially came to Detroit in 1998 to pursue a painting practice, entering a studio share with graduates from the nearby College for Creative Studies. After a few years, however, she noticed a distinct lack; while there were tons of artists practicing in Detroit, there wasn't much of a gallery scene or collector base to help fuel their careers. Taking matters into her own hands, she opened Simone DeSousa Gallery in 2008, "at the worst possible time economically," she explained to Fortune Magazine. Luck has changed, however, and now DeSousa runs one of the most exciting spaces in the city—combining commercial sensibilities with challenging and exciting work by artists both emerging and established.
CAVE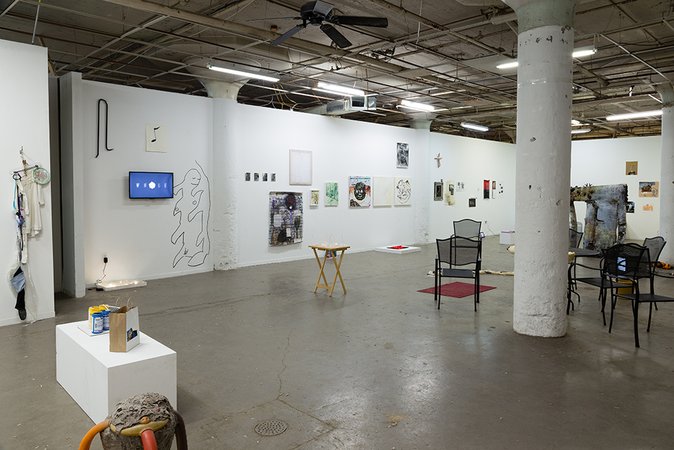 Installation view of "Eric Schmid is an Idiot"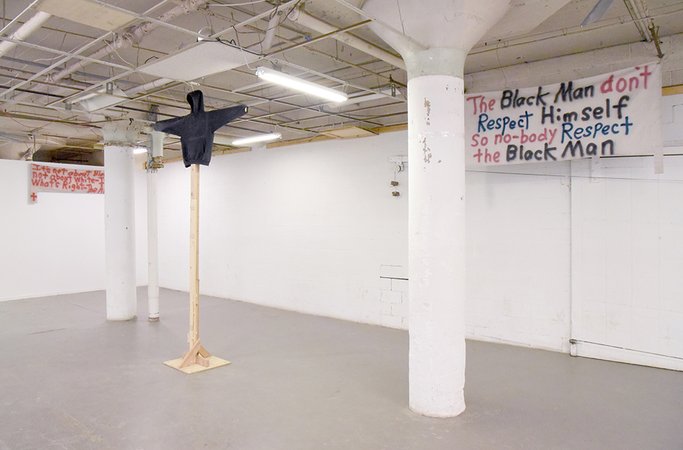 Installation view of "Demonstration: MoMa-FDR"

Neighborhood: North End
Address: 1600 Clay Street
Currently on view: Kerry Downey
In late February, CAVE posted an alarming update to Facebook, throwing the future of their space into the air. "For the entirety of our history we have resided in the Russell Industrial Center without incident. Now the city of Detroit is suddenly, with no warning, ordering us and over a hundred other small businesses, craftsmen, and artists, to vacate…" Founded in 2007, CAVE consists of a rotating panel of seven members who share a studio behind the gallery space. Allowing the studio rent to fund the exhibition area gives them a freedom to program a range of shows without the stress of commercial pressure. From the sparse yet potent "Demonstration: MoMa-FDR" by Otis Houstin Jr. and Miles Huston to the packed-house group show "Eric Schmid is an Idiot," CAVE consistently delivers surprising, provocative programing. In regards to the eviction, they say they're currently "riding the wave…hoping for the best in cooperation with the Russell and the City of Detroit." Here's to hoping the tide is on their side, and that they're able to offer another ten years (or more!) of compelling programming.
WHAT PIPELINE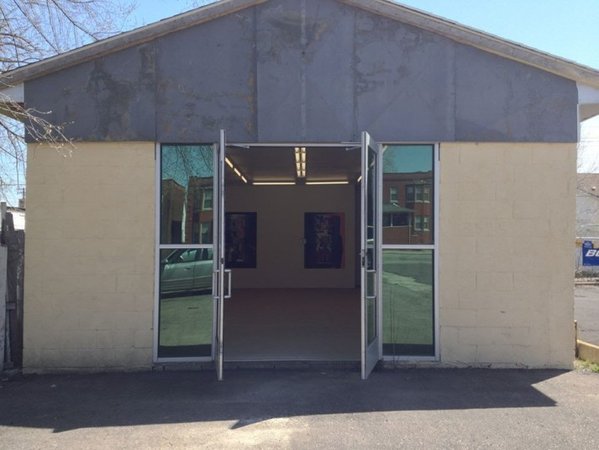 What Pipeline from the outside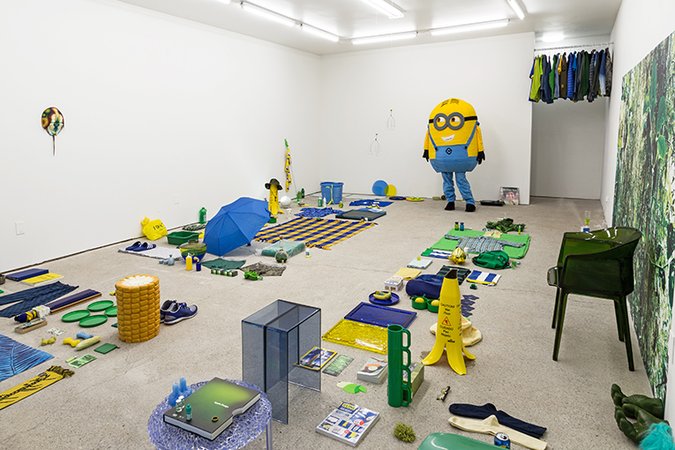 Installation of Puppies Puppies's "Green"
Neighborhood: Southwest
Address: 3525 W. Vernor Hwy
Currently on view: Bailey Scieszka & Valerie Keane
If you've been on the fair circuit for the past few years, you have probably come across a booth from What Pipeline. Started by Daniel Sperry and Alivia Zivich in early 2013, What Pipeline is one of the hipper galleries in the scene, and has been at the forefront of bringing cutting-edge art from nation-wide and international emerging artists to Detroit—including solo exhibitions from Henning Bohl , Olivia Erlanger , and Pieter Schoolwerth. One of their most notable show was 2015's Green featuring the work of Puppies Puppies —concluding with a performance of the artist proposing to his longtime partner (and Contemporary Art Daily co-founder) Forrest Nash. Located on the southwest part of town, it's best to arrive at What Pipeline on an empty stomach. "El Rodeo taco truck is parked out front most days," they said, adding with a self deprecating note, "it's much more popular than the gallery."
BAHAMAS BIENNALE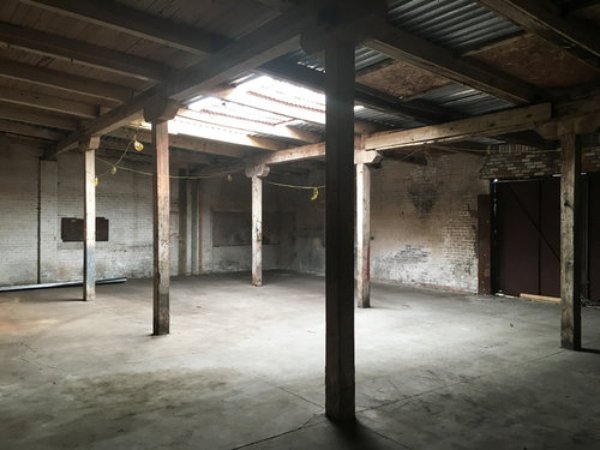 The new home of Bahamas Biennale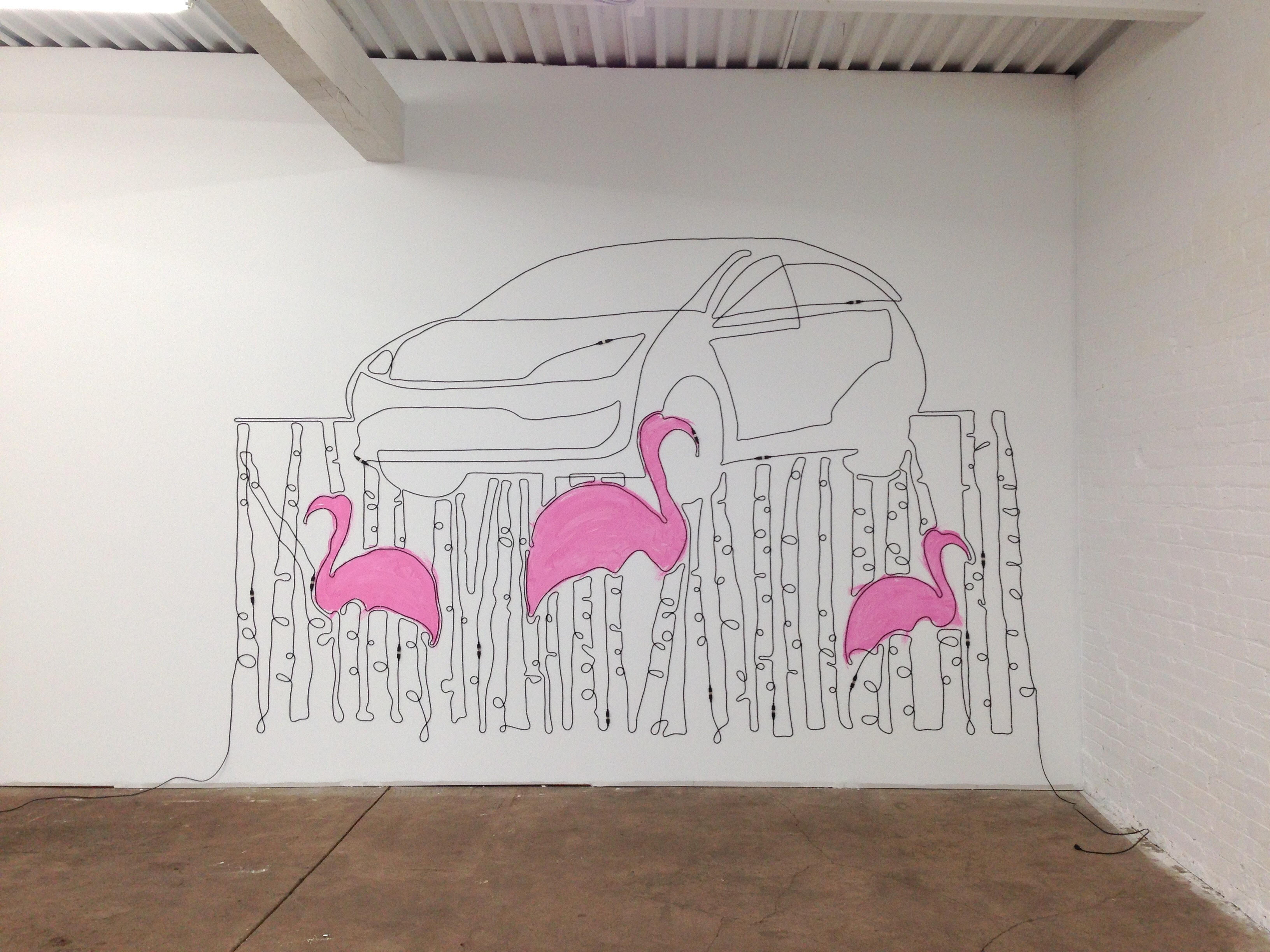 Ultra Violet Production House, Have A Cord Problem And a Spare Half Hour? Try Using Some of That Excess Length To Liven The Room With a Scene From Your Favorite Planet Earth Episode Including The Commercials That Aired During It , 2017. Image courtesy of Bahamas Biennale.
Neighborhood: East Side
Address: 3106 Bellevue Street
Currently on view: Ultra Violet Production House
Along with CAVE and What Pipeline, Bahamas Biennale is an artist-run space offering a boundary-pushing programming. Sean Thomas Blott first opened the space in Milwaukee, Wisconsin as a way to connect and learn from other artists while making work of his own. Years later, he moved to Detroit and shifted gears, hanging up the art making hat and establishing Bahamas Biennale as a commercial enterprise—representing a handful of artists while also offering opportunities to those outside of Detroit. This spring, Blott moved into a new space on the east side of the city with 2,000 square feet of exhibition space, bringing a new range of possibilities with him.  For the inaugural show, Bahamas Biennale is hosting UV Production House. A collaborative project between Joshua Citarella and Brad Troemel , UV parodies contemporary art's penchant for the readymade and the popularity of Do-It-Yourself projects and inspiration websites. Instead of selling original works, the two provide collectors with the piece's raw materials and directions for its assembly directly through an Etsy shop.
RELATED ARTICLES:
Art Road Trip! 10 Public Sculputres Worth Driving Cross-Country For