Rockaway is an East Coast anomaly, where Sublime can be heard emanating from every sand-swept storefront, and sun-bleached surfer bruhs can be witnessed eating breakfast burritos in their wetsuits on the regular. But the New York peninsula's unexpectedly Cali vibes tell only a partial story. Savvy artist-run spaces and vanguard art projects are taking hold on the dynamic coastal barrier, some of which have used the dystopian landscape in the wake of Hurricane Sandy to build post-apocalyptic narratives.
Part of the pull that artists and gallerists feel towards Rockaway is grounded in the peninsula's polarized identity: as an escapist getaway for claustrophobic New Yorkers finding relief from the summer's heat on the one hand, and as a recovering flood zone preparing for the worst in anxious anticipation of climate change and rising tides on the other.
When grabbing your book and art towel en route to your next beach day, why not take a detour to explore some of Rockaway's other, stranger places? You won't regret it. Here, we share some of the beach community's most notable art projects of past and present—as well as some of the area's best-kept secrets. This is a reluctant local's tell-all guide to Rockaway. Hopefully loose lips won't sink ships.
1. The Rockaways Are Like the Hamptons of the '50s


Katharina Grosse's installation at Fort Tilden
The Rockaways are the poor-man's Hamptons , and, like Willem de Kooning and Jackson Pollock who retreated to the Hampton's in the 1950s , contemporary art-world people have been decamping to the Queens peninsula while it remains affordable. Patti Smith and MoMA PS1 director Klaus Biesenbach are some of the more well-known residents on 'The Rock,' so it's no surprise that they both have worked with the Rockaway Artists Alliance since Hurricane Sandy devastated the area in 2012 to revitalize the community with art. PS1 has currently teamed up with several Queens-based organizations to present Rockaway!, a site-specific outdoor installation by artist Katharina Grosse on view in one of Fort Tilden's abandoned beach-side buildings. (Decommissioned naval bunkers dot the coastal thicket that runs along this protected stretch of beach, though most of them are hidden beneath layers of beach grass, fallen trees, and graffiti.)
2. Artists Hang Out on Houseboats

Boatel's Chair-Raft at Marina 59


Want to explore a sunken ship? Rent a kayak or canoe and paddle out to one of several in the Jamaica Bay from Marina 59 . The five-acre property docks a few dozen boats, many of which are houseboats that serve as apartments, airbnbs, and summer homes during summer months. The marina showed up on the radar a few years ago when artists organized Boatel , a series of non-operative boats that had been decorated and transformed by installation artists, and are now offered for rent on a nightly basis. Parties would ensue, and heat-frenzied 20-somethings jumped from boat to boat, catching rides on the "chair raft"—a floating upholstered chair that would only sometimes capsize.


"An Adventure Film Staring Tom Hanks" produced by hotel-art.us
Though Boatel was shut down a couple of years ago by the marina's staff, artists have still found use for the novel community. Hotel-art.us , a roaming curatorial platform aimed at online audiences (and co-directed by this article's author and Johnny Stanish), installed a temporary exhibition last summer on a houseboat rented via airbnb. The exhibition, entitled "An Adventure Film Starring Tom Hanks," wasn't open to the public in physical form, but was instead documented via Periscope , an app that allows users to livestream video and react to their audience's comments in real-time. Featuring works by Zack Davis , Bradford Kessler , Mindy Rose Schwartz , and Bailey Scieszka , the exhibition offered a temporal alternative to traditional static documentation, and showcased site-specific work that spoke to the self-sufficient, survivalist mentality of many of the marina's residents.
3. Rockaway Is the Set of an Abstract Sci-Fi Zombie Dance Film


Teaser for Ditch Plains by Loretta Fahrenholz
Filmed in the days after Hurricane Sandy , critically acclaimed Ditch Plains (2013) by Loretta Fahrenholz is an eerie film that displays New York's racial and economic divisions manifest in the storm-battered, impoverished neighborhoods of East New York and Rockaway. The Ringmaster Crew , a self-taught performance group based in East New York, perform jolted, spastic dance narratives staged during nightmarish electrical blackouts in hotel parties, stop-and-frisk police run-ins, and abandoned houses. Adopting disaster movie tropes including voice-over narration, Ditch Plains uses unsettling documentary footage of abandoned Rockaway neighborhoods that help to blur the lines between Hollywood fiction and documented reality.
4. Topless Beaches Are One Reason to Visit Rockaway Beach... Topless Projects Is Another


Installation view of Eric Wiley at Topless Projects earlier this summer
Each summer since 2014, Topless Projects has set up shop in a different storefront space on the Rockaway peninsula to host four seasonal exhibitions that include artists like Beverly Semmes , Colby Bird , Annette Kelm , and Alex Ito . Organized by artists Jenni Crain and Brent Birnbaum (who lives in Rockaway year-round), the gallery currently occupies a former 99-cent store. Last weekend at the opening of Gavin Kenyon and Aude Pariset 's two-person show, city folk and beach bums alike spilled out from the artist-run gallery onto Rockaway Beach Boulevard, before making plans to continue the party at the nearby staple, Rockaway Beach Surf Club— a bar that hosts a taco truck in its backyard, and offers surfboard storage for who the locals call "down-for-the-dayers."
5. Surf Competitions Include Surfing the Web
"Trailblazers" web surfing competition hosted by Rhizome
6. Sand Is a Sculptural Medium


Creative Time 's sandcastle contests of 2013 and '14 didn't actually have many sandcastles. Instead, artists like David Brooks , Sebastian Errazuriz , Jamie Isenstein , Ghost of a Dream, Jen Catron & Paul Outlaw, Tom Sachs , Christopher Robbin, and Duke Riley used sand as a medium for sculpture, installation, and performance. Riley , inexplicably sponsored by White Castle , bordered his fortified gatehouse with White Castle flags, deflecting catapulted sand pancakes from social sculptor Christopher Robbins 's nearby sand arsenal. Tom Sachs 's sand sculpture was a deep hole. Next to it, a hand-painted sign read "China" with an arrow beneath pointing down the hole.
7. Explore an Abandoned Art Deco Airport


Decommissioned bomber plane at Floyd Bennett Field
Once you've had enough sun, take the scenic route home by hopping on the Q53 bus that will take you up Flatbush Avenue in Brooklyn. Immediately after you cross the bridge, get off at Floyd Bennett Field where, if you have time, patience, and the wanderlust of a kid with a treasure map, you'll eventually find an abandoned Art Deco airport, New York City's first aviation hub. Built in 1930, the airport's runways were paved in concrete—the high-tech and uncommon alternative to dirt at the time—making it one of the most advanced airports of its day and host to legends like Amelia Airhart and Howard Hughes.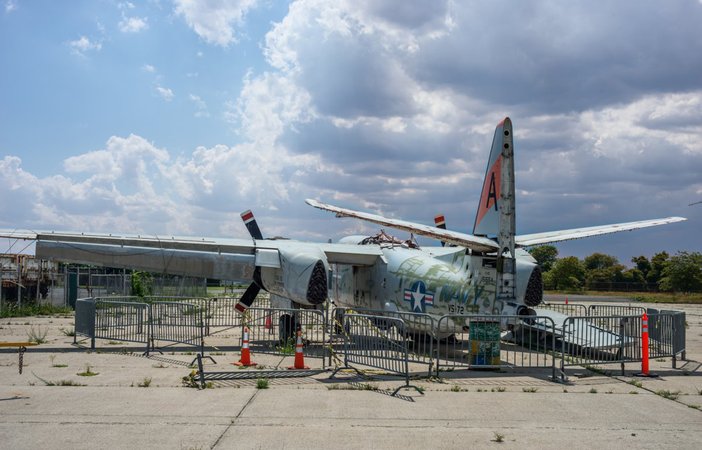 During WWII, the airport was sold to the Navy, allowing military to patrol the Atlantic coast by air in search of German U-boats. Almost unbelievably, WWII-era planes can still be found sitting on one of the runways, and during limited business hours, guided tours offer close looks at dozens more historic aircrafts. Floyd Bennett Field continues to host the world's first police aviation unit, which began in 1929 in an attempt to capture high-speed boats used to smuggle alcohol during prohibition—so don't be alarmed if you see a fleet of helicopters circling like vultures overhead.