With their coffee lounges, brainstorming nooks, and playground-like amenities, Silicon Valley offices are designed to maximize innovation and collaboration. Art, naturally, can also help in this cause—and Lauren Geremia, the founder and principal of the San Francisco studio Geremia Design, has assisted many a growing tech company in striking the right creative vibe. In her work for Dropbox and Instagram, among others, the 33-year-old RISD graduate has created welcoming, conversational spaces with specially commissioned pieces of functional art and well-placed artworks by the likes of Uta Barth and Olafur Eliasson.
In the course of working on these corporate projects and her expanding residential practice, Geremia has learned a lot about what tech-industry leaders want from art—a question that's very much on the minds of major art dealers, who are looking to turn budding Zuckerbergs and Kalahnicks into heavyweight collectors.
Geremia spoke to Artspace's Karen Rosenberg about connecting artists with engineers, installing art in an open-plan setting, and the unique challenges of designing offices for fast-expanding companies.
You have a degree in painting from RISD—how did you transition into design?
At first I thought I was going to be a fine artist, but I was interested in a lot of the majors and was disappointed that I had to choose one so early. I wanted to be around artists and talk about art—so by the time I graduated I thought maybe that I'd be a gallerist, just because I liked selling art and making connections between people.
When I left RISD, I kept in touch with a lot of my artistic friends there. I moved to San Francisco and a lot of them were in New York, so we tried to set up our careers so that we could stay in each other's lives. I worked for a while as the personal assistant for a designer and was always putting my friends' work in front of her, and shortly after that I was approached to do small projects on my own. That's when I started to insert my friends and peers into projects. And now my friends are all great artists, and I've graduated to buying artists I studied in school.
You do both design and art consulting. Is it all one activity, or do you approach the art part of your business separately?
The art consulting is something we do on its own—some people call us and say, "We want art," or previous clients call us and say they're ready for more art. We don't market ourselves as art consultants, but art is definitely the most exciting thing that we do—and in most of our projects, our art budgets surpass our furniture budgets.
It's only recently tipped in that direction, but I think people are starting to realize that artworks are the things that they're going to have in 10 years, rather than a couch. You can buy nice-looking furniture at big-box stores and it will suffice for your children and your dogs and all that kind of stuff. The things on the wall and light fixtures, meanwhile, will maintain their value—they don't get worn-in. People in California like to live on their furniture!
A lot of your clients are leaders in the tech industry who aren't necessarily known as art collectors, and there's been a big push to bring them into the art world. What are you seeing, as you work with them? Are they becoming more comfortable with or interested in contemporary art?
Art is something I'm very emotionally connected with, so I can sell it—sometimes it's harder to connect somebody to furniture. Art is so personal and conceptual. I feel like that's how I connect with clients—I try to understand them on an intellectual level, and then I can pick and choose things that are going to inspire them more than curtains and carpets. It's about connecting those two groups of people that would probably not normally meet.
How would you describe the kind of art your tech clients tend to like? Are there any particular artists or styles that consistently appeal to them?
I think they're really open to an education. I don't think they really care about how successful a person is, or what gallery they show at. I think they are more interested in what the artist's story is and why they do what they do.
Also, there's a different feel to homes in California and because of that, artwork can be very flexible in terms of size. We tend to buy a lot of large artwork—I don't know if that's the case in New York. Real estate is different out here; homes are a little bit more casual and there's a lot more space and natural light. Things are less traditional, even with furniture.
You mentioned natural light, which is the enemy of a lot of artworks—especially drawings and photographs, which you often use in your projects. How do you work around that problem?
We have made a lot of covers for photographs—we just installed some Uta Barths in a house, and we had a tailor make some beautiful covers for them. We definitely use UV glass when we can. The windows have curtains as well, and when we hang photography all of our clients understand what the ramifications are for not taking care of it.
There's a preference, in tech offices, for these big, open-plan, collaborative spaces. Art, of the two-dimensional variety at least, generally requires walls. How do you balance those needs, in your corporate projects? What kind of work do you find yourself using in those offices?
Every client is different, so it depends on what their tastes are and what they're going for in the office. Art is a good way to make an office look less corporate and more personalized. Sometimes art is more functional in these places—it kind of blurs the line between design and fine art. We buy objects and tabletop pieces or one-off light fixtures from galleries, and sometimes we focus on more intimate areas. For instance, every office, even if it's open, has tons of breakout rooms and conference rooms that we need to decorate as well. Office design is formulaic—there's a need for productivity. But you also need things for the walls. 
In San Francisco, at least, everybody operates with similar tools. A lot of wall space is taken up by projection screens and whiteboards. Making even those interesting has been a project we've taken on with artists. Companies are commissioning a lot of murals—Facebook and Airbnb have had artists coming in and doing a lot of site-specific work. We've definitely done that as well, but I'm now moving in a direction of commissioning work that can be taken with you and be switched around—that's a big request from my clients. The rate at which these places expand and change office buildings is really intense, and I like to plan for that kind of growth.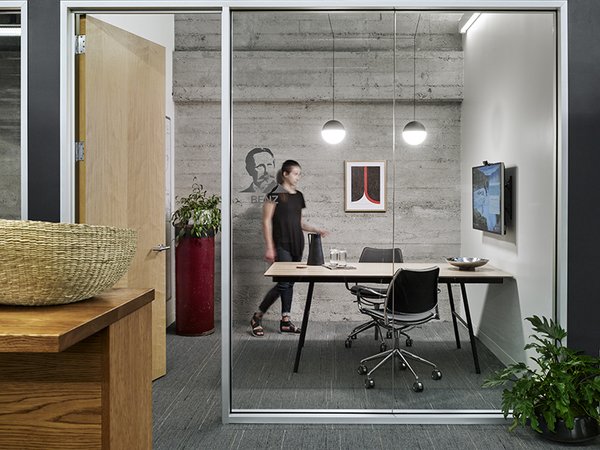 The offices of Metromile, a Geremia Design project. Photo: Cesar Rubio.
What are some other typical requests?
There are little things that come up in this questionnaire lunch that we do to get to know a client, and those things are problems for us to solve. Sometimes we solve them through art that's on the market that I've seen and that I think would be perfect for them. And sometimes it's us sitting down and designing something and then working with an artist to produce it for them, whether it's a furniture-builder or a lighting designer that makes crazy installations connected to the time of day. It's all customized and tailored to what I hear the clients saying.
Sometimes I'll read between the lines and listen to the things that are driving a client crazy—like a disconnect between the staff, where everybody's shy and people are not talking and they need a collaborative space where people feel safe.
Is there an example that comes to mind, from your past projects, of art that worked especially well to solve a problem or bring people together?
We've designed a lot of furniture like that. For instance, we wanted to design desks for Lumosity, but they already had a large inventory of IKEA so they kept those. We hid the desks by designing a standing station, where workers' ergonomic needs were taken care of. It was made of this beautiful walnut and had a plant divider, and really held your attention when you walked by. It also provided a collaborative breakout space so workers could meet and brainstorm, and it gave them a chance to stretch their legs and have variety in the workday. That's the kind of work we do.
These offices are known for offering their employees domestic comforts and perks, from ping-pong tables to nap pods. Is there any overlap between your corporate and residential projects?
There are things that are interchangeable—some people never want to work under fluorescent lights. Some people like quiet, cozy spots where they can sit with a laptop—that's what makes them productive. The workplace has started to look like a home, and a lot of homes now have pretty dialed-in offices. Anyone can pull out a phone and work anywhere. People just want convenience, and I think the boundaries between different spaces have definitely been blurred, at least in California.
One of your early clients was Instagram, which is such a huge platform in the art and design worlds. What was it like to work with them?
Instagram, when they approached me, had not yet been purchased by Facebook. They were in a separate, standalone space. I had received an award with the founder, Kevin Systrom, and we later had dinner and talked about design philosophy. After that, he asked me to do his office. It was a different point in the growth of the company—he was building it and testing out ideas, and it was catching on but it wasn't what it is now. It was a lot smaller, and his vision was really clear. We built a really cool space for him, and after that process he got drafted down to the Facebook campus—his office is now inside their office.
What have you learned from your tech clients?
I loved Instagram before I met Kevin, and I still love it. I use it because I communicate and relate to images, period. It's really easy for me to tag someone and send them an idea, and they'll immediately know what I'm talking about—whether it's an art piece I think we should use in an office we're working on, or an artist I think we should be looking at for our inventory, or a space that uses art in an interesting way. I also use Pinterest a lot—probably as much as Instagram. It's a way of communicating quickly and processing what I like.
Are there any artists or styles that work especially well in a tech office setting? Grids and geometric abstraction and systems-based art, for instance, might appeal to people who work with algorithms.
It depends on what the client's interested in. I like art and purchase it for myself, but when I'm working with a client I know my best bet is to put it through their lens. A lot of my clients are scientists or engineers or entrepreneurs that went to MIT. So I try to choose content that is going to resonate with them, conceptually, in the office. We purchased Olafur Eliasson's work, for instance—we like how his concepts of science and connection and community relate to technology.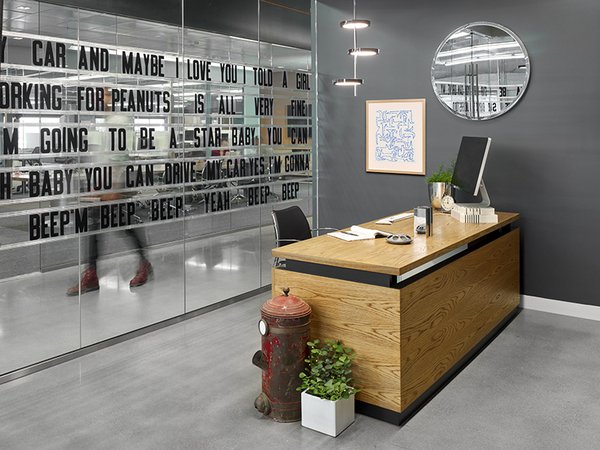 The offices of Metromile, a Geremia Design project. Photo: Cesar Rubio.
As you mentioned, you also have a personal art collection. How would you describe the kind of work you collect?
I can see what resonates well in press, what people respond to, and I use that as a gauge of what could be a good investment. Often, I buy things because I know an artist, or an artist works for me and I'm super-impressed. My staff is like 70 percent RISD people—they make beautiful work or have friends making beautiful work. People are constantly putting things in front of me. Sometimes it's wanting to build somebody up and help their career, and sometimes it's, "I don't want to live without this," and sometimes it's just impulse.
I have a very serious connection with photography—I have a lot of it. It's something I can afford at this point in my life. It works in a lot of different spaces, and it resonates with a lot of people because it is really direct and easy to understand. I was looking at Uta Barth for a long time and I finally got to buy one for a client, which was almost as good as buying it for myself. I have a couple of Todd Hidos. I have a Larry Sultan. I have this emerging artist Hannah Whitaker, from L.A..
What's the last piece you bought?
I bought a David Benjamin Sherry photograph—he's a friend from school, and I decided I should purchase one of his pieces before I can't afford it anymore! I bought a couple of his pieces for clients and realized that I'm still liking them as the years go by, so I should buy another one. 
Do any of the companies you work with have corporate art collections?
Not the companies that I work with, although there are some San Francisco companies, like the Gap, that have amazing collections.  Most of the companies I work with have only been companies for like six months. They end up being pretty successful, but in the beginning a lot is changing very quickly so people are trying to make the money last and be careful about their investments. Unless it's a company that produces art—like Instagram, which obviously has access to a lot of images—they don't typically have a collection.
Maybe that will change, as Silicon Valley evolves. How is your business growing and changing, along with your clients?
As a non-tech person who likes to make things look beautiful and inspiring, it's been interesting for me to learn about tech and absorb energy and entrepreneurship from my clients—to ask, for instance, what business books they're reading. It's empowered me in a lot of exciting ways, and I've met a lot of interesting, professional, successful people. But I am really enjoying my residential projects. They're a little bit easier in that the client isn't moving around and trying to cram 50 more desks in this week, that kind of thing. There's more of a sense that it's going to hold up, and it's much more personal.