The architect Lee Skolnick is hotly pursued by some of today's biggest collectors and most acclaimed artists, largely for a simple reason: he designs buildings that are expressly tailored to the ideal display of art. Many of his projects can be found along the breezy shores of Long Island, where he is a part of an entrenched art scene that stretches back to the days of Willem de Kooning and Jackson Pollock. Among his clients are the artist power-couples Eric Fischl and April Gornik and Susan Rothenberg and Bruce Nauman; he has also built homes for the legendary critics Robert Hughes and Robert Rosenblum.
Lately, Skolnick—who has also designed more than 60 museum spaces around the world—has been working on a beach home for one of America's top collecting couples, both building the residence and helping them build their collection. It's a rarefied process that has entailed traveling with the couple to art fairs, with an interior designer and art advisor in tow. 
To find out more about what goes into the perfect setting for a major art collection, Artspace editor-in-chief Andrew M. Goldstein spoke to Skolnick about what art should do in a space, what drives him crazy about other people's houses, and why artists tend to have the messiest collections.
Tell me about your latest project.
We recently designed a new house for a couple who are art collectors. In particular, they wanted to develop a new art collection and asked us to design a house that would allow them to do that—without knowing what the art was yet, because the architecture itself would help guide them in collecting and then displaying the art. So we have designed the house, and I've in fact been spending time with them looking at art and advising them on what would work in the house in terms of size, scale, medium, and their own personal taste. We've pretty much filled the house, although there are still a few locations that haven't been filled.  
Interestingly, we have the entire residence modeled on a computer, and what we do when we find a piece of art is that we scan a representation of that and put it into the model in the space so that they can see how it will work in the space.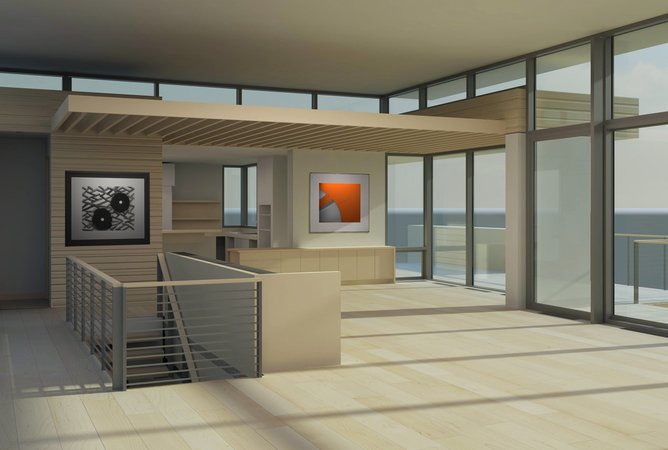 A computer rendering of a landing at the top of the residence's staircase, featuring Donald Sultan's Morning Glories (1992) and Thomas Ruff's Cassini 16 (2009). (Artworks pictured in renderings represent works available on Artspace and are not in the homeowners' collection).
What can you tell us about these collectors?
I probably shouldn't say who the collectors are, but I can say that it's a large modern beach house on Long Island. A lot of my design work deals with narrative and each project having its own story. With this client, we agreed early on that the story of this house is about sky, sea, storm, sun, and sand. It was the embodiment of the environment that it was going to be in, taking all of its cues from the natural characteristics of the area and the ocean. Anything that we did, it had to be thematic—as in, we're going to deal with Turner because he deals with the sea.  
Here, in terms of light, airiness, landscape, transparency, and living in this natural environment to the greatest extent possible, it could be challenging for artwork because we want to let in a lot of natural light. So we tried to concentrate on a lot of photography or prints. We were concerned about paintings, but we were much less concerned about sculpture. We also have mixed media. 
We wanted it to be a very calming environment, a very zen environment. It's not active, there's no ornamentation, there aren't a million different materials shouting out at you. It's very restrained and the tonality is the soft white and sandy shades that suffuse the entire space. It's a great backdrop for art, and that was part of the idea—that along with the views of the landscape, the art would be the star of the show. There are ways to design and decorate, where the art is just one of many textures, colors, and patterns—sort of a Victorian sensibility—and this is the antithesis of that. 
How would you describe their taste in art?
They were and remain very interested in art of the mid-to-late 20th century: a lot of abstraction, a lot of Minimalism, simple geometry. Whether it's Robert Mangold, Richard Serra, Donald Judd, they're drawn to that whole sub-genre that has a certain bareness to it, though that doesn't imply that the art can't be colorful. There's nothing figurative in the house, except for maybe a little bit of photography, and even the photography is sort of abstract.  
How did you and this couple go about acquiring these artworks?
We did everything. They have an art consultant too, and we went to auction houses, galleries, art fairs, and a variety of other channels over a long period of time. The development of the design, the construction, and the final finishing and furnishing has taken around three years. 
How did you work with the art advisor? What was the back-and-forth there?
Well, we had pretty much designed the house before the art advisor was brought in. So, I gave her a deep immersion into what the house was about, what we're trying to achieve, and what the spaces were going to be like, and the couple had made it very clear to her which areas of art they were interested in. All of that preceded looking around for works. It was a completely synchronistic relationship—she was on the right wavelength from the very beginning, and we never got into a situation where she wanted to buy something that I thought was horrible or wrong for the space. Everything she showed us had potential, although that doesn't imply that we got everything that she showed us.
You have built a series of residences in Long Island, and they are typically marked by sweeping, airy, open spaces and lots of windows. The aesthetic reminds me a little bit of de Kooning's studio in the Springs. With homes like these that are characterized by wood, steel, and glass, what kind of art do you find works particularly well in the setting?
First, there's the issue of scale. In large open spaces with sweeping views and a lot of light, from a scale point of view you want something that has interest and impact from a distance. Hopefully, as you get closer it unfolds either texturally or in terms of details that you may not have seen from a distance. But the main thing is that you want something that holds up in a large open space. 
On the other hand, there are also intimate spaces, for instance inside a powder room, or at the top of the staircase. In this house in particular, when you get to the top of the free-floating staircase, there's a small wall that is just perfect for a Donald Judd print that we got. The experience of the house is this kind of sweeping feeling where you're drawn into the spaces, and wherever you walk or turn there's a new experience. The artwork can be a perfect partner to that because it's not just the architectural or spatial experience that draws you through the space but also artworks that are scaled properly for that experience.  
We have big things on big walls in large spaces, but then we have these discreet pieces, mostly paintings and prints, in small spaces. We have a hallway where you turn a corner and there are two Andy Warhol Muhammad Ali silkscreens, and it's just a great moment because turning that corner is all about those two pieces. We have an incredible Helen Frankenthaler that's at the end of a skylit hallway, and we actually built a niche for it there so that the end wall of this vista is the Frankenthaler. It becomes the terminus of this visual axis, and it has its own hidden lighting so that it becomes very meaningful part of the space. 
How do you incorporate furniture into the setting? Do you choose the furniture first or the art first? 
In this case we worked with an interior designer who was very good, and we picked him particularly because we really didn't want the furnishings to be the focus. This is a balance that you have to decide on early in the process and then stick to. Because you can decide that the artwork will be the backdrop, and the main element will be incredible pieces of furniture arranged either in a matching decorator thing or as individual masterpieces. In our case, we said, no, we're not doing matching pieces of furniture—we're doing really elegant, simple, contemporary furnishings in terms of color and material palettes so it plays a supporting role to the views, the space, and the art.
When it comes to positioning artworks in one of your homes, are there any rules of thumb that you follow?
I really get off on working with clients directly, so I don't have a lot of rules that I want to impose. We work with some clients who are interested in incredibly heterogeneous collections where everything has its own atmosphere and they don't mind jumbling and mixing it all up. It becomes about how you want to draw people through the space. There are dynamic spaces that you move through quickly, and there are static spaces where you're meant to spend time. Some things lend themselves to being breezed by quickly and you get a high impact  by passing them millions of times—they gain a certain brightness. Other pieces are totally in-your-face and compress you.  
So I don't have a particular formula—with every project I start over and look at what the situation is: Who are the people, what is their life like, what are their interests? The art falls into the narrative of the project, and that makes it much easier to look at artwork and immediately say, "It may be a Rembrandt, it may be a Jackson Pollock, and that's great, but it's not for this place."
What about when you go to other people's homes? Are there any glaring mistakes that you tend to see in terms of displaying art?
Sure. I like to say that I spend 90 percent of my life with my eyes closed. It's funny because people say, "Oh my god, I don't know if I want you to come over to my house" and I say, "You know what, the world is the world. I'm not looking to create the entire world." We do what we do, and you live however you live. But of course there are the usual mistakes. Don't have highly patterned couch upholstery and then place some crazily patterned, colorful pieces of art above it. Though some people make that work, and more power to them.
What about beginner's fumbles, like placing a photograph by a window?
Those are just no-nos. You want to say, "I hope you don't like that photograph, because it's not going to exist in a year." There are also more arcane things, like the fact that blue pigment, particularly in prints, can fade much more quickly than other colors—which anyone who has ever owned a blue car will tell you. But at the same time, you can get treatments for windows or devices that filter out a lot of light, like shades that are set to timers that can be programmed for different times of the year. A lot of museums have timers so that when the sun is low at 4 o'clock and about to start streaming through windows, the shades go down. You can also coat glass properly so that it filters out UVs and harsh wavelengths of light. A lot of people don't do that, and if they have really important art, they've made a serious mistake. 
For other types of mediums, particularly for works on paper or multimedia works, humidity control is imperative. If you have a space that is too dried-out you can lose the artwork. It will physically deteriorate. In the '50s and '60s, the whole Rauschenberg crew made a lot of artworks without worrying about whether they would last—using the wrong kind of glues, the wrong type of paint, painting on newspaper, or painting on fabrics—and conservators have made a fortune keeping these artworks from disintegrating. It's expensive for collectors to maintain those artworks, and they need the proper environment. 
So light is an issue, dryness is an issue, even particulates in the air—pollutants. A lot of these collectors have museum-quality climate control systems, and since we design a lot of museums and galleries we're very familiar with that and can make sure that serious and expensive artworks are in the right environment.
In addition to working with collectors and museums, you've also designed a number of homes for very established artists, especially in the Hamptons area. How did that come about?
That's kind of how it all started, really. Early on I did work for people like Susan Rauschenberg and Eric Fischl while at the same time designing exhibitions for museums; two separate but parallel paths. Before too long those paths converged, because the same people who were the collectors of these established artists—who were still emerging at the time—then wanted houses or offices. Many of them were also on the boards of museums, so all these threads came together.
I still work with a lot of artists, and we do a tremendous amount of work for families and individuals who are serious collectors. It's nice because it's a whole world—you become friendly with the same people and develop relationships around art and creativity, which is great because what I do for a living is art and creativity. So you wind up with a client base that wants something special and extraordinary, and they have very refined sensibilities in order to appreciate that and to appreciate the process. It's very different from working for a commercial client, because they just say, "I just need this, make it for me quickly and cheaply." Instead, these are people who appreciate the value of design and creative ideas, and they want the best. 
How do artists live with artworks differently than collectors do?
My experience with artists is that they know a lot of other artists, so they wind up with collections that are either gifts or trades with friends of theirs who are not necessarily working in the same medium or genre but who move in the same circles. An artist's home can often be very eclectic. They accumulate so much art over time, and what I've found really frustrating at times is that they just don't know when to stop. Basically, there's more and more stuff everywhere. It all has meaning for them, and it's their home, but it's very different from how they would want their own works displayed. When they have a show, they want perfectly composed galleries with breathing space around each of their pieces so that they can be appreciated. But then in their homes, they may just pile stuff everywhere.
Also, often artists are getting new things or trading things all the time, so they change things out a lot. It's not a composed environment that's meant to almost become frozen, whereas there are collectors who will buy a Louise Nevelson or a Robert Motherwell for a prime place and then keep it there forever. Artists can be very fluid. Personally, I would like to go and edit some of those spaces, but that's my own sensibility.