With a client list that includes impressive names like
Rolex
,
Sony
,
Hilton
, and
Saatchi
, the architects and designers of the Houston-based
Rottet Studios
are not only used to working big, but also working smart. It's how Founding Principle 
Lauren Rottet
built her business into the international powerhouse it is today, with offices from New York to Shanghai and a litany of awards and accolades including a recurring spot in
Interior Design
magazine's
Top 100 Design Giants
.
In this special feature with Artspace, the Rottet team looks to the Light and Space movement as they tell us how savvy collectors can fill their homes with beautiful artworks while also adding a sense of expansiveness to any room through intelligent placement decisions. Read their advice if you're interested in opening up your space without taking down a wall or adding a window.
IT'S ALL ABOUT LIGHT AND SPACE
"As designers, we strive to transport the occupants of any space into a new environment by eliciting an emotional response from their surroundings—all complimented by carefully curated works of art. Our decision to focus on 'Light and Space' refers to the influence the Light and Space artists have had in Lauren's work. As a result of this inspiration, Rottet Studio is always exploring ways to make interior spaces expansive beyond their actual physical parameters and kinetic enough that one doesn't become bored in them day after day."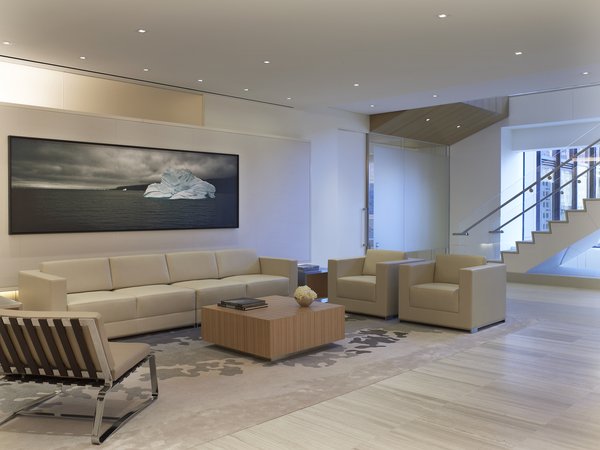 An interior by Rottet Studio, featuring a piece by Camille Seamon.
ENTER A WHOLE NEW DIMENSION
"When searching for an artwork to help expand an otherwise small space, you need to look for pieces that have dimensions themselves. For example, these works by Andrew Moore create the illusion that you can walk right into the photograph. By placing them in a 'dead end' position within your space—such as the end of a corridor—it will appear as if the room continues infinitely."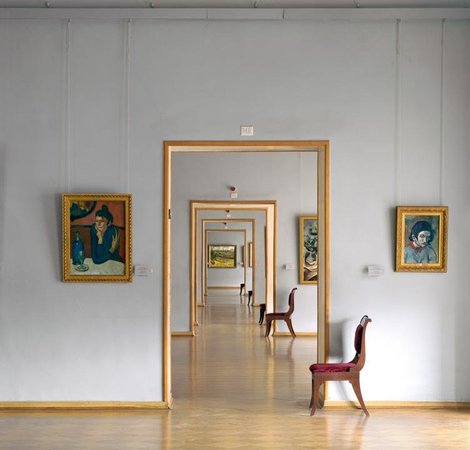 Room 348 (Square) (2002) by Andrew Moore, available on Artspace
"Candida Höfer's piece can also provide this effect, with the added bonus of a pop of bright color. Using a 'warmer' work as a feature within a room with colder tones—or vice versa—attracts attention and tricks the mind, allowing you to be transported from your physical surroundings."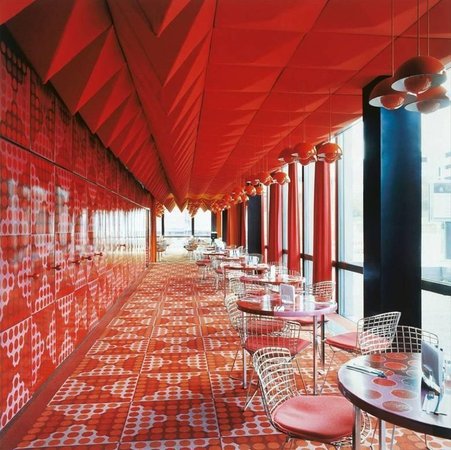 Spiegel Kantine III (verner Panton 1969) (2005) by Candida Höfer, available on Artspace
TAKE A JOURNEY WITHOUT LEAVING YOUR LIVING ROOM
"Choosing a calming piece is largely about finding softer colors, but the meaning behind the piece is equally important. For example, Thomas Ruff's jpeg ib02 can help drastically calm a static environment because the piece emotionally transports you to a peaceful setting—calm, cool waters and blue skies."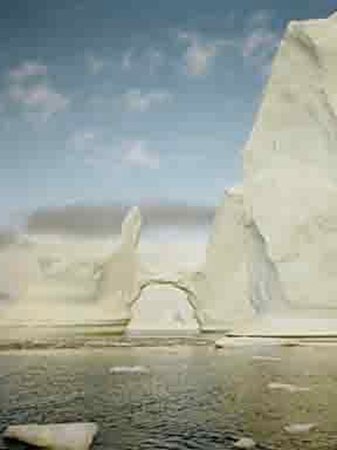 jpeg ib02 (2007) by Thomas Ruff, available on Artspace
"John Baldessari'sBrain/Cloud is an equally calming representation of the beach lifestyle, complete with palm trees, beautiful weather, and your head in the clouds. Although these two pieces present dramatically different settings, both can utilized for their soothing qualities."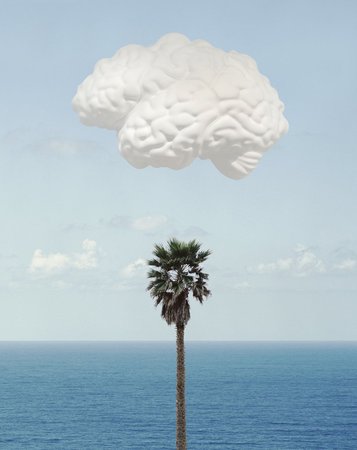 Brain/Cloud (With Seascape and Palm Tree) (2009) by John Baldessari, available on Artspace
ABSTRACTION IS A BLANK WALL'S BEST FRIEND
"We often use photography for its transportive effect, but we also find that abstract art, both geometric and expressionist in nature, can add dimensions that tend to trick the eye. Sometimes we hang a small piece like Judy Ledgerwood'sDon Julio asymmetrically, leaving the wall otherwise blank to make the whole room feel larger. Smart and considered placement can make the space around the art feel more expansive and interesting."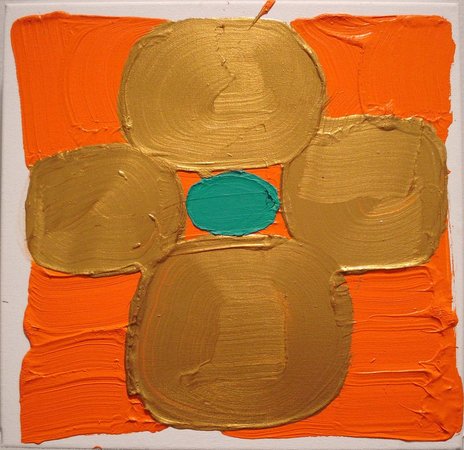 Don Julio (2008) by Judy Ledgerwood, available on Artspace