Your beautiful new David Salle work has arrived, it's framed and you've hung it up; now your friends are coming over to admire it. Can you tell them why it's so good? Why Salle paints the way he does? Which other famous artists taught and influenced him? Do you know about the film he directed, or the dancer he dated, or which gallerist's loft he first showed his work in? And what's the singer songwriter Joni Mitchell got to do with this New York artist? Do you even know how to pronounce his name properly? Don't worry, you'll have your story down pat, after reading this quick guide.
I know his name, but how do I actually say it?
David is well, David, obviously, but Salle is pronounced 'Sally', like the female first name.
Who is he, and where's he from?
Salle is a 67-year-old American painter, best known for works formed from fragments of apparently unlinked images, who gained particular prominence in New York around four decades ago, and who continues to be held in high regard.
Born in Oklahoma to parents who worked at the same dress store – his mother was a saleswoman, his father a buyer, window dresser, and advertising-layout man, (and a Sunday painter) – Salle took art classes during his childhood, studied at the California Institute of the Arts (CalArts), gaining both BFA and MFAs, before arriving in New York in 1975.
DAVID SALLE - Untitled from Canfield Hatfield, 1989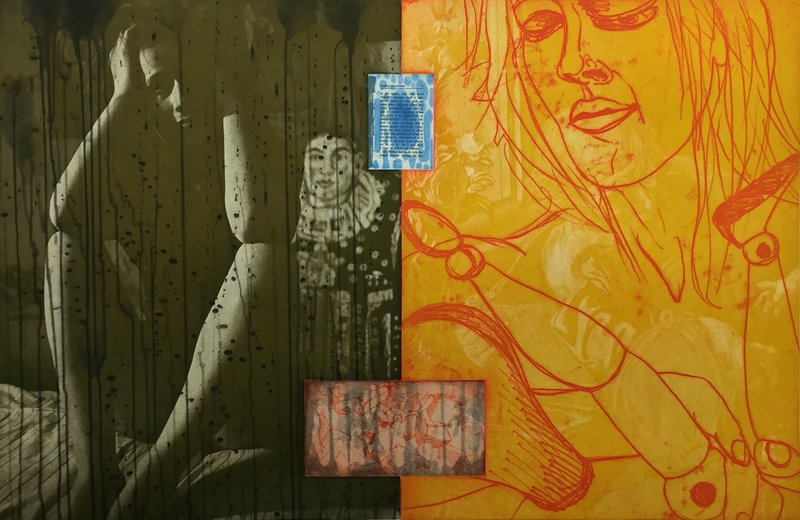 Untitled from Canfield Hatfield , 1989 by David Salle
When did he make it?
During the '80s. Beginning with a small show of paintings in Larry Gagosian's loft on West Broadway in 1979, Salle's work was in the collections of the Tate, the Pompidou, the Whitney, MoMA, and the Museum of Contemporary Art in Los Angeles, before the decade was out. Robert Mapplethorpe photographed Salle's New York apartment, and the architect Philip Johnson joined the chorus of praise, telling the NY Times, "I like the violent contrasts and the ways the continuity is broken, though what they signify - I don't know.''
I agree with Philip. I love the contrasts too, but I sort of worry that I don't understand it. Why does he paint the way he does?
There's no clear answer. Initially Salle supported himself via magazine layout jobs, and many suggested his cut-and-paste style of painting owed its origins to this profession; Salle himself disputes this, telling the New York Times in 1987 that ''I was a very bad layout artist and I never tried to get good at it.'' Instead, he cites cinema and literature as formative influences; he even quotes the eighteenth-century writer, Samuel Johnson, who described the English Metaphysical poets work as "the most heterogeneous ideas yoked by violence together". "That's my church," Salle told Artforum back in 2003, "sign me up."
DAVID SALLE - Portrait with Scissors and Nightclub, 1988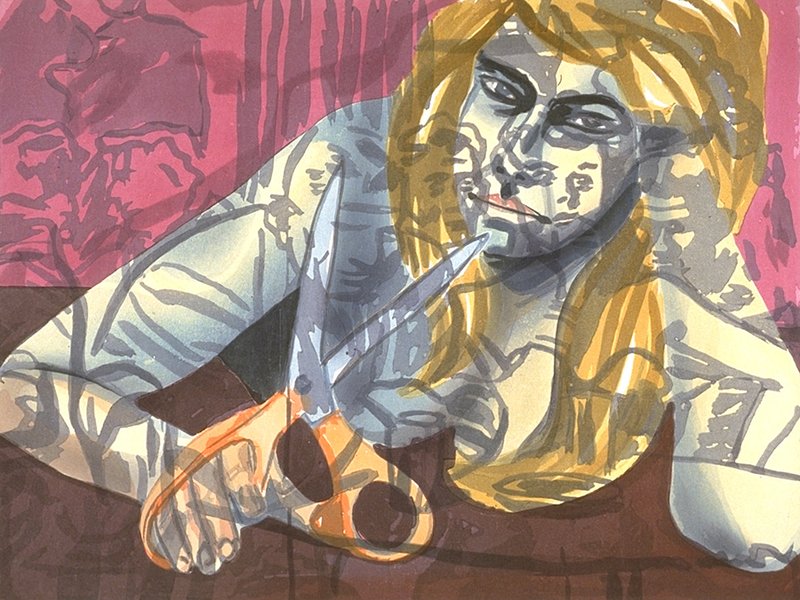 Portrait with Scissors and Nightclub , 1988 by David Salle
What does Salle himself look for in a painting then?
A fairly visceral reaction. In a 2012 interview for the Tate, he said, "when I was younger I was hungry for a dialogue that centered around intention and meaning, and interpretation, things like that, now I find as I'm older, I'm just interested in the first level reaction: yes, no; good, not good; finished, unfinished."
What does the art market think of him?
It likes him. ​Salle, unlike many of his contemporaries, has retained a strong place in the market, and might even be growing in stature. Before his first show, his works went for as little as $1,000; yet in recent years they have commanded serious six-figure sums. His 1990 painting Mingus in Mexico, sold for £608,750 at Christie's in London back in October 2017; his 1998 work, A Bigger Rack, went for £515,250, again at Christie's London auction room in March 2019; while Nadar's Grey, a 1990 composition, exceeded its high estimate to achieve a hammer price of $495,000 at Phillips in New York back in November 2018.
DAVID SALLE - Black Eyed Susan, 2011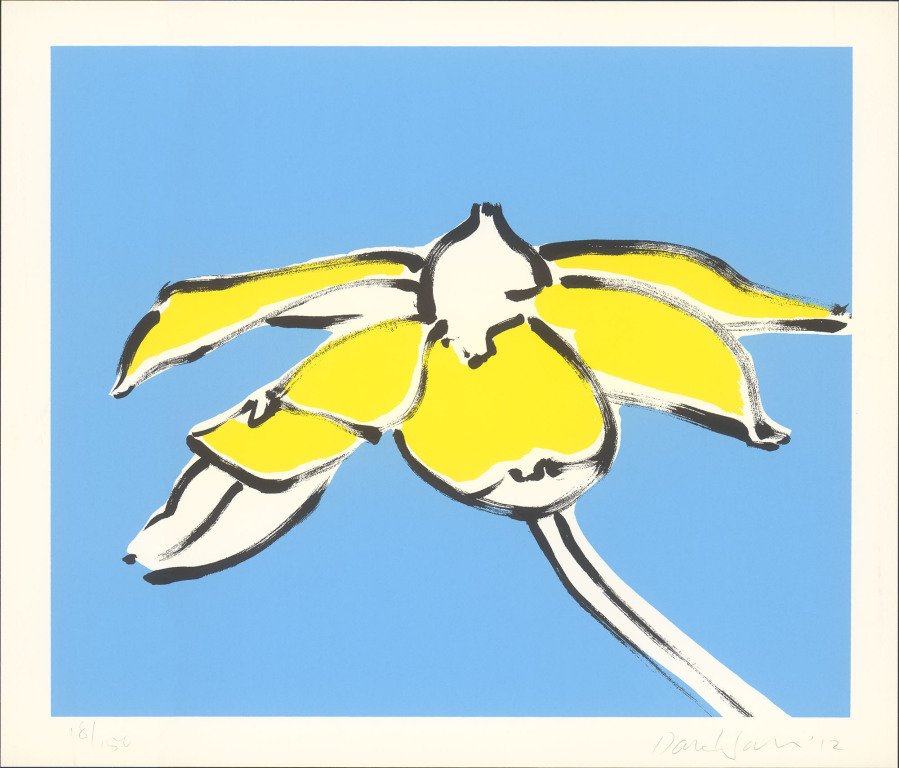 Black Eyed Susan, 2011 by David Salle
He was at CalArts - so did he study under John Baldessari ?
Yes, and both left a lasting impression upon the other. Baldessari recalled Salle being "certainly one of the best." The tutor told the New York Times that Salle had "an inquiring personality and omnivorous appetite for information about art. He was very shy, but one was aware that he was always watching you -your every move, your every action."
Salle, meanwhile, says Baldessari helped him put down his paintbrush for a while. "I went to Cal Arts to be a painter, but the exciting stuff was happening elsewhere, so I took a holiday from painting for a few years," Salle told fellow painter John Bradley in an Interview magazine Q&A. "It was a conceptual hothouse at the time, but it wasn't theoretical, because John is not a theoretical person; he's a very reflective, thoughtful person. It was more about making John laugh."
DAVID SALLE -Cranberry Beans, 2000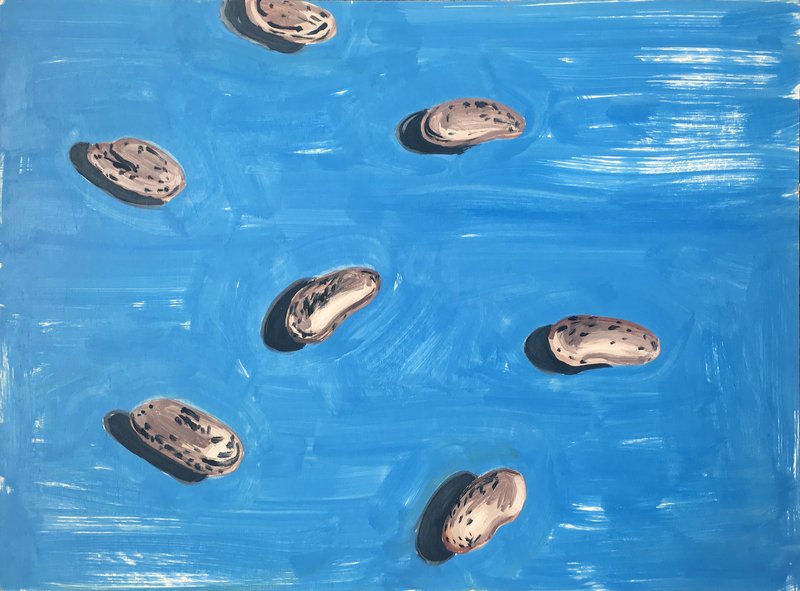 Cranberry Beans , 2000 by David Salle
Who else influenced him?
While you wouldn't describe him as a mentor exactly, Salle has been great friends with the New York figurative painter Alex Katz for decades. Katz has painted Salle, and Katz's paintings even appear in Search and Destroy, the 1995 feature film Salle directed.
Salle also worked with Vito Acconci , and collaborated with and fell in love with the ballet dancer and choreographer Karole Armitage; he has designed sets and costumes for her productions, and some interest in movement and the figure may have rubbed off on Salle. "I'm interested in seeing the body in space," he has said, "in ways that we don't normally encounter it."
DAVID SALLE - Theme from an Aztec Moralist (I), 1983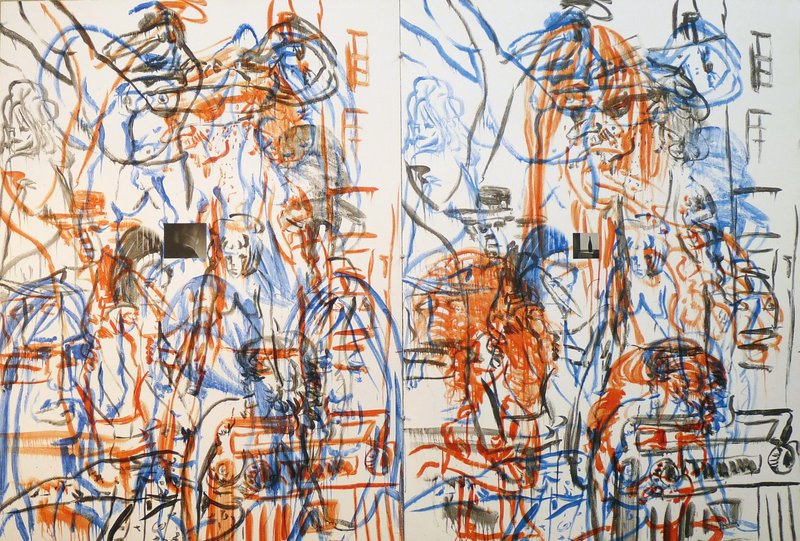 Theme from an Aztec Moralist (1), 1983 by David Salle
How should I categorize him? Is he part of the Pictures Generation , or is a Neo-Expressionist ?
He doesn't easily fall into either camp. While he's the right age, and has been shown alongside artists from the Pictures Generation in the highly regarded Met Museum exhibition of 2009, Salle doesn't really feel he has much in common with Richard Prince , Sherrie Levine and co., though he admires Neo-Expressionist artists, such as his friend Julian Schnabel. "It seemed that the pictures group was defined in terms of what it could not do," Salle told Art Forum back in 2003, "whereas Julian made a stand for doing whatever the hell he felt like, which is probably a healthier attitude."
DAVID SALLE - Untitled from Canfield Hatfield, 1989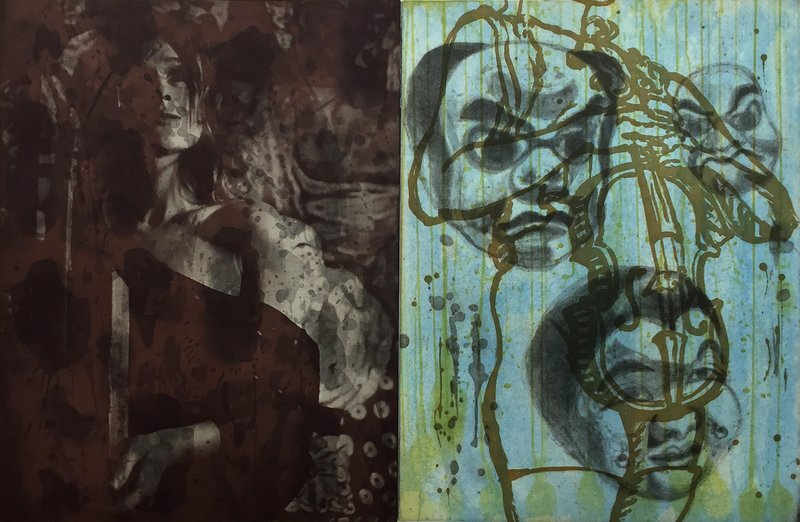 Untitled from Canfield Hatfield , 1989
How about pop art? Some of his pictures look like Robert Rauschenberg 's or James Rosenquist 's work - there are plenty of consumer items in there too
Hmmmm, not really, Salle isn't especially interested in the churn of goods and their accompanying images. "The world is not going to stop generating stuff, but that's not art, and it's not even very interesting," he has said. "It's just stuff."
So where does he get his images from?
Salle actually shoots preparatory photographs for his paintings, particularly for the women featured in his pictures; if you go to his website you can see photos that went on to feature in parts of his canvases. Sometimes he silkscreens his photos directly on to the painting.
DAVID SALLE - Vista, 2010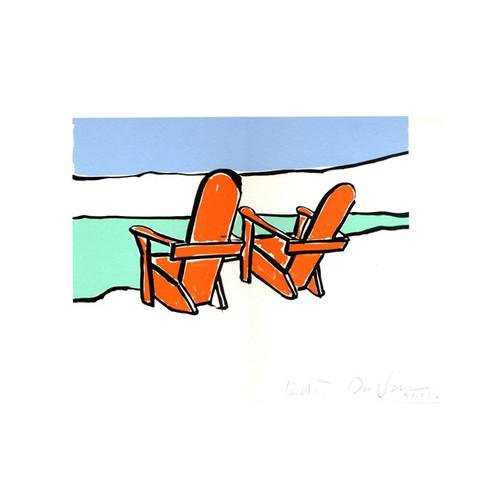 Vista, 2010, by David Salle
How should I best understand and enjoy his art?
With an open mind. Salle suggests we look at and enjoy the painting as a whole, rather than pull apart its contents. "The subject is painting, not Kleenex boxes," he told the New York Times back in 2017. "I think a good painting is something which has immediate impact," he told the Tate back in 2012, "and which at the same time rewards prolonged viewing."
You could also stray outside the art world and look towards film. In 1995, Salle directed a fairly starry feature-film adaptation of the 1979 stage play Search and Destroy, featuring performances from Dennis Hopper, Ethan Hawke, Martin Scorsese and Christopher Walken. It received mixed reviews, and while Salle hasn't returned to movie direction since, he still reaches for the creative juxtaposition you find in movie montages to explain his own canvases. "Two things in the right sequence make a third thing," he told Art Forum back in 2003, "or rather allow the mind to make a third thing."
DAVID SALLE - Untitled, 2001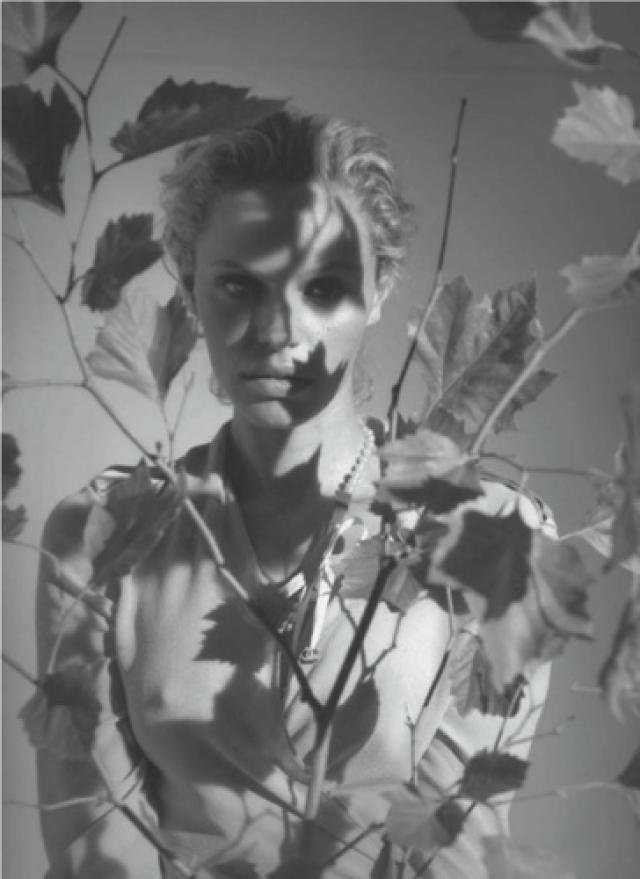 Untitled , 2001. Photograph by David Salle
Wow. He's very good at talking about his work, isn't he?
He should be; when Salle isn't painting he's writing about art, for Artforum, Interview, and The Paris Review among other titles. What's best is that he adopts a straightforward, engaging witty style, free from heavy art-world references and histrionics.
If he's so good writing, why did he steal a title from the singer-songwriter Joni Mitchell?
He couldn't resist it! Salle says that in 1990 he rented a studio in Frank Gehry's LA building for a few months. Joni Mitchell, who is both a painter and a musician, had been the studio's previous tenant, and the texts for her paintings were still stuck to the walls when Salle took up residence. One of them read 'Mingus down in Mexico, A Happy Sad Little Painting'.  "I found the title to be so irresistibly delicious that I took part of it for my painting, which was made on the same wall," Salle told Interview magazine in 2018.
DAVID SALLE - Untitled from Canfield Hatfield, 1989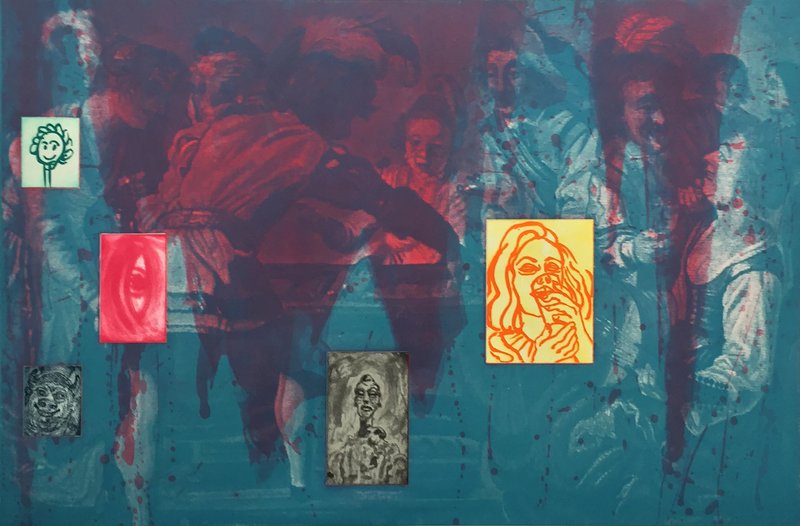 Untitled from Canfield Hatfield , 1989
What should I hang next to my new David Salle work? He would work well next to his old friends and colleagues, Alex Katz , Julian Schnabel and John Baldessari. Also try him with his predecessors such as James Rosenquist , Jasper Johns and Robert Rauschenberg . If you wish to emphasize the people in his paintings, put him next to works by Elizabeth Peyton , Sean Landers or John Currin ; for a little eighties wall power try him with Jeff Koons or Cindy Sherman ; or bring things up to date with artists like Jamian Juliano-Villani and Ella Kruglyanskaya .  Check out work by the artists who've inspired David Salle in the module below and go here to see much more of his art - all of which you can buy now on Artspace.
[DavdSalle-module]
Related Stories
What to Say About Your New JR Print
What to Say About Your New Nan Goldin Print