Many barriers held Simone Leigh back from immediate success in the art world. "I was told by everyone I knew in ceramics there was no way I would ever be included in the contemporary art space," the Chicago-born sculptor told the New York Times in 2018. Leigh is also the daughter of Jamaican missionaries, and never attended art school, studying instead feminist and post-colonial theory as a philosophy student at Earlham College in Indiana, where she first tried her hand at pottery in the college's ceramics studio.
Nevertheless, she has excelled, receiving the Hugo Boss Prize in 2018, seeing her work included in the 2019 Whitney Biennial, and, most recently, being chosen to represent the USA at the 2022 Venice Art Biennale - the first black woman to do so.
"Over the course of two decades, Simone Leigh has created an indelible body of work that centers on  the experiences and histories of black women," said Jill Medvedow of the ICA Boston, which is partly overseeing the 2022 Venice presentation. "At such a crucial moment in history, I can think of no better artist to represent the United States."
Indeed, the vitality of Leigh's art lies partly in the way she addresses previously overlooked elements within American culture. "Employing a rich matrix of cultural signifiers from African, African-American and Caribbean history, she crafts works in clay," explains the entry in Vitamin C: Clay and Ceramic in Contemporary Art , "to recall traumas from the past and to suggest alternatives for a future that empowers black women."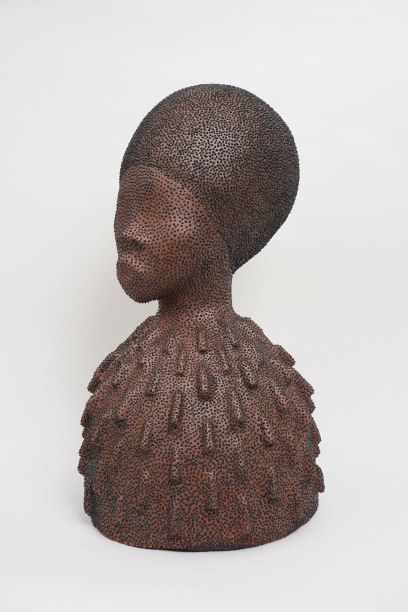 Simone Leigh, Untitled VI (Anatomy of Architecture series) , 2016, terracotta, glaze, 58.4 × 33 × 33 cm (23 × 13 × 13 inches). Courtesy of the artist / Luhring Augustine, New York. As reproduced in Vitamin C
And the artist's work isn't limited to kiln; she also stages installations, performances, creates videos, photographs and works of social practice. Leigh herself describes her art as 'auto-ethnographic' which is a pretty good shorthand for the way in which she combines cowrie shells and the shape of traditional, African dwellings in art, alongside watermelons and other totemic objects, which seem to pass comment on racial stereotypes, while also offering new ways to think about black women's place in society.
Manhattanites may recognize one of Leigh's largest works, Brick House, a 16-feet-tall bronze of a black woman, currently on display at the High Line at the Spur, at 30th St. and 10th Ave. The sculpture, which combines the forms of forms of a skirt and a clay house, takes its name from the 1977 Commodores' song, which, as the artist explains, "was a celebration of black womanhood that we hadn't really heard. That was what was resonant about it - not necessarily a male gaze but that beauty was associated with mightiness and strength, as opposed to fragility."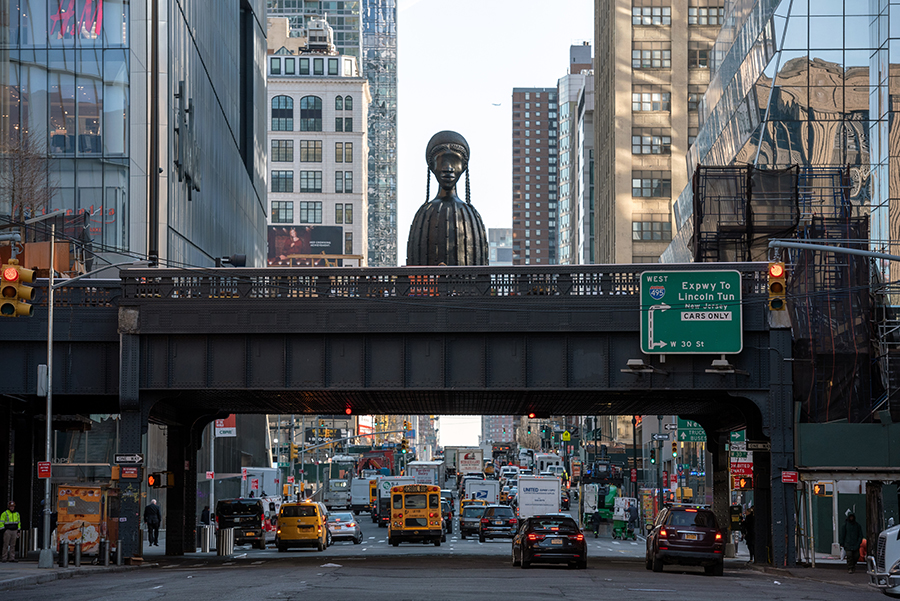 Simone Leigh, Brick House , 2019. A High Line Plinth commission. Courtesy of the High Line; photograph by Timothy Schenck

Visitors (hopefully) to the 2022 Biennale can expect to see a similarly solid presence. Leigh's presentation will include a monumental bronze sculpture in the U.S. Pavilion's outdoor forecourt, as well as interrelated works in ceramic, bronze, and raffia, populating the Pavilion's five gallery space.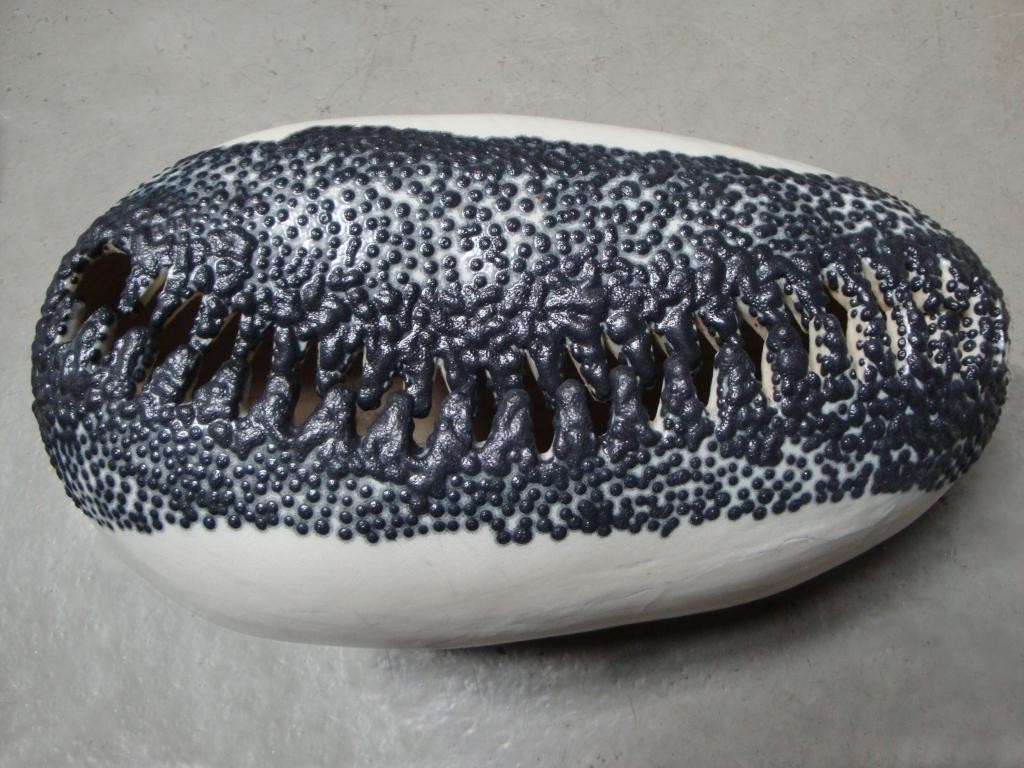 Simone Leigh, Premye , 2011
If you like what you see why not consider purchasing this 2011 photograph by the artist ? Entitled Premye - a Haitian creole word for 'first' - the color photograph is made with archival pigments on fine art rag paper and shows one of Leigh's highly decorated cowrie shell sculptures, an undeniably pretty work that nevertheless recalls the monetary, religious, and decorative functions these shells once played in Africa and Asia, as well as references to fertility and femininity. Find out more here .