"I try not to think while I'm painting," Kansas artist Katherine Bello tells Artspace. " But I feel every emotion: joy, sadness, anger, frustration, appreciation, gratitude - it's all in there."
Bello says her goal as an artist is to capture "a sense of place, a moment of time, or a feeling – to evoke a sense of wonder." She loves paint and paint brushes; bold, gestural mark-making and the interplay of color, even though she came relatively late to the medium.
Bello received her BS in Chemical Engineering from Kansas University in 1988. Subsequently, she studied Fine Art and Design at Johnson County Community College from 2006-2015. During this time, she developed her recognizable abstract style and attention to colorways. She later went on to study Fine Art at Kansas City Art Institute from 2014-2018.
She's influenced by light and landscape, poetry, history and science and drawn to the process of creating something out of nothing.
For Bello, art is "a point of view, not only of the artist who creates the work, but also of the viewer who examines, interprets and lives with the art." As an abstract painter, she strives to push formal boundaries – always questioning, always curious, forever exploring. Spontaneity, intuition, and memory guide her as she continually embarks on "re-contextualizing personal nostalgia" through her abstract paintings.
As she releases a body of new work with her gallery Cerbera and Artspace, we caught up with her to ask her a few questions about her inspirations, how a painting begins for her, and the incredibly intimate reactions some people have on seeeing her work for the first time.

What inspires a particular painting? Do the inspirations change, day by day or do they remain constant? "My paintings are visually abstract. They come from a place of unknowing. I never know what will happen when I begin. It's a journey. I began painting this way later in life, so I have a rich history of memory to pull from. I don't have a memory for details - but I remember colors, places, sounds, movement, emotions, connections. There may be a current event or something I'm resonating with at the moment that sparks a new idea, but these fragments from the past continually inspire my paintings and what is most important to me."
KATHERINE BELLO - Cloud of Unknowing, 2023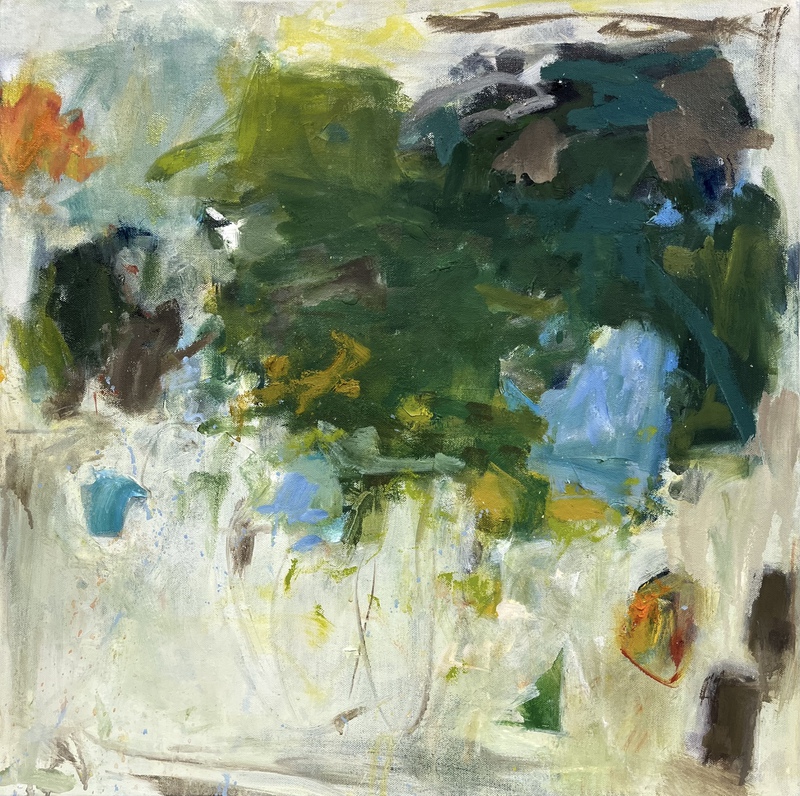 How do you start a painting, do you have an outline in your head of what's about to transpire? "I've been practicing yoga and different forms of meditation for the past 25 years. I try to incorporate some time to this practice every day. Painting itself can be a form of meditation if I let it. When I really let go, starting a new painting just happens - freely and quickly. But as an artist, I want to take risks. I need to slow down and consider composition, color and form."
"I don't follow a formal outline, but I might study different painters' approach (currently Lois Dodd and Pierre Bonnard are two favorites) for inspiration, or I'll spend some time working on collage or smaller paintings on paper to try out new ideas and materials."
"I often sit with my paintings for weeks before applying more paint. I may ultimately go in an opposite direction or cover up large parts of the painting in order to find something more interesting to paint. In the end, the paintings emerge in their own time."
What other influences impact on your work? "The other influences are less visible. I admire the power of poetry to say so much with so few words. When I was young, I wanted to be a writer but writing well is still a mystery to me. I'm more visual by nature and abstract painting is my form of poetry. I use a brush instead of a pen. As far as science and history go - I love, love both. I studied and worked as a chemical and environmental engineer, and I'm still fascinated by new theories and discoveries in all aspects of science. I enjoy the structure of the scientific method. Again, there is something about unknown possibilities and it's reflected in my work."
KATHERINE BELLO - Cocktail Hour, 2023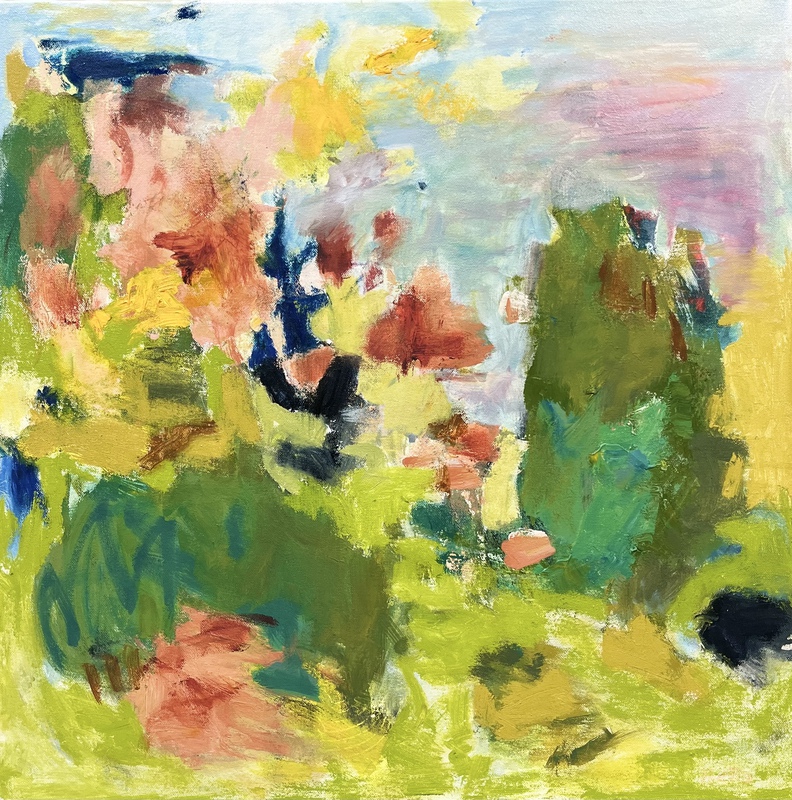 "History keeps me grounded. My parents were antique dealers and collectors and I learned to value culture and history at an early age through the beautiful objects they collected and the stories they told. Visiting museums and historical sites around the world still excites me. I particularly relate to women's history and the ways they contributed to their families and society. Their meaningful work influences my voice today."

Tell us about the new work, what inspired it, how was it to create, where did you create it, and does it signal a new or different direction? "The world has been doing somersaults for the last few years and so too, my approach to painting. During the pandemic, I worked from home. Somewhat isolated. Like many people, I started to question more, and felt more uneasiness in the world around me. I think some of my paintings reflect this. I now work in a studio not far from my home, free of distractions. I'm back in the landscape and the big wide world again. I'm more open and optimistic but at the same time, still questioning. My paintings are becoming more paradoxical - there's the light, but also the dark."
KATHERINE BELLO - Flower Arranging, 2023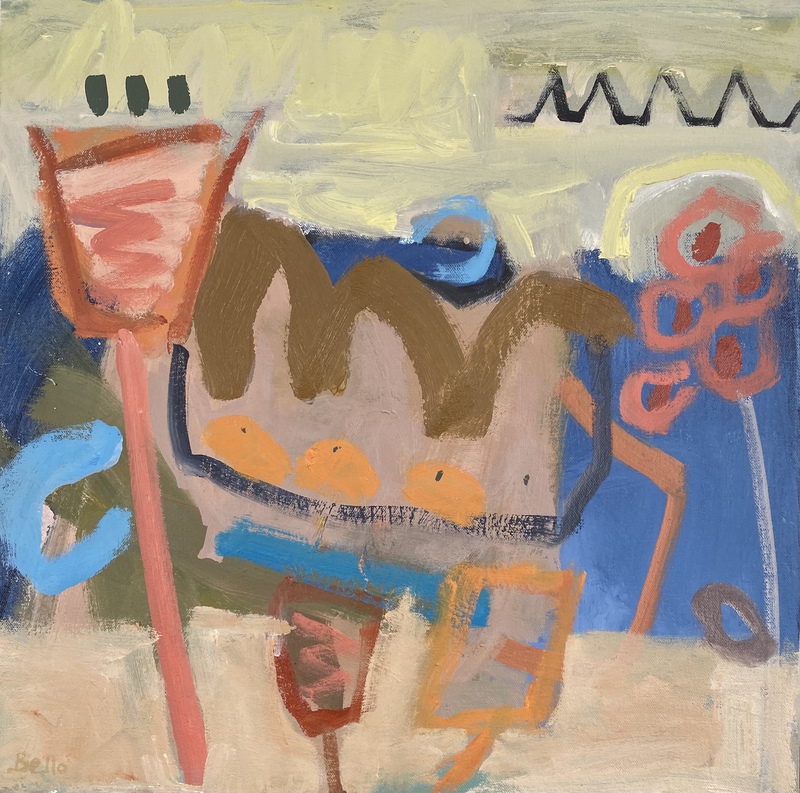 You studied chemical engineering, does that effect how you perhaps make up, mix, or apply the luminosity of the paint? "Mixing color is magical and I can create any color I want. I never paint with color straight from the tube. Instead, I experiment with endless color combinations and applications to create and communicate. My studio is my lab and I'm totally the mad scientist at work!"

Does your training in interior design give you an insight into where to place works? "I love light-filled rooms as a background to beautiful, meaningful objects. For the past 12 years, I have been slowly renovating a 1930's home, keeping it as close to its original feel as possible but still making it functional for the new millennium."
"I have soft neutral walls with beautiful moldings, a few inherited objects, lots of houseplants and fresh flowers I pick from my garden or buy from Trader Joe's - and beautiful paintings on the wall that I look at every day. I love to see my paintings hanging in both traditional and contemporary settings."
"Strangely, they seem to take on the personality of the room they are in. They bring a lightness to more formal living and dining rooms and add a sense of whimsy to more utilitarian bathrooms and kitchens. And even though they often have strong colors, it surprises me how chameleon they become. You might say 'they play well with others!'"

Where do you envisage your work going next? "I want to say I'm simplifying, but at the same time I crave a little chaos in the quiet."
KATHERINE BELLO - Keeping it Real in Kansas, 20203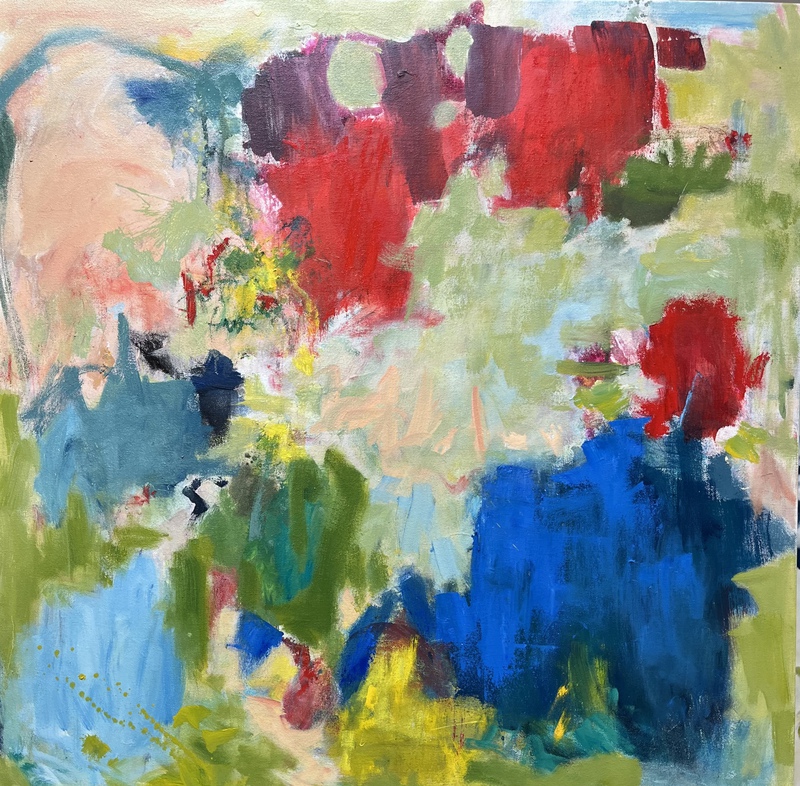 There seems to be an element of collage to the paintings, would you agree? "Yes. I adore collage and make a lot of collage for my own enjoyment. During the pandemic, my husband and I had 'date nights,' where I set up our kitchen table with scraps of paper, scissors, glue and cocktails. There's something special about the process. Anyone and everyone should try it."
"Related to my work as a painter, I love the flatness and directness of collage and find I'm adding those elements to my paintings more and more. It's the juxtaposition of transparency and opacity, the push and pull that intrigues me. An elusive quality I'm forever seeking."
What do people say to you about the paintings? Is there a common reaction? "Some people see my work and want to ask questions. How? What? Why? Some people try to analyze me by looking at my art. That's always interesting. Many people tell me how they personally feel looking at my art. I often hear stories about people's own life journey after they see one of my paintings. I never expected this, but it's been a wonderful surprise."
"A woman began crying when looking at one of my paintings - she wanted the freedom it offered. A man told me his story about being in the military and how the painting reminded him of those days. Quite often people feel something and want to tell me what they feel and how they relate to the painting. I love that."

Take a look at Katherine Bello's Artist Page on Artspace here.