Bored of rearranging the background every time your boss Skypes you? Are the pot plants looking more bare by the day while the lockdown locks on top of your head become more untameable? Need something to shift attention? Banish bad backgrounds on Zoom and Skype with a suitably artistic intention that successfully signals your inner aesthete. And who better to advise on your background art than the Artspace staff?
We've put together ten artworks that both reflect and will resonate beyond the current moment. Once you've tried our Artspace Nominators' suggestions on for size why not make that virtual background a virtual reality; one that will mark this particular moment in time and provide you with a visual story to tell when lockdown ends and friends come round again? It can't be long now. . .
Yves Tessier - Cherry Picnic, 2018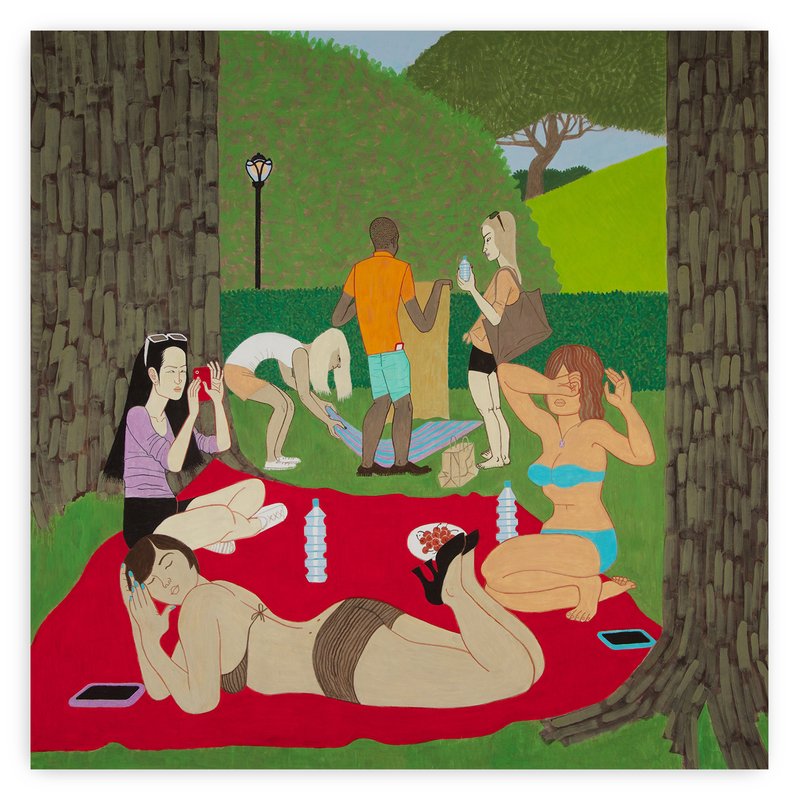 Artspace Nominator: "While many of us are isolated in our homes, apartments, and flats, I dream of nature and my next walk in the woods or on the beach. Until I am able to be with my friends again, this is a reminder of what I cherish and what I am missing."
Artspace Editorial: Tessier's scenes are generally still and quiet. His figures often feel separated from or indifferent to one another. When they do communicate, it is usually through subtle body language. In 3 Youths on a Jetty, for instance, two men standing in the middle ground and a woman facing them in the foreground seem to "speak" to each other through a series of coded hand gestures. Tessier's figures, despite their simplified nature, feel grounded in reality: small details like the crease in the back of a knee, a knowing expression, or a pair of high heels give them specificity and rescue them from feeling like hollow signifiers. As revealed in his preparatory drawings, which were not on view, Tessier carefully plots out each element in his paintings. The reductive scenes he crafts recall the cells of comic books, as if each one were a single moment plucked from a continuously unfolding drama.
Cecily Brown - All the Nightmares Came Today, 2012/2019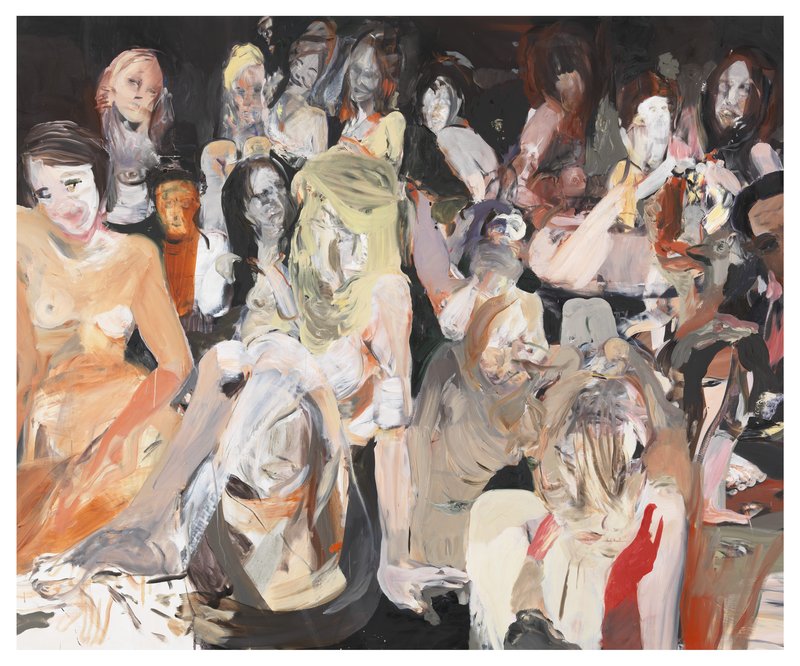 Artspace Nominator: "When this limited-edition print was published last Fall, I was taken by the emotion it conveyed. The abstraction reminds me of Virginia Woolf's interior monologues. Today this painting resonates even more with me. It's a visual representation of the interior monologue that has been running through my mind - on and off - over and over again - since the appearance of COVID-19."
Artspace Editorial: Cecily Brown draws inspiration from sources as diverse as Goya, Joan Mitchell, and Willem de Kooning, and her paintings combine aspects of both figuration and abstraction. Borrowing the names of classic novels, plays, and Hollywood films (such as The Fugitive Kind, High Society, or The Pajama Game) and utilizing a wide-ranging color palette, from faint pastels to lavish oils, she seems to draw from the best of both Cézanne and early Pollock.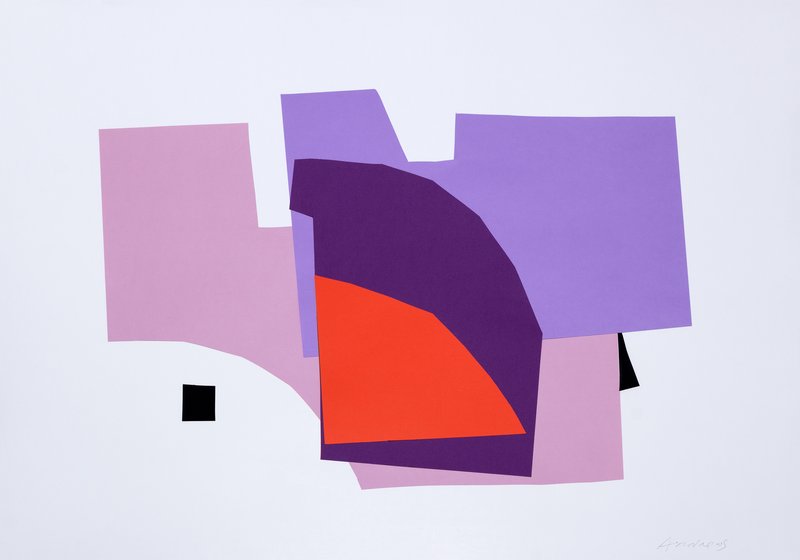 Artspace Nominator: "I love Annabel Andrews's work. There is something about the unformed geometry of her art that makes me feel ordered. This particular piece is a favorite of mine, the color combination brings me peace."
Artspace Editorial: Starting to paint and draw very young, Andrews' obtained an honors certificate from The Royal Drawing Society, London, and continues studies in private academies and municipal workshops in Las Palmas de Gran Canaria and the Circulo de Bellas Artes Madrid, Spain, also learning etching and lithograph techniques. For many years her work has been shown in important galleries in Madrid, also in cultural centers around Spain, and has received various local awards. Her works are in private collections in Spain, England, Canada, USA, Italy, Germany, Belgium, Canary Islands.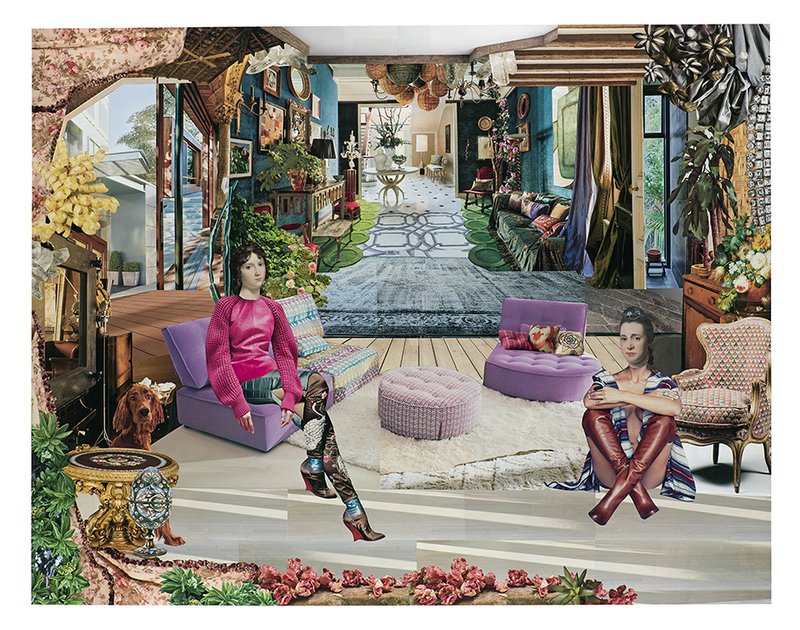 Artspace Nominator: "
The title of this piece is very much on the nose but what makes it truly worthy of a Zoom backdrop is the optics of depth and the fantastical interior. Also, I love the idea of having two fashionable and friendly faces on either side of you during a call–lest we forget, the gorgeous Irish Setter in the foreground."
Artspace Editorial:
Steven Rudin creates hand-cut paper collages that celebrate subjective reality with an emphasis on optimism and nostalgia. Visually, he explores the optics of depth, producing an image that is somewhere between a painting and a photograph. His inspiration comes from the fusion of portraiture, textiles, architecture, and gardens from multiple eras and different cultures.
A playful conversation between high art, design, and psychology, his multifaceted scenes are immersive experiences filled with moments of discovery. Sweeping vantage points provide the feeling of being transported into the tableaux. Flowing compositions are symbolic of the continuum between reality and imagination, between memories and dreams.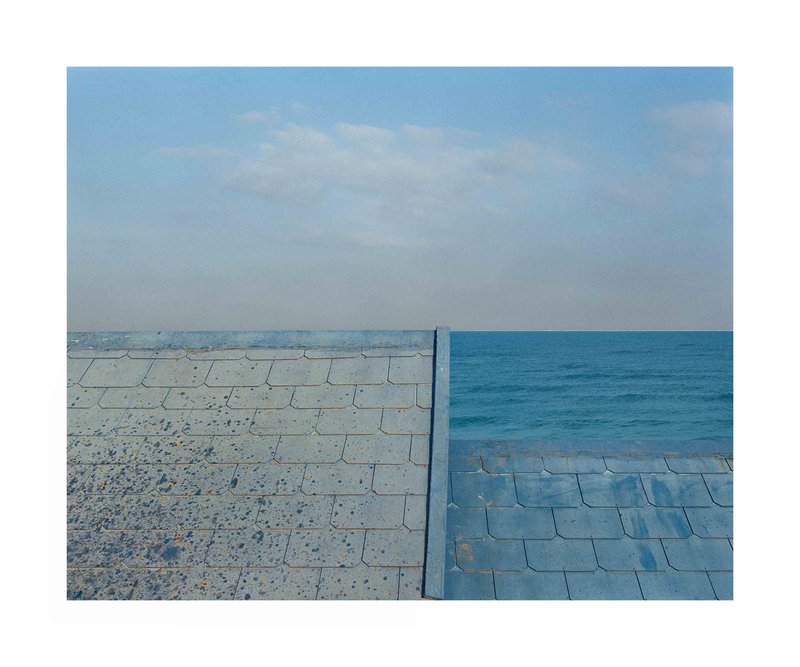 Artspace Nominator: "This painting by Orit Raff is a portal, an escape to calm seas and expansive space. The palette and composition are beautiful and balanced; it's intriguing enough to hold your gaze but won't divert attention away from the conversation at hand."
Artspace Editorial: Using photography to conjure the Minimalist tradition, artist Orit Raff here offers a nuanced and seamless visual arrangement. Raff's monochromatic blue palette and meticulous alignment of the roof with the horizon line divides the image into exact blocks of sky, roofing, and water, all in slightly differing hues of blue. Thus, an ordinary photograph of a seaside is elevated, offering a poetic, contemplative, and aesthetically precise composition, not unlike the work of Minimalists Sol LeWitt and Ellsworth Kelly.
Hiroshi Sugimoto - Time Exposed: #349 Aegean Sea, 1990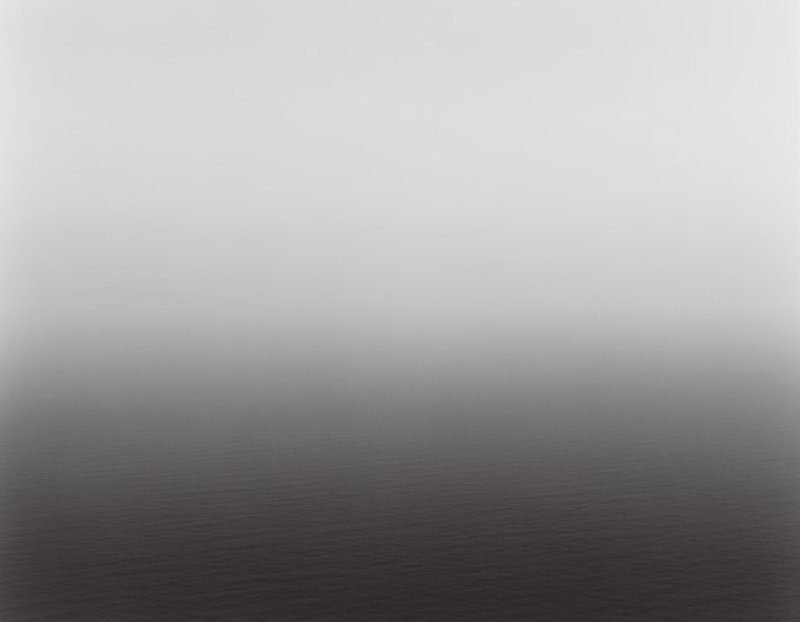 Artspace Nominator: "The seascapes of Hiroshi Sugimoto are essentially timeless but serve as a timely reminder that the world was here before us, will be here after us and that everything, eventually, finds its own level. Be at peace with that and you'll be at peace with life. Importantly, being black and white, they'll never clash with whatever you've pulled from the laundry basket that morning."
Artspace Editorial: Japanese architect and photographer Hiroshi Sugimoto has an intriguing approach to his works: he believes that photography is a method of preserving what is, that "photography functions as a fossilization of time." To that end, Sugimoto is a master of long exposure photographs, capturing long intervals of time, rather than single moments. His photographs, usually black and white, have a dramatic feel to them, with deep shadows and bright whites.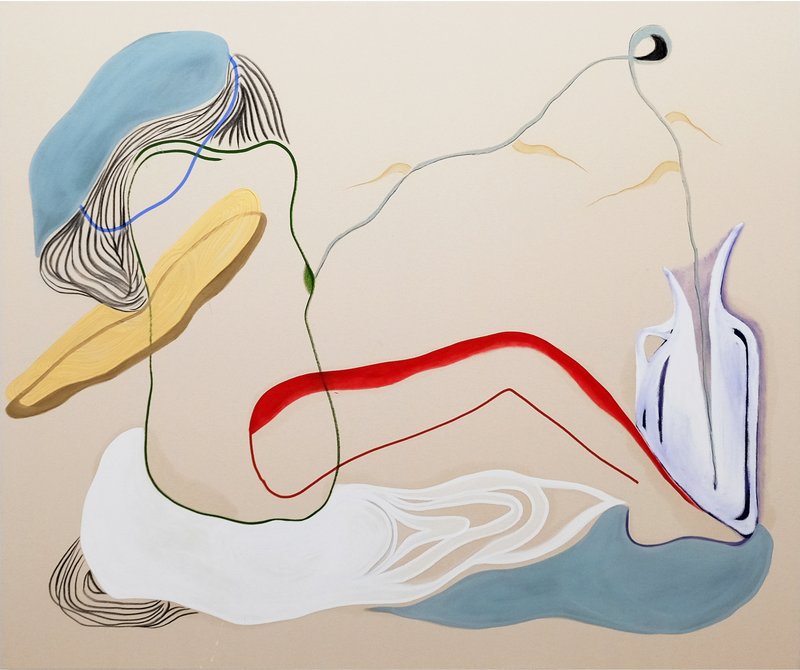 Artspace Nominator:
"Her work is transportational as it transforms two dimensional space into interdimensional space."
Artspace Editorial: Merve Işeri's works on canvas and on paper are daydreams encapsulated. The intention is toward timelessness and indicates, (through her distinctive use of line), the push and pull of an inner and outer life - particularly in relationship to space. The works are a subliminal representation of remembering; the sometimes soft outlines are mixed with frames and/or hard and assured lines, sometimes there is simply space and sometimes there appears to be forms human or otherwise.
Hiroji Kubota - China. Guangxi, 1985. Yangshuo.

Artspace Nominator: "Yangshuo is such a magical place, if there was an element of heaven on earth, it would be Yangshuo's natural beauty. When I visited here, I felt it calmed the soul and relaxed the mind at the same time."
Artspace Editorial: After graduating from Waseda University with a degree in political science in 1962, Hiroji Kubota moved to the United States and began working as a free-lance photographer in 1965. One of his first assignments, for the London Times, was to take a picture of Jackson Pollock's grave in East Hampton. In 1968 he returned to live in Japan where his work as a photo-journalist was recognized by a Publishing Culture Award from Kodansha in 1970, the same year he became associated with Magnum Photos, the renowned photographers' cooperative. As a photo-journalist in 1975, he witnessed the fall of Phnom Penh and Saigon. After his experience in Vietnam, he continued to focus his attention on Asia, photographing Korea in 1978 and then China. From 1979 through 1984, Kubota explored the whole country, a 1,000-day tour during which he made more than 200,000 photographs.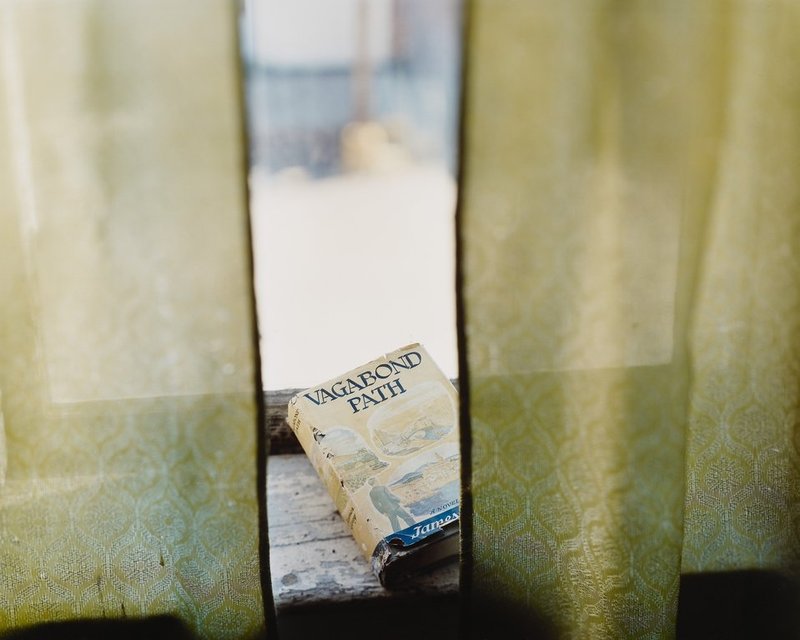 Artspace Nominator: "This shows Alec Soth at his most dream-like and poetic. Although there is no one in the photograph, you sense the presence of an unseen character behind the lens, entranced by the romance of life on the road. The tattered pages of his well-thumbed book and the promise of adventures in the hazy, unknown world beyond the window make the photograph seem caught somewhere between fantasy and intention. The image feels particularly pertinent during lockdown as we stare out of our bedroom windows dreaming about life outside."
Artspace Editorial: Alec Soth's works are firmly rooted in the distinctly American tradition of "on the road" photography, as developed by Walker Evans, Robert Frank and Stephen Shore. Soth describes his own photographs as "loners and dreamers," a description that conjures associations with Jack Kerouac and Bob Dylan. His haunting, banal images of contemporary America—which include both landscapes and portraits—bring together seemingly disparate subjects, such as birdwatchers, mushroom hunters, suitcases, tall people, tents, and hermits to tell the folkloric history of a specific place. Past topics include the Mississippi River, wedding chapels at Niagara Falls, and the final days of the Presidency of George W. Bush.
David Shrigley - Untitled (Art Will Save the World) 2019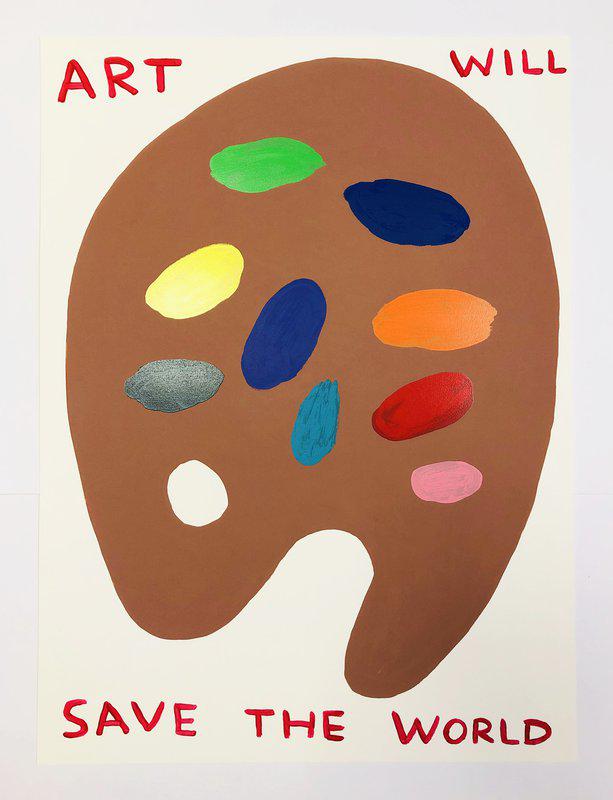 Artspace Nominator: "In these unsettling times, you have to believe in something and remain hopeful."
Artspace Editorial: David Shrigley is an artist and illustrator best known for his mordantly humorous cartoons. Self-branded as an outsider in the art world, Shrigley is known for making flat compositions that take on the inconsequential, the bizarre, and the disquieting elements of everyday life. Like the musings of a very wise child displaying the wit and humor of a seasoned observer of the adult world, his illustrations feature crossed-out words, scribbled, uneven lines, and darkly funny aphorisms about the world.
RELATED STORIES