How are you carrying your heavy loads? Many New Yorkers are still adjusting to the single-use plastic bag ban, which came into force this week (1 March 2020). New York joins California, Hawaii, Great Britain, China and other countries and states that have either banned lightweight plastic bags totally, or have introduced measures to reduce their use. That's all great news for the environment, but what about the run to the grocery store? Don't worry, it's now an opportunity to up your sartorial stakes with a beautiful fine-art alternative to what you've been using up until now. Invest in one of these highly creative tote bags, and you can show off your art credentials on the street, in the gym, at the airport, and anywhere else you need to take your stuff.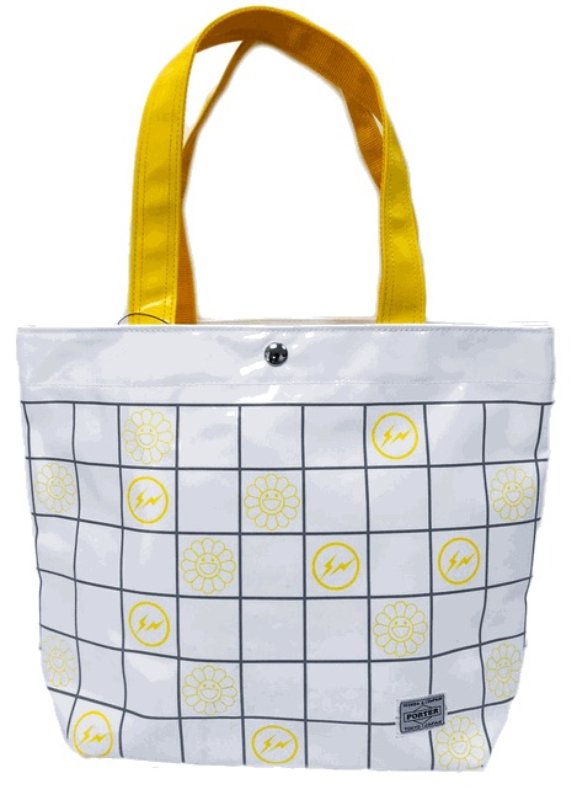 Takashi Murakami, Head Porter tote, yellow
Japan's leading pop artist, and founder of the Superflat movement – a style of visual art that combines contemporary Japanese graphics with older painting traditions - Takashi Murakami has never been shy about drawing on commercial material for inspiration, nor when making the jump from the gallery walls to the apparel market. In 2002, Marc Jacobs commissioned the artist to produce a prominent collection for Louis Vuitton. This tote bag, however, was produced for the high-quality, acclaimed Japanese manufacturer, Porter, as part of a 2008 exhibition staged in collaboration with the Japanese designer and musician Hiroshi Fujiwara at Murakami's own Kaikai Kiki gallery in Tokyo. Get two hot Japanese talents (and one great brand) in a high-grade hold-all.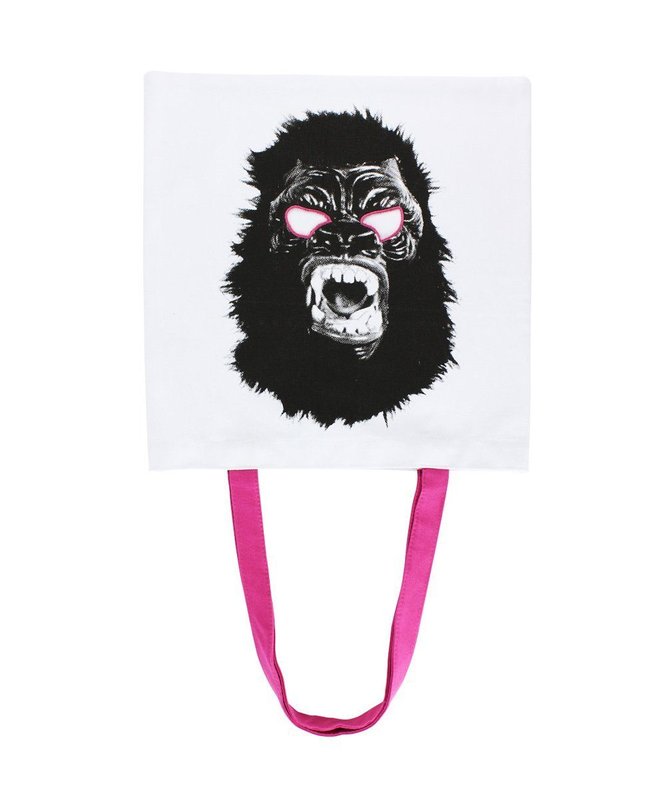 Guerrilla Girls, Gorilla Mask tote bag
Is it a mask? Is it a bag? Is it art? It's all three. The anonymous American art collective and gender-equality activists, the Guerrilla Girls have gone from protesting about the male bias in large art institutions to creating many original works of their own, combining statistical research with punky graphics, in their decades-long struggle to get greater female representation within the art world. Fight masculinity with mask-ulinity (and have something to carry all your stuff home in, after your own day of rage).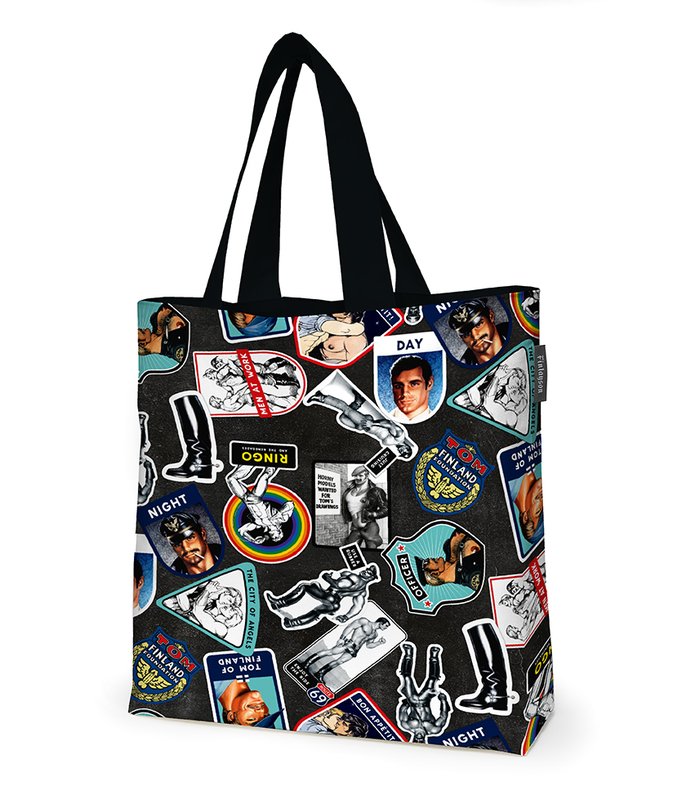 Tom of Finland, Hook-up Tote Bag by Finlayson X Tom of Finland
Maybe favor this tote for a naughty out-of-town weekend, rather than a trip to the corner store. The 20th century Finnish artist Touko Laaksonen made his name as Tom of Finland , initially within homoerotic publications, before finding a wider audience for his stylized, muscular depictions of male beauty in the fine art world. This tote, produced in collaboration with the Finnish textiles firm Finlayson, patches together a wide array of Tom of Finland's best-loved, hunky tropes, such as the leather daddy, the policeman, and the go-go dancer. Look out for the priapic insignia for Tom of Finland Foundation, which the artist set up to protect and promote erotic art.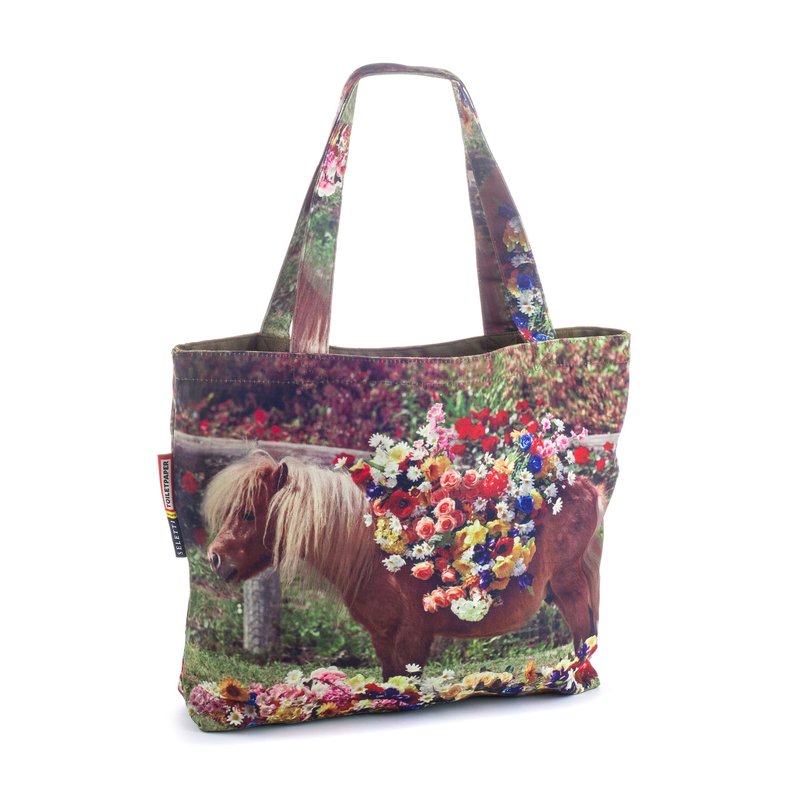 Maurizio Cattelan, Pony tote bag
Did you salivate over Comedian, the $120,000 banana artwork that Italian art prankster Maurizio Cattelan taped to Perrotin's gallery booth at Art Basel Miami Beach last December? Then consider this equally sweet, though far more price friendly tote bag. Cattelan produced this kitsch work with his longtime collaborator, the photographer Pierpaolo Ferrari, as part of the pair's on-going Toiletpaper project.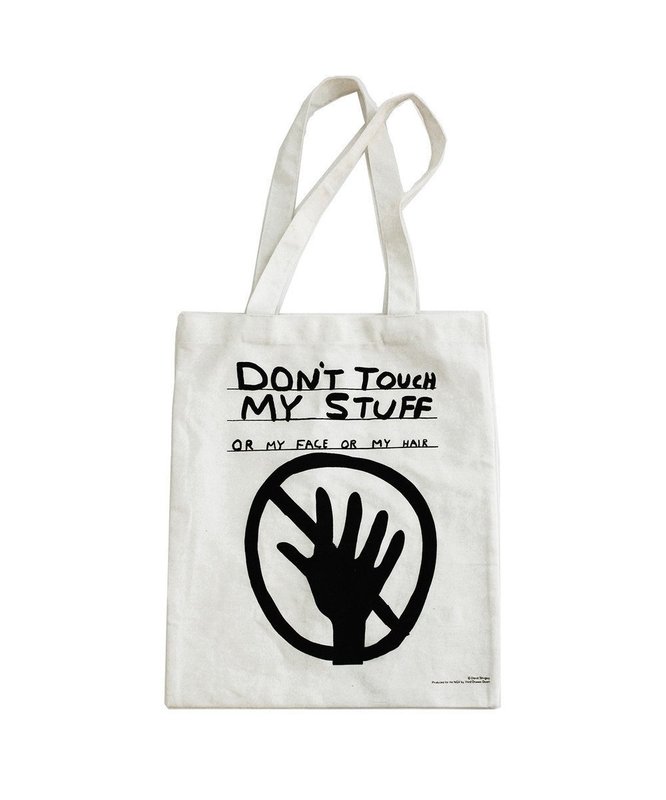 David Shrigley, Don't Touch My Stuff tote bag
Tell fellow shoppers how you really feel with this humorous tote from the British artist David Shrigley (even more aposite in this Corona Virus moment). After graduating from Glasgow Art School, Shirgley began to win over fans with his cartoons, books, postcards, music videos and commercial illustrations, before gaining widespread acclaim for his work within the art world and beyond. He was nominated for the Turner Prize in 2013, yet his appeal reaches far outside fine-art circles. Expect knowing nods from fellow gallery goers, and smiles from everyone else.
You'll find more fine art tote bags to buy now in our module below.
[tote-module]