Art books can be intimidating purchases. They're heavy, long, and often expensive. Which ones are worth the price? To help you through this decision process, we've assembled a list of the upcoming art books we're most excited for, from monographs on artists like Nari Ward and Francis Alÿs to a book on the occult. Whether you're looking to learn more about one of your favorite artists, get a cool gift for a friend, or just looking for something to decorate your living room, there's an art book for you (and your budget).


NARI WARD: WE THE PEOPLE
Published by Phaidon
Available April 2019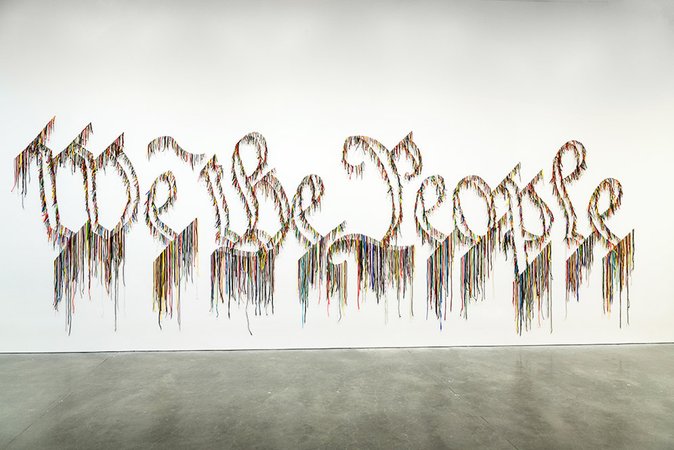 We the People by Nari Ward (2011), image via Boston University
Born in St. Andrew, Jamaica, in 1963, artist Nari Ward is perhaps best known for Amazing Grace (1993), his response to the AIDS crisis and crack epidemic which swept New York––and the nation more generally––in the late eighties and early nineties. During his residency at the Studio Museum in Harlem, Ward gathered 365 abandoned baby strollers, frequently used by the local homeless population to store and move their belongings, which he tied up with torqued fire hoses in an abandoned fire station in Harlem. Gospel singer Mahalia Jackson's cover of "Amazing Grace" echoed through the space. Ward's large-scale installation has since been recreated at art institutions across Europe and at the New Museum, whose solo show of Ward's work, "Nari Ward: We the People," opened on Tuesday, February 12th. If you enjoyed the exhibit––or if you had to miss it, and are trying to catch up––the book (with 150 images) is an excellent companion piece.
SHERRIE LEVINE: AFTER REINHARDT
Published by David Zwirner Books
Available in 2019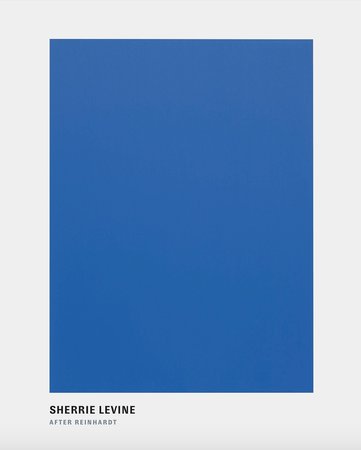 Cover of Sherrie Levine: After Reinhardt (2019), image via David Zwirner
Born in 1947, Sherrie Levine is largely known as a member of the Pictures Generation. The term came from a 1977 Artist's Space exhibition called "Pictures," put together by critic Douglas Crimp, and featuring artists Troy Brauntuch, Jack Goldstein, Robert Longo, and Philip Smith in addition to Sherrie Levine. As Crimp wrote in an accompanying catalogue, "representation has returned in their work not in the familiar guise of realism, which seeks to resemble a prior existence, but as an autonomous function… It is the representation freed from the tyranny of the represented." That is, the the Pictures Generation––which would go on to include artists like Cindy Sherman, Barbara Kruger, Louise Lawler, and David Salle, and Richard Prince, among others––was interested in examining the means of image production.
Levine, like Prince, also began experimenting with appropriating imagery from the western canon, a practice that she has continued in Sherrie Levine: After Reinhardt, which is out from David Zwirner books. The images, per Zwirner's website, "continue the artist's ongoing investigation of color separated from its representational function." Inspired by a 2017 exhibit of Abstract painter Ad Reinhardt's work, Levine has consolidated the spectrum of blue tones across the exhibit into a single monochrome hue. This interest in consolidation began in 1989, when she used an averaging algorithm to (per Zwirner again) "create a checkerboard composition based on modernist artists' iconic paintings." Whether you're looking for a feminist perspective on post-modern image appropriation (usually considered a boy's club run by Jeff Koons and Richard Prince), or just an intro to Levine's work, this book is not to be missed.
GRACIELA ITURBIDE'S MEXICO
Published by MFA Publications, Museum of Fine Arts, Boston
Available February 2019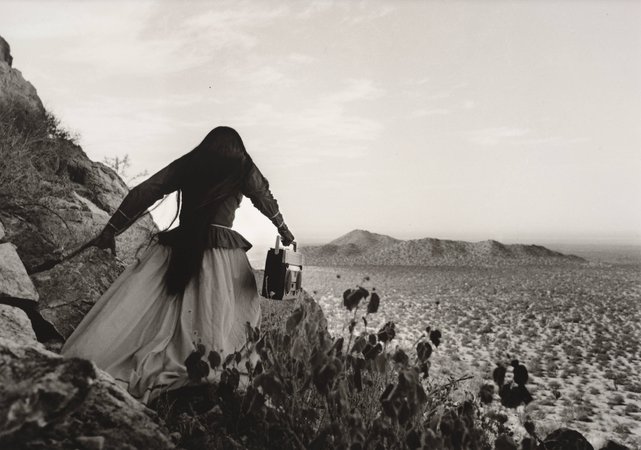 Mújer Angel by Graciela Iturbide (1979), image via SF MOMA
Graciela Iturbide was born in Mexico City to traditional Catholic parents in in 1942, one of thirteen children. She got her first camera at 11 years old, but didn't fully pick up photography until 1970, after her daughter, Claudia, died at the age of six. Inspired by the work of photographers like Josef Koudelka, Henri Cartier-Bresson, and Manuel Álvarez Bravo, Iturbide's black white photographs focused on the contrasts that structured her life in Mexico: rural versus urban, indigenous versus modern, men versus women.
Graciela Iturbide's Mexico, the most comprehensive survey yet on the artist's work, features the full spectrum of Iturbide's career, including Mujer Ángel (1979), which Iturbide has described as her best photograph. Iturbide had been commissioned to do a series about Mexico's Seri people, former nomads. The image was taken during a group trip to a cave that featured indigenous paintings; the woman in the photograph is carrying a tape recorder, which she had exchanged for baskets and carvings, so that she could listen to Mexican music. As Iturbide wrote in the Guardian, "For me, this photograph represents the transition between [the Seri people's] traditional way of life, and the way capitalism has changed it. For example, they were building their houses from bricks rather than sticks. I liked the fact that they were autonomous and hadn't lost their traditions, but had taken what they needed from American culture. They believed that money promoted inequalities and individualism, and did not want to become a divided society."


TOUCH ME NOT
Fulgur Press
Available May 2019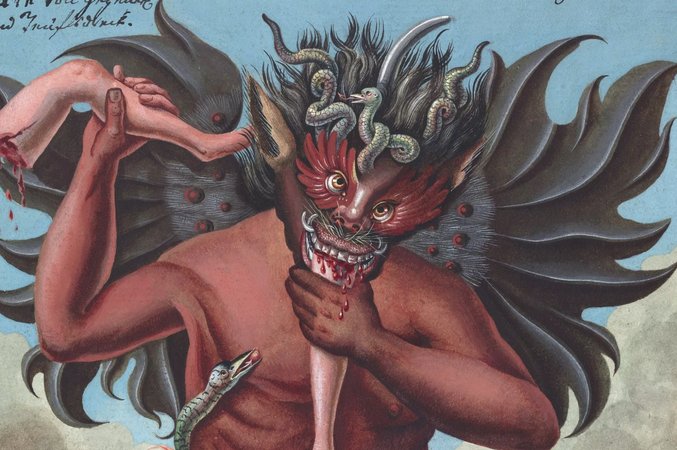 Illustration from Touch Me Not (2019), image via Boing Boing
In an essay titled "Occultural Studies 3.0: Devil's Switchboard," self-described occulturist and New School professor Eugene Thacker writes that demons "are a stand-in for the limits of our ability to comprehend the world, either in terms of the human or the divine." Thacker's framework is one way of approaching Touch Me Not, an Austrian manuscript on "dark magic" completed around 1795 and refurbished by Fulgur Press. Like a cross between Marquis de Sade's 120 Days of Sodom and Magic the Gathering, the manuscript, as co-editor Hereward Tilton notes, "appears at first sight to be a 'grimoire' or magician's manual intended for noviciates of black magic. Psychedelic drug use, animal sacrifice, sigillary body art, masturbation fantasy and the necromantic manipulation of gallows-corpses count among the transgressive procedures it depicts. With their aid hidden treasures are wrested from guardian spirits, and the black magician's highest ambition—an infernal transfiguration and union with the Devil—can be fulfilled."
In addition to full translations of all the German and Latin texts, this edition of Touch Me Not provides full-color illustrations, extensive references, and background information on how the manuscript survived, was discovered, and how it has since been preserved. If you're goth, an astrology fan, into history, or curious about the supernatural, this is the book for you.
AMONG OTHERS: BLACKNESS AT MOMA
Published by the Museum of Modern Art
Available June 2019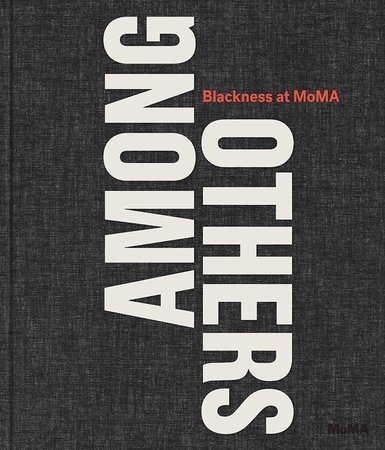 Cover or Among Others: Blackness at MoMA (2019), image via DAP
Among Others: Blackness at MoMA, is an art book, but also a curious attempt at institutional accountability and memory. This essay collection on nearly 200 works of art in the museum's permanent collection examine what the book blurb describes as MoMA's uneven historical relationship with black artists, black audiences and the broader subject of racial blackness." That is, the museum has been an early advocate for black artists while it's simultaneously been criticized as being anti-black, running solo exhibitions of black artists like William Edmonson and Jacob Lawrence in the early 1930s and 1940s even as as they ran a Primitivism show as late as 1984. An essay by scholar and curator Darby English provides a historical account of the museum's exhibition history and broader cultural reach, while an essay by architectural designer and cultural historian Mabel O. Wilson zooms in on the Museum's record of collecting work by black architects and designers.
In addition to this criticism, the book provides 200 plates, each accompanied by a smaller essay by writers from various disciplines. Whether you're curious about the MoMA's attempt to come to some kind of institutional reckoning, interested in a closer look at work by black artists in the Museum's collection, or both, Among Others: Blackness at MoMA, is worth it.
FRANCIS ALŸS: REVISED AND EXPANDED
Published by Phaidon
Available March 2019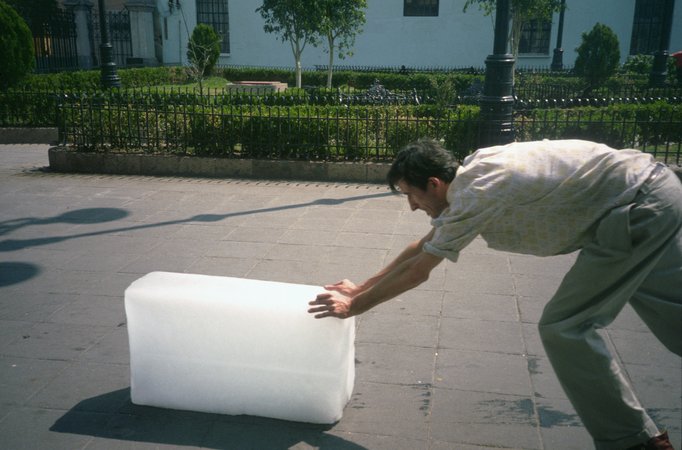 Still from Paradox of Praxis 1 (Sometimes Making Something Leads to Nothing) by Francis Alÿs (1997), image via Contemporary Art Daily
Born in Antwerp, Belgium, in 1959, Francis Alÿs originally trained as an architect before becoming an artist and moving to Mexico City. Since then, his work has engaged in a broad range of artistic disciplines, like social practice, performance, and painting. Alÿs has said that the center of his practice is walking, which he does frequently, both as inspiration for and as a part of his performances. This practice is a reference to the flâneur: invented by poet Charles Baudelaire and popularized by theorist Walter Benjamin, the man of leisure who strolls around his urban metropoles, observing its daily routines and melancholy oddities. Alÿs calls these paseos, or "walks," which he uses to reformulate public space.
For his paseo performance, The Collector (1991), he dragged a tiny toy dog on wheels behind him as he walked through Mexico City. Since the dog was magnetic, it attracted metal debris behind him as he walked. In Fairy Tales (1995), he walked after unravelling the blue sweater he was wearing, leaving a woolly trail behind him; a film called Paradox of Praxis 1 (Sometimes Making Something Leads to Nothing) shows Alÿs pushing a block of ice throughout Mexico City until it melts. Francis Alÿs: Revised and Expanded, available from Phaidon from March 29th, 2019, is a comprehensive and elegant monograph of the artist's work, including performance documentation, and writing by scholars and artists including esteemed anthropologist Michael Taussig.
ELMGREEN & DRAGSET
Published by Phaidon
Available April 2019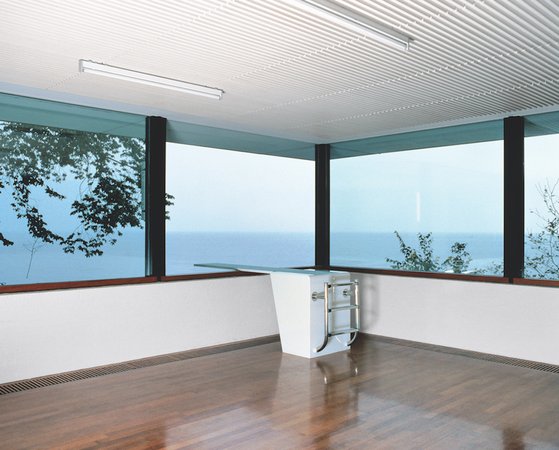 Powerless Structure by Elmgreen & Dragset (1997), image via ATP Diary
Danish artist Michael Elmgreen (born in 1961) and Norwegian artist Ingar Dragset (born in 1969) have worked as an artist duo since 1995, exploring the intersections of architecture, visual art, and design. Since 1997, the two collaborators have been working on a series of large-scale sculptural installations called "Powerless Structures," which play off the spatial and atmospheric conventions of the white cube gallery space. They have, to quote the Tate, created "galleries suspended from the ceiling, sunken into the ground or turned upside down as well as exhibition spaces under construction." Sometimes, they make new spaces entirely, such as a Prada store, called Prada Marfa, along Highway 90 in the middle of the Texan desert. In addition to creating totalized reworkings of physical spaces, Elmgreen & Dragset are also known for tweaking existing spaces: draining a swimming pool, flipping horizontal diving boards so that they are vertically oriented. Whether you're a long-time fan or just getting introduced to their work, Phaidon's new book provides a helpful, funny compendium of the Scandinavian duo's oeuvre.
[related-works-module]
RELATED ARTICLES:
8 Artists to Watch in February 2019
Slime Mold, Glow-in-theDark Bunnies, and "Victimless Leather": 9 BioArtists You Should Know
8 "Rules" to Becoming a Successful Artist––And Why They're Nearly Impossible to Follow Without Inherited Wealth