Since founding THE SKATEROOM back in 2014, Brussels, Belgium-based CEO Charles-Antoine Bodson has raised over a million-and-a-half dollars to finance social projects that use skateboards as the canvas to paint a brighter future for disadvantaged youth.

Bodson, a former art gallery owner who doesn't really skate that well, but began collecting boards as a seven-year-old when his art-loving parents gifted him his first artist-adorned deck, has worked with 50 artists to create 350 editions that have helped fund more than 40 ground-breaking projects around the world.

Working with its social partners, THE SKATEROOM has helped build skateparks far and wide including Cambodia, Afghanistan and South Africa while at the same time developing education facilities and resource programs for children who need them most.

On the eve of a launch of a set of new Andy Warhol self-portrait editions in collaboration with the Brant and Andy Warhol Foundations and to aid the HHF Foundation, we caught up with Bodson in between meetings with artists and galleries at Art Basel. But first, this is how it all started for him.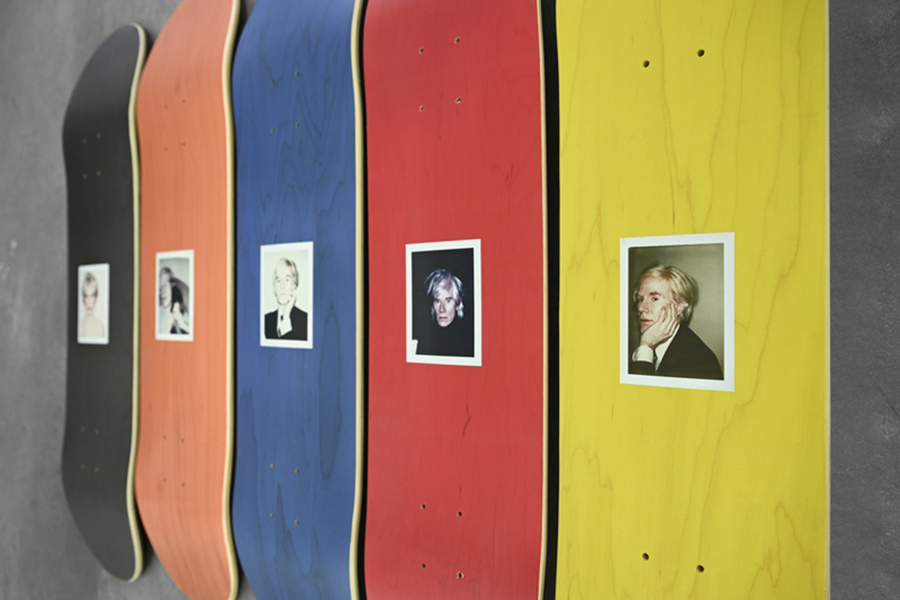 Andy Warhol self-portraits in association with The Skateroom, The Andy Warhol Foundation, The Brant Foundation

"I'm here at Art Basel. Every time I walk into an art fair, I find someone I want to work with. I love artists. And I love it when someone wants to interact with us to do a project."

"In my childhood, I collected decks. I was addicted to art cos I'd grown up surrounded by artists. At one point, about ten years ago, I had amassed around 4,000 decks in my collection, contemporary artists not skate art."

"One day I met Oliver Percovich, CEO of Skateistan (a non-profit that uses skateboarding and education to empower children). He told me about a project - a skatepark in Afghanistan - he was looking for funding for. When I saw the beauty of his program I decided to help."

"I didn't want my collection to be in storage anymore, so I said I'll donate 50k to help build it. Skateboarding was the only sport girls and women could take part in because the Taliban didn't really know about it."

"I sold 3,200 of my 4,000 decks, some via MoMA, keeping some back for me (including an original board used by Mark Gonzales, with drawings by Keith Haring on it) because they are my story and I want my kids to have them one day."

"Donating that 50k, and three months later being at the opening of the skatepark in Afghanistan, changed my life."
ANDY WARHOL - Self-Portraits (Blue-09), 2023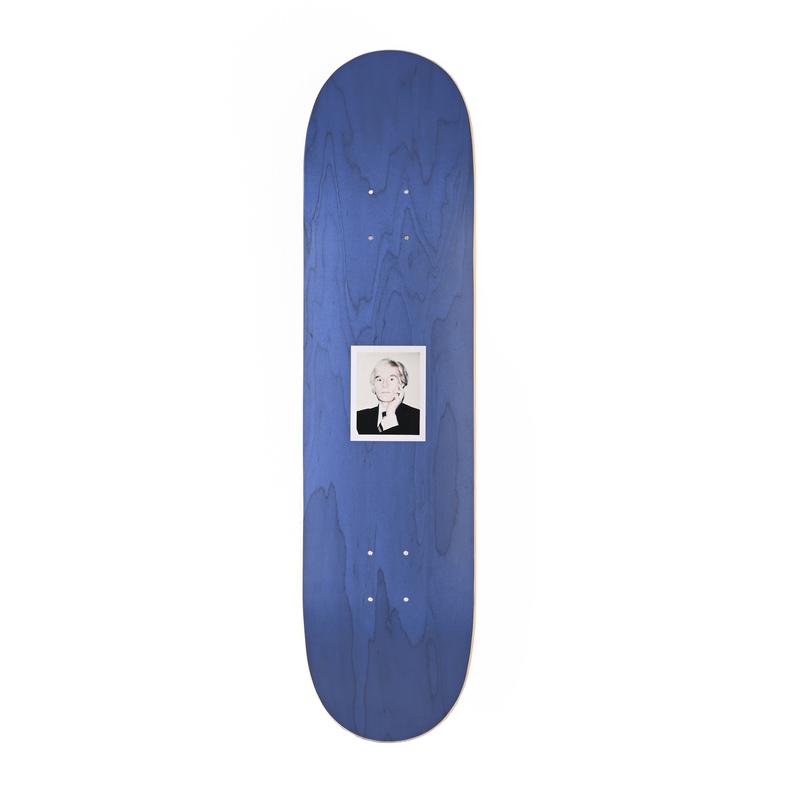 The thing that happened next

"I sold the collection very quickly but then had no more decks to sell and so I thought OK what do we do now? So we started producing our own decks."
"The sourcing of our boards was something we took very seriously from the start. I feel really bad about living on the 'right side' of the planet. We've got to be aware of how our consumption has an impact on those who don't have this chance to live with dignity."
"Immediately we decided to work with grade A maple FSC Forest decks coming from certified sustainable forests in Canada. Not many people cared about that sort of thing then. But we always thought this was important both for us and for the artist."

"Artists have a real power; they have the power to choose which brands they work with, and which ones not to work with if they don't respect the planet."

"So our message was: Guys we are true here; we're doing it to have an impact on the kids. And we respect the planet, this is what we're involved in. If you're here just to make a lot of money, go elsewhere."


ANDY WARHOL - Self-Portraits (Yellow-04), 2023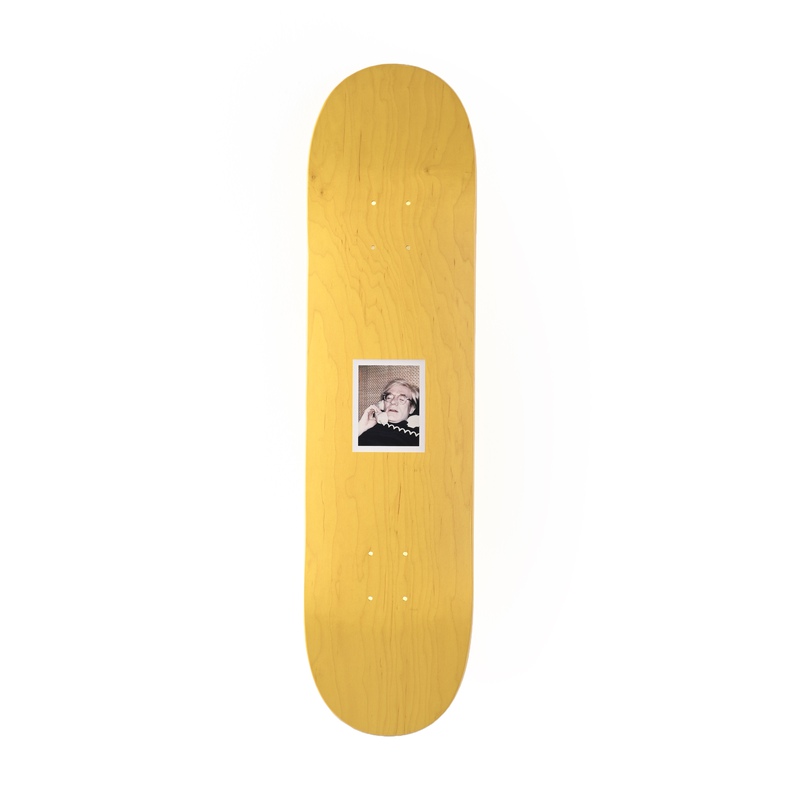 Who he approached first

"Ai Weiwei was the first artist I worked with as a producer. The day that Donald Trump won the election we decided with Ai Weiwei to do the triptych of him giving the finger towards the White House."

"I launched it on the 100th day of Trump being president. There was a fair in San Francisco; we took a booth, we dropped the collection, and sold everything in 3 minutes. So the project was funded within 4 minutes! Ai Weiwei was so happy!"

"We've done five collabs with Raymond Pettibone; we've done three with Jenny Holzer. The people we work with once usually want to come back and do it again."

"The day that Paul McCarthy's son Damon reached out to us and said Paul wanted to work with us was a personal highlight. I had dreamed of working with this legend. I went to LA to meet him; I became friends with him, and we have done five collabs with him. And he is so engaged with what the collaboration brings to the wider community."

ANDY WARHOL - Self-Portraits (Grey-05), 2023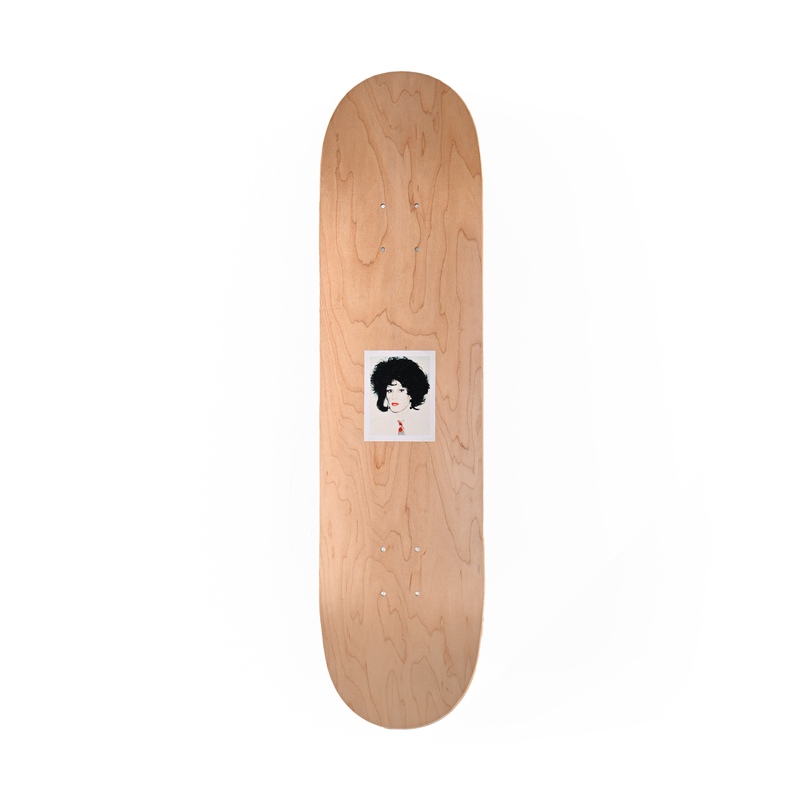 How it happens
"It's so important to meet the artist to see how they 'vibrate' with what we propose to them. That's the best part. The projects are big, and the artists need to spend six months, to a year-and-a-half, around something."

"The artists help in choosing the place, working on the collection, dropping the collection and that is ultimately how we fund the project."

"Really, the guys on the ground of each project are the magicians. Our mission is simply to go and convince the artist, produce the decks."

"We generally present a collection as we understand it. Of course, we listen to what the artist wants. If it's to tie in with an exhibition we reflect what the museum is exhibiting so that it makes sense."

"We have decks that are more for collectors at a high price, (because funding some projects is really expensive) and we also have editions from 200 dollars that are more accessible. When I'm walking through the aisles here at art Basel the editions are 200,000 dollars!"

"I want also to be able to work with young artists who don't have the same prices as say Jeff Koons or Murakami. Young artists who can maybe fund the process on their own."


ANDY WARHOL - Self-Portraits (Grey-02), 2023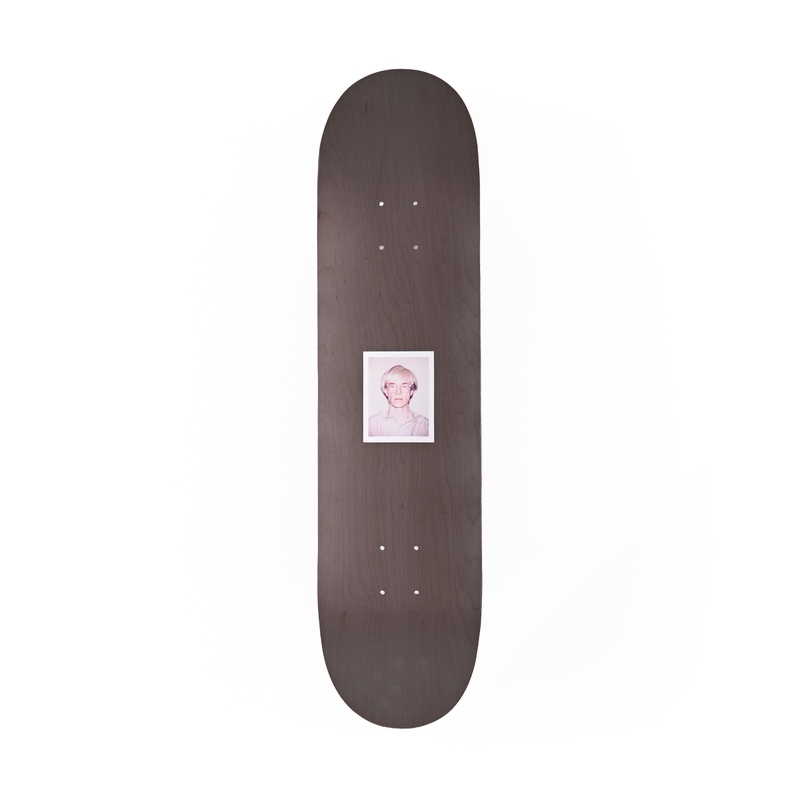 What THE SKATEROOM has achieved
"It's been a hard fight but here I am after ten years, and we've funded 120 skateparks around the world. Two months ago I visited the first structure in South Africa with the king of Belgium and became aware that 88,000 kids have interacted with this reality. Changing those kids' reality makes me know I have the best job on earth."

"Our next project is going to be in the Zaatari refugee camp in Jordan, one of the three biggest ones in the world, which has truly disastrous conditions for the kids living in it. It's the first time we have been able to reach inside a refugee camp. We are super proud about this."


ANDY WARHOL - Self-Portraits (Red-10), 2023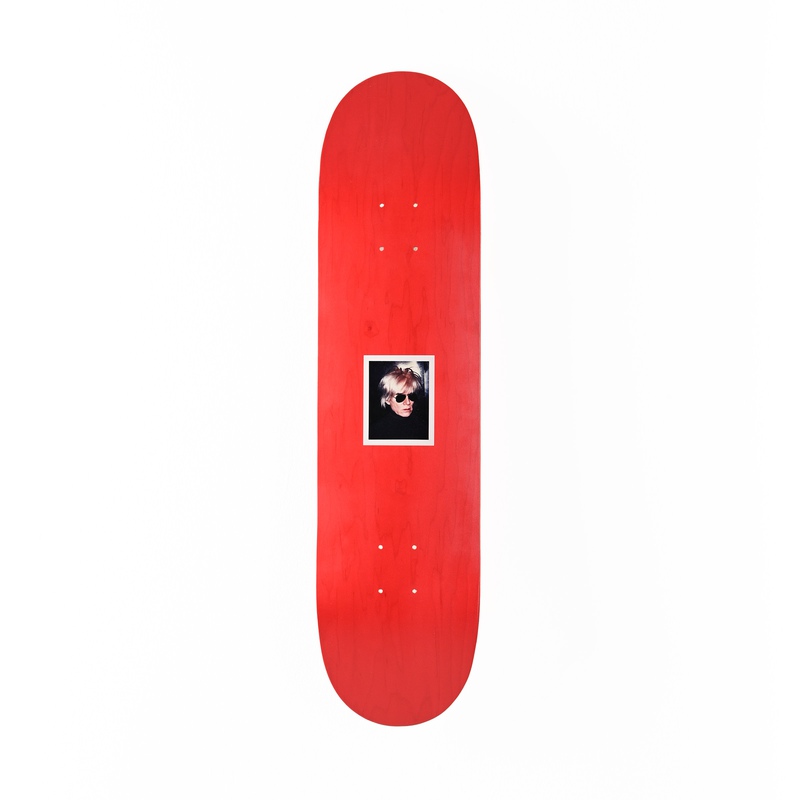 The latest launch is happening this month
The Skateroom's new Andy Warhol collection is the first limited collection of 100 Self-Portraits editions, in partnership with The Brant Foundation.

Each edition within the collection is one of a kind, with its own color hue, and a unique Andy Warhol polaroid photograph at its center. The edition comes in an aluminum box assembled in Brussels, which includes the edition in a custom printed cotton sleeve, a poster, stickers, an exclusive Andy Warhol Self-Portraits catalogue, and a SnapDisplay premium wall mount.
Proceeds will help fund The Harold Hunter Foundation which runs a variety of Socio-Emotional Learning programs, Workforce Readiness programs, and LGBTQ+ initiatives to support youth's transition to adulthood in New York.
ANDY WARHOL - Self-Portraits (Blue-17), 2023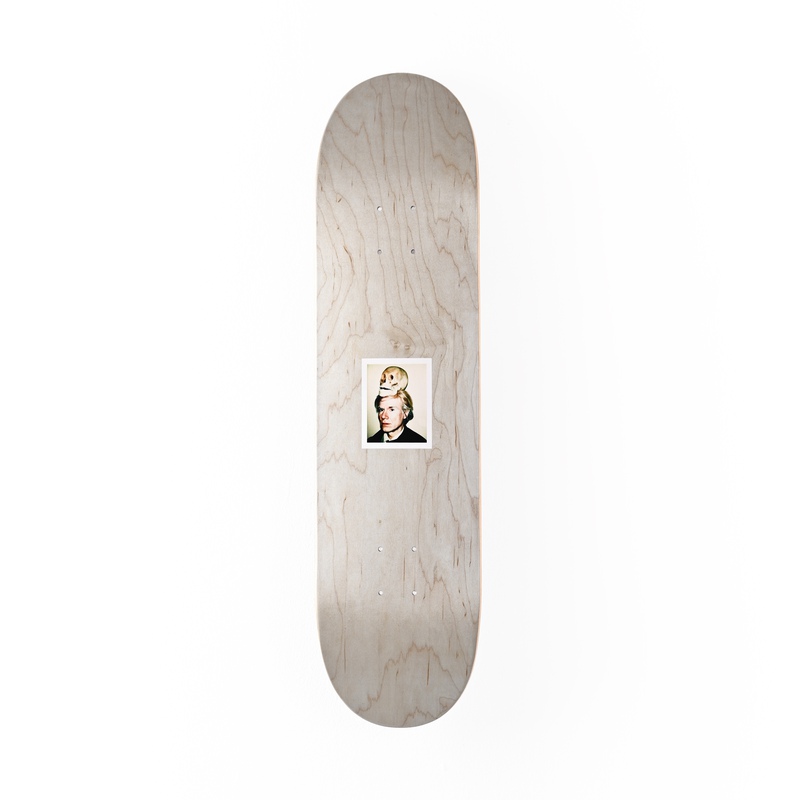 It's no different working with a foundation to an artist – it's all about people

"It's always a question of people. The people behind the Warhol Foundation became dear friends. They are incredibly engaged - they really understand what we have been doing for the past 8 years."

"They participated in it because we create better conditions than regular brands and they're happy to see this great energy spreading round the world."

"We have an incredible relationship with the Foundation. We have the right to produce one example that's never been done in the history of the foundation."

"We decided to make the project we have decided because each deck is single. It was a really good creative exercise for the studio. The Foundation has been super happy."

"It is of course a major part of the collection of Mr Brant. The place we drew the collection from is iconic, the collection as well. And with this collaboration we have decided to support the New York foundation HHF, which works with skateboarders in NYC to provide programs to at-risk youth and young adults.

"Harold was a skater featured in Larry Clarke's movie Kids. He died and his sister created a foundation supporting kids. They're doing a tremendous job in New York. This time we're leveraging the donation to link with the different communities surrounding New York."

See the entire Andy Warhol Skateroom skateboard collection here.
ANDY WARHOL - Self-Portraits (Orange-18), 2023