How do you guide some of the most important contemporary artists working in the world today in transferring their cherished artworks onto a range of swimwear and accessories?
Answer: by being as respectful as possible, according to Roland Herlory, CEO of upmarket French brand Vilebrequin. Herlory has worked closely with Kenny Scharf, John M Armleder and Mickalene Thomas & Racquel Chevremont to do just that.
For a new collaboration with JRP Editions, one of the leading international and independent publishers of contemporary art, Herlory also worked with Arnaud Hubert, CEO of JRP Editions and MAMCO Geneva (Museum of Modern and Contemporary Art, Geneva) director Lionel Bovier to curate a new series of swimwear.
The resulting collection, which includes summer shirts and accessories, is one of the most pleasing artistic collaborations we've come across for some time - so much so that we've made it available now in the Artspace store .
We asked Herlory, Bovier and Hubert how the collaboration came about, how tricky it was to get everything perfectly right and what's planned next from the very cool Vilebrequin and JRP Editions pairing.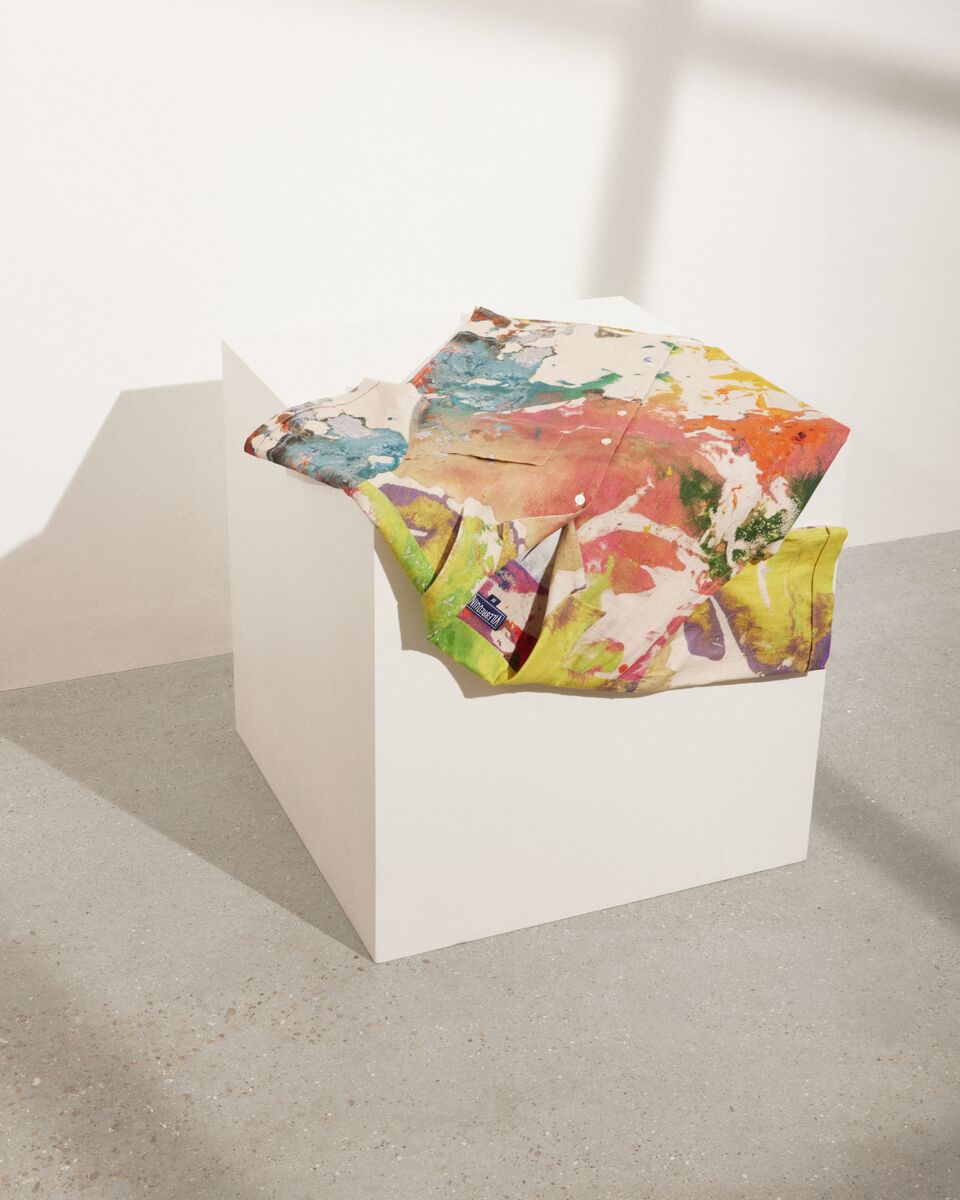 What sort of guidance do you give the artist when working on a project like this?
Roland Herlory: We try to be as respectful as possible as we can of the initial artist's work and of their world. For this collaboration with JRP Editions, CEO Arnaud Hubert and Lionel Bovier - MAMCO (Musée d'art moderne et contemporain - the contemporary art museum of Geneva) director - co-curated artists whose conceptual vision can adapt to fabric and to our swimsuits. Our swimsuits are a blank canvas where they can express themselves fully. Each artist is different, each time the process is different. What matters most is for us to always maintain the best quality and to push our boundaries of creativity and innovation further. Arnaud Hubert and Lionel Bovier: We started by identifying existing works and concepts in their practices that we thought would fit this specific context. But, since we didn't want to restrict their creative process, we didn't exclude anything or commission too precisely. It was really a discussion.
How much back and forth is there?
Arnaud Hubert and Lionel Bovier: Depending on the artists' proposals, very little or quite a lot. Some of the designs triggered multiple possibilities of application, some were more focused on one type of garment. The conversation then became multidirectional, with Vilebrequin's production team, marketing and sales forces providing input and advice. Roland Herlory: What matters most is the dialogue and to make sure that the artists are, in the end, satisfied by the translation of their artwork to the collection. We take as much time as it takes to please them. Our capsule collection with Mickalene Thomas and Racquel Chevremont from Deux Femmes Noires was initially planned to be released as the same time as the three other artists, but because they were deeply involved in the creative process and wanted to push the boundaries of their collection even further, we had to postpone the launch.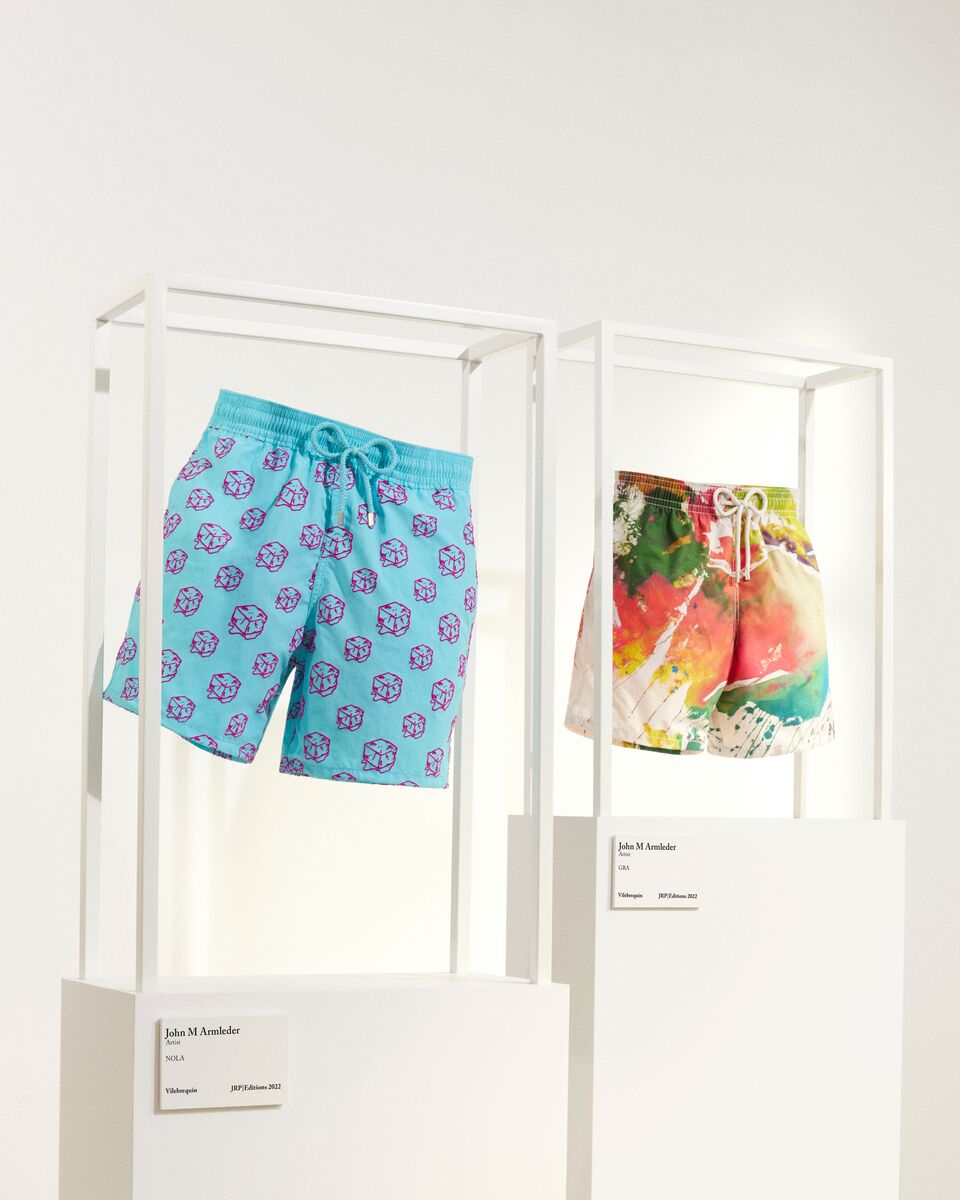 What, in your experience, is the thing that surprises the artist most in these particular collaborations?
Roland Herlory: I would say probably our printing expertise. Our Paris based studio has developed over the years a unique relationship with the best French and Italian textile printers and it's fascinating to realize how close we can get to an original work of art whether it's a photograph or a painting. Arnaud Hubert and Lionel Bovier: The inner complexity of designing something seemingly as simple as a bathing trunk: the mapping of the motif requires precision and can be altered by the different sizes, while the printing process must adapt to the chosen motif. At the end of the day, it's more sculptural than it looks when you think of applying a design to a textile.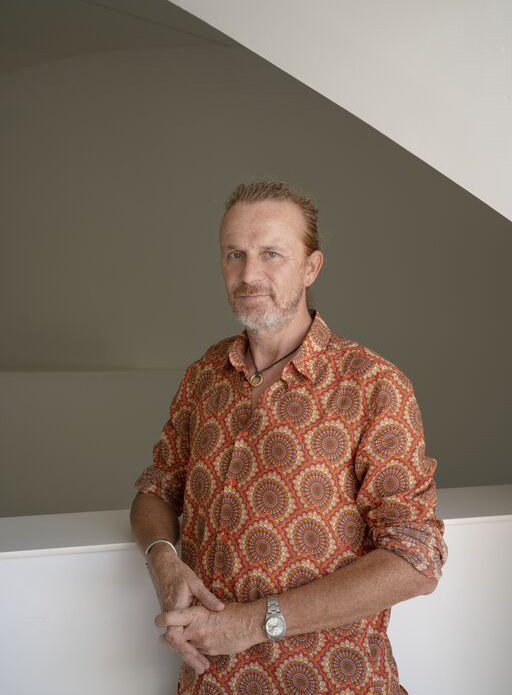 Vilebrequin CEO Robert Herlory - photograph by Olivier Amsellem

John Armleder is a great artist to get. How did that come about?
Roland Herlory : All the artists of this JRP Editions collaboration were curated by Lionel Bovier. He knows John and his world as they've been collaborating together for the past 20 years or so. Because of this very unique relationship I think he starts every new project with him. John's capsule collection has two prints that reflect his universe: One print is an abstract expression where he took the colors from the painting and used some accidents in his movements and used the brush to mix both. It's super colorful and aesthetic. For the second print, he wanted to have something more conceptual, so he chose a melting ice cube. Arnaud Hubert and Lionel Bovier: It's like a good omen for us to start any new venture with John M Armleder. His belief in the possible migration of a composition from one field to another allows these collaborations to remain firmly anchored in his practice.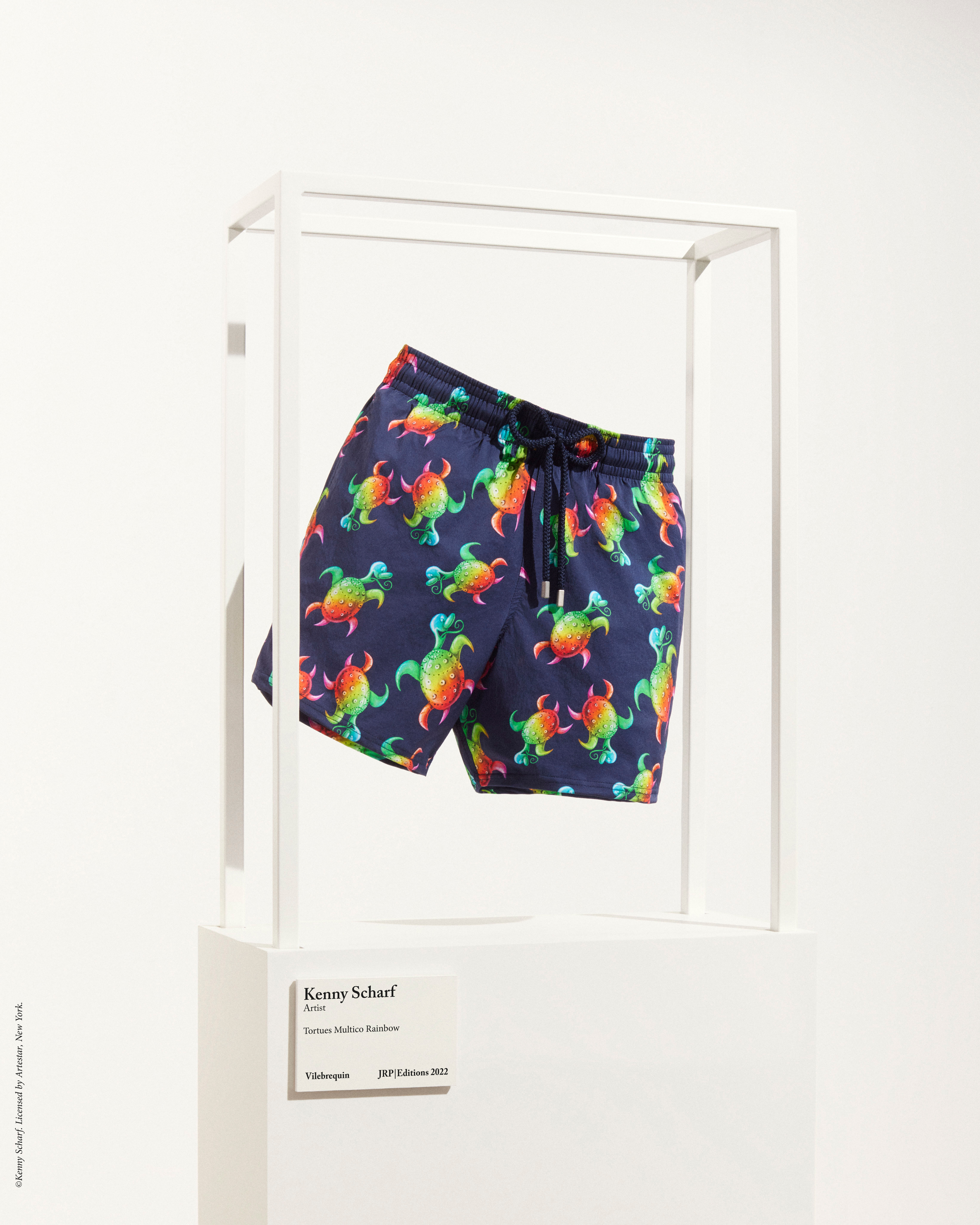 Kenny Scharf with his pop culture roots is also a perfect match - tell us about the conversation with him.
Roland Herlory : Kenny Scharf is full of color, full of joy so his world was an extremely good fit with ours. It has a streetwear expression, and it matches our spirit of vacation very well. Kenny Scharf's studio is in LA, so he swims every day, and we were lucky to have him as a Vilebrequin fan before the collab even started. Kenny revisited our iconic turtle logo for one print, and he's been so prolific that we are releasing a third edition with a brand-new print in Spring 2023. Arnaud Hubert and Lionel Bovier: Kenny wants his art to be as democratic as possible: he's always been interested in ways to transform everyday objects and his own environment by his designs and ideas. When you add to this that he loves swimming, you'll understand that the conversation was quick, to the point and sparkling with ideas. We tapped into bodies of work that he had previously developed, such as faces and aquatic animals – and the turtle motif he realized for this collaboration perfectly resonates with the Vilebrequin brand.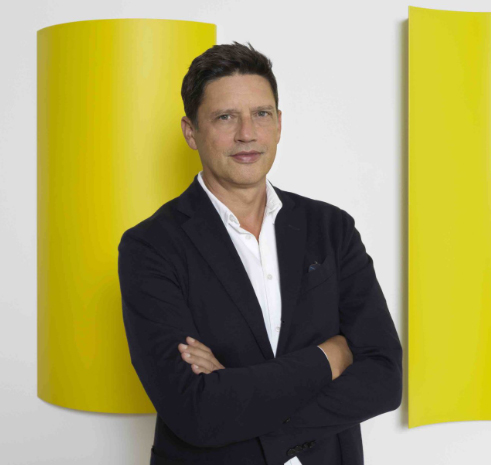 How hard is it to work with material and images of various shapes and sizes, did these new pieces present any particularly tricky challenges?
Roland Herlory : Our Paris-based studio always creates magic. It's been a real challenge, especially with the long distances and Covid, but we always managed to get as much dialogue as possible with the artist and the JRP Editions team. We love to push our boundaries always further; our teams work with a lot of passion and talent and ultimately when we succeed it's a great reward for all of us.
Tell us about some of the other artists coming up in the collaboration; we hear you have Mickalene Thomas. What was it about her work that attracted you?
Arnaud Hubert and Lionel Bovier: The invitation was made to Deux Femmes Noires , the platform Mickalene and Racquel Chevremont initiated recently. Thomas's practice, with its fusion of techniques, its richness of textures and colors, and its conceptual layering, seemed a perfect match for our vision of the collection. The proposals we received were so generous that a wide range of products were conceived and will be released this winter – for the cruise collections.
Roland Herlory : Mickalene Thomas and Racquel Chevremont (known as Deux Femmes Noires ) were most inspired. They offered us multiple options; they were full of ideas about what they wanted to do. The capsule was so extensive that we didn't have time to develop it all for this year, so we're doing it next summer. It's about collage, and the way they wanted it to be printed on the products was extremely precise.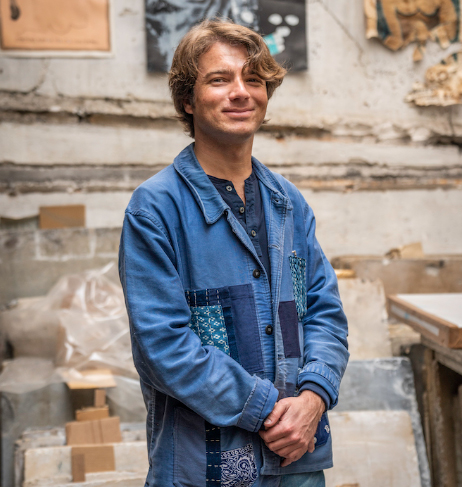 JRP Editions, CEO Arnaud Hubert
Take a look at more of the collaborations on our Vilebrequin partner page on Artpace.