The artist Hope Gangloff has developed a fervent following in recent years for her beautifully observed portraits of her friends, and for much of her career these captured vérité slices of life from the bohemian squalor of Brooklyn, where she lived and worked. That changed when she relocated her studio to the bucolic setting of upstate New York, and now her new show of nine large-scale paintings at Susan Inglett Gallery reveals the direction her work has taken as a result. (She also has an upcoming solo show at the new Broad Art Museum at Michigan State, as well as a group show at Kansas City's Kemper Museum.) Here, the artist discusses her country sojourn, her approach to portraiture, and why photographs "suck."
Two years ago, I moved to upstate New York with my painter husband, Ben Degen, in order to get a little more space per square foot. New York is very expensive, and it can get depressing after 20 years or so to be squashed into tiny, expensive art studios run by frivolous real-estate villains. Anyway, we're ready to get squashed and extorted again, because we're moving back this year.
While I've been upstate, I've had the opportunity to host a number of friends who've been good enough to model for me. Usually, they stay for a couple days so I can be certain that the composition works. Lines are really important to me, but I'd like to think that the strong personalities of my subjects shine too. 
I'm a big fan of portraiture—humans are endlessly entertaining and interesting. I like painting people I know because the familiarity helps relax both the subject and myself. Anyone who has sat for me knows that the first four hours painting will probably be erased completely. It's less stressful when my model already knows that. 
When I have a person sitting, it is not uncommon for me to sweat like crazy. The reason for this is simple: I am doing math. My eyeballs are doing insane measurements, triangulating distances very quickly. There is a fine line between getting it right and getting it beautiful that I try to skate.
Every practice of perception is a practice of distortion. Years ago, when I was uncomfortable asking my friends to hold still for many hours, I took tons of photos. Of everything. I took photos so often, that I was able to get unguarded pictures for years—beautiful, candid photos. The photos I gravitated towards liking, and towards wanting to draw, were of slackened faces. Of moments of calm. When my friends were not considering the camera at all.
It was a natural progression from there to painting them from life while they sit looking out a window or watching a movie, as I currently do. I have found that I prefer my own hand's distortion, and seldom employ direct use of a photographic reference. Photographs are okay as a reminder, but that's about it. 
Additionally, photographs suck when it comes to color. 
People are so beautiful and inspiring. I'm a ham-fisted writer, and a casual jerk, so I'm not always doing the best job of articulating my feelings, but I feel like I can relate to my friends on this visual level, and they will know that I love them. 
Instead of having a sketchbook, I like drawing 'postcards.' They are small drawings, maybe 5x7 inches, and I draw them with pens. My postcard drawings are things I do in between bigger projects—or if I'm traveling, I draw them to keep my studio practice going, because nothing is worse than being away from the studio.
In February, Ben and I traveled to Italy for 10 days. We drew postcards of paintings that I had never seen in life before. My favorites were of a young man wearing a huge cod piece, of St. Agatha with her tits on a plate like cupcakes, and one of Cleopatra, holding the tiniest snake in her forefingers I have EVER seen.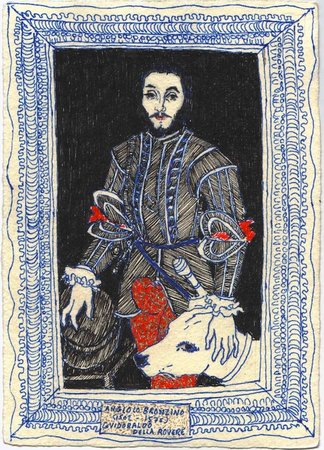 Last year, I drew about 25 hats from the "Hats" show Stephen Jones curated at Bard. (Drawing comes in very handy when cameras are not allowed.) On the first day, I drew hats on lined paper out of desperation. Then I went back for a second day armed with my favorite paper and tons of pens and markers, and it was a solid day of drawing the most beautiful hats. I have a small hat collection myself. Having a rather awkwardly large pumpkin myself, I save the hats for my models. 
When my husband got an art residency at a tropical location five years ago, I had a lot of fun drawing products from that island for six weeks. Products with excellent typefaces are like a siren song to me. I collect all manner of beautiful typefaces—be it on bottles, books, sardine cans, or beauty products, I will buy them as an investment to draw it some time in the future, or to draw again and again. 
I like to collect colorful things that inspire me. I have yards and yards of fabric, and clothes I could never wear but that have a good pattern. Presently, my studio is filled with chairs, sofas, and foot hassocks for my models to use. The extra space I have upstate has afforded me the luxury of hoarding with abandon. I'm going to have to have a garage sale before I head back into the city.
Being a fussy person, I have refinished several adirondack chairs so they look perfect for my purposes of putting them into a painting or three. Sometimes I'll get on a kick where I want the model to perfectly echo the furniture they're sitting on, and there's one painting I did where the model looks like the table lamp she's sitting next to. Furniture is a great inspiration.
You asked me how I get my creative juices flowing, but I really don't know how to ever stop it. There are a million things I want to do at this very moment. If I ever get frustrated with drawing or painting (not likely), my backup is that I love to sew. I make costumes, clothes, stuffed animals, and, if I feel like a long-term commitment, I'm very familiar with quilting.