We hope you already know this, but if you don't, prepare to receive some life-altering intel: Brooklyn is home to some of the best galleries in all of New York. Especially in the midst of rising rents in Manhattan, Brooklyn is where it's at, with big-name galleries like Koenig & Clinton and CLEARING, artist-run spots like Motel and Housing, and non-profits like Interstate Projects hosting exhibitions that are just as considered, rigorous, and see-worthy (if not more) than shows in Manhattan.
But what really makes Brooklyn different than Chelsea or the Lower East Side is this: artists live here . It's been decades since contemporary artists themselves could actually afford to live in the places we think of as art communities—where many dealers and gallerist, collectors and patrons, and those working in the art industry may spend their days. There is a difference between an artist community and an art community . So, why does this matter now? It seems galleries are starting to understand that positioning their space within a neighborhood where artists actually live, has some serious benefits. Galleries have the power to influence the people who frequent them, and in the case of galleries located in Bushwick, these people just happen to be the next generation of contemporary artists.
Margaret Liu Clinton , owner and director of Koenig & Clinton , noticed that in recent years fewer artists were making fewer rounds in Chelsea. This realization—along with skyrocketing property tax and rent hikes—prompted the gallerist to relocate from Chelsea to Bushwick this past July. "Your gallery is only relevant when artists are walking into it," Clinton tells Artspace . Now with her gallery right off the Jefferson L stop in Bushwick, Clinton regularly runs into artists at nearby coffee shops and restaurants—artists like Eileen Quinlan , Katie Hubbard , and Albert Herter , all of whom live near the gallery and have work in its current group show "In the Air," on view until February 25th. "It was weird when our Brooklyn artists had solo shows at the Chelsea gallery, and they didn't see any of their neighbors at the opening," says Clinton. "Now, artists hop over here while taking a break at the studio." Koenig & Clinton even stays open late on Fridays so that people who may live nearby, but work elsewhere, have a chance to see exhibitions after they get home from work.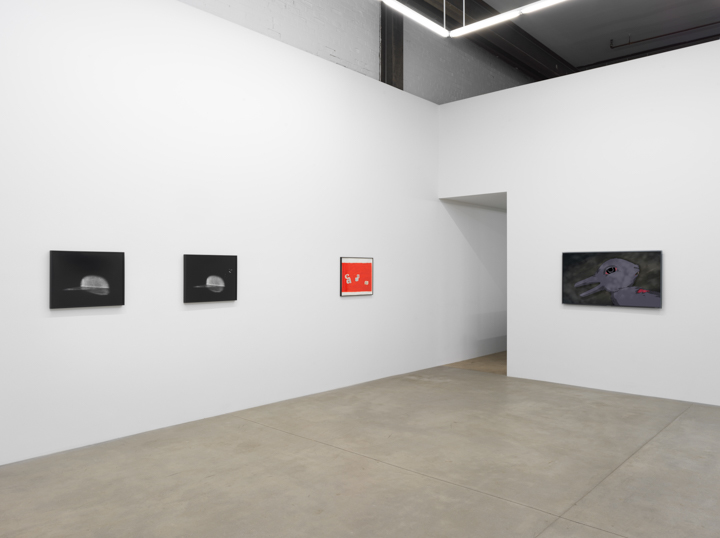 Installation view of "In the Air." Photo courtesy of Koenig & Clinton
Like Koenig & Clinton, Luhring Augustine started off in Chelsea and represents a slew of big-name artists like Christopher Wool , Pipilotti Rist , and Rachel Whiteread . And though they kept their gallery on West 24th Street in Chelsea, they decided on Bushwick when they expanded to open a larger space. On the other hand, CLEARING , a Belgium- and New York-based gallery that represents artists like Korakrit Arunanondchai , Jean-Marie Appriou, and Marguerite Humeau and participates in fairs like The Armory and Independent, first landed in Bushwick before ever even dreaming of opening a location in Manhattan (which they did earlier this year on the Upper East Side.)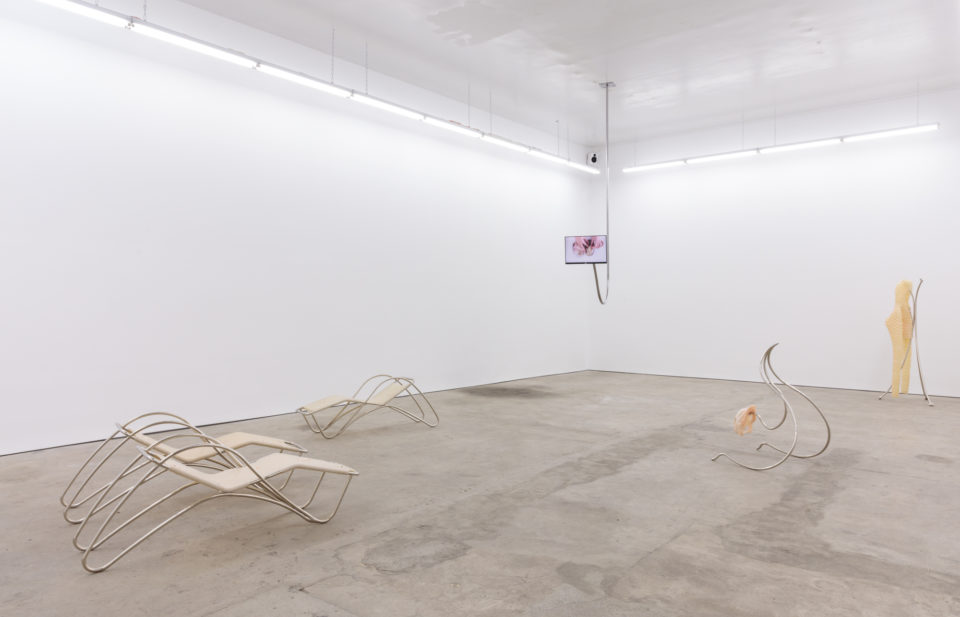 Hannah Levy at CLEARING. Photo courtes of CLEARING.
Their current location on Johnson Avenue (about a 15-minute walk from Koenig & Clinton, or a 5-minute walk from the Morgan L stop) sits within a hotbed of nearby artist studios. " Harold Ancart , Korakrit , and Sebastian Black ," all artists on the roster, "live within a ten-block radius of the gallery," gallery director Olivier Babin tells Artspace . Unlike their UES outpost, which essentially functions as a showroom for collectors who are less willing to make the trek to Bushwick, CLEARING's 5,000-square-foot gallery on Johnson used to be a truck repair depot—and it's humungous. Right now it hosts a handful of car-sized marble sculptures (the biggest one weighs a whopping 18,000 pounds) by European artist duo Daniel Dewar & Grégory Gicquel . Since moving from their original location, a second-story space that used to be the Babin's studio (also in Bushwick), to this larger space, the gallery's been able to beef up their roster, as well as their shows, exhibiting a fair amount of work that's quite large in scale. (A smaller but equally impactful concurrent show at CLEARING is a solo by Hannah Levy , who made our Artists to Watch list earlier this month for her exquisite silicon and aluminum furniture-like sculptures.)
While galleries like Koenig & Clinton, Luhring Augustine, and CLEARING may have the rosters and the spaces to pull Manhattanites off the island and into the boroughs, it's really the non-profit and artist-run spaces that make Brooklyn so valuable to artists who are looking for opportunity and living in New York. And while more established galleries see Bushwick and Bed-Stuy as affordable alternatives to Chelsea or the Lower East Side, many artist-run galleries have made this neighborhood their home for many years by default—without the resources and the option to pay higher rents in the city, artist-run spaces have been finding ways to make it work in their own neighborhoods and communities.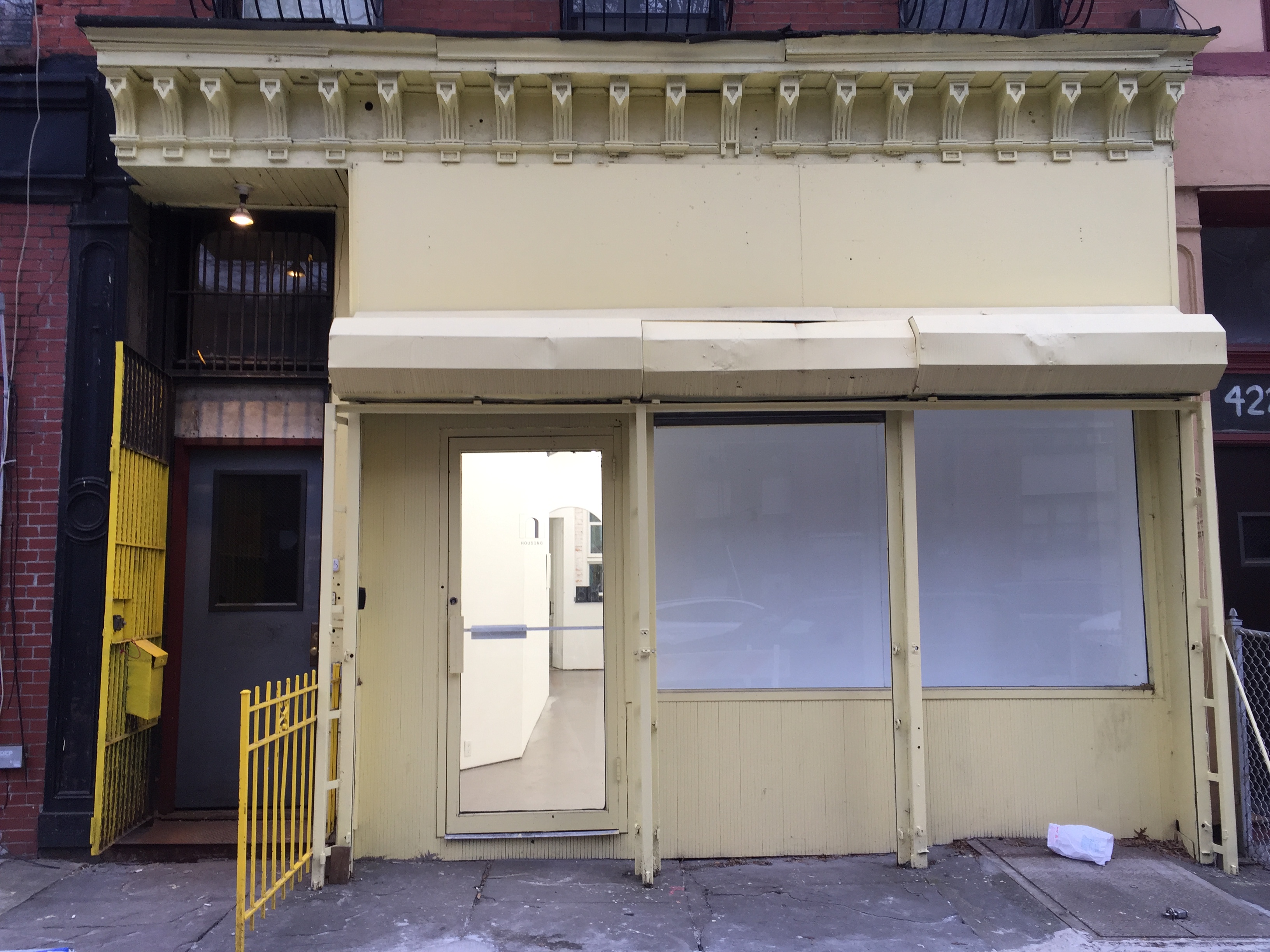 Housing Gallery's exterior. Photo: Artspace.
In writing an article about an arts scene in a New York borough that is and has been quickly gentrifying, it's not possible to (responsibly) omit mentioning that artists and galleries historically have been some of the most effective drivers of gentrification and displacement. Which is why it's so important that the directors of galleries like Housing , which recently opened in American Medium' s old space in Bed Stuy after they moved to Chelsea, are hyper-aware of their role in a predominantly African-American neighborhood. (We spoke about Housing in a recent article about what "artwashing" is and what some galleries—like Housing—are doing to counteract gentrification. ) Exhibiting the work of African-American artists, Housing has put out one impressive show after another since they launched in the middle of last year.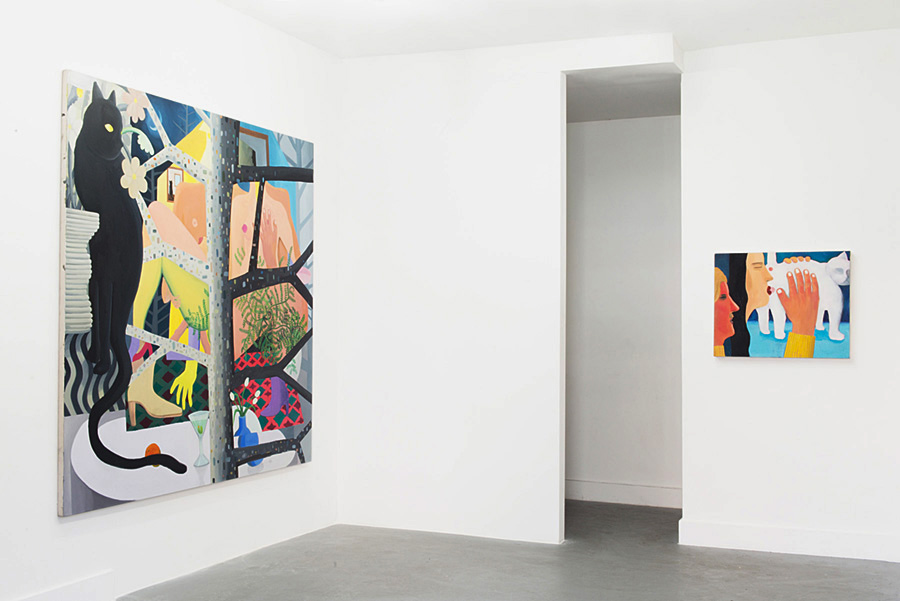 GaHee Park at Motel. Image courtesy of Motel.
A few blocks away from Housing is Motel , a gallery run by Riley Duncan , Rosie Motley , and Curtis Wallen , who opened their storefront space in May of 2015. With each of the directors having full-time jobs, the gallery is only open on Sundays (and during openings, of course), which is why they put energy towards art fairs like NADA in New York and Material Art Fair in Mexico City—ways to reach audiences beyond those that come in on Sundays. Motel is like Kimberly-Klark and SIGNAL (more artist-run spaces too good not to mention), in that it has a mature and developed curatorial style despite the fact that it shows artists at the beginning of their careers, and are commercial in the sense that they do sell art and participate in art fairs.
Interstate Projects , another exhibition space that consistently produces impressive shows in Bushwick, has never been commercial, operating more like an artist-run space despite the fact that it's not ran by artists. Tom Weinrich founded the space 2011, was joined by Jamie Sterns as curatorial director in 2014, and then decided to become a non-profit in the beginning of 2015. "We've never been able to say we're an artist-run gallery, since we're not artists, but we're also not commercial—we've always been in this nebulous middle state," Weinrich tells Artspace over the phone. "Becoming a non-profit fit with our mission: to support the art and the artists." Interstate's residency program, which started in 2016, provides artists free workspace for four months, "long enough to be beneficial for the artist, and for the gallery," says Weinrich, since having residents in the building "brings a different kind of energy to the gallery and activates the space in a way that goes beyond just the exhibition program."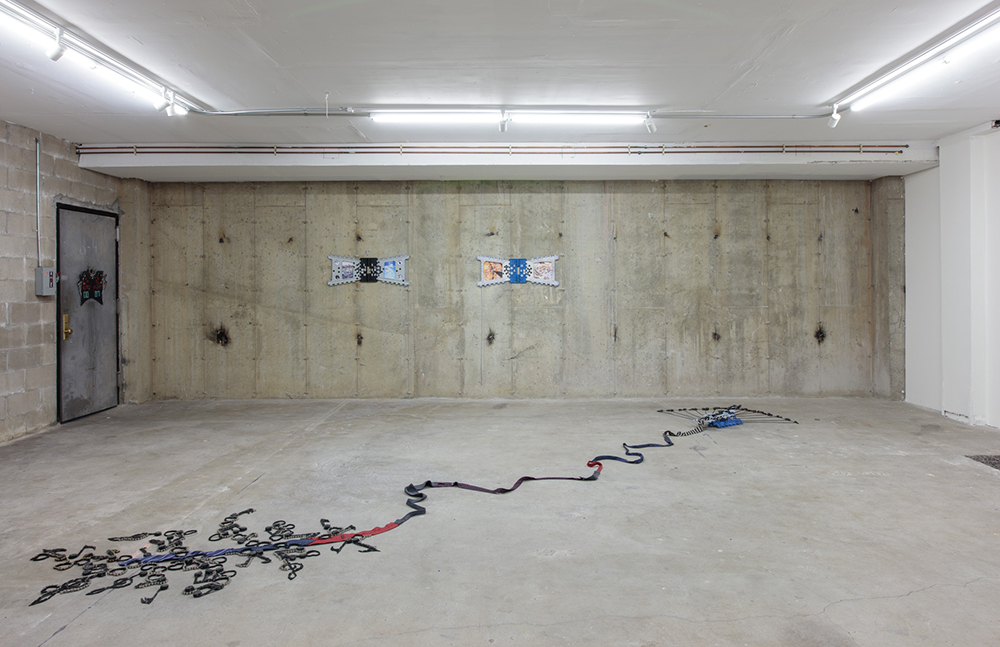 Anna Solal at Interstate Projects. Photo via Interstate.
But perhaps what's most valuable about Interstate is that it's one of the few spaces in New York that's committed to providing exhibition opportunities to artists who have yet to have solo shows in New York. "I'd say about 90 percent of the artists we show have never had solo shows before… and although we have been working with a lot of international artists recently, I'd say that about 70% of the artists we show are based in Brooklyn." Like the rest of the galleries we mention, Interstate Projects draws a crowd full of artists, at different stages of their careers, who mostly live in the area. "When I look at our sign-in book at the end of each show, there are a lot of names of artists who live around here and come by during the intervening weeks even if they don't come to the openings," says Weinrich. "We really appreciate that artists are coming to see the work of younger artists that they maybe aren't familiar with. We really try to avoid drawing from the same social groups and becoming compartmentalized in a certain part of the art world; we try to open to a broader audience."
...
What unifies all the galleries mentioned here, and the dozens of other great Brooklyn galleries that aren't, is that their supporters and audiences are artists. There have been countless articles written on how the art market can't support mid-tier galleries like it used to, how galleries in the Lower East Side are shutting down or moving to Brooklyn because they can't afford rent. But there's a big part of the story that's being overlooked. Yes, a gallery's address is meaningful in that it signifies how lucrative it is, how much rent it's able to afford. But it's also meaningful in that it determines who its audience is. And when a gallery's audience is the newest generation of contemporary artists, that gallery has a whole lot of power—the power to inform, inspire, and influence the emerging artists that live in Brooklyn, a sizable chunk of the future of contemporary art.