Over the past three quarters of a century, The Skowhegan School of Painting and Sculpture has been providing artists with a vital opportunity to establish themselves. This intensive nine-week summer residency program for emerging visual artists is located on a 350-acre farm in rural Maine, and is still governed by artists–just as it was when the school was founded in 1946–offering participants the chance to work free of the expectations of the marketplace and academia.
To mark its 75 anniversary, Artspace & Phaidon are proud to offer a new limited edition by Skowhegan alumna, Christina Quarles, entitled "Magic Hour" . To find out more about Christina Quarles' experience at the school, and her new edition, read this article.
In this interview the school's co-directors Katie Sonnenborn and Sarah Workneh look back on the school's achievements, share its anniversary celebrations, and consider how Skowhegan has changed during the postwar period.
Christina Quarles Magic Hour , 2016/2021. Digital archival print on Epson Hot Press Natural paper. 
Edition of 50 plus 5 APs + B.A.T. $2,500
It's your 75th anniversary. What are you doing to celebrate? We are doing a lot! The 2021 programs will look different than normal, due to COVID, but are shaping up to be a very special summer. We will host local community workshops for the first time—bringing what we do best, like fresco, to our neighbors, while taking advantage of our new facility with zoom to offer cross cultural engagement—merging our local Maine community with the practices of our international alumni group by offering Zoom drawing clubs for teens and lecture series where our artists whose creative practices are also informed by and tied to their work in other fields, such as nursing, farming, and construction. We will hold two three-week residencies for Skowhegan alumni, 20 artists at a time, that provide a chance to reunite with some of the artists who have been away from the school for many years.
There will be a public lecture series organized with the Board of Governors (our artist board) that begins with ideas of world building and how we relate to one and each other across geographies, experiential lectures considering the self, the body, the other, kinship, land and technology—themes artists are thinking about everyday. And we are finishing several major infrastructure projects that we worked on during the pandemic when rural construction was feasible and safe, including a new participant residence, the David Driskell House.
On Saturday October 9 there will be a 75th Anniversary Block Party in New York City with performances and events organized by the Alumni Alliance; we are launching other 75th Anniversary Editions including a gorgeous new print by Rodrigo Valenzuela, A '13, that will be available on our website and Artspace in May; there is a microsite dedicated to the 75th Anniversary —that is a great place to visit and learn more about this year, and Skowhegan history.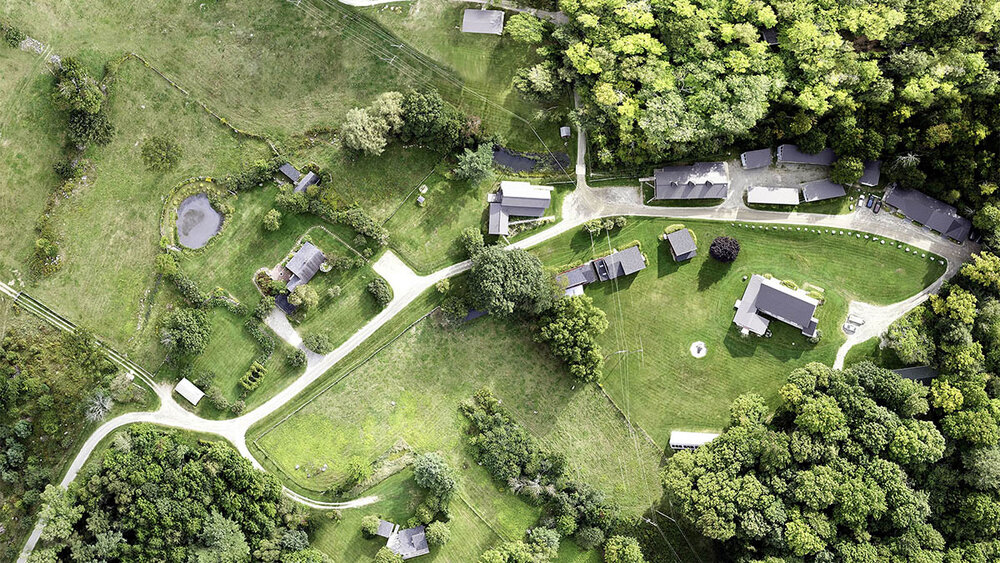 Aerial view overlooking Upper Campus, 2019. Image courtesy of 75.skowheganart.org

Skowhegan seems like an idyllic place to create great work. What do artists say to you about their experience there? What Skowhegan offers its artists has necessarily and urgently changed over the past seven decades. In the early years, post WWII, our artists, many of them GIs, needed space to recover and process from their experiences in war. During The height of the Civil Rights era, global decolonization, and the Vietnam War, artists needed a safe space to practice democracy; live their authentic identities without the restrictive regulation of Jim Crow and racism, misogyny, or homophobia. In more recent years, especially in tense political times, with so many artists feeling marginalized or alone, artists have sought out Skowhegan because it is a space that is committed to rigor and empowering individuals to assert their voices, practices, histories and narratives in transformative ways. Throughout its history, our artists tell us that Skowhegan is a powerful experience because they learn about themselves and their practices through the diversity of the experiences and practices of the other artists who are in the program, but who are different from them. In a class of 65 artists, as many as 20 nations may be represented, artists range in age from 21 to early 50s, with varying levels of formal educational experiences and incredible different practices.They learn about themselves and their practices because of our commitment to generosity and expansive capacity; they learn about themselves and their practices because each artist is given the space, support, and the inspiration to be brave in their studios and as people.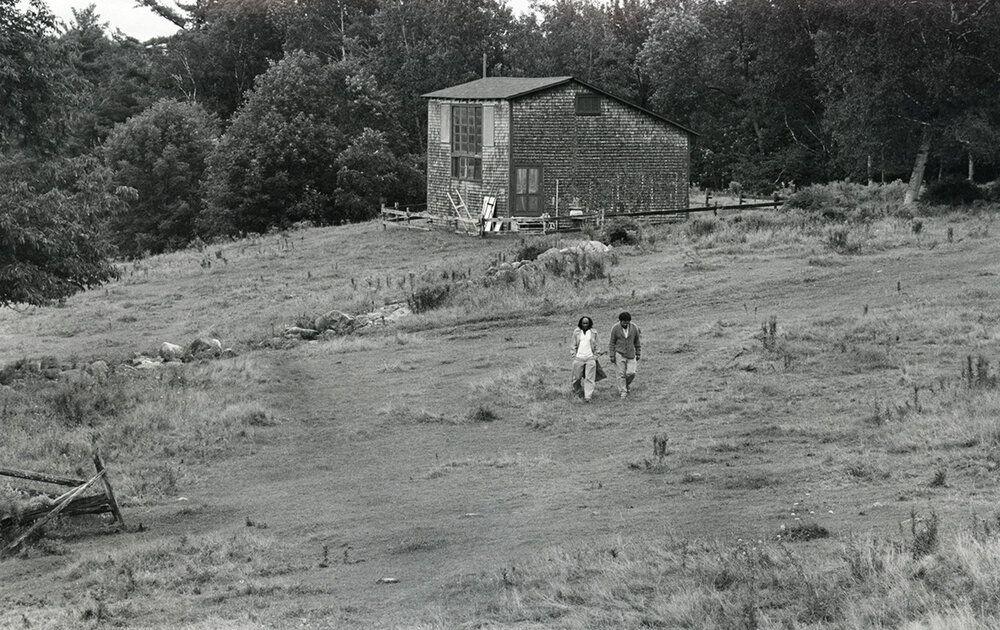 Participants walking down the cow fields with Cummings Studio in the background, 1991. Image courtesy of 75.skowheganart.org
Tell us about some of your personal favourite artists who've worked at Skowhegan over the years . They are all our favorites! One of the magical aspects of Skowhegan is that success is not measured by commercial or academic expectations, so the experience of living and working on campus allows artists to open up in their practices in new and pivotal ways. This was true from the outset when Skowhegan attracted serious artists from a variety of backgrounds. The lasting commitment of pivotal early figures, including Alex Katz, Anne Poor, Ben Shahn and Jacob Lawrence, along with our founding artists Bill Cummings, Henry Varnum Poor, Sidney Simon and Charles Cutler, helped ensure that artists who participate in our program are deeply committed and arrive ready to take advantage of the once in a lifetime opportunity.
How has the importance, work and philosophy of Skowhegan as an art school governed by artists, for artists, changed over the years? Remarkably, Skowhegan's foundational tenet as a program founded by artists, for artists, has not changed that much since 1946. Both the Trustees and Governors believe in the power and efficacy of shared governance, with programmatic decisions directed by artists. Skowhegan is a vital space, we prioritize its openness and inclusiveness,and campus is a democratized space where artists from all over the world learn from one another. This kind of expansive and complex engagement is rare, and artists form deep bonds that help sustain their practice over a lifetime.Today artists need this kind of environment more urgently than ever.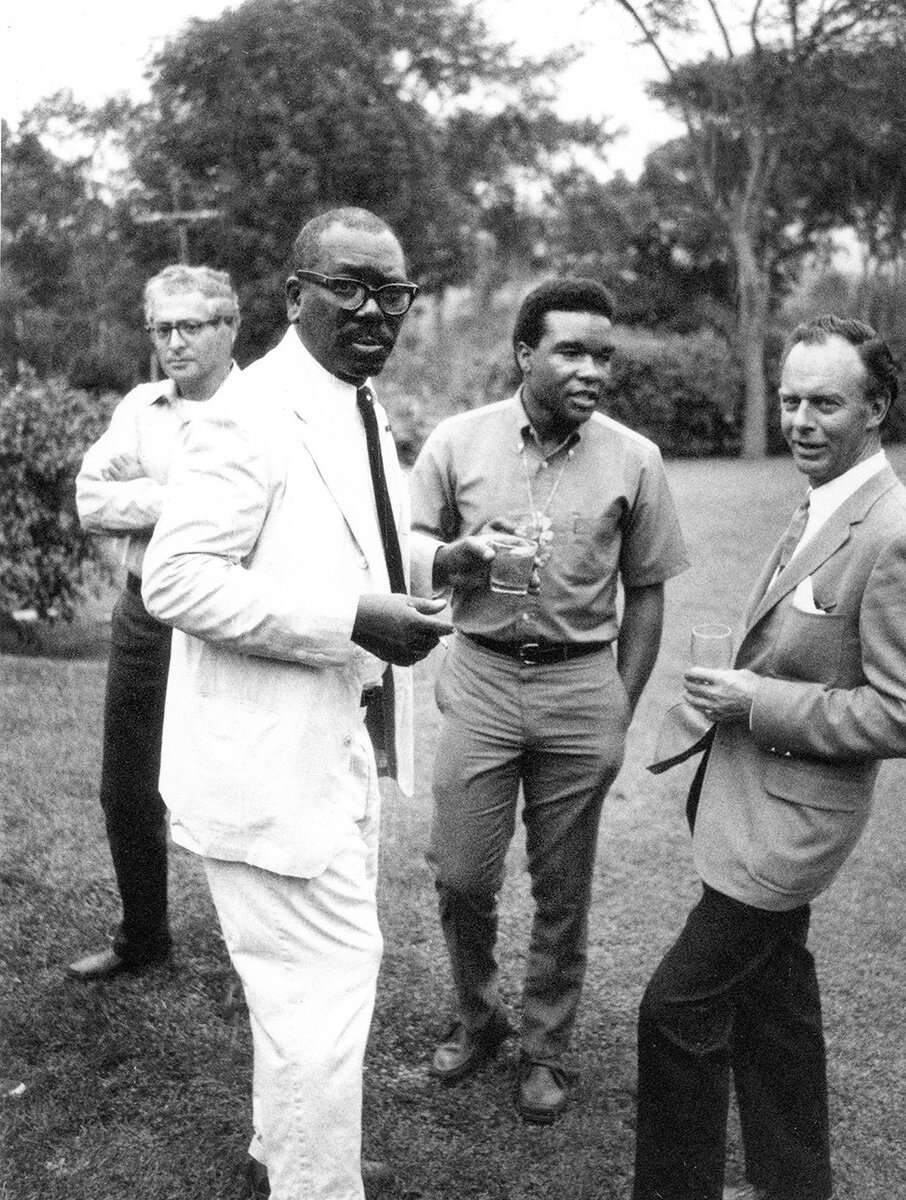 L-R: Al Blaustein, Jacob Lawrence, David Driskell, and Willard Cummings, 1968. Image courtesy of 75.skowheganart.org
What role does Skowhegan play in the larger art world? At Skowhegan, artists find the confidence to believe in themselves and their voices as artists. As a result, the artworld is more diverse and more open because of this program.
To find out more about the school's heritage, celebrations and future plans, head to the Skowhegan 75 site here ; to find out more about Christina Quarles' experience at the school, and her new print, read this article.
[skowhegan-module]