The ADAA Art Show has become a stronghold of solo-artist booths, which often feature artists already anointed by major museums and the market. This year the fair had no shortage of those historical-contemporary displays: Nam June Paik at Carl Solway , Forrest Bess at David Zwirner , Haim Steinbach at Tanya Bonakdar , and, front and center, Michelangelo Pistoletto at Luhring Augustine were among the standouts. But the ADAA also surprised us with some noteworthy discoveries, debuts and reintroductions, highlighted below.
SALOUA RAOUDA CHACAIR
CRG GALLERY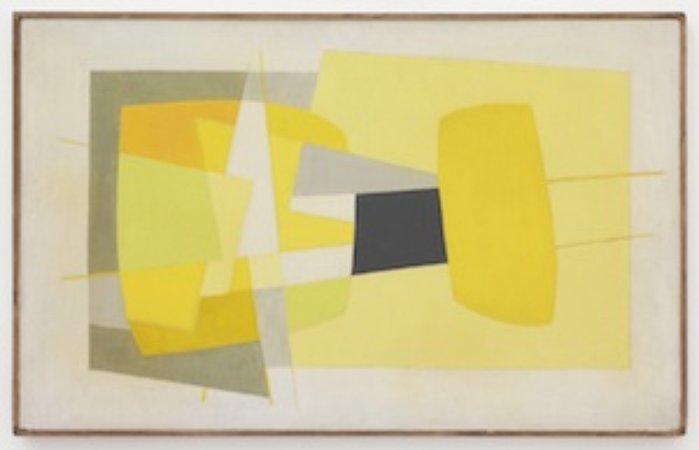 Saloua Raouda Choucair, Composition in Yellow , 1962-65. oil on panel, 20 1/4 x 32 x 1 inches.
This installation of petite abstract paintings, works on paper, and sculptures marks the U.S. solo debut of the Lebanese artist Saloua Raouda Chacair. Her works combine Western modernist geometry with arabesques and other motifs from Islamic art, while displaying an ease with materials including wood, metal, and stone. The sculptures are the main attraction, but Chacair's small, precise paintings strike up conversations with those of her Beirut-born contemporary Etel Adnan at Galerie Lelong (who is better known here thanks to several gallery shows and a Whitney Biennial appearance.)
JAN GROOVER
JANET BORDEN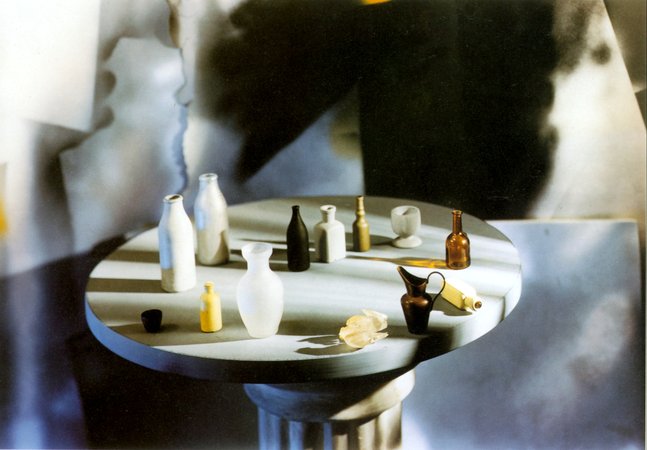 Jan Groover, Untitled , 1988. 30 x 40 inches. Chromogenic color print. Edition # 3/5.
The austere still-life photographs of Jan Groover, who died in 2012, make the kitchen table a site of deep spatial and philosophical inquiry, closing in on utensils until they start too look like Surrealist abstractions or pulling back to reveal Morandi-esque arrangements of vessels. New York dealer Janet Borden's mini-survey has some striking works from the 1970s and '80s, when Groover was at the peak of her fame and showed at Sonnabend Gallery and MoMA.
AL HELD
CHEIM & READ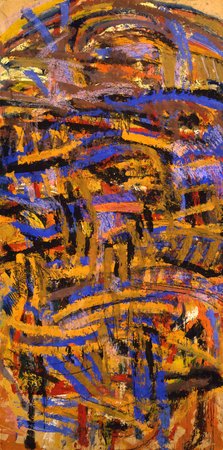 Al Held, Untitled , 1953. Mixed media on paper, 97 1/8 x 48 1/4 inches. Courtesy of the Al Held Foundation Inc. and Cheim & Read, New York.
The "Hard-edge" abstractionist Al Held is not exactly an obscure name, but this marvelous group of his early, gestural works cuts against type. Held's brushy "Armatures," which date from 1953-4, look like partly unraveled tapestries; they have a strong warp/weft structure and long drips that resemble dangling threads. They're linked, also, by a taxicab-yellow hue (he made them not long before embarking on his more geometric "Taxi Cab" paintings).
TYUYOSHI MAEKAWA
DOMINIQUE LEVY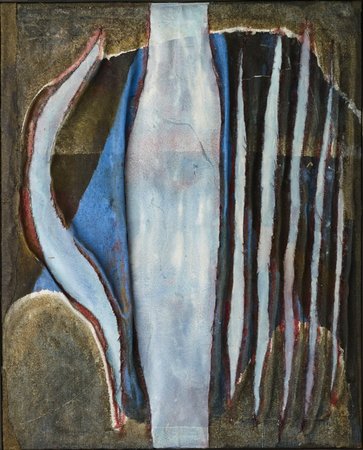 Tsuyoshi Maekawa, Mannaka Tate no Blue (A18) , 1964. Oil and burlap on canvas, 64 x 51 2/8 inches. Courtesy of the artist.
Complementing its current show of Gutai artists Kazuo Shiraga and Satoru Hoshino, the Dominique Lévy gallery has stocked its booth with early-1960s paintings by their fellow in the movement Tsuyoshi Maekawa (who had a solo at the gallery last spring.) His tortured and textured surfaces, created by pasting pierced and torn pieces of burlap to canvas and painting over them, reinforce the connections between Gutai and Arte Povera (a few, with long vertical cuts in the burlap that expose brightly painted areas of canvas, resemble more ebullient versions of Lucio Fontana's slash paintings.)
CLAUDIO PARMIGGIANI
BORTOLAMI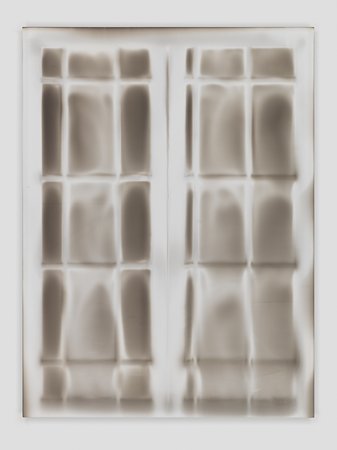 Claudio Parmiggiani, Untitled , 2014. Smoke and soot on wood, 45.28 x 33.86 inches. Courtesy of the artist and Bortolami, New York.
The Italian artist Claudio Parmiggiani worked as a studio assistant to Giorgio Morandi in the late 1950s, and seems to share his slightly twisted Classicism (though not his affection for paint). In his ghostly assemblages, fragments of antique plaster busts are splashed with black pigment or tinged with soot. Even eerier are his "Delocazione" silhouettes, made by leaning or pinning objects against panels and suffusing them with smoke from burning tires.
CHRISTINA RAMBERG
DAVID NOLAN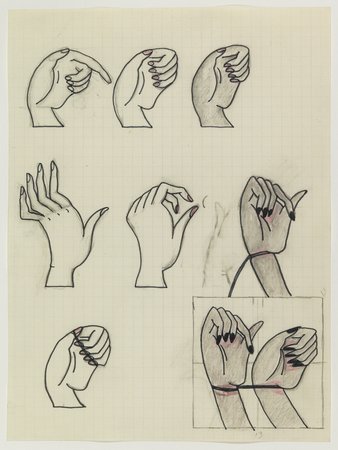 Christina Ramberg, Untitled (Nine Hands) , ca. 1971. Pen, graphite, and colored pencil on graph paper, 8 1/2 x 6 1/2 inches.
A recent retrospective of this Chicago Imagist associate at the ICA Boston has generated new interest in her diagram-like paintings, which often show anonymous women struggling to get into, or out of, restrictive clothing and undergarments. David Nolan has a lively selection of her works on paper, including small, process-y drawings in felt-tip or ballpoint pen. One shows a torso mummified by shapewear; another, feet squeezed into too-tight heels.
ANTON VAN DALEN
P.P.O.W.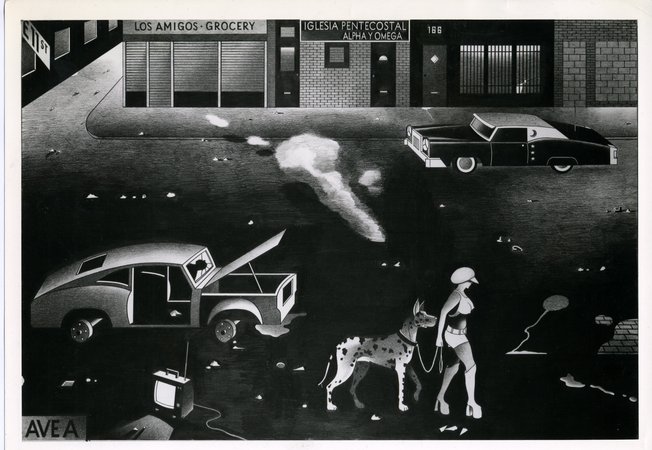 Anton van Dalen, Night Street, 1976. Pencil drawing, 40 x 60 inches. Courtesy of the artist and P.P.O.W. Gallery, New York.
A star of the bygone East Village art scene, Anton van Dalen captured its nocturnal street life with a touch of comic exaggeration (influenced by, among others, Saul Steinberg). Stripped cars, streetwalkers, and stray dogs figure prominently in his dense graphite drawings from the late 1970s and early '80s, the focus of P.P.O.W.'s punchy booth. Van Dalen still lives in the neighborhood and has continued to document its nightlife as the dive bars have been edged out by hipster cocktail dens; the gallery is also showing some of his recent works at its location in Chelsea.