LAURA OWENS
"Clocks" and artist's books
Gavin Brown's Enterprise and 356 Mission (New York and Los Angeles)
$6,500 apiece for the books, prices for paintings available upon request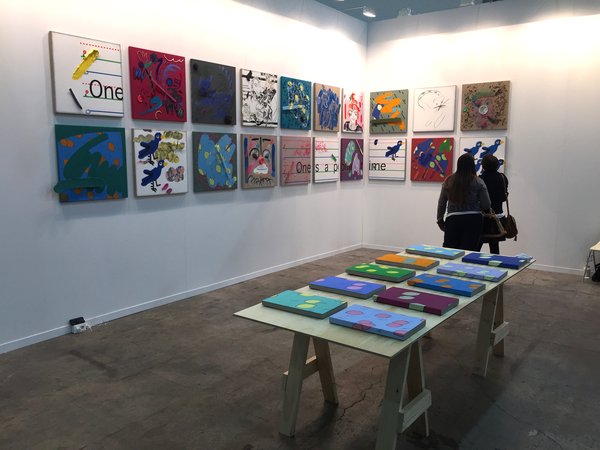 Quite possibly the most exciting American painter of her generation, Laura Owens specializes in taking a lets's-see-what-this-baby-can-do approach to her medium, pulling out all the stops to employ Photoshop techniques, cast paint, hand-dying, silk-screening, collage, sculpturally thick globs of gesso, wallpaper, thread, aquarium rocks, and other odds and ends in her compositions. For the fair, GBE and Owens's own Los Angeles space 356 Mission collaborated to bring a suite of 20 brand-new "Clock" paintings that together act as a summa of her career thus far, showing off her wide range of moves and adding a quirky mechanized element: in all but two of the works there are revolving painted elements that tick away, sometimes almost invisibly, like the minute hands of a clock. (Owens has done a series of these paintings in the past, which were collected into a sumptuous 2012 book by Karma.) The two galleries, working together at a fair for the first time in the hopes of finding a new audience for Owens's work, also brought down 10 very-hard-to-resist unique artist's books chronicling her methods, splendidly bound on thick boards held between covers of lemon-adorned wallpaper.
JORGE DE LA GARZA
Galeria Emma Molina (Monterrey)
$16,000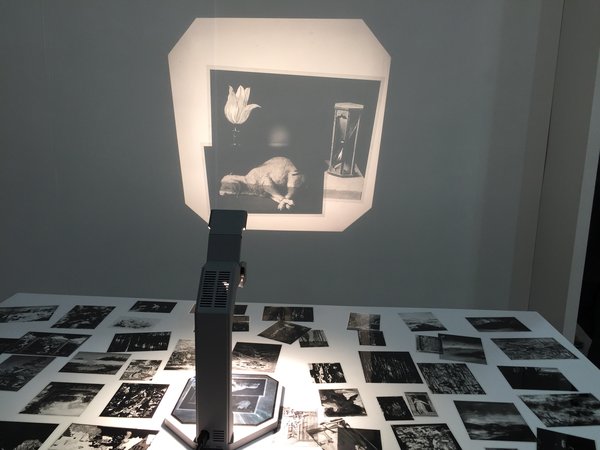 A 36-year-old Mexico City-based artist who studied in London's Central Saint Martins and Chelsea College of Art & Design, Jorge de la Garza makes art that deals with time-honored recursive theme of image and representation—specifically in the attempt to liberate images from their received associations or contexts, such as that horns represent evil, etc. To this end, in this piece the artist painstakingly used Photoshop to separate the central subjects in a range of historical artworks from their surroundings and printed them both independently on slides, allowing the viewer to mix and match them on an overhead projector to create new compositions. The artist, a rising conceptualist in his home city, will also screen a film later this month in the Jewish Museum's "Sights and Sounds: Global Film and Video" series. 
MAURICIO IANÊS
Y Gallery (New York)
$16,000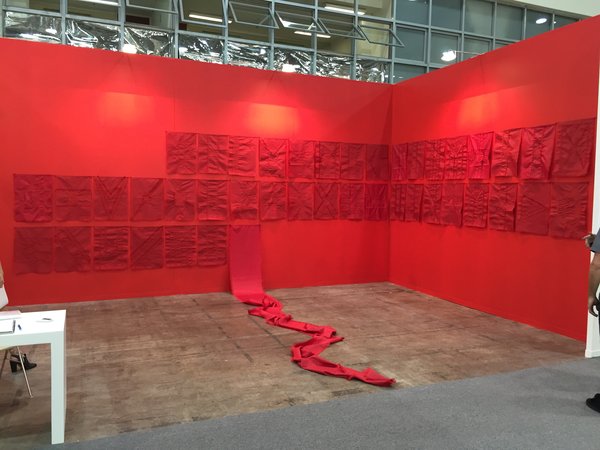 Blood red against an equally rubiate painted backdrop, this installation by the Brazilian artist Mauricio Ianês replicates all of the flags of Latin America in the same sanguinary color both to reference the violent revolutionary history that led to these national identities while at the same time nullifying the distinctions between them. Known for unsettling performances that involve him vomiting black paint from his mouth (he also has a tattoo of a pair of black lines streaming from his lower lip down his neck), the artist added a beautifully pessimistic note to the installation in the form of a last flag, unadorned, that voluptuously streams down onto the floor, suggesting the nations yet to be conceived by future bloodshed. 
MARIANA TELLERIA
Slow Time Machine (2015)
Ruth Benzacar (Buenos Aires)
$19,000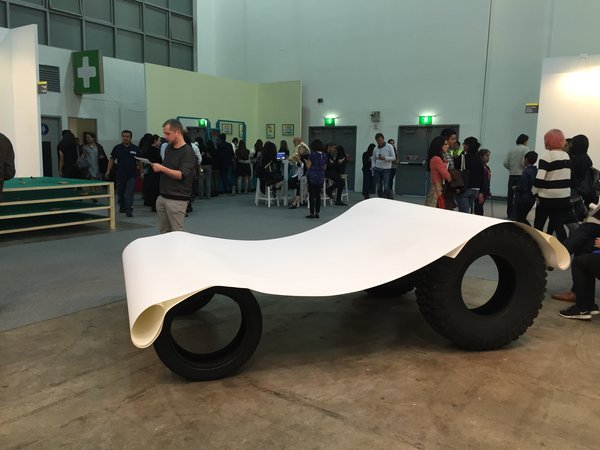 The versatility of the captivating Argentine conceptual artist Mariana Telleria is impressive. Her works have encompassed crucifixes that she makes from cutting up and reassembling picture frames, picture frames she makes by cutting up and reassembling crucifixes, 3-D renditions of classical paintings (such as Caravaggio's Calling of St. Matthew) without the figures and only their clothes, and an intervention she did at the Juan B. Castagnino Museum of Fine Arts where she painted the institution's white façade entirely black so that it would disappear from view completely at night, like a magic trick. At the fair, Telleria's gallery brought a new work consisting of four wheels draped with a sheet of thick paper, like some writer's dream of an impossible car. (Some may recall Nick Relph's imaginary car piece consisting of four freestanding tires but no paper.) Telleria, who was featured in the last New Museum triennial, explained her thinking behind the work, saying, "For me, tires and paper are the greatest inventions of humanity—and when you put these two elements together, their utility disappears." She added, with an enigmatic smile, "Paradoxes are my dog." 
TOMOO GOKITA
Bill Brady Gallery – Kansas City, Miami
$14,000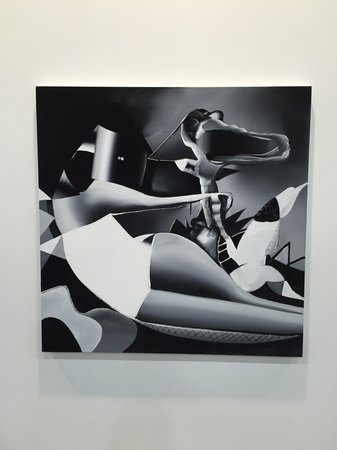 Super-black blacks of acrylic gouache are the trademark of the Japanese artist Tomoo Gokita, who started his career as an illustrator in Tokyo but jumped to painting after bumping up against the low esteem illustration is accorded in his country. Known for his Dalí–inspired black-and-white portraits of period figures with obscured features, Gokita—whose collectors include the artist KAWS—follows a rigorous routine devoted to his art, arriving at his studio at 9 a.m. and making three or four drawings every day before leaving at five, with the occasional trip to a temple thrown in. The artist/dealer Bill Brady has championed his work since back in the days of New York's departed ATM Gallery, and to help inaugurate his new Miami space the dealer has invited Gokita and his family to Florida to make a new body of work, since, after all, it's "cheaper than shipping."
JITKA HANZLOVÁ
Untitled (Swan) (2011)
Mai 36 Galerie – Zürich
$8,000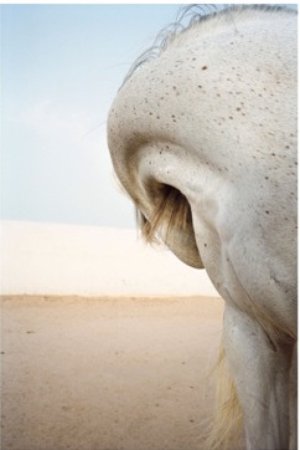 Hailing from the Czech Republic, the photographer Jitka Hanzlová conducts a particularly deadpan investigation of an elusive quarry: animals, trees, and other natural beings as they are when they think no one is watching them. In 2007, she trained her speculative camera upon horses that she came across in her travels, trying to capture them in mysterious, candid moments when they'd let their guard down and maybe absentmindedly chewed on their bridle, let loose a causal whinny, or flared their nostrils with a refreshing lack of modesty. This is what happens when horses stop being polite, and start getting real. 
JOHN MCCALLISTER
James Fuentes Gallery – New York
$16,000-$50,000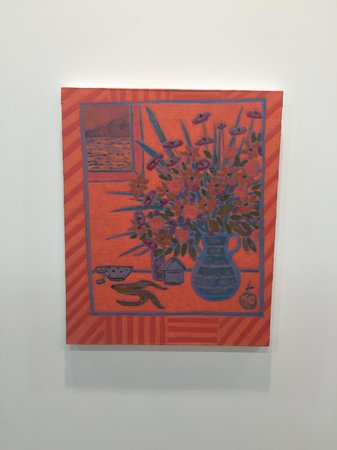 An artist who studied at the University of Texas under Peter Saul and then got an MFA from Pasadena's Art Center, John McCallister spent six years after graduation working as a nighttime security officer at the Metropolitan Museum of Art, using the dead hours to read about art and absorb every detail of the paintings in the collection, trying to decipher the elements that make great art work. His own paintings arose from a desire to explore this tradition—and also, importantly, to stick his thumb in the eye of his fellow students at Art Center (who included Aaron Curry and Stephen Rhodes), who at the time were way too cool for the fuddy-duddy old medium of painting. McCallister's earliest compositions were giant wildfire paintings, which James Fuentes first exhibited at his old gallery on Chinatown's St. James Place, but since then the artist has moved onto fauvist pieces that place landscapes or still-lifes at an angle against an illusionistic background of wallpaper. Mining the history of painting strategies, these works also carry over the lessons in luminosity McCallister took away from his fire paintings, and they seem to emit a faint, buzzy glow.
JOSE DÁVILA 
Esfuerzo Común (2014)
OMR – Mexico City
$50,000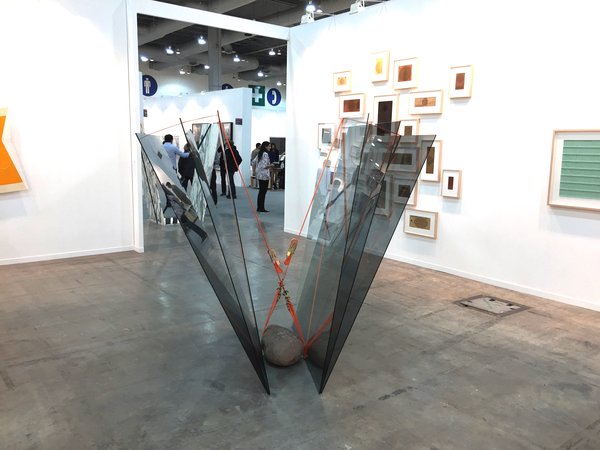 The Guadalajara-based artist Jose Dávila is a rising star on the international art scene, and his sculptures pairing construction materials (marble, glass, stone) in ways that articulate delicate balances of both gravity and physical properties have proven market sensations. An avid student of art history, Dávila looked back on a fabled touchstone for this series: Low-Rate Movers, the furniture-moving company that Richard Serra founded in the late '60s with Phillip Glass, Steve Reich, Chuck Close, Spalding Gray, and Michael Snow in order to fund their art—an experience that ended up having a profound influence on Serra's early work, which dealt with similar themes of weight, balance, and precarity. This particular work at OMR is one of a series, each of which has a different color tie-down strap, and it is the first of his sculptures to hold an impressive six planes of glass.
TATIANA PÉREZ CÓRDOVA
2.42 Minute Spin (2014)
Proyectos Monclova – Mexico City
$8,500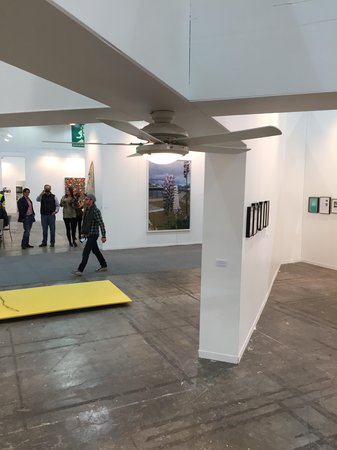 Featured in the upcoming New Museum triennial curated by Ryan Trecartin and Lauren Cornell, the 33-year-old Mexico City artist Tatiana Pérez Córdova often makes work across multiple mediums that focuses on the slowing down or otherwise alteration of time. Here, at the booth of Proyectos Monclova, the artist has brought a ceiling fan that she reengineered with the motor of a disco ball, causing the blades to whirl at a barely perceptible speed. For extra fun, she replaced the chain that turns the fan off and on with a sequence of gold necklaces, joined end to end, trailing down almost to the floor. (They're supposed to drip all the way down to the floor, but the gallery found that too many people were stepping on them.)
PRIVATE COLLECTION OF ANDRÉ BRETON
"Souvenir de Mexico"
Ge Galería (Monterrey)
$90,000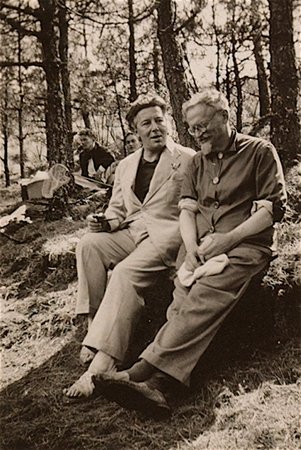 After formally leaving the Communist party due to his opposition to Stalin, the French Surrealist and committed Marxist André Breton traveled to Mexico in 1938 to visit the exiled Leon Trotsky—who was staying with the artist Diego Rivera and Frida Kahlo—and collaborate with him on writing a "Manifesto for Independent Revolutionary Art." While the manifesto was completed, the collaboration was not entirely successful, as Breton's interest in Surrealist aesthetics ran counter to Trotsky's paramount socialist agenda, and Rivera ended up signing the finished document instead of his famous lodger. Breton's time in Mexico, however, was a revelation for the poet, who immersed himself in the charged art scene there and declared it to be "the most surrealist country in the world." The period, luckily, was extensively documented in photographs, mostly taken by the Swiss economist Fritz Bach, and Breton took them with him when he returned to Paris—along with Frida Kahlo, for whom he arranged an exhibition in the city. Recently, this trove of 107 photos from Breton's estate came up for auction, and it was acquired by Monterrey's Ge Galería, which brought it to the fair. The gallery hoped that the collection, expansive enough to fill a small museum, would be acquired in toto by a Mexican institution, bringing this piece of history back to its place of origin. The above photo shows Breton and Trotsky in conversation, with Kahlo's head poking up in the background.