When Eric Fischl reminisces about 80's New York what does he think about? It was, he says, "a wonderful time. Wonderfully ambitious. Wonderfully competitive. Glamorously playful. Physically dangerous. Naïve. And a total blur. It felt like cultural revolution was in the air and I was a part of it."
Fischl was part of a loose group tagged the Neo-Realists, and ran with the likes of Julian Schnabel, Ross Bleckner, and David Salle.
Today, he is a globally-renowned figurative painter with works in the permanent collections of the Metropolitan Museum of Art, the Whitney Museum, MoMA, and MoCA Los Angeles among many other institutions.
His career and contribution to art is honored this month by the New York Academy of Art where he is a board member and holds the position of Senior Critic. (Fischl is also a Fellow at the American Academy of Arts and Letters and the American Academy of Arts and Science). To commemorate his honor, Fischl, created Mix and Match, which is exclusively available on Artspace. This is a n extremely limited edition of just 50 full color digital archival prints on Epson Ultra Presentation Matte paper. You can find out more here.
Mix and Match depicts two women in mismatched bikinis in a beach setting. In common with his best paintings, in which the body language and the very spaces between people are charged,  it raises more questions than even the closest examination can solve.
Roberta Smith, co-chief art critic of The New York Times, put it most succinctly when she observed: "Fischl at his best is a teller of nonstories, of passing thoughts, indefinable tensions and denouements too negligible to notice. They lurk just beyond the reach of the camera or the playwright, and are best magnified and prolonged by dint of being painted." On the eve of this limited edition launch we spoke to artist Eric Fischl.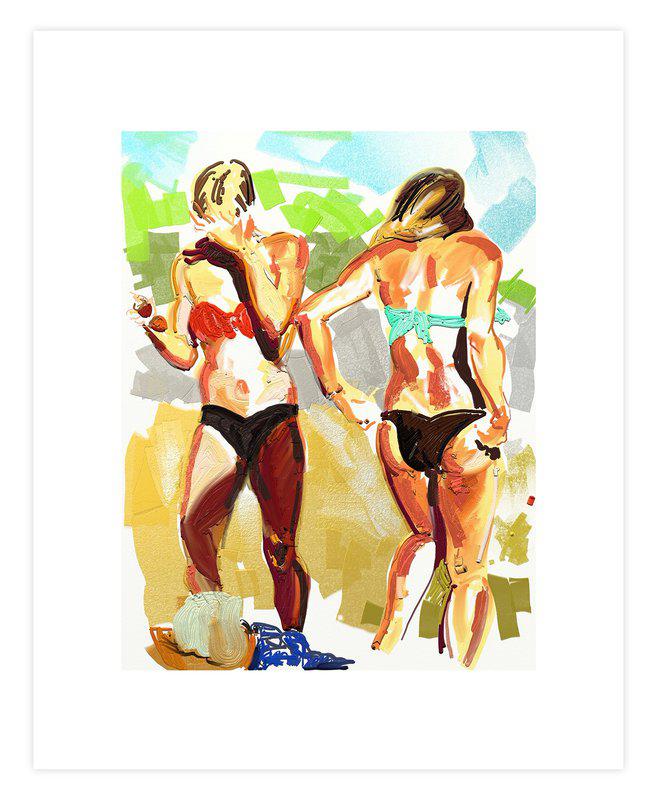 Eric Fischl, Mix and Match 2020
Can you explain a little of the thinking behind the title of this piece, Mix and Match? And why the use of red and green?
POSH (Port Out Starboard Home). Tongue in cheek nautical reference!

It is one of your more beguiling works
"I'm of two minds about art in times of trouble. As artists, our gift and our skill set is that we can organize feelings and emotions into shapes, colors, forms and images in such ways that they capture and embody what we are experiencing. This is why art is important at any time, but especially in times as complex and frightful as we are in now.

So there is a part of me that wants to creatively rush into battle against the dark forces that fuel our fear and anger. But there is another part of me that wants to soothe this agitation with images of tenderness, joy, humor and sun-filled beauty that can keep us connected to our hopes and our optimism rather than our fear and panic. I would say Mix and Match falls into that latter category."

And yet the positioning of heads and bodies suggests two beings together alone – which seems prescient
"Definitely was not anticipating social distancing as it relates to our nightmare pandemic but the questions you ask, the observations you make are along the same lines as mine.

"I am compelled to create work that opens up the questions. When I finish a work I am in the same place as the viewer. I am asking myself more or less the same questions. These questions lead us deeper into our memories and our feelings. This is what I ask of myself and this is what I ask of art."

Your paintings seem to have always depicted the reality of American life, how has that reality changed for you over the years?
"I would first like to make a small, but significant, correction. I have aspired to capture 'a' reality and it is a reality that is an aspect of a certain kind of American life.

"It is more about class; the middle class I grew up in. That class no longer exists in the same way that it had. When I grew up it was a transitional class, full of potential to move upward and out of it. It was a class that lived off images of false promise and misrepresentations of equality. Its delusions, disappointments and materialism were the most fertile soil for me and my generation that grew up in them."

Tell us about the Eric Fischl Scholarship Fund for the New York Academy of Art to which you will donate proceeds from this print?
"I have set up a program/relationship between the NYAA and my boarding school, West Nottingham Academy, whereby three recent NYAA graduates are selected each year to do 10-week visiting artist/teaching residencies at West Nottingham Academy. They receive a stipend, room and board, and a studio. I also do another internship/ residency with NYAA graduates and the Fogo Island Arts program in Newfoundland, Canada."

We'll be running the entire interview with Eric Fischl over the course of this week. You can find out more about Mix and Match - a limited edition of just 50 full color digital archival prints on Epson Ultra Presentation Matte paper - only available on Artspace, here.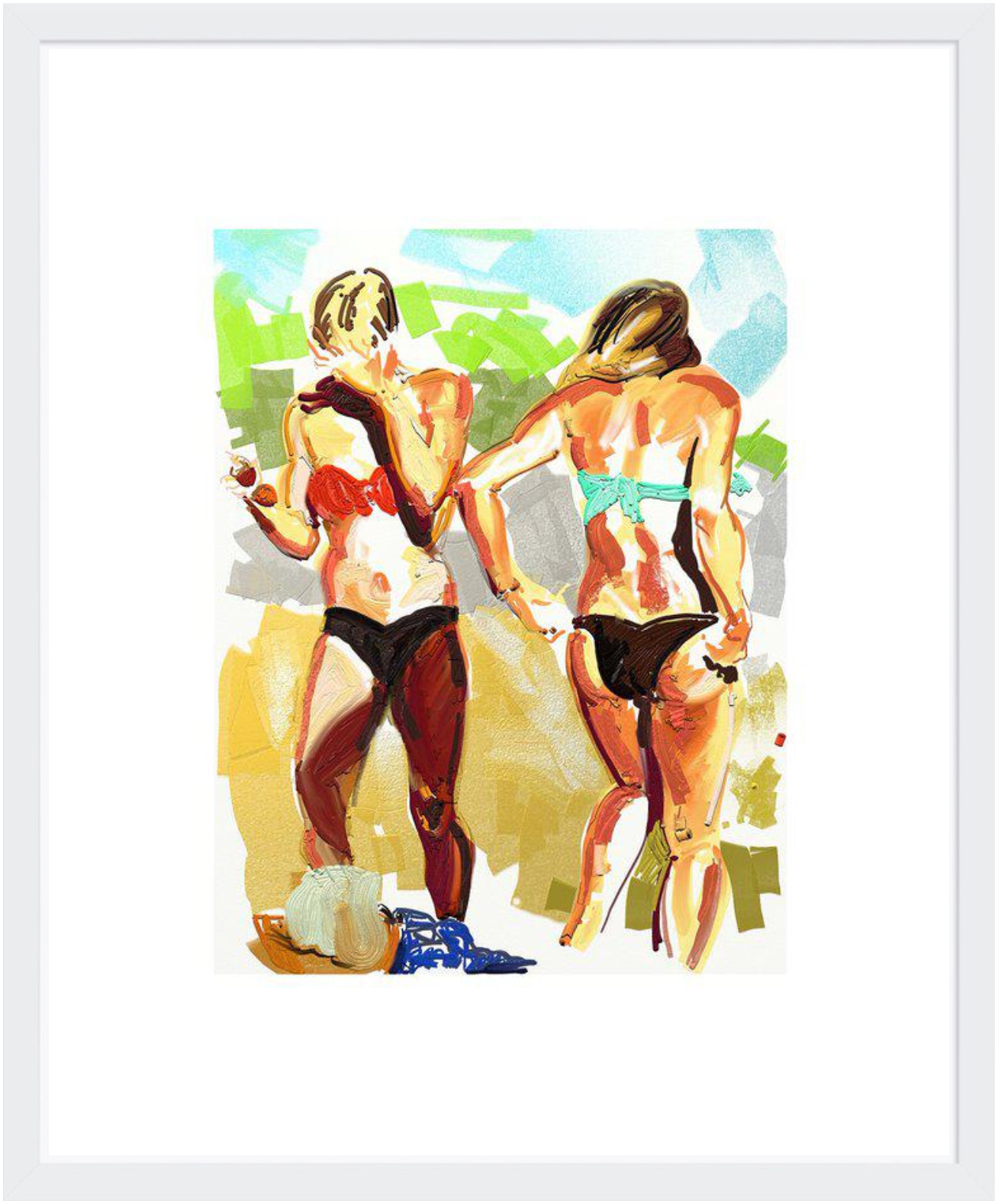 The framed edition of  Eric Fischl, Mix and Match 2020
[ericfischl-module]
RELATED STORIES
Jonas Wood on his new monograph and Limited Edition Print
Monica Bonvicini on Being a Great Woman Artist