Los Angeles-based artists Jonas Wood has established himself as the reigning prince of contemporary painting, using playful geometrics and lush, vibrant color to excavate traces of memory, psychological charge, and domestic selfhood. New York Times critic Roberta Smith has observed that "his works negotiate an uneasy truce among the abstract, the representational, the photographic and the just plain weird," a fun, indulgent intersection where explosive patterns and contemplative set pieces provide a veritable jungle gym for the viewer's eye.
Wood, who is represented by Gagosian, takes a planar approach to everyday interiors, teasing out the off-kilter moments endemic to otherwise comfortable mundanity. His aesthetic updates the affectual mathematics of Matisse and the spatial story-telling of Heidkamp with panache, but it's his penchant for locating the emotional tug of home, real or imagined, that crackles at the core of each piece.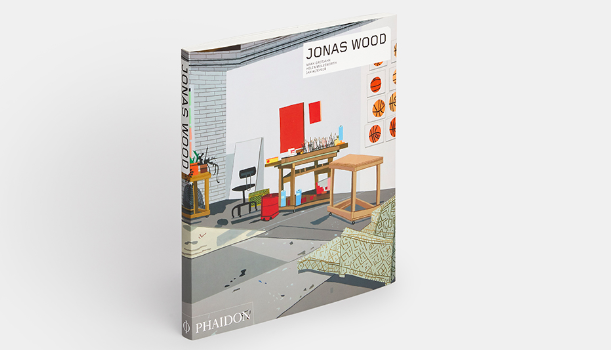 Phaidon's Jonas Wood is available on Artspace for $49

Wood's ascent to art stardom has included a spate of critically acclaimed solo shows in the world's most prestigious outlets, including a recent turn at the Dallas Museum of Art, and his work has been collected by the Guggenheim and Hammer Museums. Phaidon just released its first monograph for painter as part of its acclaimed Contemporary Artists series that will feature a panoply of paintings, drawings, and sources of artistic inspiration interspersed with contributions from the likes of curator and writer Helen Molesworth and Metropolitan Museum of Art curator Ian Alteveer. Also included is a conversation between Wood and fellow L.A.-based artist Mark Grotjahn .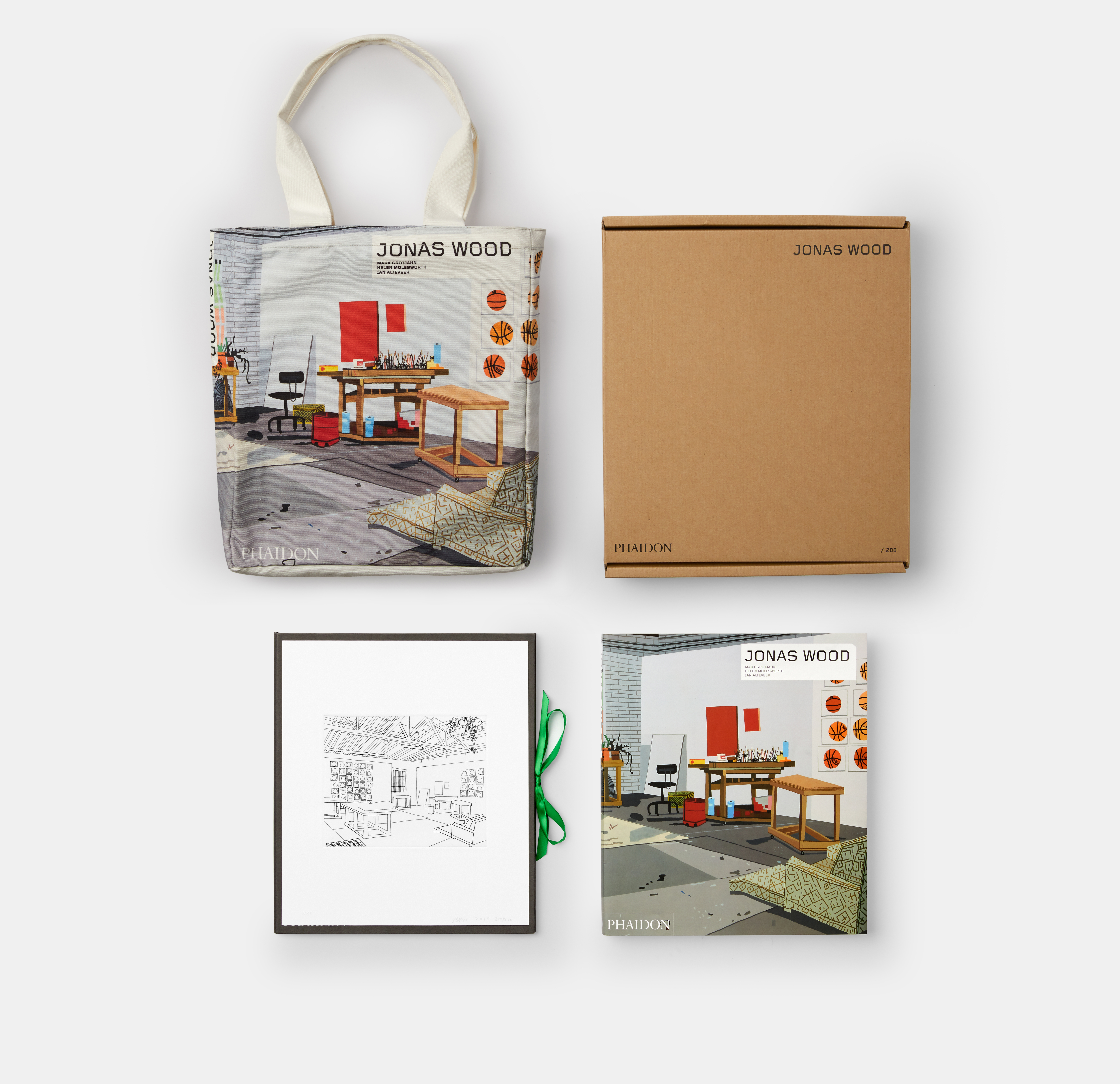 This special limited edition is presented in a bespoke portfolio case, numbered mailer box and silkscreened tote bag alongside a hardcover edition of Phaidon's Jonas Wood monograph.
To accompany the monograph, Wood has worked closely with Artspace to produce a limited-edition print, entitled Bball Studio , 2019 , which comes inside a portfolio, complete with a silkscreened tote bag (no stranger to fashion, Wood has lent his designs to Louis Vuitton in the past), and a hardcover copy of the monograph. The etching, which was printed in-house by Jonas Wood's studio, comes from a small run of 200, and is available exclusively through Artspace .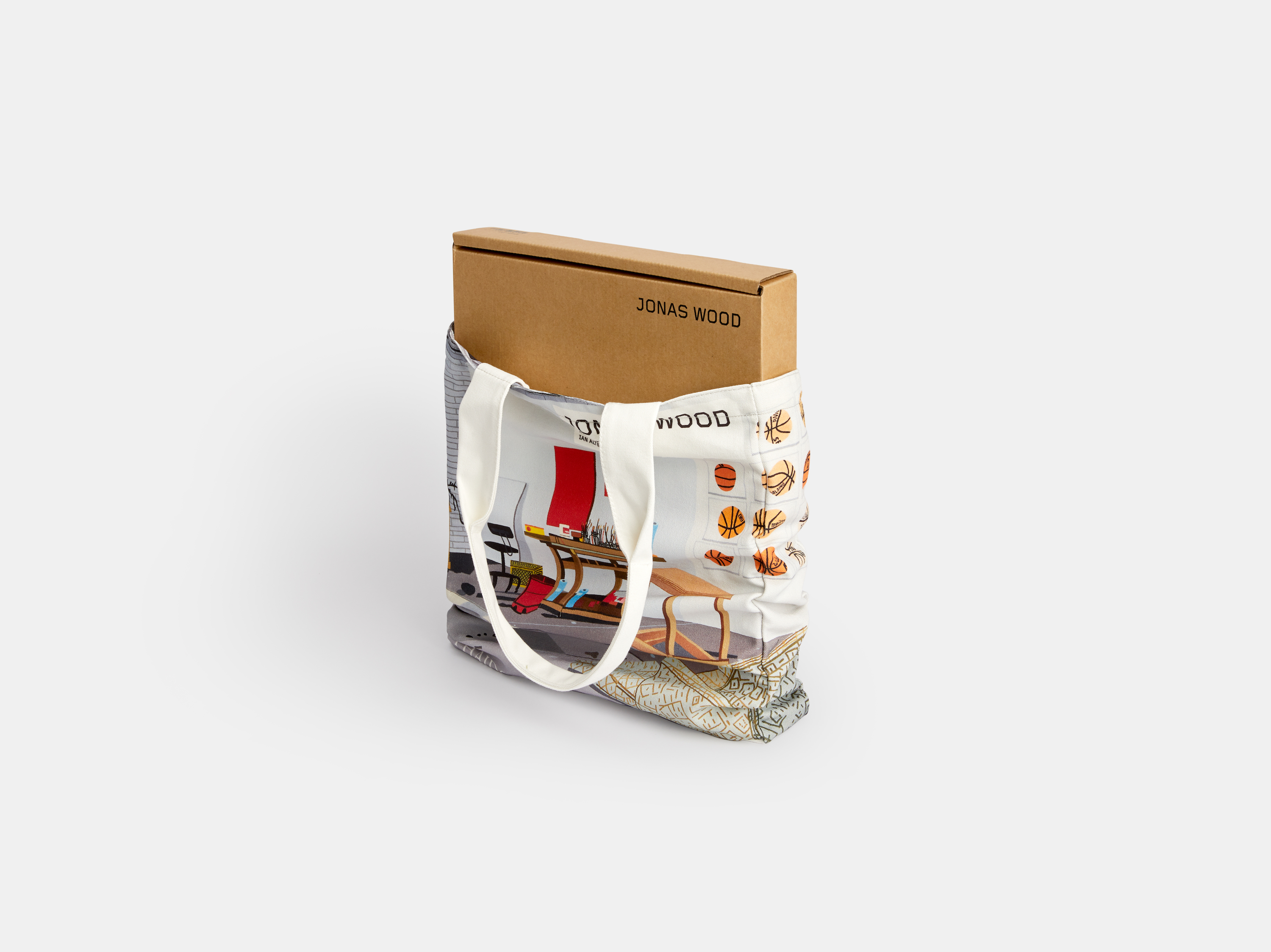 Bball Studio , packaged with tote bag.
Artspace editor-in-chief Loney Abrams spoke with Jonas Wood to discuss the book, his studio practice, and his fascination with print-making.
You've made a few books before. How is Phaidon's Jonas Wood different from the rest?
This one is a lot more in depth about my practice: where I make work, how I make work, and the preparatory stuff that happens first. Usually the books are just pictures of my paintings. The Phaidon book has that too—it actually has way, way more work than has ever been in one publication; it's comprehensive. But it also has a lot of visuals and images of the interiors of my spaces and my studio process.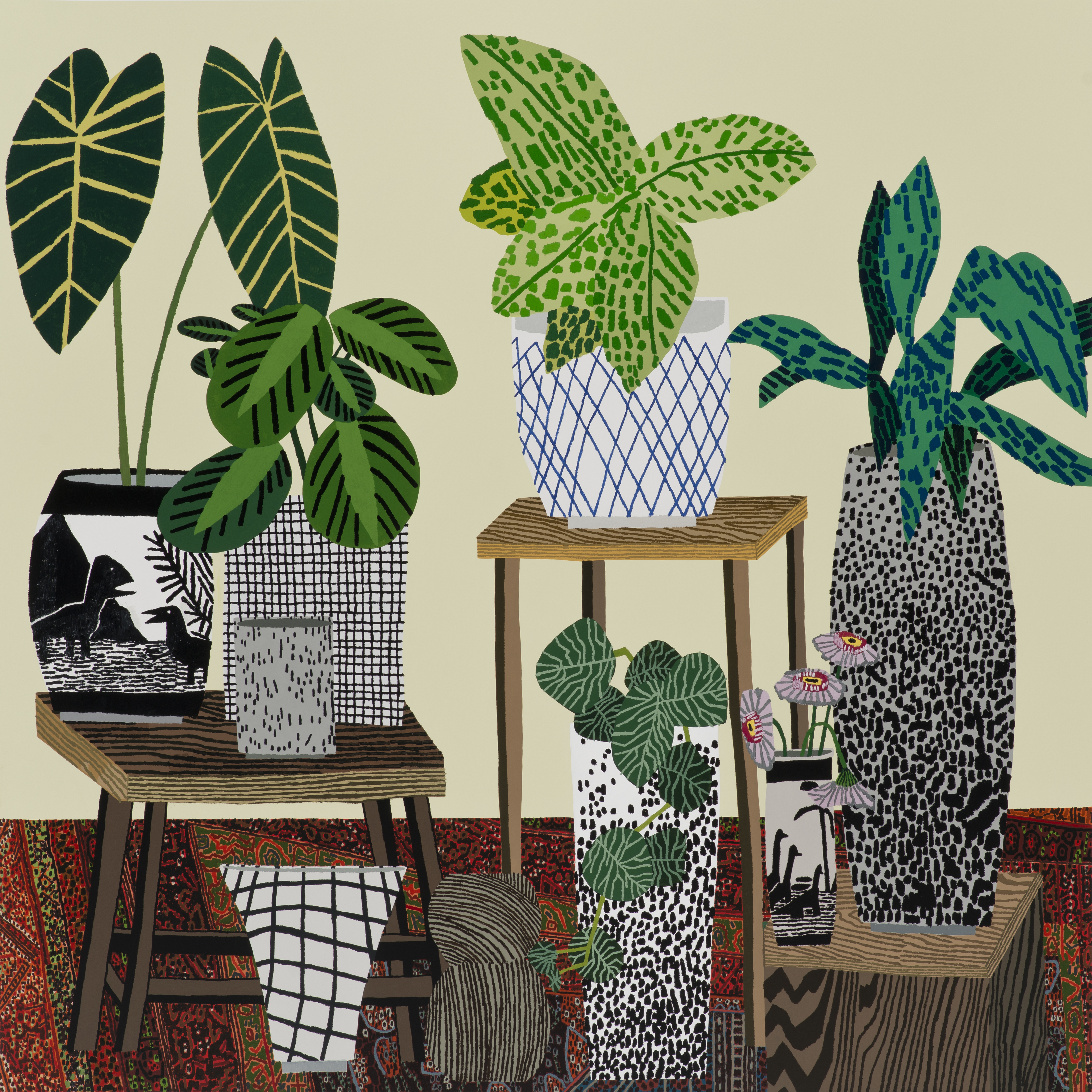 Red Rug Still Life , 2015, oil and acrylic on canvas, 165 x 165 cm, Picture credit: artwork (c) Jonas Wood via Phaidon
What is the value in that? Why is it important to show your process and your studio space?
There's so much more to art than just what it ends up aesthetically looking like or feeling like. There's a whole production process behind it. In my case, I have a pretty elaborate production process. And I think that there's a lot of value in seeing things from a different perspective. I was introduced to these books [Phaidon's Contemporary Artists Series] with monographs by Peter Doig and Franz West , which were so revealing visually. And then there's the writings. In mine there are some really interesting texts by great writers, and also an interview.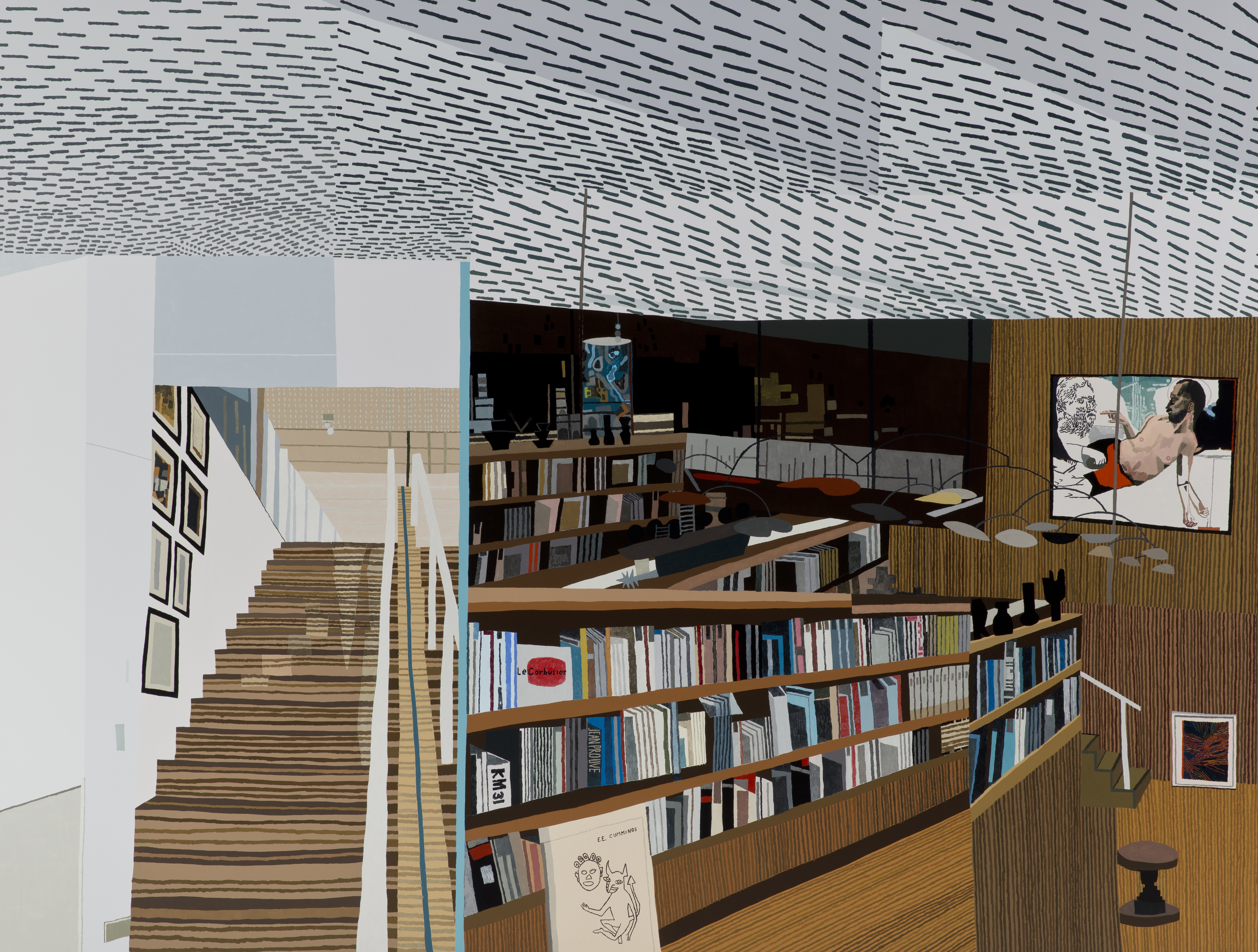 Ovitzs's Library , 2013, oil and acrylic on canvas, 254 x 335 cm. Picture credit: artwork (c) Jonas Wood

I really enjoyed the interview, and I appreciate how you candidly spoke about what it was like after your first big show, when you took the money you made and spent it on a massive studio that was many times more expensive than the one you initially had. That required a big leap of faith; you had to really bet on yourself in that moment.
I thought I'd get out of grad school and find a job teaching. Even when I was in grad school I never really thought about showing my work and selling it. Once I graduated and moved to Los Angeles, I saw the ecosystem and was like, "Oh, I think I could show my work and make money." So after my first big show, I took the money to rent this big studio and gambled; I needed to just keep propelling myself forward. But I definitely never anticipated this kind of exposure or interest.
Do you have a favorite part of the book? Is there something in particular you really love?
Yeah. I really like the picture of my kids. I have to say, it's pretty humbling to see yourself from a distance like this. But a lot of things stood out to me, like how much stuff I've made that I still like. I think I'm very critical in the moment and have a hard time liking the stuff that I'm doing at the time I'm doing it. So it's nice to look back and see some of the older work, like some of the really simple plant paintings, and some of the really complicated interiors. It has changed but hasn't really changed. I'm still expanding. There are always new things I want to paint about, but there's a lot I still keep coming back to.
It must be nostalgic to look back at some of this stuff. It's like flipping through old photo albums in your parents' basement.
Yeah, it's very nostalgic. I'm trying to appreciate things like that, because I think I live in a way that's very much in the moment. Painting is super rewarding, but I'm also always thinking: Could this be better? Could I push this further? Am I backing down? This book allows me to look at myself.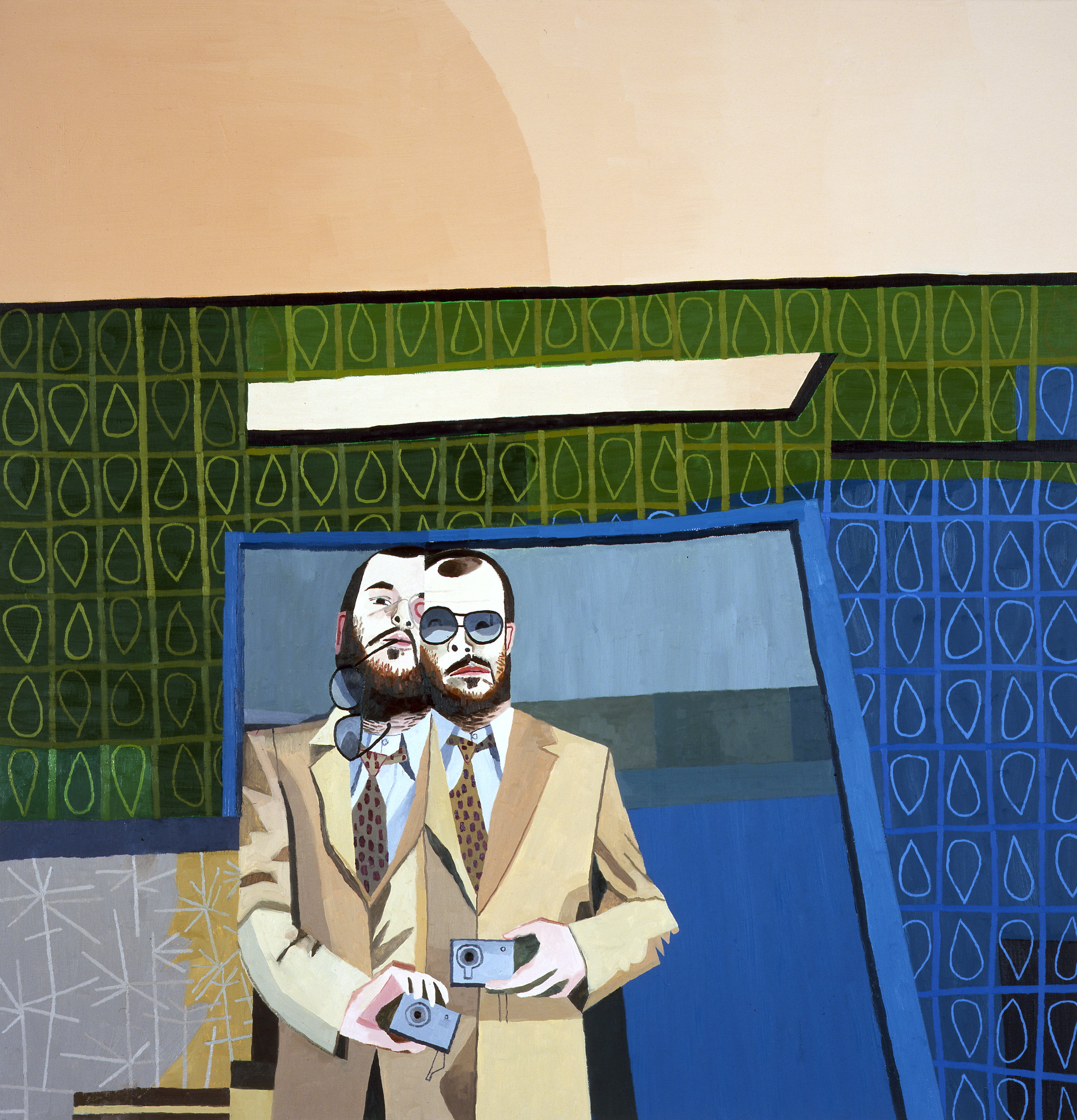 Untitled (double self portrait), 2007, oil on linen, 150 x 145 cm. Picture credit: artwork (c) Jonas Wood
In conjunction with the book, you've been working with Artspace to produce a limited-edition etching that depicts an interior. What can you tell me about this image?
This is from the studio that we discussed earlier: the big studio I rented in 2007 after my first show in New York. This is where I started making my first floating basketballs. I got really obsessed with making drawings of isolated basketballs taken from images of basketball players in action. I began pinning them up on the wall and looking at them in grids and eventually I started making paintings of them.
I was interested in using a painting of this first studio for the cover of the book. When we were thinking about what to do for the limited edition, I went back and looked through my drawings and found the original drawing I had used as a tracing to make the painting—the painting that eventually became the cover. It represented what I think this book is about: my process. Printmaking is a big part of my process, drawing is a big part of my process, and tracing and getting the basic shapes of things before I make the painting is a big part of my process. That's exactly what this etching is. It's the blue print of the painting. It's called Bball Studio . So, it wraps up all of these things: nostalgia of this old studio, and this great painting that we used for the cover, and the original drawing, changed back into a print—eight years later—to raise money for charity.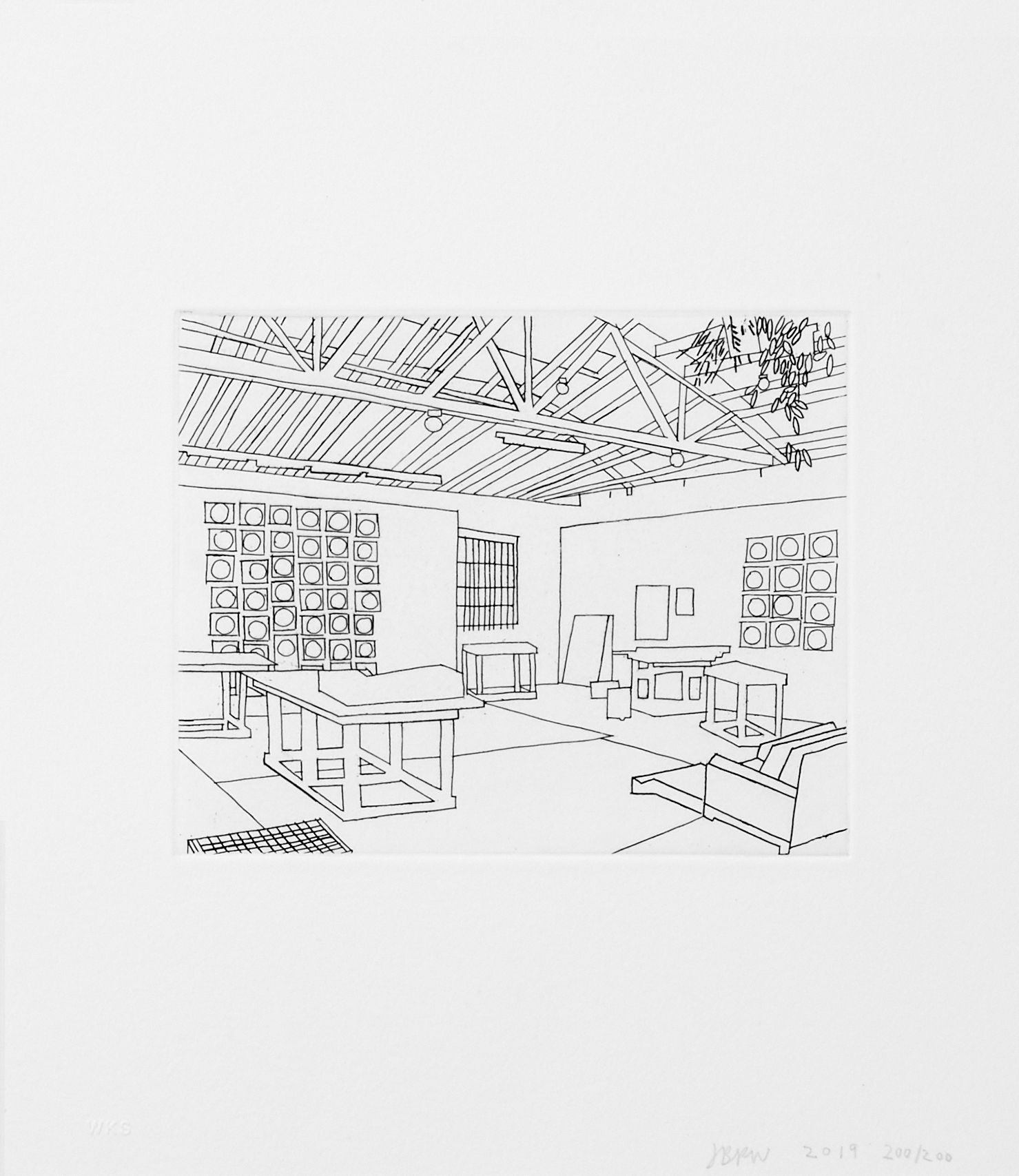 Bball Studio , 2019, Etching on white Rives BFK paper, signed, paper size: 11" x 9.5", image size: 5" x 6.25" via Artspace
That's fascinating. I didn't realize it was all connected in those ways, and that it was of that studio.
Yeah, that's the studio I had for ten years. I rented it from Ed Ruscha .
If the print were to be from any other artist, or in any other context, the basketball drawings you can see in a grid on the wall could be absolutely anything. They're just circles in squares. But knowing that this print is by Jonas Wood, you immediately recognize these forms as basketballs—which is interesting!
What does this space really mean to you? Are there any particular experiences or moments that are especially resonant?
Everything kind of happened in that space. When I first got it, I didn't have anyone working for me. In that space, I went from a small studio painter to someone who works with a team of assistants. That's just one thing, in terms of process, that I could say happened in that studio over time. I started playing poker a lot in that studio, and I had a regularly hosted poker art game for the last ten years. I've made a lot of shows in that space. I made a lot of good work in there. That's where my wife and I started sharing a big compound together. I think that's so cool. We kind of raised our kids there. During the first six years of their life, they spent a lot of time there. And they remember it.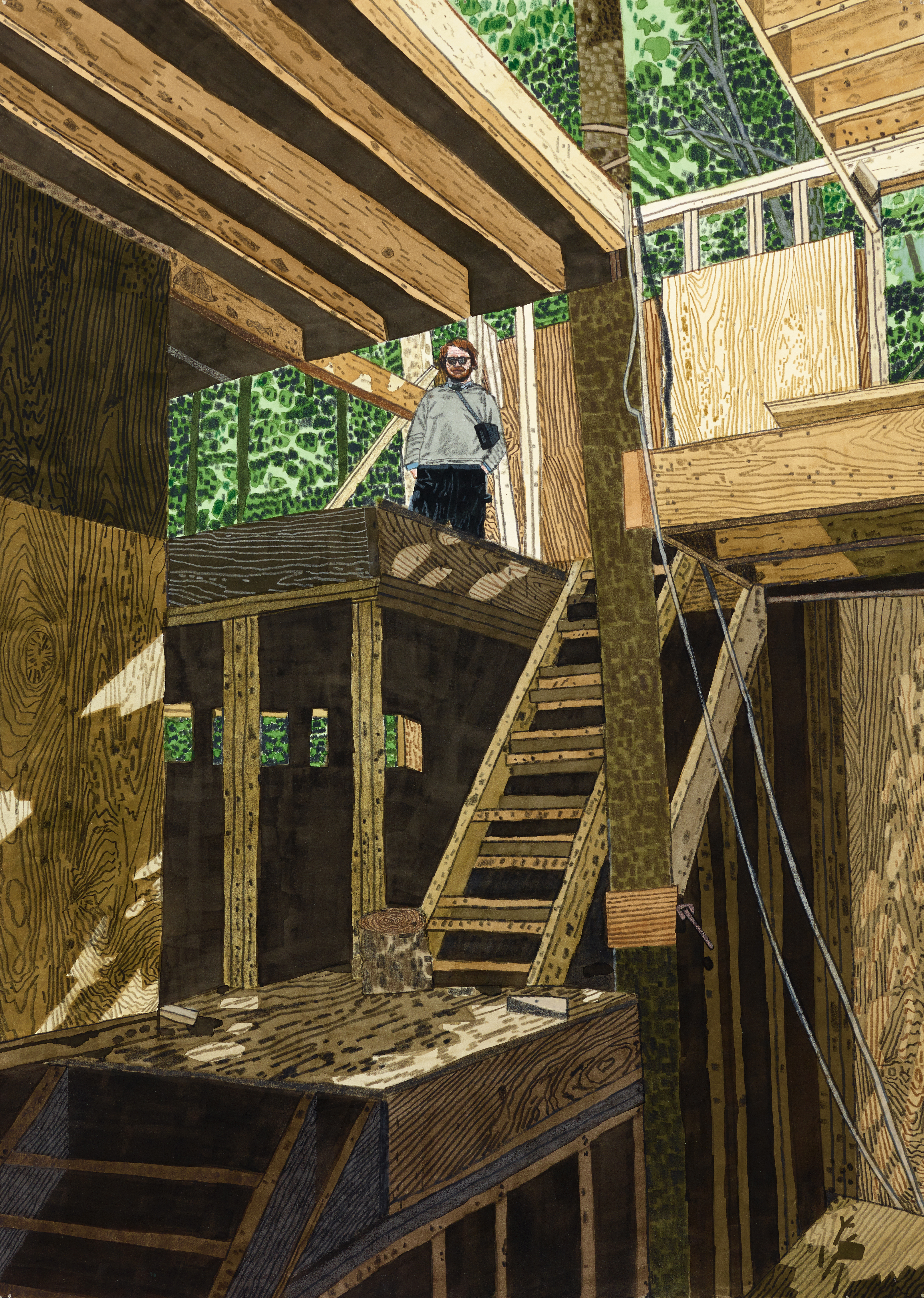 Young Jeremy, 1966 , 2019, gouache, ink, and colored pencil on paper, 66 x 46 cm. Picture credit: artwork (c) Jonas Wood
You were saying this print really was a preparatory tracing of the source image for a painting. Do you often produce prints from that kind of source?
Yeah. I recently moved the etching press into my studio and I've been making a lot of etchings based on older drawings and paintings I'm currently making. I work on printmaking and paintings concurrently.
I didn't realize that you printed the edition in house. That's amazing!
I'm pretty heavy into printmaking. The etchings wree made in house, but I also have been collaborating with some great print houses for many years.
Etching requires a pretty specialized skill set. Is that something you learned how to do in school?
No, it was brought to me from Jacob Samuel who is a master printmaker. Edition Jacob Samuel was the name of his press. He's a good friend and my printing guru at the studio. He helps me make my prints, and his former assistant, Samuel Gessow, has been working with me since 2017. But yes, it is a very specialized skill and it's very old-school; that's why I really like it. Most of the time I just make prints for myself, not for anyone else. I like just making editions in the studio—not to even release... just to make stuff.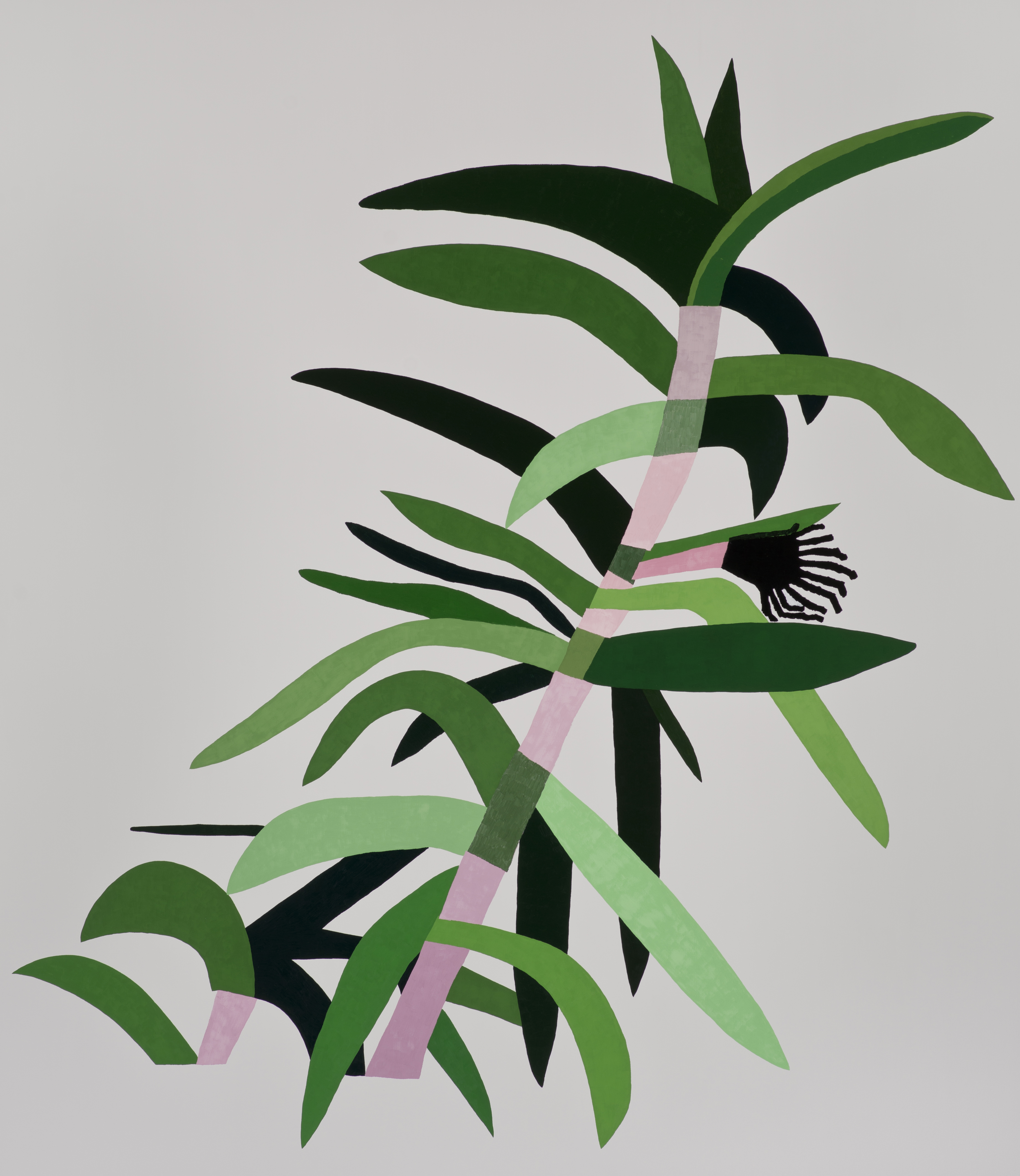 Clipping B3 , 2013, oil and acrylic on canvas, 254 x 221 cm. Picture credit: artwork (c) Jonas Wood
Is there a reason you decided not to use any color in this edition?
Yeah, because I wanted to recreate the source image, and part of the vision for the project was to show how I get to where I get to. It starts out very simply. So that was kind of the point. It's almost like a blueprint, or a skeletal part of my studio practice, but it's also a drawing.
The print comes inside a portfolio, which is packaged together with a hardcover book, inside a specially designed cardboard box, which fits perfectly inside of a beautiful tote bag, which you designed to match the cover of the book. The whole package is like a Russian doll. You peel back the layers, and as you do, you get closer and closer to the center, which is the root source: this print that is a preparatory tracing of your studio. Beautiful.
Exactly. That's what it is. And it's for charity. We just wanted to make it have as many cool things as possible. The book is totally unique inside; it's hard cover. All the money is going to Creative Growth, which is a really cool program. My studio and I worked with Phaidon and Artspace really closely to design to the whole thing.
It turned out well.
Thanks you! I'm really really happy with it, and I can't wait to promote it. It's a hardcover version of the book, an edition of 200 etchings with a portfolio, and a tote bag. You get a lot of swag for your buck. I just like making stuff. I like making prints. It's fun.
[wood-module]