Having worked with artists such as Martin Creed, Rob Pruitt, and Rirkrit Tiravanija at Gavin Brown's Enterprise for more than a decade, the Independent New York director Laura Mitterrand knows something about pulling together challenging and unconventional installations—excellent training for the booth-less Independent, which thinks of itself as more of a very brief and eclectic group show than a fair.
The native Parisian (who has been in New York since 2001) has been at the helm of Independent since its first edition in 2010, working closely with co-director Jayne Drost, founder Elizabeth Dee, and creative director Matthew Higgs to shape a compelling and tightly curated alternative to the mega-fairs of Armory Week. The clubby but collegial model has been so successful that the fair launched a two-weekend November edition, Independent Projects, in 2014 and is expanding to Brussels this April.
This week, it's also inaugurating a new New York home, Spring Studios in Tribeca, after six years in Chelsea at 548 West 22nd Street (once the home of the Dia Foundation). The move was occasioned by the inevitabilities of New York real estate (the building was sold and will become yet another luxury condo project), but it may well prove to be a boon to Independent; Spring Studios is at the crossroads of several developing gallery districts and offers a more flexible, multimedia-friendly floor plan.
In an interview with Artspace's Karen Rosenberg, Mitterrand discussed the process of taking Independent on the road, the trend of gallery collaborations outside the fair context, and what she's learned from working with Gavin Brown.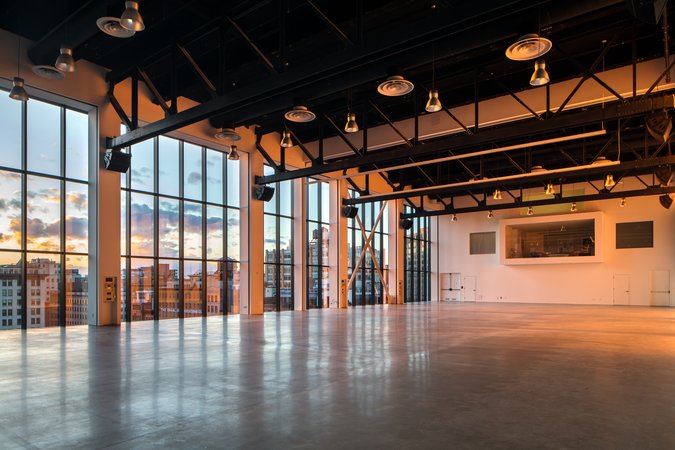 The interior of Spring Studios. Photo: Evan Joseph
For years, Independent has been a pioneer of the curatorially led art fair model in the former Dia building in Chelsea—presenting solo or otherwise tightly conceived displays of art with an emphasis on substance over flash. Now you are moving to new digs in Tribeca, where the change in layout and neighborhood offer an opportunity to go back to the drawing board. What are some things about the show that you are adamant about keeping, and what are some areas that you singled out for rethinking in the new venue?
I'm glad you are bringing this up. The new space is vastly different from the former Dia. After seven editions there, we were up for a new challenge. The same architect (Jonathan Caplan, from Project Space) who designed the last two Independents was hired to design the layout in this new location. We all agreed pretty promptly on a layout that felt modulable while being coherent when considered as a whole. Our hope is that visitors and galleries will feel the novelty of the space and still get a sense of what Independent has stood for since the beginning, which is, as you said, tightly conceived presentations, with an open plan layout and a sense of congeniality throughout the space.
What do you think are the advantages of the new location? What are the disadvantages?
When you see the space I think it will be pretty obvious what the advantages are—it's absolutely gorgeous! There are huge bay windows overlooking the Hudson River, 20-foot ceilings, and 20,000 square feet of column-free floor space on two levels. The disadvantages are mainly operational, and very boring for anyone to have to listen to. It's a new space with new rules.
The new space has a connection to the fashion industry—is that something you are working with, playing up or playing down?
That interconnection hasn't come up so far. Because Spring Studios opened less than a year ago, most visitors to Independent will have never set foot in there before.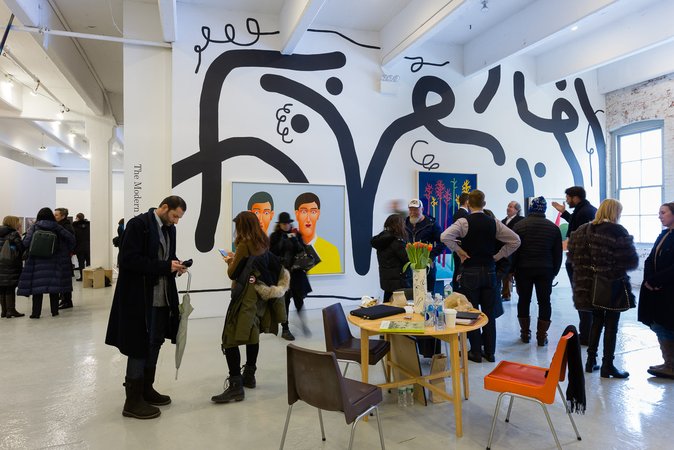 Nicolas Party at The Modern Institute, at Independent New York 2015. Courtesy of Independent, New York. Photo: Etienne Frossard
GBE was in this neighborhood (more or less) for a long time, as something of an outlier. What do you make of the current state of the area, as an art neighborhood, and what do you think will happen to it in the next few years?
Well, GBE is no longer in this area. GBE is in on the Lower East Side and, very soon, will be in Harlem. Spring Studios is located at the cross between Soho, Tribeca, and the West Village, which makes it very convenient and accessible. We are incredibly lucky that way. That said, we see a flux of galleries leaving these areas, not the other way around… 
What have you learned from mounting shows at GBE that has inspired you at Independent?
Installing a fair is surprisingly similar to mounting a show in a gallery. You need to be flexible and constantly revise the plans and needs of the installation, up to the very last day, and you definitely need to have diplomatic skills, which I'm still working on. I think any gallerist would agree that the days of the installation of a fair are the best part of it. That's where dealers can truly unleash their creativity and problem solving skills. It's fast-paced, only two days, but every decision matters—every inch is essential.
When shows take place in a gallery the artist is mainly in charge. In a fair, most of the time, the gallerist is the one fully in charge. This is a big difference. Gavin puts a lot of effort into his art fair booths—he wants them to stand out but, mainly, he wants them to express his identity, which is the link between the artists he shows. That makes perfect sense to me, and I think I learned a lot from that approach and have invested this lesson in Independent.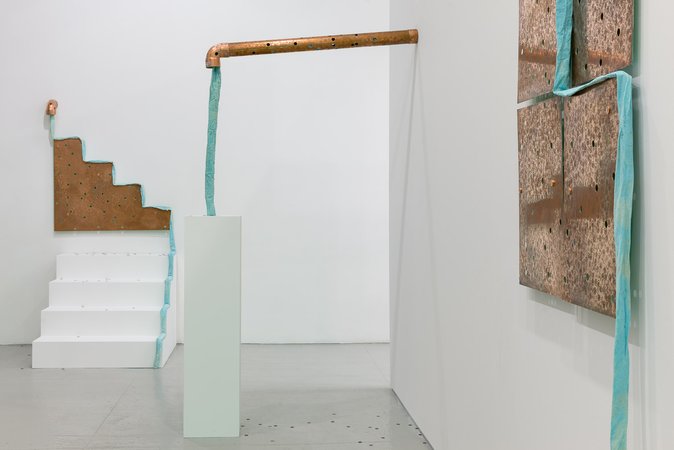 Jory Rabinovitz at Martos Gallery, Independent, New York, 2015. Courtesy of Independent, New York. Photo: Etienne Frossard
What do you think are some of the most interesting new curatorial trends?
One of the developing curatorial trends that I find particularly interesting and inspiring is the growing collaboration between galleries, especially on an international level. This makes a lot of sense. Galleries are no longer a brick and mortar business—they are closer to cultural agencies, and countries and boundaries are no longer as relevant. Art fairs are one way to have access to an international audience, but four days in a city is not long enough to truly develop relationships.
A good example is CondoComplex in London, which started this January. As part of this collaborative multi-venue show, Société from Berlin and Antenna Space from Shanghai will be collaborating with Project Native Informant in their space and Truth & Consequences from Geneva, High Art from Paris, and Gregor Staiger from Zurich will all be hosted by Supplement.
As a matter of fact, Independent is doing something similar with Independent Régence in Brussels, a permanent exhibition space where we invite galleries to organize shows either on their own or in collaboration with colleagues. Our first show in September was John Stezaker, organized by The Approach.
Just off the top of your head, can you describe a couple of the most pivotal or memorable displays from the fair over the years—the ones that most define what Independent is about?
Of course! What's really fantastic is seeing the galleries, the artists, the work evolve over the years. When we started in 2010 a lot of the galleries were still super-young, and the works they were showing were completely groundbreaking at the time. Now you see these same works in museum shows and foundations—they are still groundbreaking, but they are now part of the landscape of what we know we should look at.
In 2010 Isabella Bortolozzi showed Carol Rama, just one gorgeous piece. I didn't know Carol Rama at the time. Not many people did. This, to me, was a pivotal moment. Another was when Feature joined Independent in 2011. I think we all felt we must have done something right for Hudson to want to be part of Independent—as you know, Feature did a very small amount of fairs, and never any in New York. In 2011 or 2012 Fergus McCaffrey showed a selection of Jiro Takamatsu drawings that I still think about. And for Independent Projects in 2014, Haroon Mirza set up a room with a sound installation for Lisson Gallery. It drove all the neighboring galleries crazy, but I have to admit it was phenomenal!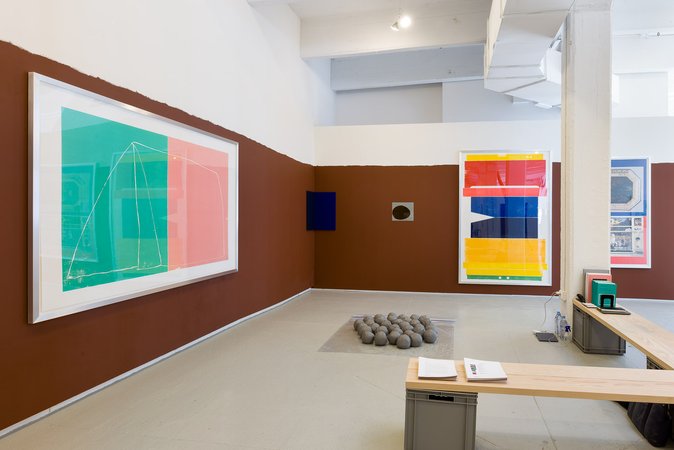 Andrea Büttner at David Kordansky Gallery, Independent, New York, 2015. Courtesy of Independent, New York. Photo: Etienne Frossard
What does a gallery want from one of these fairs (besides sales, of course)?
They want their artists to stand out. If you take the Paris gallery gb agency, for example, a fair for them is the opportunity to talk with the public, address each work, and make the connections between the different pieces presented. They are on site to educate and share their passion.
What does an artist want?
Maybe 20 years ago there was one good answer to this question. Today, there are as many answers as there are artists! When I first started working in galleries artists didn't want anything to do with art fairs, and some still don't. But that is now a fading trend. Artists and galleries have such a tight relationship that artists can't deny the importance of art fairs, and what that means to their dealers.
In my experience, what they want is transparency. They don't want to see something they made four years ago, that didn't sell, that is not representative of what they are doing at present, dug out and stuck on a wall. Artists want to either make work for the fair, having this context clearly in mind, or they want to have control over how it will be shown. That's quite understandable, isn't it?
It seems like fairs and exhibitions are converging—there are big multi-gallery exhibitions like the one you mentioned, "CondoComplex," and Independent has experimented with a longer duration than the usual single-weekend art fair. What do you make of this phenomenon?
Independent Projects, in 2014, was exclusively solo presentation and lasted 10 days. The first 4 days were similar to any conventional art fair with dealers on-site, whereas the following week was closer to a large group exhibition with docents available but no dealers on-site. It was an experiment, and the feedback was very positive.
As you say, there's a need to experiment with new or at least different models of exhibitions and fairs. We can't eternally replicate a formula that's been in place since the 19th century for gallery shows and for at least 50 years for fairs. I hope we'll see more initiatives from galleries wanting to collaborate in ways that are beneficial to the artists and the public. I doubt the older models will disappear, and I wouldn't want them to. There's space for many different approaches.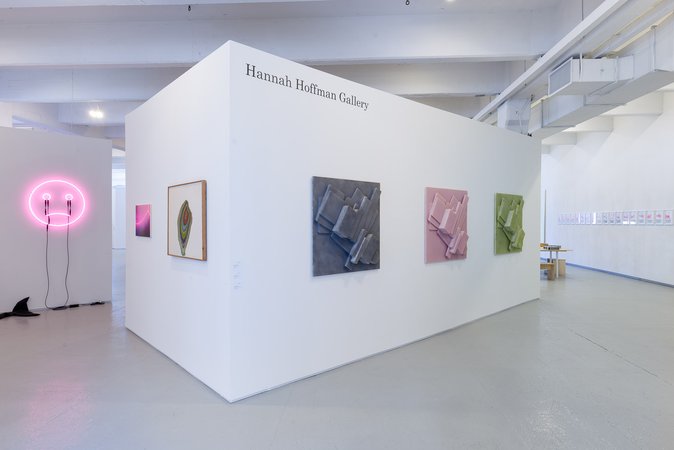 The booth of Hannah Hoffman Gallery at Independent New York, 2015. Courtesy of Independent, New York. Photo: Etienne Frossard
How do you think Independent has changed what we expect from art fairs?
I would like to think that Independent has demonstrated that it is possible to show in a fair without having to compromise the quality of the setting, and that visitors can enjoy a more personable introduction to the galleries.
Independent is inaugurating a Brussels edition this April. Why Brussels?
Elizabeth Dee, Matthew Higgs, and I had been flirting with the idea of installing Independent in another city for a little while already, but Brussels just happened to us. The city of Brussels got in touch with Elizabeth and offered to rent her a huge building in the center of the city (something no New Yorker could ever imagine). It all fell into place quickly, and felt absolutely natural—we talked about it for just 10 minutes before agreeing on it. Brussels and Belgium have some of the most excellent European collectors—they are very knowledgeable, curious and dedicated. That's not new; it's a tradition that comes from 17th century Flanders. What's new is the media attention the city is getting.  
Speaking of Matthew Higgs, Independent has been ahead of the curve in incorporating Outsider Art (thanks in part to the input as creative director). Can we expect this to continue? Are there other areas you're looking to highlight?
Yes, thanks to Matthew Independent has shown some very unique pieces over the years—Outsider Art indeed (at Delmes & Zander), but also early Japanese Conceptualism (Fergus McCaffrey) and many artists who had been forgotten too soon: Robert Moskowitz (at Kerry Schuss) or Lydia Okumura (at Broadway 1602), and historical material by Hans Arp (Michael Werner) and Julian Beck (Supportico Lopez). Our goal is to offer a current context for works that are often segregated in a more niche market or platform. In Brussels, Magnin-A will be showing contemporary African art, which I know very little about and will gladly learn from. 
What's next for Independent, after New York and Brussels this spring?
In November, Independent Projects will be devoted entirely to art by women. We already have a lot of galleries approaching us—it seems to have really triggered something interesting, and I think we'll see a balance of historical material mixed with younger artists. I'm very much looking forward to it.