Founded by philanthropists Eli and Edythe Broad in 2015, The Broad has quickly become one of Los Angeles's leading cultural institutions. The beautiful, 120,000-square-foot contemporary art museum (designed by Diller Scofidio + Renfro in collaboration with Gensler) houses the Broads' collection of over 2,000 works of post-war and contemporary art. Until now, items from The Broad's gift shop (simply called The Shop) were available only onsite at the museum. In its first online venture, The Broad has partnered with Artspace to offer objects designed in close collaboration with the Yayoi Kusama Studio exclusively for The Broad.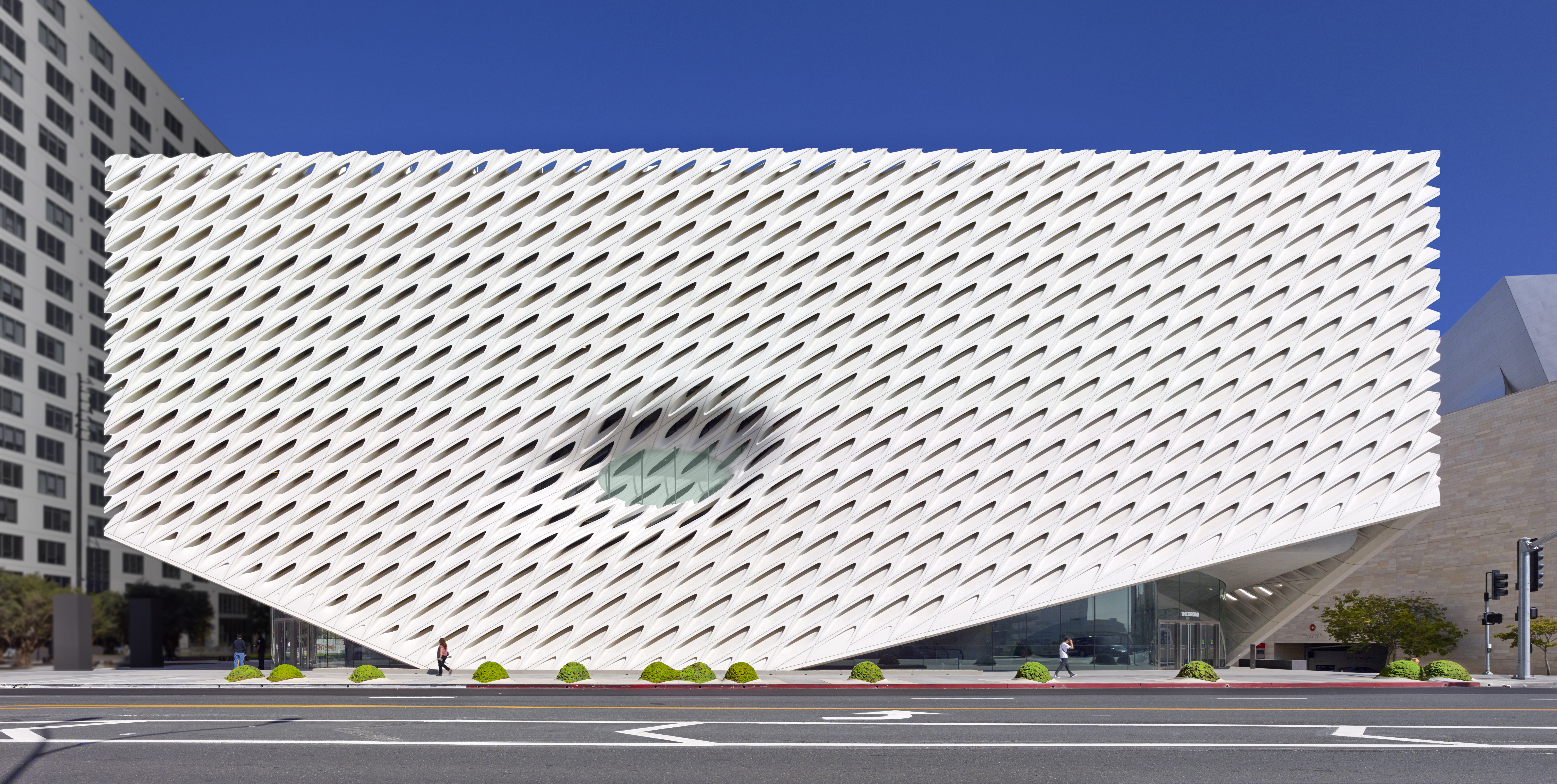 The Broad in Los Angeles, California. Photo: Benny Chan via The Broad.
Best known for her Infinity Mirror Rooms, immersive installations using mirrors, lights, and objects to provoke a sense of boundlessness and transcendence, Kusama established herself in the mid-'60s as a prominent artist in New York City. Since then, she has become recognized as one of the most influential and popular artists of the 20th century. Two Infinity Mirror Rooms, The Souls of Millions of Light Years Away (2013)and Longing for Eternity (2017) are on view at The Broad, and the former has inspired a collection of limited edition and exclusive items designed by The Broad in collaboration with the artist's studio. Kusama and her studio have worked with designers in a variety of disciplines to create visually arresting and materially exquisite objects that offer fans and collectors an accessible means of celebrating her work and ideas. This new suite of carefully crafted objects—from skate decks and scarves to porcelain cups and leather clutches—is no exception.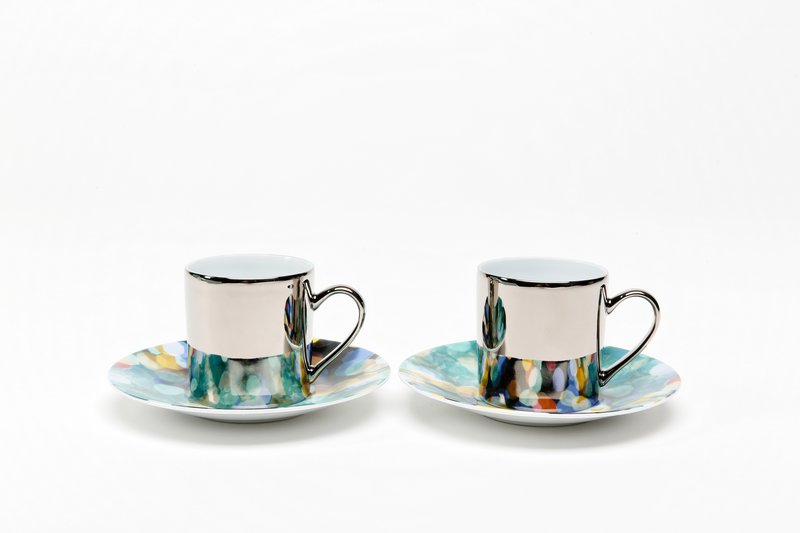 Bernardaud Infinity Espresso Set (2017) is available on Artspace for $175
Here, Artspace speaks with Rob Hudson, The Broad's director of retail operations, and Jeannine Guido, director of operations, about what it was like to work with Kusama and her studio to produce a collection of twenty pieces, and about what makes Kusama so beloved by audiences around the world.
What makes The Shop at The Broad different from other museum gift shops?
The Shop celebrates the artists in the Broad collection and emulates the open sensibility and welcoming feel that visitors have at the museum.  We have great artist's editions, including prints and limited edition objects that might be at home in a collector's residence, and we also have very approachable items for casual art lovers and children.  We like the mix and we are fortunate that so many artists in the collection, like Kusama, are open to their ideas and imagery extending into specially designed objects presented at The Shop at The Broad.
Can you talk about the curatorial/production process?
With the Yayoi Kusama: Infinity Mirrors special exhibition, we really wanted to celebrate her work because so many people love it, relate to it, and are excited by it. We reached out to her studio about working together on a collection of items. We were thrilled to work with her, and were just so honored that she took the time and the energy to work with us on this collection. We created about 20 pieces together. It was important to us that the price range was accessible for most people so that everyone was able to walk out the door with something that spoke to them about their experience in the exhibition.
In addition to the two Infinity Mirror Rooms that are part of The Broad's collection and that are currently on view, you also hosted "Yayoi Kusama: Infinity Mirrors," a traveling exhibition, which closed in January. How did The Broad's audience receive Kusama's work?
We had about 103,000 people attend the exhibition. We've had lines around the block since we opened in September 2015, but this was on a whole other level. The demand from the public to see this exhibition was incredible, and we had to extend hours to accommodate as many visitors as possible.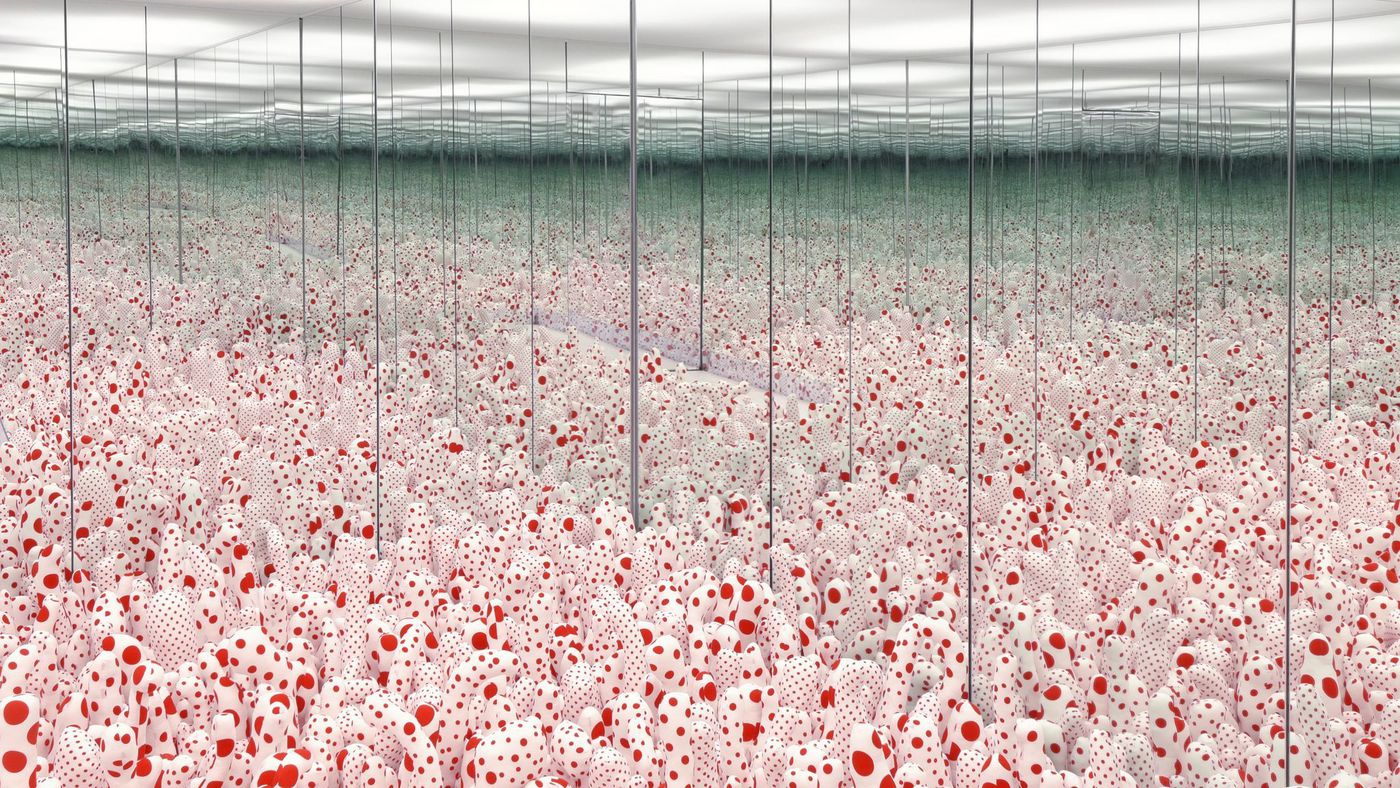 Yayoi Kusama, Infinity Mirror Room — Phalli's Field , 1965/2016.
What is it about Kusama's work that's so exciting to people, do you think?
There's so much about her work that's exciting! The thing that really is a draw is the experiential quality of her artworks. For example, we have had her work, Infinity Mirrored Room - The Souls of Millsions of Light Years Away, installed since we opened our doors September 20, 2015, and there are still lines to see it every single day. There is not a day when it's not booked to capactiy. I think a big reason is that it is such an experiential piece. You see yourself infinitely replicated inside the room, and the seemingly endless repetition creates this sense of peace and solitude. It's quite an experience. Social media has really contributed to the popularity of her work, with millions of people sharing their experiences with her artwork via Instagram and other social channels.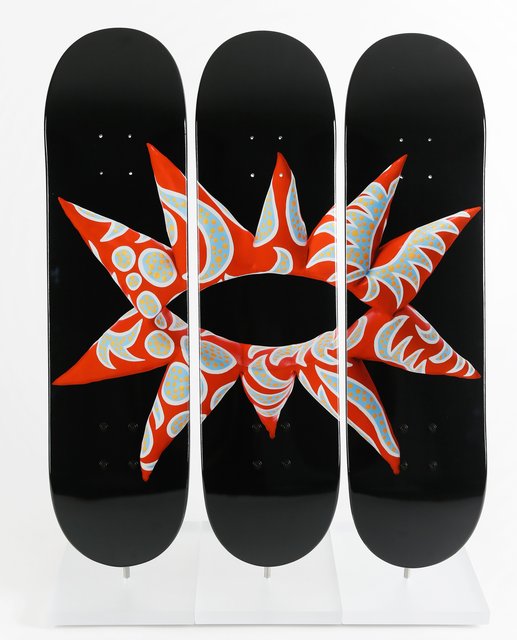 Flowering Heart Limited Edition Skateboards (Triptych) is available on Artspace for $595
Can you tell me about some of the pieces you developed for this collection?
Eight of the 20 or so pieces that we created will be highlighted in our launch with Artspace. We're so proud of each and every piece because it really was a labor of love. There were so many hours spent going through every single detail of the production and the execution. Everything was presented to Ms. Kusama to sign off on prior to the production process.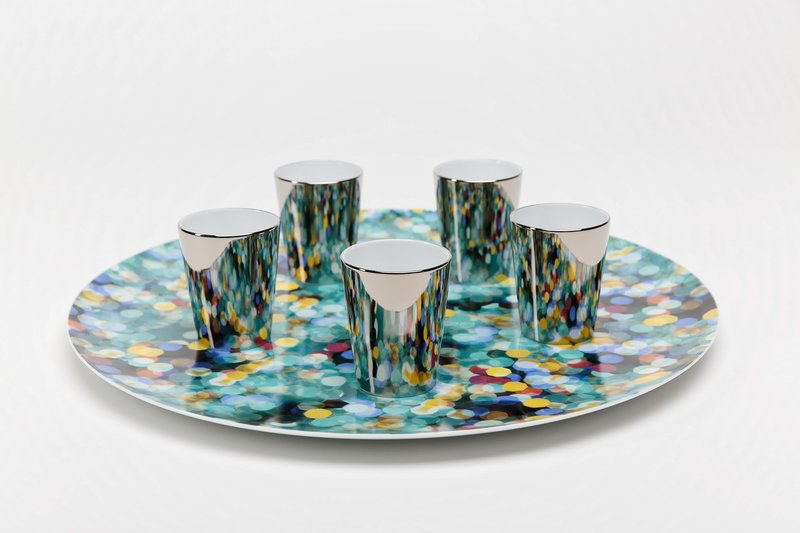 Bernardaud Infinity Platter with Five Loop Cups is available on Artspace for $495
Six of the eight works that will be available on Artspace are inspired by our Infinity Mirrored Room-The Souls of Millions of Light Years Away. We wanted to celebrate that particular work because it's been so meaningful to us and to our visitors since we opened. One of the pieces is a serving set consisting of a porcelain platter with mirrored loop cups that we created in collaboration with French porcelain design house Bernardaud. The platter is adorned with a detailed image of the artwork, and the cups are reflective, referencing the mirrored room. In addition, Bernardaud produced a beautiful porcelain candle holder and a set of mirrored espresso cups. We love the play between the mirrored cup reflecting the dotted pattern on the saucer. There's a sense of intimate reflection that one experiences with these pieces, almost a reimagining of being inside the artwork.