The skateboarding revival has been fully underway for the past decade. What was once a semi-legal, antisocial subculture – the world of drained swimming pools and LA delinquency captured in Glen E Friedman's early '80s photos – has gone fully mainstream.
Mass-market computer games, the ubiquity of Vans trainers (and their SoCal nostalgic stores), the elevation of skateboarding to an Olympic sport and the global roll out of the X-Games have all helped. More broadly the ongoing revival of the Gen X aesthetic has seen the cultural reference points of the '80s and early '90s revived and rediscovered by a new generation.
NPR reported last year that 'sales of skateboarding equipment in the U.S. had increased 118% by last June alone, compared with a year earlier.' According to Jeff Kendall, who skated professionally and is now president and Chief Marketing Officer of skateboard manufacturer NHS Inc, 'Skateboarding saw a growth in sales like it hadn't seen in years,' in 2021.

And with this cultural revival, it makes sense that artists have also explored the potential of the board as a canvas. While skaters have always customised, decorated and modified their decks, these works now available on Artspace prove that the skateboard can be a work of art in its own right. Albeit one which we'd recommend wall mounting, rather than dropping into a half pipe with…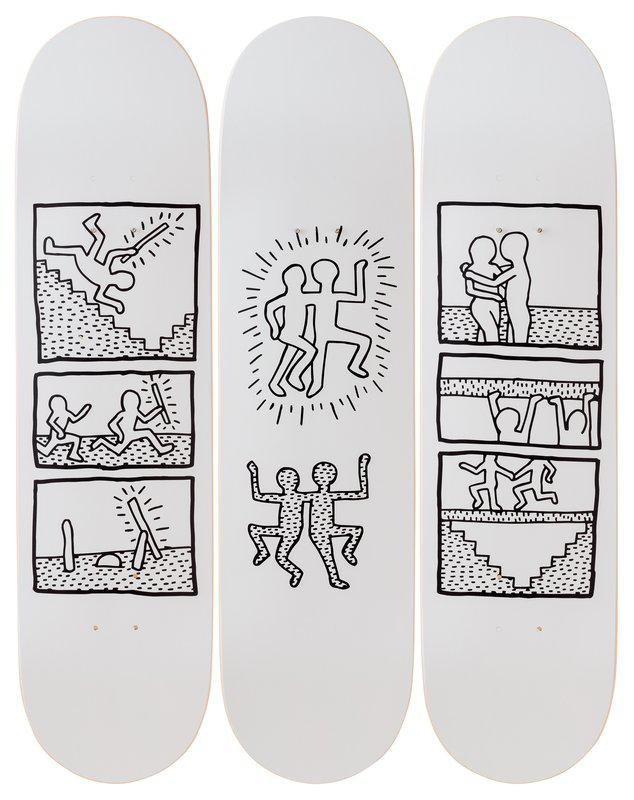 For someone who was originally an outsider artist – gay, confrontational, HIV+, forged in the illegal world of graffiti art and immersed in the cultural revolutions of hip hop and early house music – Keith Haring's work has obtained a remarkable degree of mainstream success in recent years. He was the study of an acclaimed BBC/PBS documentary in 2020, while his work was the study of a vast Tate retrospective in 2019 and his images have appeared on clothing from Uniqlo to Zara. But when one looks at the qualities of his work as represented here – a cartoonish, playful aspect, gender-neutral characters, the dynamism of comic strips and the immediacy and impact of Pop – his crossover appeal perhaps seems less surprising.
With so much of Haring's life played out adjacent to skate and street culture – from his tag-covered studio to his destroyed Nike Blazers and turned up cap – Haring's work is a natural fit with this board produced by The Skateroom in 7 ply Grade A Canadian Maple Wood. The three boards make up a triptych with a printed signature on recto and are produced in collaboration with the Keith Haring Foundation, which was founded before the artist's death to support organisations for children and AIDS while raising awareness of the artist's work.

JR - Migrants, Walking New York City, New York, USA, 2015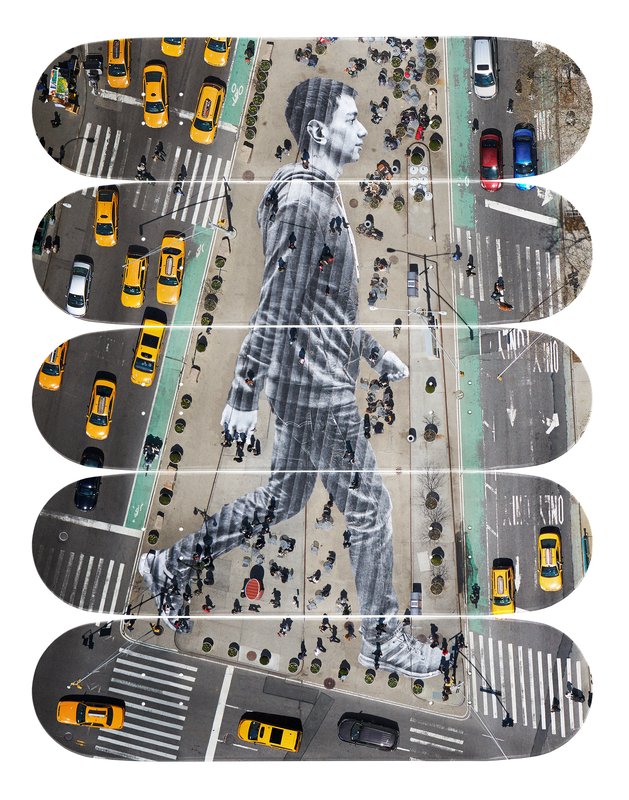 French artist JR has created some of the last decade's most striking public art interventions. Working at a vast scale, JR's art bridges the gap between street art and portrait photography by documenting the ordinary people pulled into huge societal events, then adding them to the physical structure of the areas in question.
Most notably, he responded to police murders in a Rio de Janeiro favela in 2008 by photographing female relatives of the dead men and placing supersize images of their watchful eyes on the walls of the city, looking down on the people below. A 2015 work studying immigration into the US saw his vast prints of a recent immigrant – Elmar Aliyev from Azerbaijan – pasted onto the roads at the heart of Manhattan. For this edition, that piece (Migrants, Walking New York City, New York, USA, 2015) is scaled down to just a metre in height and divided across five Grade A Canadian maple wood boards. This is an edition of 250, printed with the artist's signature and supplied with a studio-stamped Certificate of Authenticity by the artist.

MARK FLOOD - MOM DIED and DAD DIED, 2014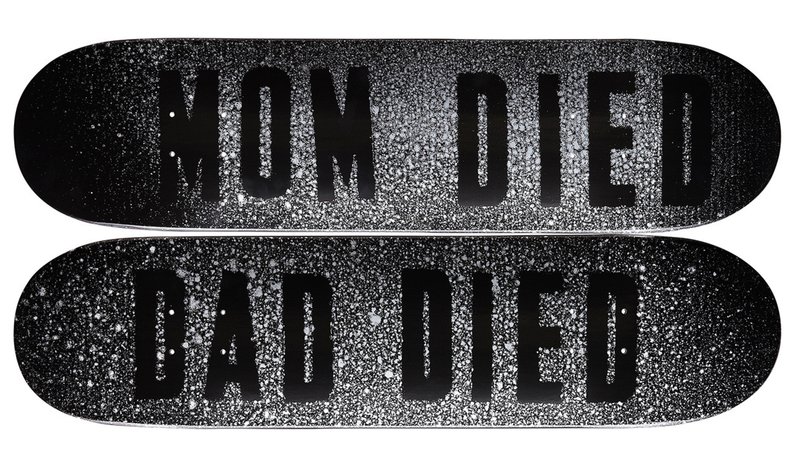 Born in 1957 in Houston, Mark Flood's interdisciplinary art brings the iconoclasm and visual sensibility of punk together with the trashier end of popular culture. Smeared Google logos and mutated 80s rock stars rub up against logos for AT&T, Fox News and banal software prompts ('Loading… please wait'). The more personal end of his work is represented here in this pair of text-based skateboards, MOM DIED and DAD DIED (both 2014). The words sit across the boards as if stencilled, a negative pure black space against a deeply layered, star-filled sky. This work comes in a set of two pieces, unsigned (as issued).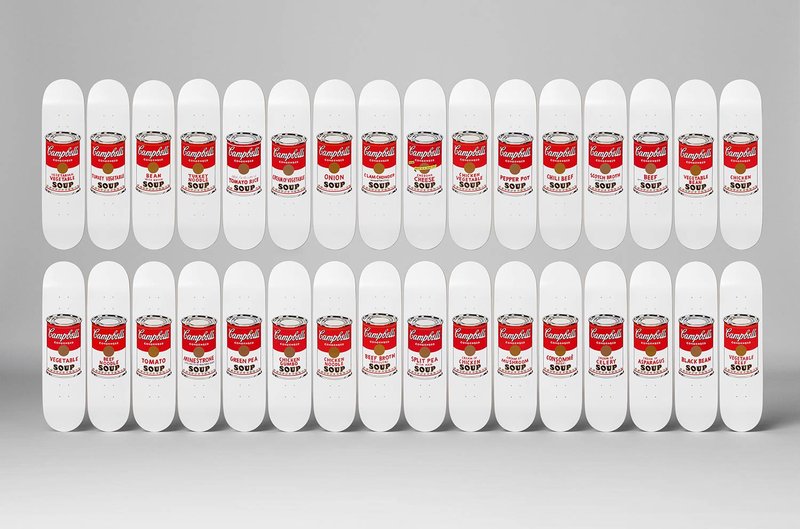 Collectors have always understood the value of a complete set. In 1962, Andy Warhol first exhibited his 32 Campbell's Soup Cans at Irving Blum's gallery in Los Angeles. The series of uniform canvases did not sell. However, Blum realised that the group was best viewed as a single work, and re-purchased the paintings already sold, then bought the set from Warhol for $3,000.
Smart move, Irving. However, this time around, the Skateroom is one step ahead. This Belgian fine art institution is offering all 32 of its Campbell's skate decks as a single set, right off the bat. They are created in conjunction with The Warhol Foundation, fashioned from hard-wearing Canadian maple, and proceeds from the sale fund socially beneficial projects, such as a skatepark in Johannesburg.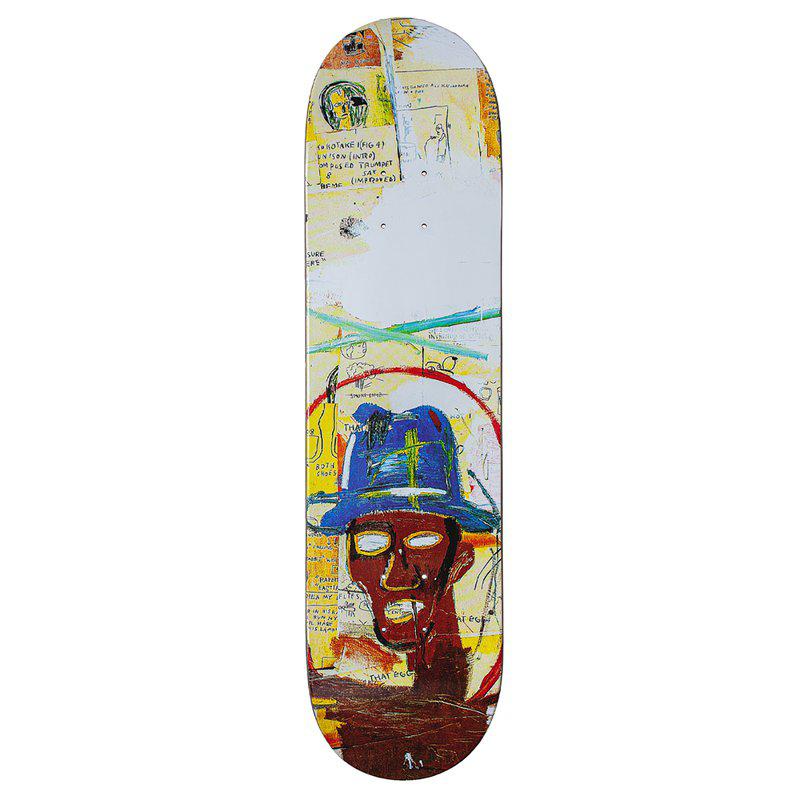 Arguably the pre-eminent artist of early '80s New York, and the one whose work most prefigured where contemporary art and discourse would head, Basquiat's stock is currently higher than ever, appearing everywhere from clothing lines to Tiffany adverts. This skateboard contains a detail of his 1983 work 'Toxic', a portrait of his friend, fellow New Yorker and artist/DJ Torrick Ablack. Having first met a year earlier, Toxic worked part time as Basquiat's studio assistant before developing his own art practice. The original work frames his friend with a collage of acrylic, oilstick and photocopied sheets and is recreated here on the underside of the board, which is 7-ply of 100% North American Maple, bonded with Epoxy Resin.

With his supersize installations, playful retooling of the language of cartoons and graffiti heritage, KAWS is an obvious heir to the spirit of earlier artists such as Keith Haring and Kenny Scharf. But for this piece his vision was scaled down to board-size, as part of a collaboration with coveted streetwear powerhouse Supreme. Originally released as part of their February 18th 2021 drop, KAWS produced five boards for the brand – in pink, purple, black, red and this vibrant yellow edition with the familiar Supreme logotype rendered in a rough 'chalk' to the underside of the board and a dark neutral wood finish to the top with discrete Supreme branding. This board is sold in 'as new' condition, unused and in the original packaging as issued.