When the acclaimed Italian artist Maurizio Cattelan and sought-after Italian photographer Pierpaolo Ferrari first collaborated on Toiletpaper, their neo-surrealist, image-led magazine, back in 2010, it was a means for both of them to stretch their creative capabilities.
"Maurizio is coming from the art world, and I'm coming from the advertising and fashion world," Ferrari recalled. "We wanted to find a space that could be outside of those worlds…a space to be free."
Since then, the pair have broadened that space, to create chairs, mirrors, coffee cups, lamps and all manner of other interiors products, each emblazoned with one of Toiletpaper's signature, bright, mind-bending images. Now, just in time for the height of summer, Toiletpaper and Seletti – their high-end, Italian manufacturing partners – are striking out for the great outdoors, with a line of beach, park and campground friendly deckchairs, water bottles, bags, enamel plates, teapots and sundry other times, each designed to make that perfect sunny day, just a tiny bit better.
A selection of Toiletpaper's new products for Seletti
Toiletpaper's Waist Bag with Belt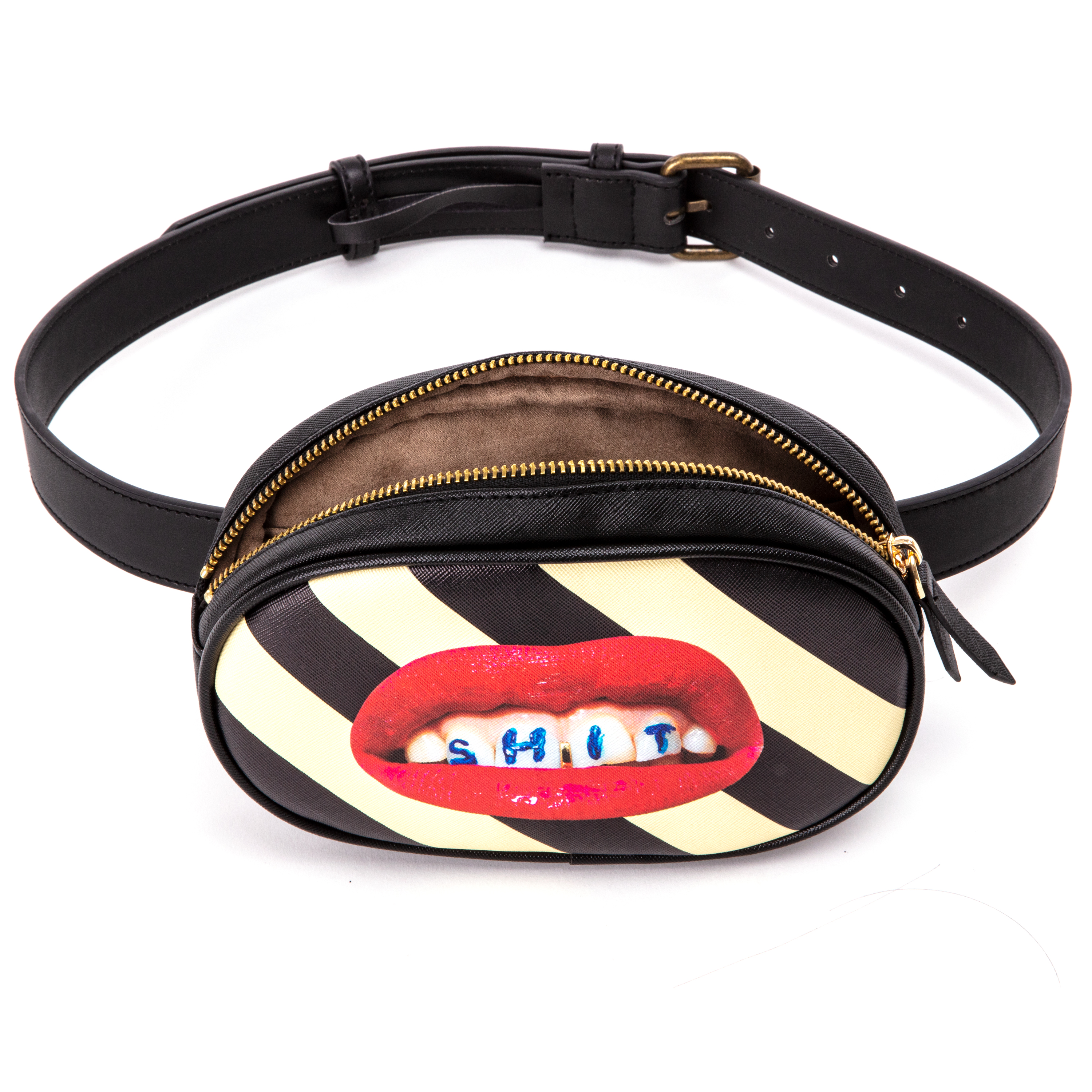 What should we call these things? Hip packs? Fanny packs? Crossbody bags? Bum bags? Toiletpaper has opted for waist bag with belt and we like it. Whichever name you choose, you can now hold your phone, wallet, keys and whatever else you need for the day, about your body safely and stylishly. This item features the Toiletpaper designs: Snakes, Lipsticks, Mouth Eyes, Stripes Shit (above) and Shit.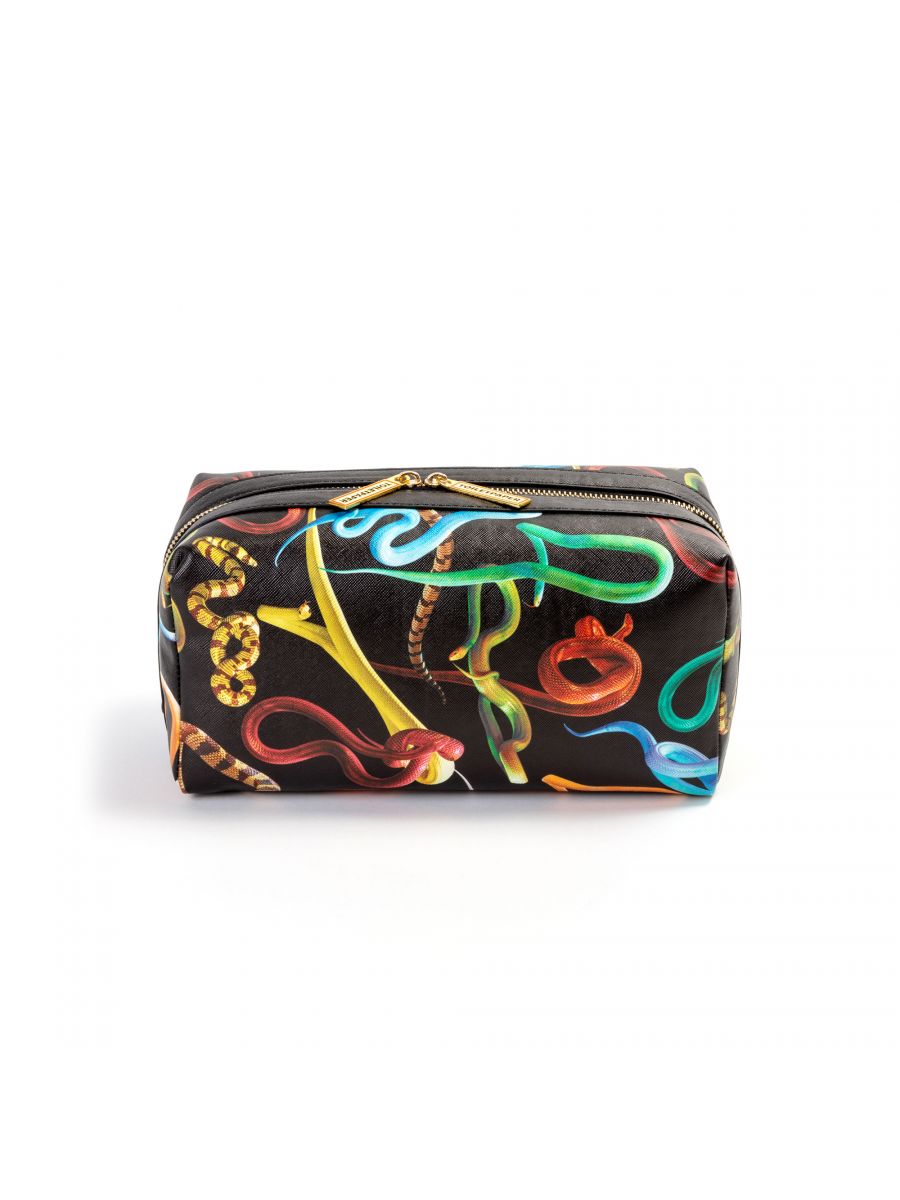 This decorative, beautifully manufactured wash bag turns a simple, stopover motel bathroom into a fantastic Five Star bagno. Choose between Toiletpaper's Snakes (above), Lipsticks in black or Regimental Shit designs.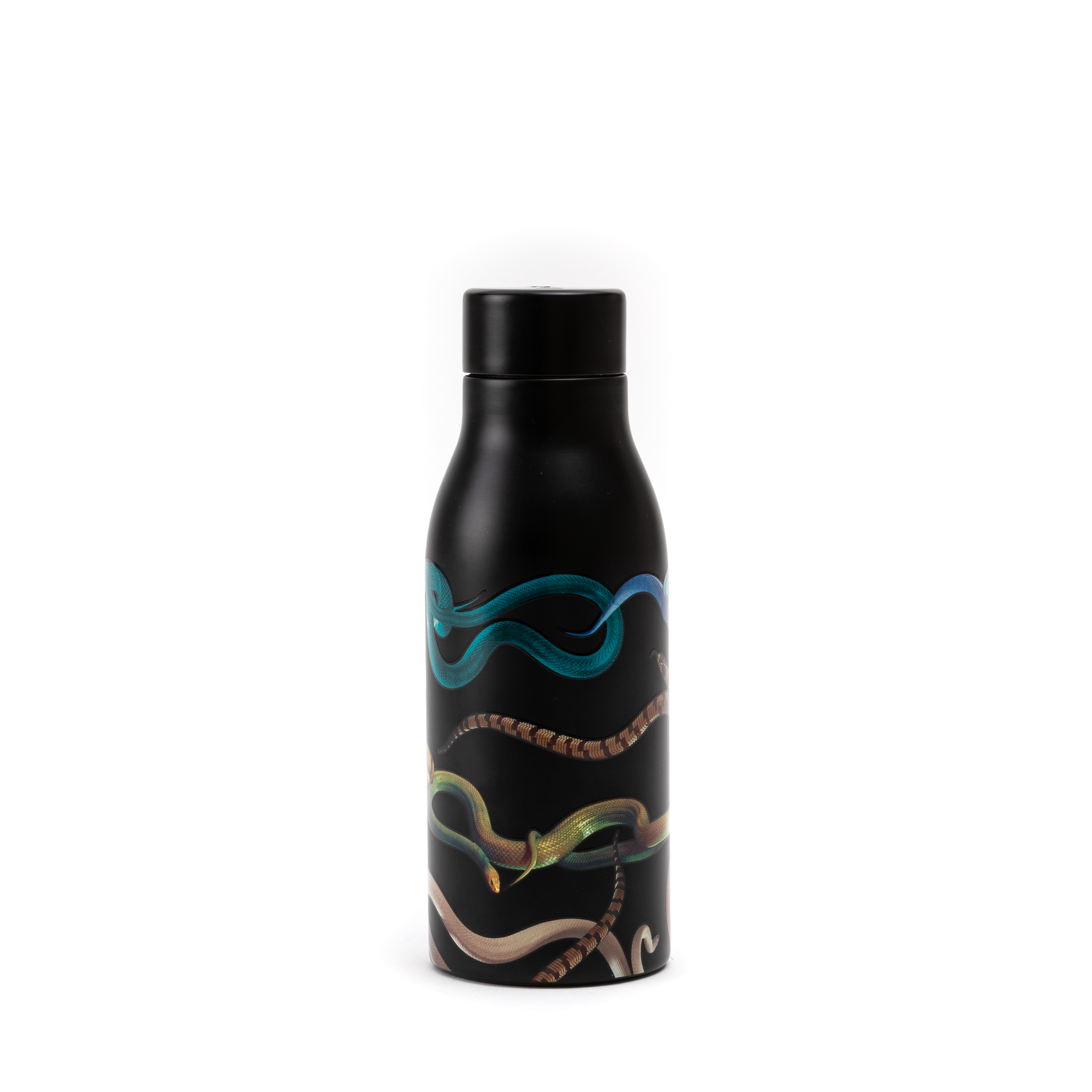 If you can keep your cool while all about you are losing theirs this summer, well, you've probably got one of Toiletpaper's thermal bottles in your possession. Fashioned from steel, these can carry upto half a liter (about two cups), keeping liquids hot for 12 hours, and cool for 24. They feature Toiletpaper's Shit, Trumpets, Snakes in black (above), Lipsticks in pink and Lipsticks in black imagery.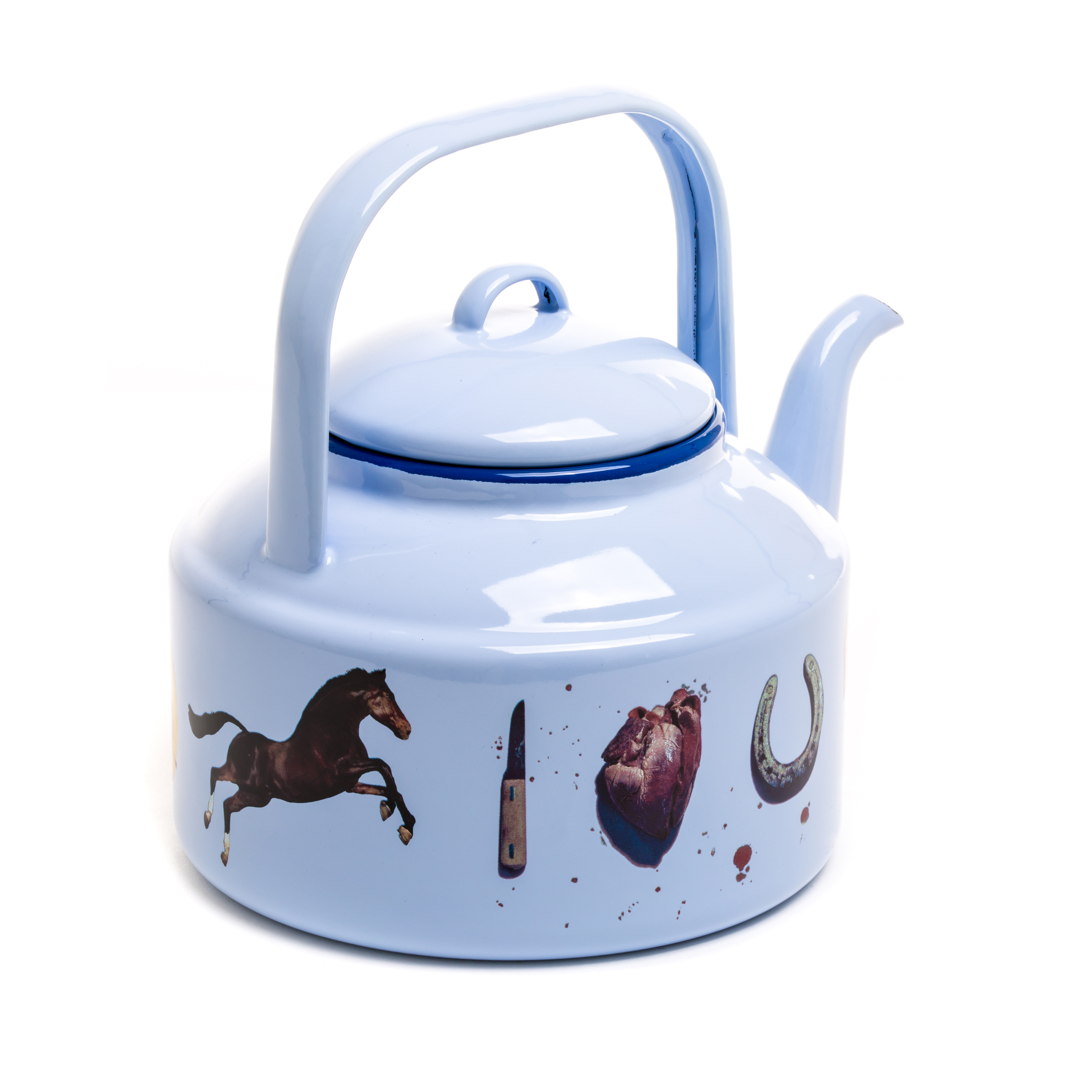 Plan to spill the tea this summer? Make it first in this handsome Toiletpaper metal, enamelled teapot. It is decorated with a number of Cattelan and Ferrari's best loved images, and is available in both blue (above) and beige.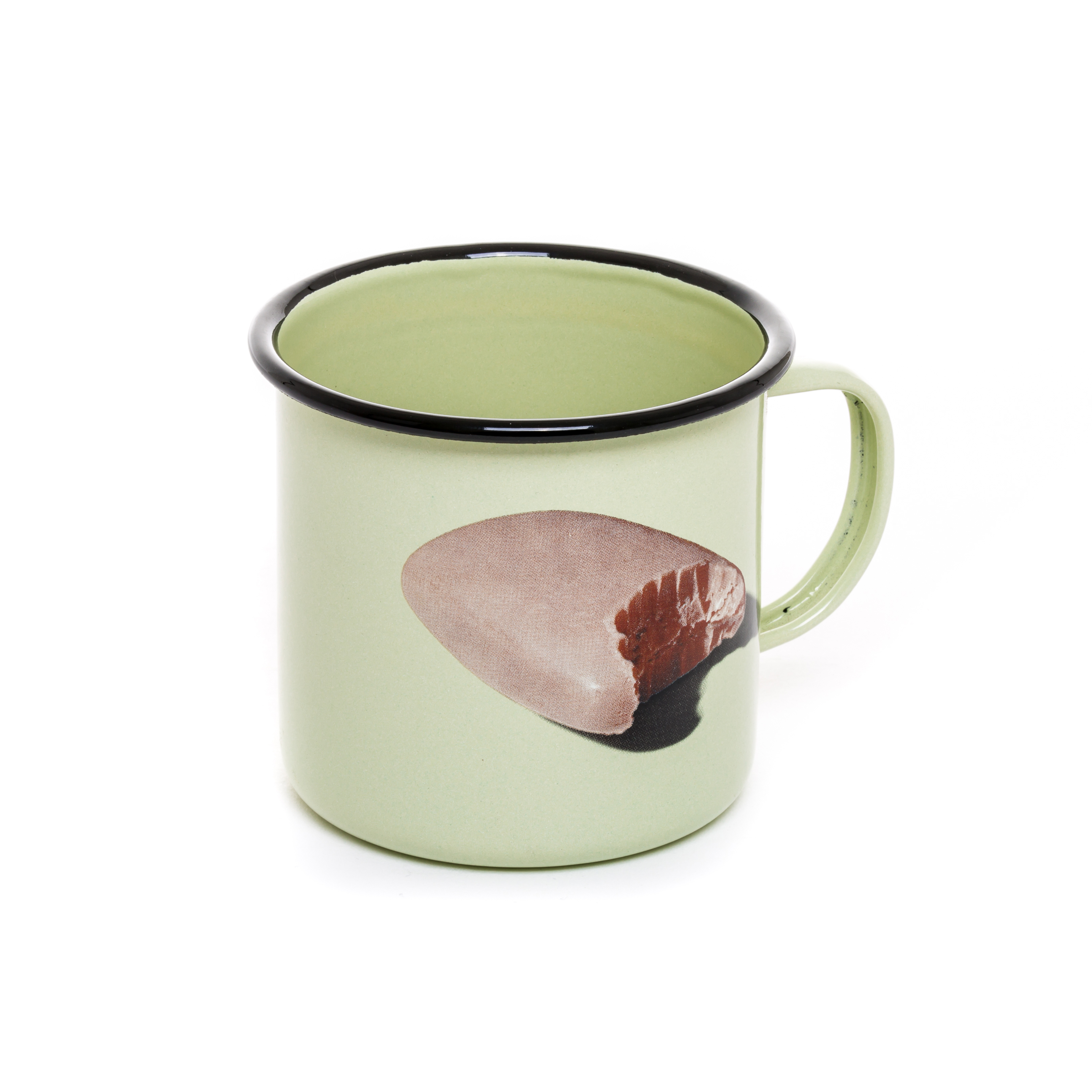 Only amateurs take porcelain mugs to the park, beach our campground. Now, you can prove your outdoorsy credentials, and your refined, contemporary tastes, by packing a Toiletpaper metal, enamel mug. It's near unbreakable, and available with a wide range of imagery reproduced on its surface. Choose between Toad, Soap (above), Plunger, Horse, Finger Hand, Eye, Bird, and Apple.
 Whether you're enjoying a simple meal of cereal or a sophisticated serving of zuppa di minestrone Toiletpaper's compelling enameled metal bowls will fill your mind while you fill your stomach. Choose between Horse, Eye, Apple or Edge Finger (above) designs.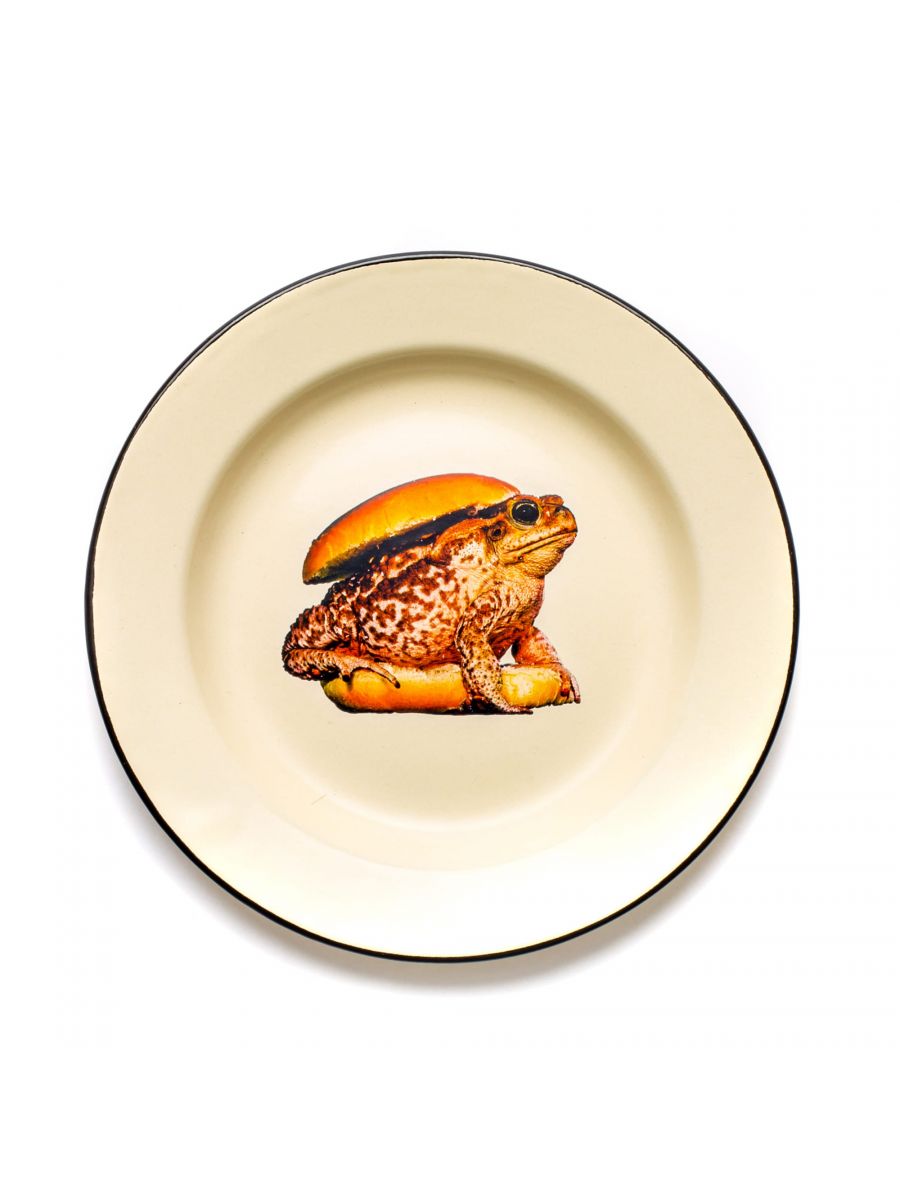 The perfect accompaniment to both the Toiletpaper mug, bowl and teapot, this enamel plate measures 10 ¼ inches (26cms) across, and features the Toiletpaper images Eye, Apple, Toad (above), Bird, Plunger, Soap, I Love You, and Horse.

Toiletpaper's wooden folding deck chair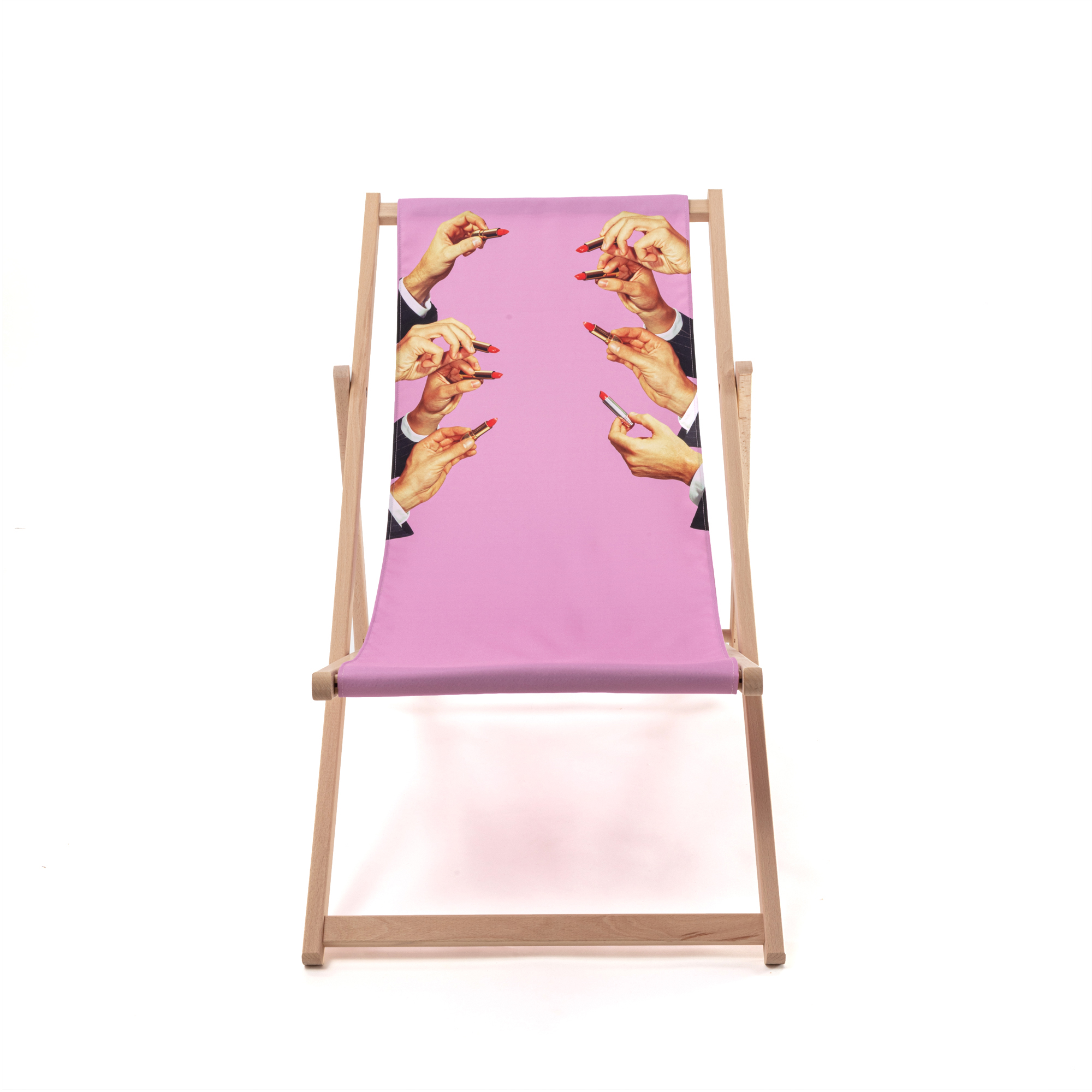 These simple, yet striking items are made in the EU, fashioned from UV-resistant textiles and high-quality beech wood, and come in a variety of designs, each carrying a different Toiletpaper image. You can go for the Scissors, the Lipsticks in Pink (above), the Girl in the Sea, Snakes, or the Lady on the Carpet. They're all perfectly placed to enable you to take a load off.