The Los Angeles design dealer Gerard O'Brien has always been skeptical, to say the least, about the hard-and-fast distinctions between the postwar California furniture he specializes in and the fine art he loves so much. "I never really thought there was a big difference," he says, noting that if you went to a gallery back in the day to buy a Giacometti, for instance, it would most likely be showcased in a setting that also included furniture and design for sale. "It was Leo Castelli who changed all that in the 1960s," he sighs, by popularizing the pristine, art-isolating gallery contexts that are universal today.  
In 2012, O'Brien—who prefers the term "decorative arts" to "design"—decided to turn back the clock a bit: he cleared out the landing atop a short staircase in his furniture gallery and dedicated it to shows of art, bringing in work by artists both contemporary and historical to display just above his design wares. Artists were more than wiling to go along, helped in part by the fact that the gallery has for 10 years been working with the estate of the famed California ceramicist and wood artisan J.B. Blunk, who was the subject of the inaugural exhibit. Another leg up?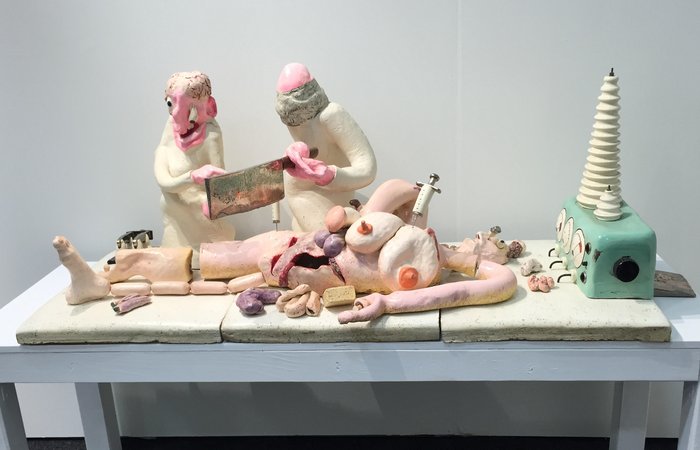 The Mad Doctor's Operation (1974) by Peter Saul and Clayton Bailey
Sales of the art were slow-going at first. "It's still a weak art community out there," says O'Brien. "The dealer joke is that everyone says, 'We have two clients but we need three.'" But business picked up to the level that, last November, he took over a new, 3,000-square-foot space on Jefferson Boulevard and dedicated it entirely to his art program. To run it, he hired Sam Parker as the founding director, luring him from New York, where for five years he had worked as the art buyer for J.Crew's retail outlets.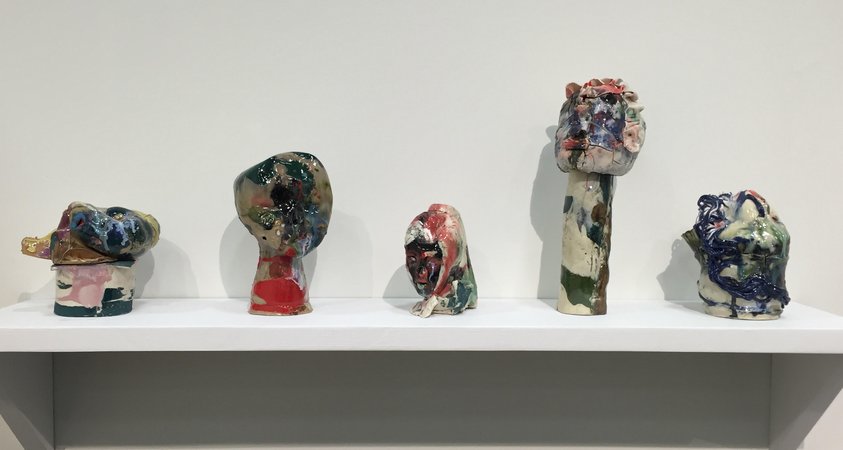 Ceramics by Jennie Jieun Lee 
"Our program is devoted to establishing dialogue between historical work and contemporary practices," says Parker, and that approach is very much in evidence at their stellar booth of fired works at NADA New York this year. In one corner, a very rare 1974 ceramic piece that Funk legend Peter Saul made in collaboration with Clayton Bailey presents, in graphic detail and classic Saul touches, a mad doctor's comically hideous surgical procedure ($68,000). Along the back wall, meanwhile, are sculptures by the young ceramics sensation Jennie Jieun Lee ($2,500-$4,000) and others coated in light-absorbent model-warplane paint ($6,000) by Hannah Greely, who studied with Charles Ray in college and graduated into immediate acclaim, appearing in the 2003 Venice Biennale and 2006 Whitney Biennial.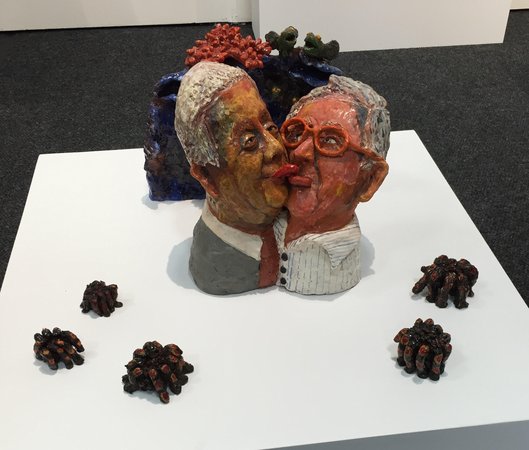 Sally Saul's ode to the Koch brothers
But the highlight of the booth, notwithstanding other strong pieces by Clayton Bailey and Viola Frey (including a collaboration with Betty Woodman), has got to be the centerpiece by Sally Saul, an artist married to Peter Saul. It is best summed up by Parker, who describes it as, "The Koch brothers sharing an intimate moment in front of a tsunami while tarantulas creep forth." Priced at $4,000, it's a neat visual haiku on the state of contemporary American politics.