If you're in Manhattan this Saturday, you might be surprised to see a truck drive by with the word 'DEAD' illuminated on its side. Or, if you're lucky, you might see an entire fleet of them, each with an animated word or phrase excerpted from quotes by poets, activists, artists, and educators that convey the history and ongoing battle against the AIDS epidemic. Each of the five trucks in the fleet, outfitted with large LED screens, will travel through the city to stop at a number of historically significant sites like The LGBT Community Center, Times Square, the Hudson River Piers, and the Whitney Museum in the Meatpacking District. Why? Because Jenny Holzer, the artist behind the project, has a message: "It's crucial to maintain awareness that the AIDS epidemic is alive, in New York and around the world. The messages on the trucks' screens, contributed by feeling people, could comfort those affected by AIDS and reignite fires in bellies to end AIDS forever." This Saturday, December 1st, is World AIDS Day.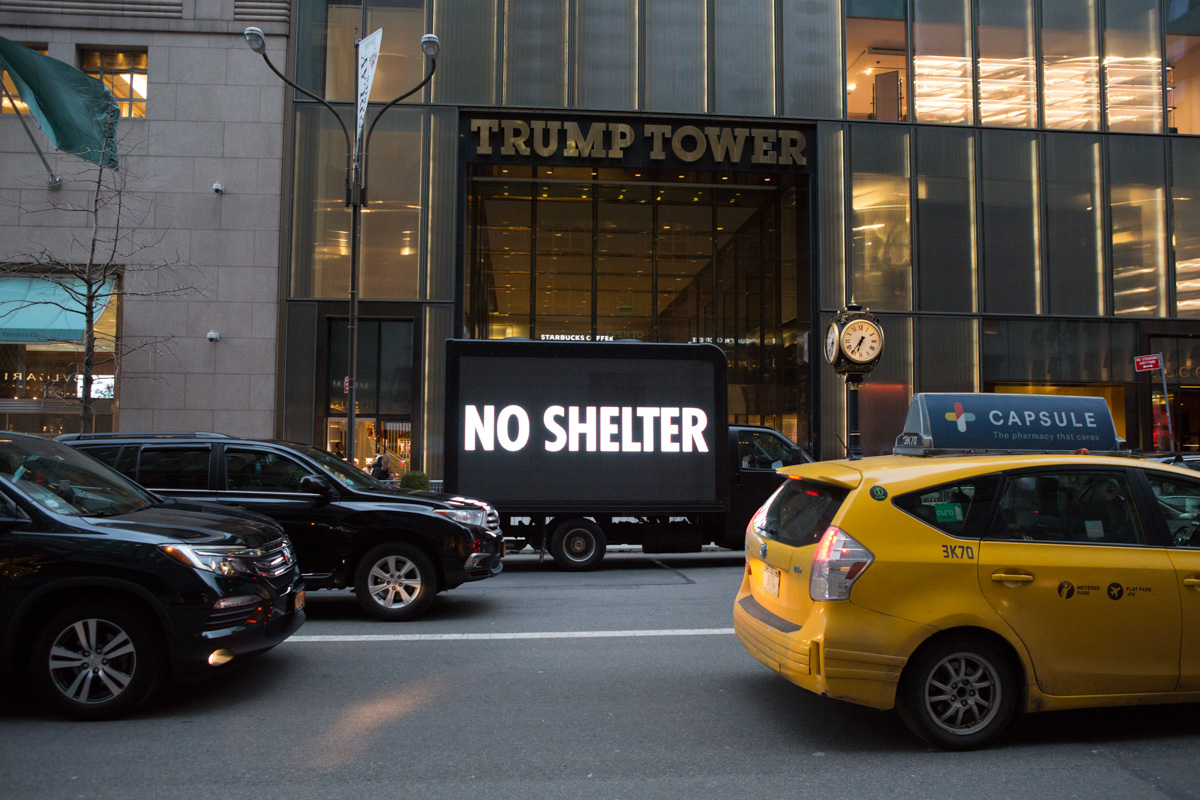 IT IS GUNS, 2018© 2018 Jenny Holzer, member Artists Rights Society (ARS), NY. Photo: Steve Speranza
The performative intervention is called #LightTheFight, and it marks the inaugural launch of the NYC AIDS Memorial Arts and Education Initiative. Founded in 2011 and spearheaded by Phaidon's CEO Keith Fox, The NYC AIDS Memorial unveiled a permanent memorial in 2016 adjacent to the former St. Vincent's Hospital, which housed New York's first and largest AIDS ward. The West Village monument acts as a tribute not only to those lost to the epidemic, but also to the caregivers and activists who continue to fight against the disease. A white steel canopy designed by the architects of Sudio.ai hovers above a granite plaza created by Holzer, who engraved its pavers with quotes from Walt Whitman's Song of Myself.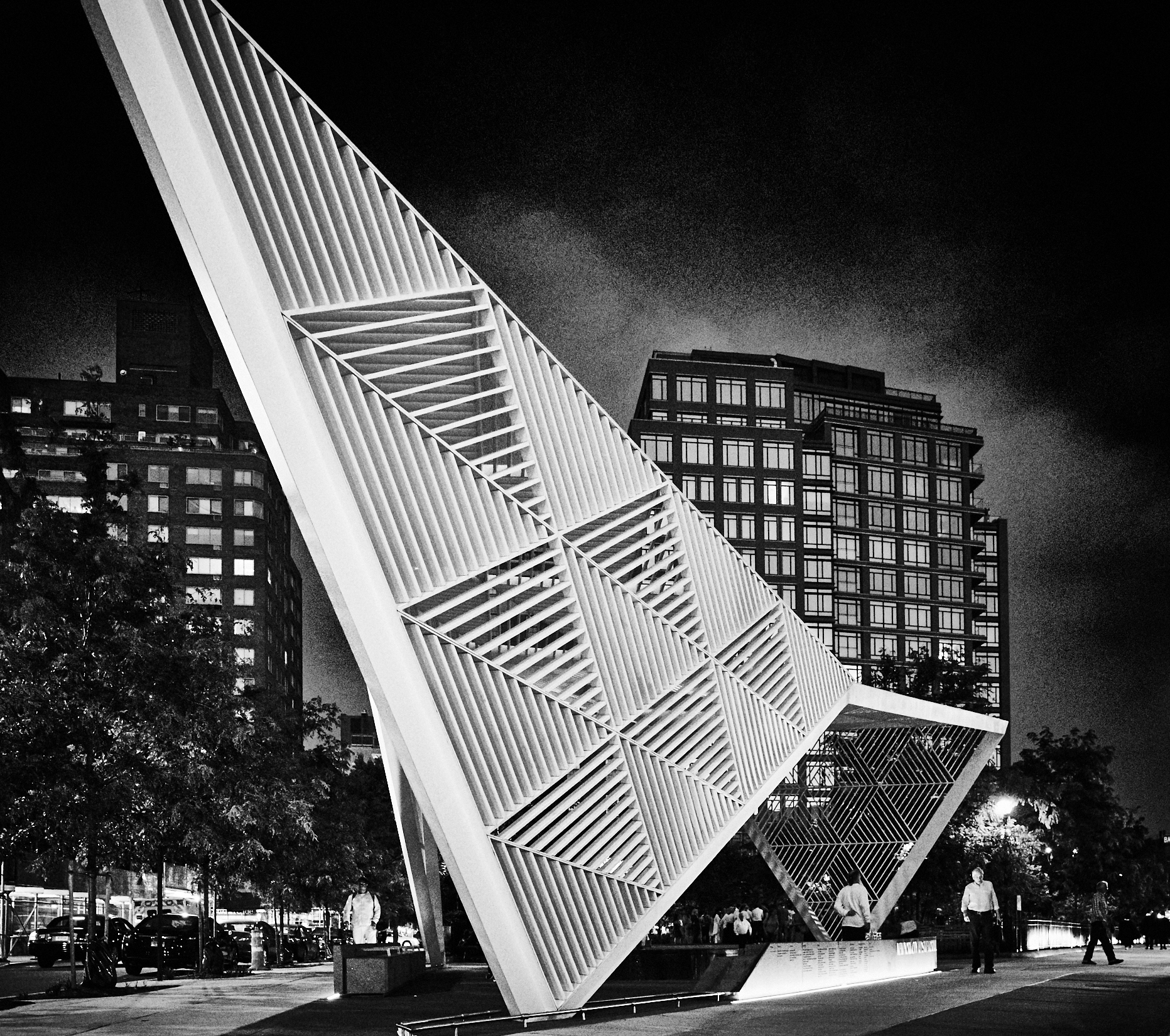 New York City AIDS Memorial.
Here's what Holzer told Artspace about her thoughts on the Memorial:
"I came to New York in the late '70s and was there through the '80s, and that was the time [of the epidemic.] I worked in a restaurant in which two of my fellow waitpeople became sick and died shortly after our time together there. I knew any number of other people who became ill and passed away much too fast. My cohort wondered if we were going to die. I am forever sorry about how many people were lost, and I am worried to death about how many other people are sick and becoming infected…. It's grievously sad that it took so long [for a memorial to be made]. It's not completely surprising, though, if you think how much shame and stigma was originally attached, and then that was followed by so much grieving, which can, for a while, be enervating. But here's to the people behind the memorial for making it happen."
When Holzer is "worried to death" about an issue, she has a tendency to do something about it. For decades, Holzer experimented with the use of text to incite public discussions about violence, sexuality, oppression, human rights, war, and power. Her 'truism' "ABUSE OF POWER COMES AS NO SURPRISE" applies to injustices of all shapes and sizes, and most recently, was coopted by the #metoo movement as its unofficial slogan. Some of Holzer's works cater to broad public audiences—such as her text projections onto urban facades like the Wawel Royal Castle in Krakow or the Cathedral Church of Saint John the Divine in New York City. But she also applies poetic text to art objects—like the engraved aluminum skatedeck produced by Artspace in partnership with The Skateroom that reads "I DEPART AS AIR."
RELATED ARTICLE: Jenny Holzer on What Artists—and the Rest of Us—Can Do to Right Political Injustice
However, the relationship between New York's AIDS epidemic and visual art doesn't stop with Jenny Holzer's outspoken contributions. The downtown art scene of the '80s was as vibrant and thriving as the disease was devastating, and the art world mourned the loss of many of the artists it helped elevate during that time period. Robert Mapplethorpe, Keith Haring, Leigh Bowery, Derek Jarman, Jack Smith, David Wojnarowicz, Peter Hujar, Paul Thek, Sam Wagstaff, Martin Wong, Carlos Almaraz, Tory Dent, and Ray Navarro are just a few of the many members of the art world who died of AIDS-related complications.
And as LJ Roberts points out in an article Artspace recently published about artist aNicolas A. Moufarrege, who suffered from aids (excerpted from the Visual AIDS publication DUETS), the fight against AIDS isn't confined by the contours of the body; it's a political fight as much as it is a corporeal one. He writes, "Nicolas developed AIDS, and his health declined rapidly. Horrified by the treatment he received when he was finally admitted into a hospital in the Bronx after being turned away by many in Manhattan, Elaine [Reichek] and others fought to ensure he was physically cared for, pairing that fight with one against the stigma that pervaded the epidemic." As opprobrium and prejudice surrounding homosexuality have eased since the outbreak of the epidemic, AIDS and HIV are becoming less stigmatized, and though the fight against AIDS has won many battles, it's not over yet—which is why #LightTheFight is crucial to, in the words of Holzer, "reignite fires in bellies."
#LightTheNight will begin at 4:30 pm on December 1st with an opening ceremony and performance at the NYC AIDS Memorial Park on the corner of West 12th and Greenwich Ave in Manhattan.
RELATED ARTICLES:
Jenny Holzer on What Artists—and the Rest of Us—Can Do to Right Political Injustice
Why Does the New York City AIDS Memorial Matter? Read Testimonials From Leading Cultural Figures
33 Years After Dying of AIDS Nicolas Moufarrege Has His First Museum Show—And It's Amazing
"Shut Down Our Clinics and We Will Shut Down Your 'Church'": David Wojnarowicz's Writing on the AIDS Epidemic That Took His Own Life
[related-works-module]