Yesterday Twitter suspended the account of Meredith McIver, the supposed speechwriter who took responsibility for writing Melania Trump's plagiarized Republican National Convention speech. Many media outlets see this as evidence to previously held suspicions that McIver is not a real person, since the majority of McIver's social media content was created after she was blammed for the embarrassment, and she's never actually appeared in public.
Though the theory has been debunked by a writer who claims to have met McIver during an interview with Donald Trump in 2007, Trump isn't above creating make-believe people. From the 1970s through the '90s, reporters have had over-the-phone conversations with "John Miller" and "John Barron"—both of whom were in fact Trump. If only this shtick was by Trump the performance artist and not Trump the presidential candidate.
Here are six art-world alter egos that are actually pretty clever.
Hennessy Youngman (Jayson Musson)


Addressing his wide online audience through a web series titled "Art Thoughtz," Hennessy Youngman assumes the perspective as an art world outsider trying to understand art. Typically sporting large gold chains and outlandish baseball caps, Youngman relates pop culture to traditional art concepts in the style of an MTV-type confessional. Jayson Musson, who plays Hennessy Youngman yet refers to him as his cousin, maintains a separate artist identity, making abstract paintings that reference pop cultural motifs such as Bill Cosby's notorious sweater patterns.
Reena Spaulings (Emily Sunblad and John Kelsey)


Later Seascapes 3 (2014) by Reena Spaulings
The gallerist who runs Reena Spaulings Fine Art is a fictional "It Girl" co-created by artists Emily Sunblad and John Kelsey. In additional to being the "owner" of the Lower East Side gallery, Reena Spaulings is an artist whose shown her work in the 2006 Whitney Biennial and the Tate Modern.
Rrose Sélavy (Marcel Duchamp)

Rrose Sélavy, which is meant to sound like the French phrase "Eros, c'est la vie," first emerged in a photograph of Duchamp dressed as a woman taken by Man Ray in 1921. For the next decade, Duchamp used Rrose Sélavy as his pen name for written material and also singed several artworks with it. The alter ego didn't end with Duchamp; she also appeared in a series of aphorisms by the French Surrealist poet Robert Desnos who expanded upon the persona, describing her as a forgotten aristocrat and rightful queen of France.
Tony Clifton (Andy Kaufman)


The late comedian and performance artist Andy Kaufman loved a good hoax. One of his more elaborate included portraying Tony Clifton, a fictitious lounge singer whose improvised lyrics were intentionally unfunny. Clifton insulted the audience in an attempt at humor, and his unappealing presence often encouraged audience members to prematurely walk out of the show. For a breif period of time, members of the press were confused, referencing Clifton as a seperate, less-funny opening act for Kaufman.
Donelle Woolford (Joe Scanlan)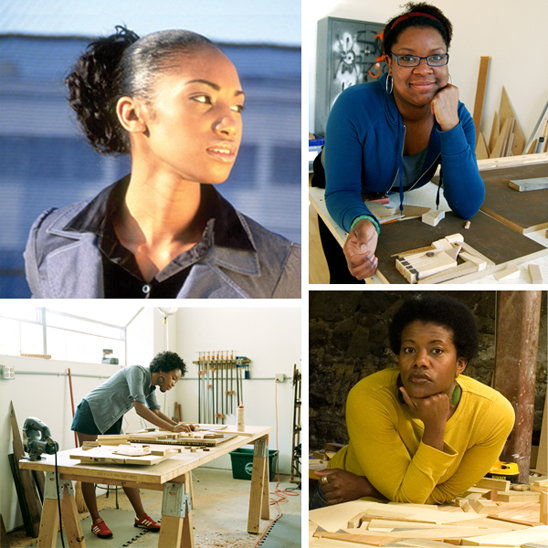 Donelle Woolford is 39-year-old African American woman born in Conyers, Georgia who has participated in the 2014 Whintey Biennial and performs a stand up routine. She became controversial when the Yams Collective, a group of black artists exhibiting a video in the said biennial withdrew their work in protest. Why? Because they took issue with Joe Scanlan—a white male—for masquerading as (and profiting from) Woolford, a fictitious artist portrayed by two hired black women, Jenn Kidwell and Abigal Ramsay.
PhoebeNewYork (Libby Schoettle)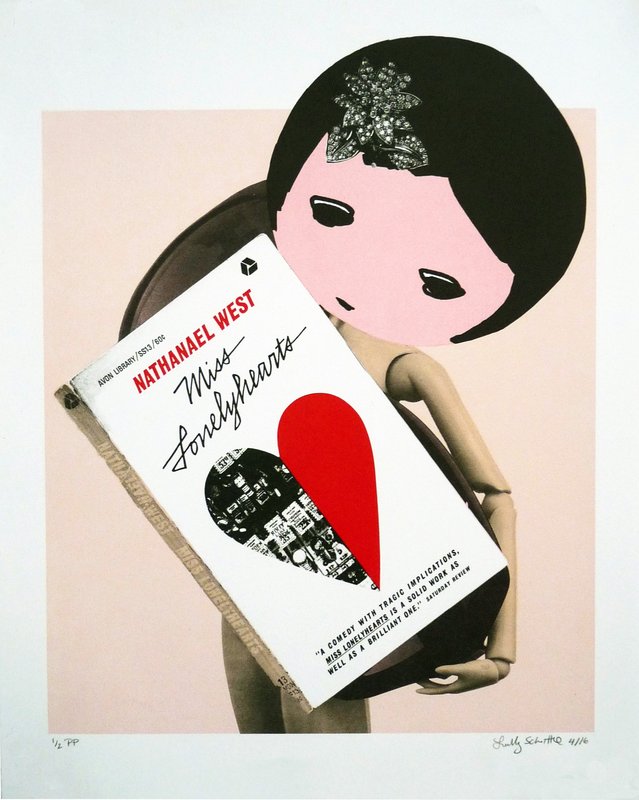 Libby Schoettle's Miss Lonelyhearts, available on Artspace for $250
PhoebeNewYork is the jet-setting alter ego of emerging artist Libby Schoettle. Coming to life in collages, drawings, and photographs, PhoebeNewYork chronicles Schoettle's own life experiences, emotions, and perceptions. The alter ego travels from New York to San Francisco and Seattle, creating an accumulative fictional narrative as she goes.
RELATED ARTICLES:
In Honor of Melania Trump, Here Are 5 Artworks of Aprroporation Art to Collect
The "Art of the Deal" Quiz: Who Said What, Donald Trump of Art Basel's Noah Horowitz?
The Art History of Donald Trump, From Disappointing Christie's to Becoming Warhol's Bête Noire
The Art History Behind Deborah Kass's Warhol-Esque Attack on Donald Trump