The following is excerpted from Blooms, a new book about contemporary floral design published by Phaidon.
'Not your grandmother's florist.' So one writer characterizes a young floral designer featured in the book Blooms , and the phrase could apply to any of the 86 exceptional florists taking centre stage in the book. Whether the floral designers whose glorious works appear here are just starting out or have been active for years, the parameters of their work have expanded exponentially over the last decade, and new ideas about working with flowers have firmly taken hold.
Blooms celebrates this new approach, captured not in a single style or trend, but in a multiplicity of individual, often very personal styles. From music videos to fashion shows, fine art to photography, the line between floristry and other art forms has been blurred, creating something not yet classifiable. Social media has brought the art of flowers to a global audience, and florists are no longer operating only from traditional shops and styling floral events—instead, pop-up displays, cult magazines and digital platforms from Instagram to blogs are offering today's designers a variety of outlets for their work and a virtually unlimited audience. An ever-increasing awareness of environmental issues, on the part of both florist and client, has resulted in a new appreciation of the locally grown and sourced; some floral designers are also growing their own plants, while others are creating ravishing arrangements from wildly unconventional materials. The beauty of recycled containers, of foraged foliage and blossom, and of unusual, subtly nuanced colours, forms and textures is a hallmark of today's designers. At the same time, floral extravaganzas get more spectacular year on year, whether for the couture salons of Paris, the art museums of New York or weddings around the world.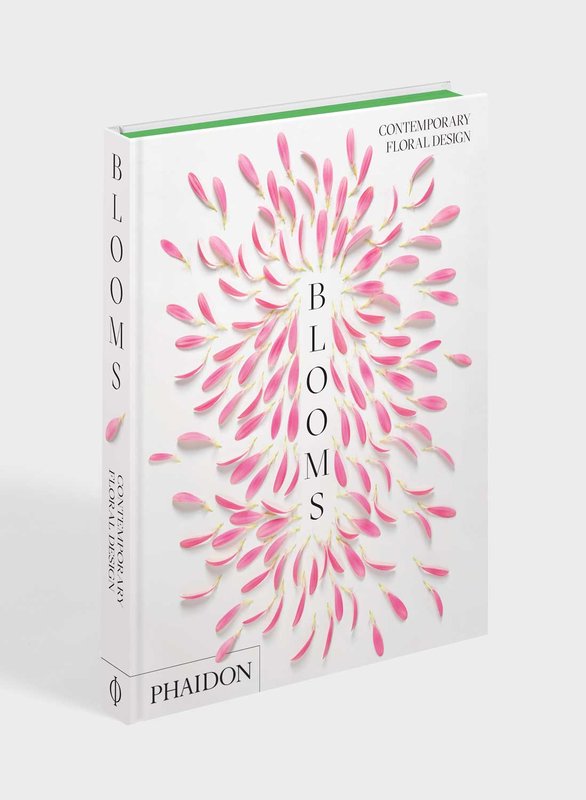 Blooms is available on Artspace for $49
The difficult job of choosing the best of today's floral designers was carried out by an international board of distinguished editors, stylists, writers, designers and master florists, who were invited to nominate the most outstanding florists who have emerged since the turn of the millennium. A rigorous selection procedure has resulted here in a collection of floral designers and their works that is as eclectic as it is compelling. The 86 designers featured in Blooms are from countries across the globe and at every stage in their careers, each represented by a selection of beautifully photographed works and a brief essay encapsulating the artist's inspirations and style. Together, these floral creatives are reinvigorating the world of floristry, pushing the boundaries of artistic expression with flowers and plants, and having a profound effect on visual culture and design. Not your grandmother's florist, indeed. - Victoria Clarke
METAFLORA
Marissa Competello, New York Metaflora (Marissa Competello, New York): Snipped leaves of Swiss cheese plant (Monstera deliciosa) with lobster claw plants. Picture credit: courtesy Metaflora / Nicole Alan Cope
A MetaFlora piece is a departure from floristry: neither the word 'flower' nor 'arrangement' seems quite right. Marissa Competello's graphically arranged materials – leaves reshaped with scissors, natural colours sprayed over in unearthly tints – are camera candy, which is only natural for someone who spent almost a decade in fashion styling. The company's name is apt: when Competello first decided in 2014 to move away from creating other people's stories to focus on her own, 'meta' was being appropriated into self-referential New York parlance. There is always a parallel conversation going on in her compositions, and she has said that she most enjoys the moment when flowers stop resembling flowers. Arguably, MetaFlora is more firmly rooted in popular culture than the world of horticulture.
Collaborations with luxury brands have been rather meta too, since MetaFlora is a luxury brand. Shapes take flight when reacting to silver and crystal vases by Danish designer Georg Jensen: calla lilies wave like dancers over the vessels' curves, en route to the social media platforms of both parties. Competello's flowers make regular appearances in her downtown Manhattan neighbourhood, drawing the attention of other tastemakers at the restaurant Dimes, where she first worked, or in spots of colour and texture within the already tactile premises of fashion designer Rachel Comey.The flowers of MetaFlora have a sexual allure that is somewhat nostalgic. When pale amaranthus poses languidly with floating jungle leaves, offset by an amaranthus-textured vase, there is more than a hint of the 1970s—it is a slightly surreal reminder of reclining women in advertisements for men's cigars/ suits/cars. In this brave new world of sexy plants, gender politics are irrelevant.
Photographs are useful to Competello in crystallizing ideas. They might reference the subversiveness of Guy Bourdin's fashion photography, or the cool mastery of a still life by Irving Penn. More inspiring and propelling of her creativity than these, though, is Competello's life in dance. As a dancer and teacher of dance, her sense of physicality is manifested in the contrasts of movement and stillness within her compositions. They are theatrical and graphically strong, moving easily between colour documentation or black and white. A shiny vase of snipped green leaves of Swiss cheese plant (Monstera deliciosa) matched with crimson lobster plants have a two-dimensional quality, while at the same time throbbing with life. MetaFlora's visuals are like still photographs of a dancer in motion, in which every move is in itself a perfect composition. - Kendra Wilson
POT + BOX
Lisa Waud, Detroit, Michigan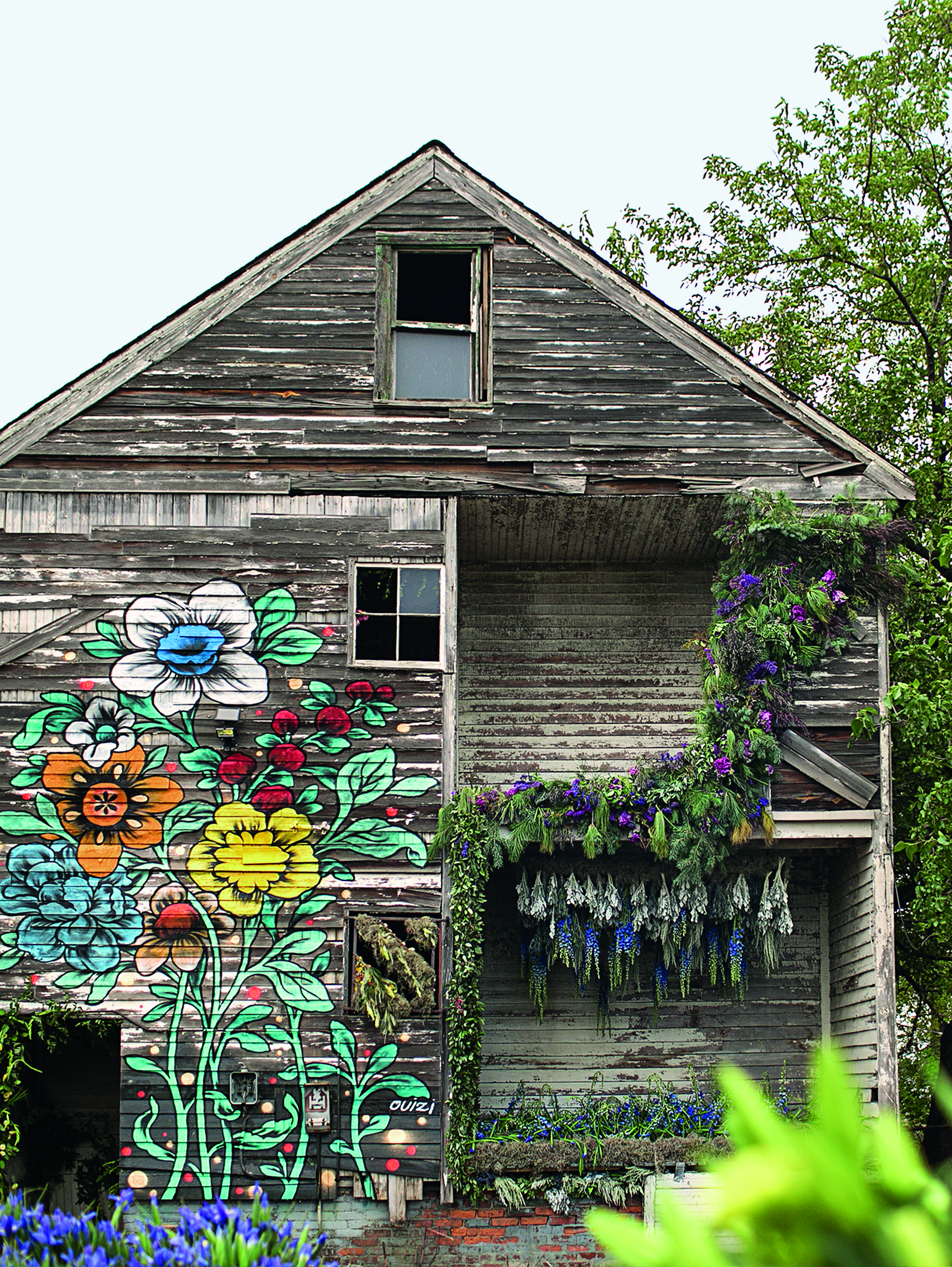 Pot + Box (Lisa Waud, Detroit, Michigan): Flower House, an abandoned house in Detroit filled with living flowers and plants for a three-day exhibition and installation, October 2015. Picture credit: courtesy Pot + Box / Heather Saunders
Born in Petoskey, Michigan, Detroit-based florist and botanical artist Lisa Waud knew that she wanted to work outdoors after graduating from high school in 1996—so she became a professional gardener, founding Pot + Box as a container-garden design service in 2005. Following the economic collapse of 2008, Waud brought her eye for structure to floristry. "Suddenly no one had any money to have a gardener,' she says, 'but people were still getting married." Describing herself a "servant" to whatever is in bloom (to borrow a phrase from florist friend Emily Thompson), Waud's arrangements are a celebration of what's in season—bouquets shaggy with strawflowers, purple basil and bachelor buttons "in almost every color" interest Waud in July, while foraged maple and ash branches and grapevines fill her van in the winter. She describes her floral design/horticultural decor studio as "definitely more structural design, and I'm very much guided by the foraged items that I find." In Hurl, the four-part photo series she created in collaboration with photographer Heather Saunders in September - October 2016, Waud can be seen vomiting petals over an avalanche of dahlias. The setting is a grimy bathroom with halfpainted walls, and the flower heads were reclaimed after being 'dropped' by flower farms to keep the plants vigorous. "I think [it's] thought-provoking to take something as universally beautiful as a flower and make it ugly, pairing it with a place that's filthy, gross… The new ideas I have are along the lines of that juxtaposition."
Waud was drawn to Detroit and all its compelling contrasts—regal art deco buildings next to burnt-out lots with towering grasses ensnared by sweet peas—in 2012. In October 2015, her three-day Flower House installation became a sensation. Alongside collaborators from Michigan and elsewhere in the USA, Waud filled an abandoned house with 40,000 American-grown cut flowers and living plants; there were grape hyacinths between the floorboards and amaranth stalactites on the ceiling. The epic installations of Christo and Jeanne-Claude were a long-time touchstone for Waud, who was spurred to action by the flowerfilled mansion envisioned by Raf Simons for the Christian Dior autumn/winter 2012 couture show. Flower House drew more than 3,000 visitors to its viney thresholds, including some who drove through the night to see it.
Critiques about Flower House's lack of behind-the-scenes diversity led to a period of growth for Waud. In 2017 she launched the Flower Truck project, which sells potted houseplants and cut bouquets in neighborhoods that otherwise lack flowers and plants for sale. "It's impossible for me to be a resident of Detroit and not be aware that it's a majority black city," says Waud, who now regularly teams up with local artists. "I feel happily tasked with serving the community that I live in.' She adds that for any future public installation that intends to represent Detroit, 'I'm now committed to make it representative of the city." - Chantal Aida Gordon
WIFE NYC
Sophie Parker, New York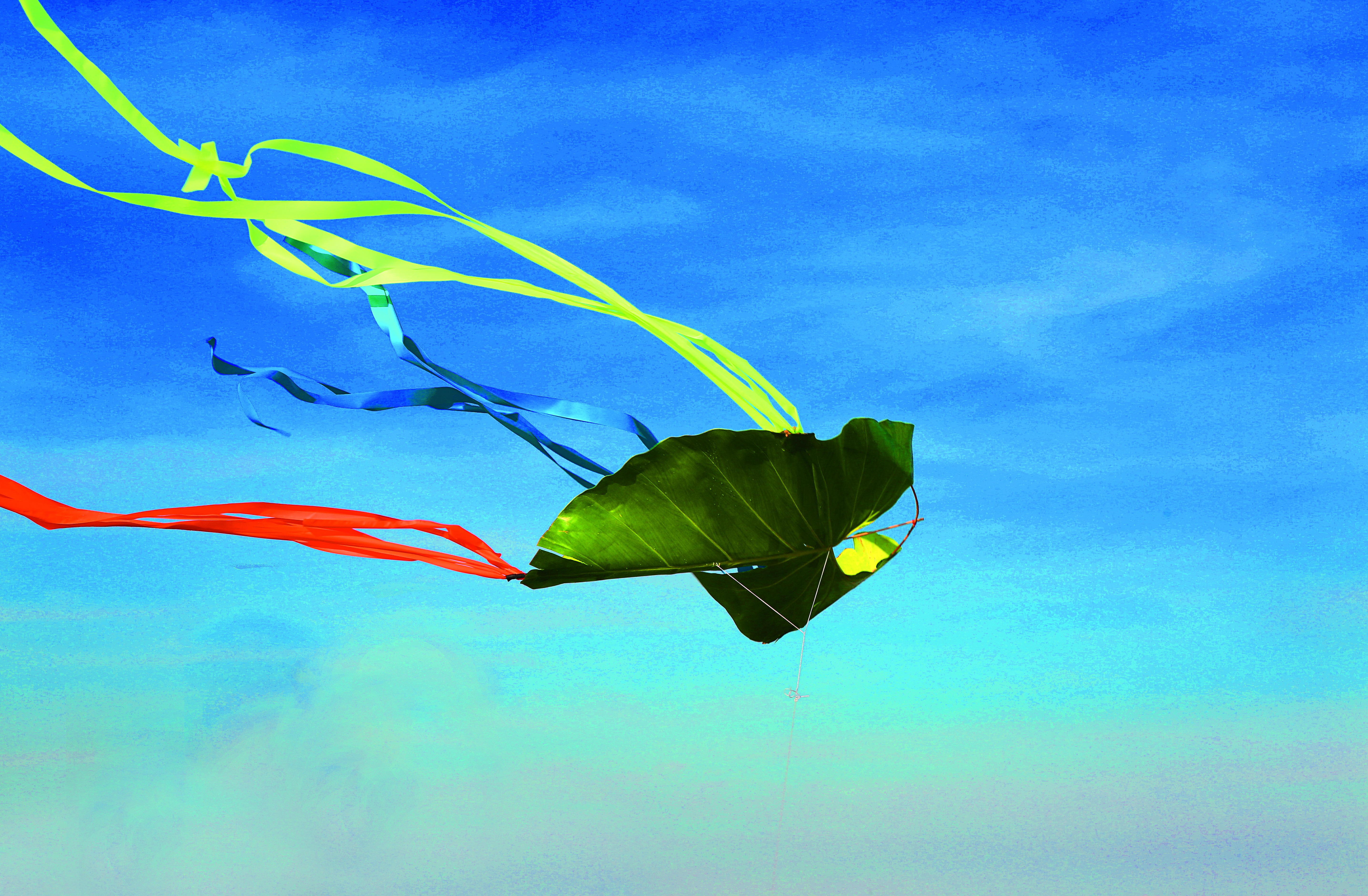 Wife NYC (Sophia Parker, New York): leaf kite in flight, from an exhibition of Parker's leaf kites in Queens, NYC, curated by Life Lessons Collective. Picture credit: courtesy Wife NYC
Sophie Parker is a multidisciplinary artist who was painting verdant leaves long before she started painting on them. Unusual among contemporary florists, Parker uses living material as both canvas and brush, and her work is more likely to be seen in a gallery than at a wedding. We sometimes forget that floral design is an art form, and Parker helps to remind us of that. With no formal training in flowers, Parker educated herself by studying books on ikebana (Japanese flower arrangement) at the Brooklyn Public Library, broadening her knowledge of how the masters who preceded her would ply their stems. At first, the leap from canvas to split-leaf philodendron seems extreme, but much of Parker's work before she established Wife NYC depicted the natural world.
Her earliest subjects were studies of the flora in the rural Ozarks of the south-central United States, where Parker grew up. Later works were often done in pastels on canvas, some portraying abstracted plant life through the windows of Midwestern strip malls. Another series, Air Quotes, is all about the sky; Parker even lists 'sky' as a medium in a site-specific sculpture. All these things would later appear in Parker's floral work. Shadows of marble patterns drawn on canvas years before made their way onto living material. As a painter, Parker strived to marry the natural world and the canvas. In her own words, "it wasn't until I reversed the equation, began painting directly on the plants and physically intervening by reshaping and contorting and conjoining forms, that I began to conjure the feeling I wanted—that feeling of wonder and discovery when you play make-believe in the plants."
In galleries, the typical role of flowers is to be gifted, quarantined on a front desk and left to wilt. Seeing flowers as art in a gallery is exhilarating. Parker elevates flora to a higher level, displaying manipulated palm fronds on a pedestal, because they are art. In Leaf Kites, leaves of elephant ear are turned into kites flown in a vivid blue sky and documented; inversely, in Sky Totem, a sky is expertly painted onto an elephant ear. In Saw Blade Tension, Parker manipulates seemingly prehistoric palms, showcasing the bright-red string that is tensioning the palms into snaking lines—lines that are also magnified by the shock of electric blue highlighting the palm's vein. It is rare to see any of Parker's floral work without some sort of beautiful manipulation, but her aesthetic holds true when the work is a floral arrangement in a simple vase. Though they are flowers in a vase, they introduce themselves as sculptures. -Aviva Rowley
LEWIS MILLER DESIGN
Lewis Miller, New York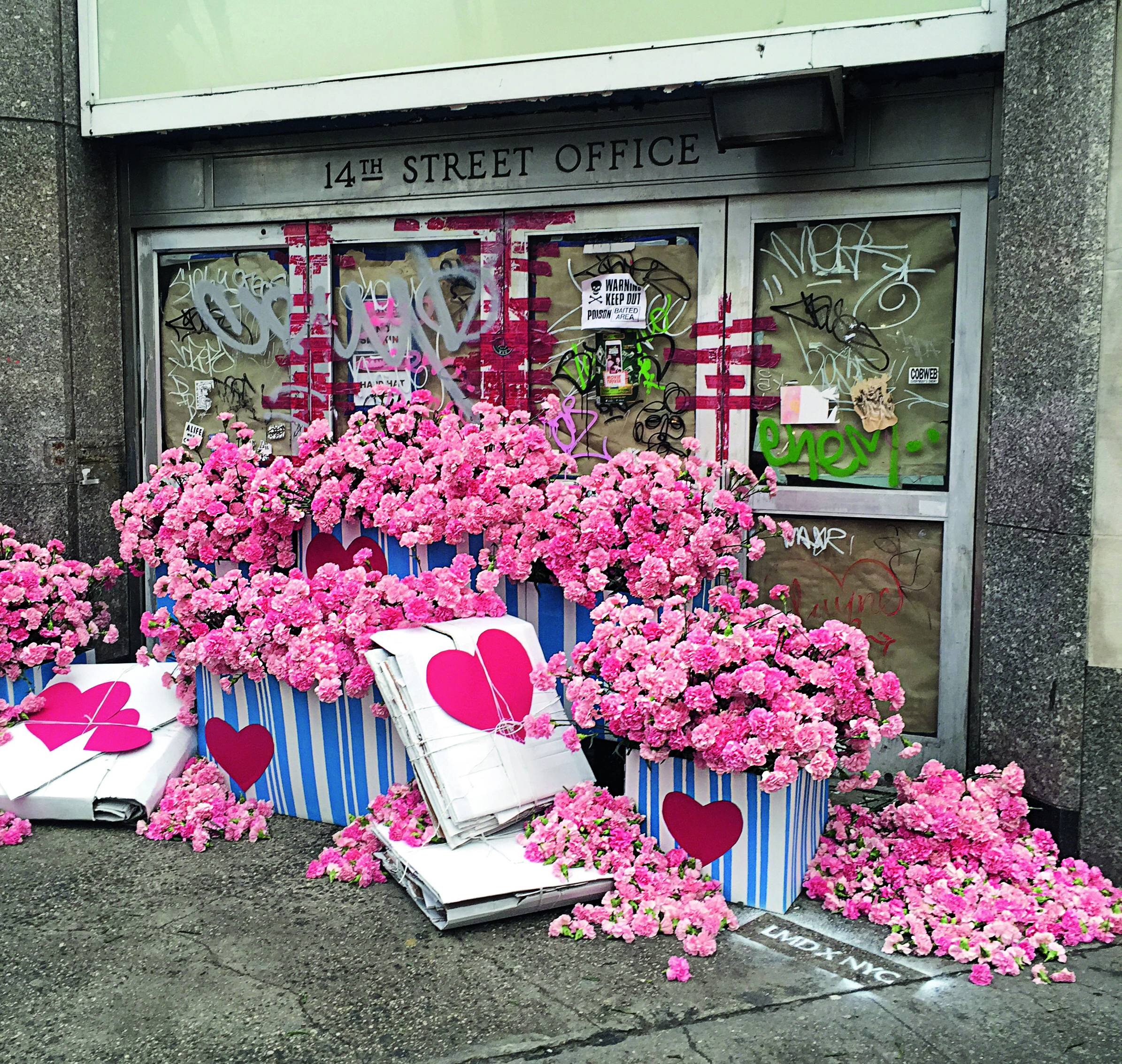 Lewis Miller, New York: Abandoned Post Office Flower Flash™, Greenwich Village, NYC. Picture credit: courtesy Lewis Miller / Photograph by Irini Arakas Greenbaum
A new breed of altruistic florists is rethinking the enormous waste generated by the floral industry and finding ways to reuse and recycle. As sustainability has become a major global talking point, event flowers—the sometimes hundreds of thousands of blooms that form the jaw-dropping backdrops to parties, galas, dinners or fashion shows, which are sometimes on display for just a few hours and only seen by an elite or lucky few—have become part of the conversation. And as the Flower Flash™ impresario of New York City, Lewis Miller is central to the reuse movement.
Miller, who grew up California before studying landscape design and horticulture in Seattle, founded his eponymous firm in 2002 and built a reputation as an events florist, working from his East Village studio. In 2016 he conceived a way to channel the vast quantity of flowers used for events across the city into a second life—one that every passer-by could enjoy. He began by placing a colorful halo of 2,000 dahlias and carnations around the John Lennon Memorial in Central Park. It was, unsurprisingly, an instant hit, and Miller has gone on to transform other statues with lush garlands of rich pink blooms, or filled the city's mesh trash cans with towering arrangements of cheerful forsythia, dahlias, tulips, poppies and roses, all in dazzling yellow tones, or piles of plump roses, day lilies and coral-pink peonies. He has decorated bus shelters, traffic signs and subway entrances with his guerrilla displays, which are put together with a small team in the early hours of the morning, hastily constructed in around fifteen minutes. After fashion designer Tory Burch's autumn/winter 2018 show, Miller filled piles of blue-and-white striped boxes with the thousands of pink carnations left over from the show and piled them up in front of the graffiti-covered doorway of the 14th Street post office—each box painted with a big red heart in a nod to the unofficial New York City logo. For passers-by, the Flower Flashes™ are a moment of joy and pleasure and occasionally a source of a free handful of stems – they can all be plucked from the arrangement.
Alongside his guerrilla floristry displays, Miller continues with his studio work and his luscious arrangements or large-scale installations of densely packed blooms, some of which have the same whimsical spirit as his ground-breaking Flower Flashes™. But it is his public work that has inspired similar movements around the globe and made the Flower Flash™ a phenomenon that is catching on, one stem at a time. -Clare Coulson
DEBEAULIEU
Pierre Banchereau, Paris Debeaulieu (Pierre Banchereau, Paris): mimosa and dyed pampas grass. Picture credit: courtesy Debeaulieu / AKATRE
On Christmas Eve 2013, the telephone rang at Debeaulieu. Even though the florist's shop had only been open two months, it was someone from Louis Vuitton on the line. This was the start of Pierre Banchereau's meteoric career, one that shows no signs of slowing down. Paris cannot get enough of him, and he is lauded endlessly in the press for his 'modern classical twist'. On the one hand, he uses brash, bold, contemporary colors juxtaposed in ways reminiscent of the Fauves, the early twentieth-century French painters who embraced color above all else. On the other, strikingly and unexpectedly, he incorporates structure everywhere, with volumes, points and curves in everything. He makes one think back to Baudelaire and his line about harmony, in which "scents, colors and sound all answer one another."
Banchereau is master of the art of deliberate discord, and succeeds in pulling off one aesthetic shock after another while never jeopardizing taste. He does all this while respecting the genius loci, or character of place, tailoring every element of his bouquets specifically to the spaces they are designed to decorate. His shop is called Debeaulieu after his grandparents, who lived in Anjou, an area famed for horticulture, and who bathed his childhood in flowers and nature. Nevertheless, Banchereau did not come to floral art until relatively late. He worked as a headhunter for a big pharmaceutical firm and only changed career when was thirty-two, after first trying his hand in a small way in his local florist's and then completing his professional floristry training. His shop is in the 9th arrondissement, on the rue Henry Monnier, inbetween cheeky Pigalle and Nouvelle Athènes, frequented in its day by the likes of painters Paul Gauguin and Claude Monet. Its immaculate shop window has a new arrangement of flowers in it every week, behind which chatter a voluble pair of parrots, Henry and friend. Inside, flowers are set on pedestals, or rather white square plinths, like works of art. There are armfuls of carnations, gladioli, chrysanthemums and other old-fashioned flowers, which Banchereau brings up to date in his contemporary arrangements. All around are mirrors, so that he can watch over everything, including the backs of his creations.
The vases, planters, even the ribbons he uses to tie his bouquets are all subtly colored and carefully chosen, testifying to his eye for interior design. Banchereau is more than a florist, and his multidisciplinary skills are gaining him a growing reputation among the people with whom he collaborates, securing him the right to work carte blanche for the Valentino fashion show, for instance, and a commission to design a collection of vases. He has shown himself to be a set designer, a collector and decorator, as well as a master of floral art. Who knows where his next ventures may take him? - Charlotte Fauve
CYOTE FLOWERS
Lauren Sellen, Toronto, Ontario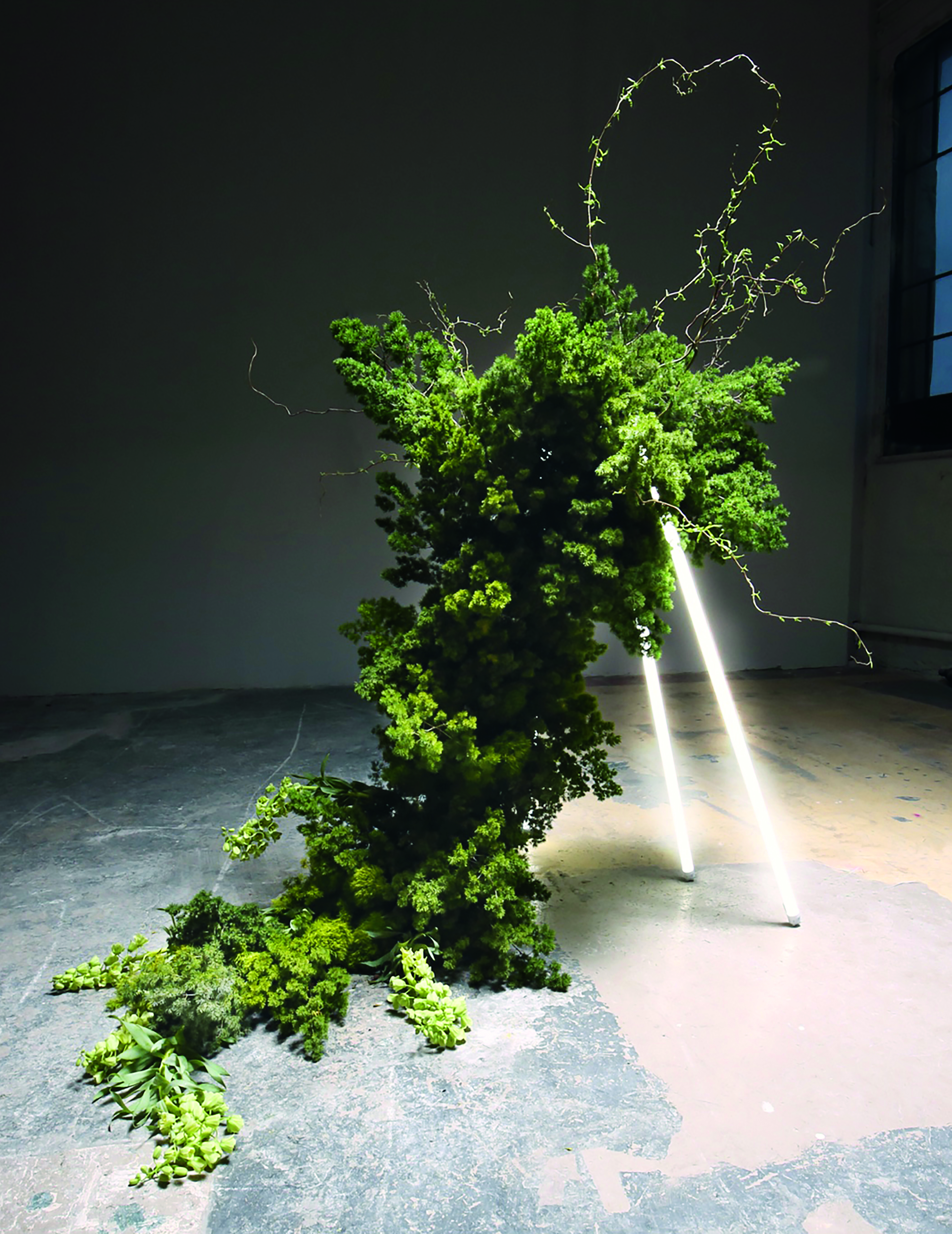 Coyote Flowers (Lauren Sellen, Toronto, Ontario): sculptural composition of organic material for Living installation in collaboration with Luvère Studio, 2018. Picture credit: courtesy Coyote Flowers / Joel Esposito
Lauren Sellen chose the name Coyote for her Toronto-based floristry business because of its imagery: a lone, wandering animal, both mysterious and resourceful, familiar yet wild. Drama is in her nature: it was after the completion of a performance-art degree that she decided, in 2016, to make an about-turn into the flower business. Ottawa was her starting point, but she found the city's conservatism constraining and moved to Toronto, towards the artistic freedom she craves. Instagram opened a new world for her, helping her to seek out work she admired and to showcase her own. Travelling to workshops by other designers she rated, Sellen began to develop her own style, and in 2016 she established Coyote Flowers. 'Unravelling beauty' is how she describes her style—incorporating elements of imperfection and tension to intrigue and unsettle the viewer.
Inspiration comes most particularly from nature itself, and she is noticeably influenced by some of the bizarre ways in which flowers and trees grow. In September 2017, Sellen spent almost two weeks filling a pop-up shop in Toronto with extravagant, Twin Peaks-esque flowers for skincare and cosmetics brand Glossier. Her otherworldly brief was to create the effect of breezing through a forest with an alien aspect, and the resulting pieces included a quirky, asymmetrical composition of marshmallow-pink roses and orchids, offset by the dramatic, spiky pompom flowers of red castor bean (Ricinus communis) and velvety amaranthus tassels. In spring 2018, she surprised with an oversized headdress of gypsophila for a live performance by Tehran-born artist Maryam Keyhani. Enclosed in a glass-fronted box, Keyhani was dressed as a Roman column, her face entirely concealed behind Sellen's hat of flowers.
Sellen often works with a monochromatic palette or just one type of flower in abundance, arranged into a solid shape or a silhouette. She regards flowers as an artistic medium – a means to a highly creative end. A relatively new arrival to the floristry scene, she is still largely Toronto-based, but her reputation is growing, and commissions have come in from wider afield – for example, for an installation in California and a surreal, dreamland wedding in Provence, France. She is still experimenting, revelling in unconventional requests. Thunder clouds of smoke bush (Cotinus) and gypsophila have been conjured up for an adventurous bride, and Toronto designers, including fashion company Hoi Bo and jewellery maker Michelle Ross, have come to her for art direction. The creative director of the Canada Goose clothing company asked for a fireplace spewing out flowers across the floor and an extravagantly long table arrangement of roses, ranunculus and lilies on a backdrop of dark-green velvet. Sellen was happy to oblige. - Paula McWaters
BRRCH
Brittany Asch, New York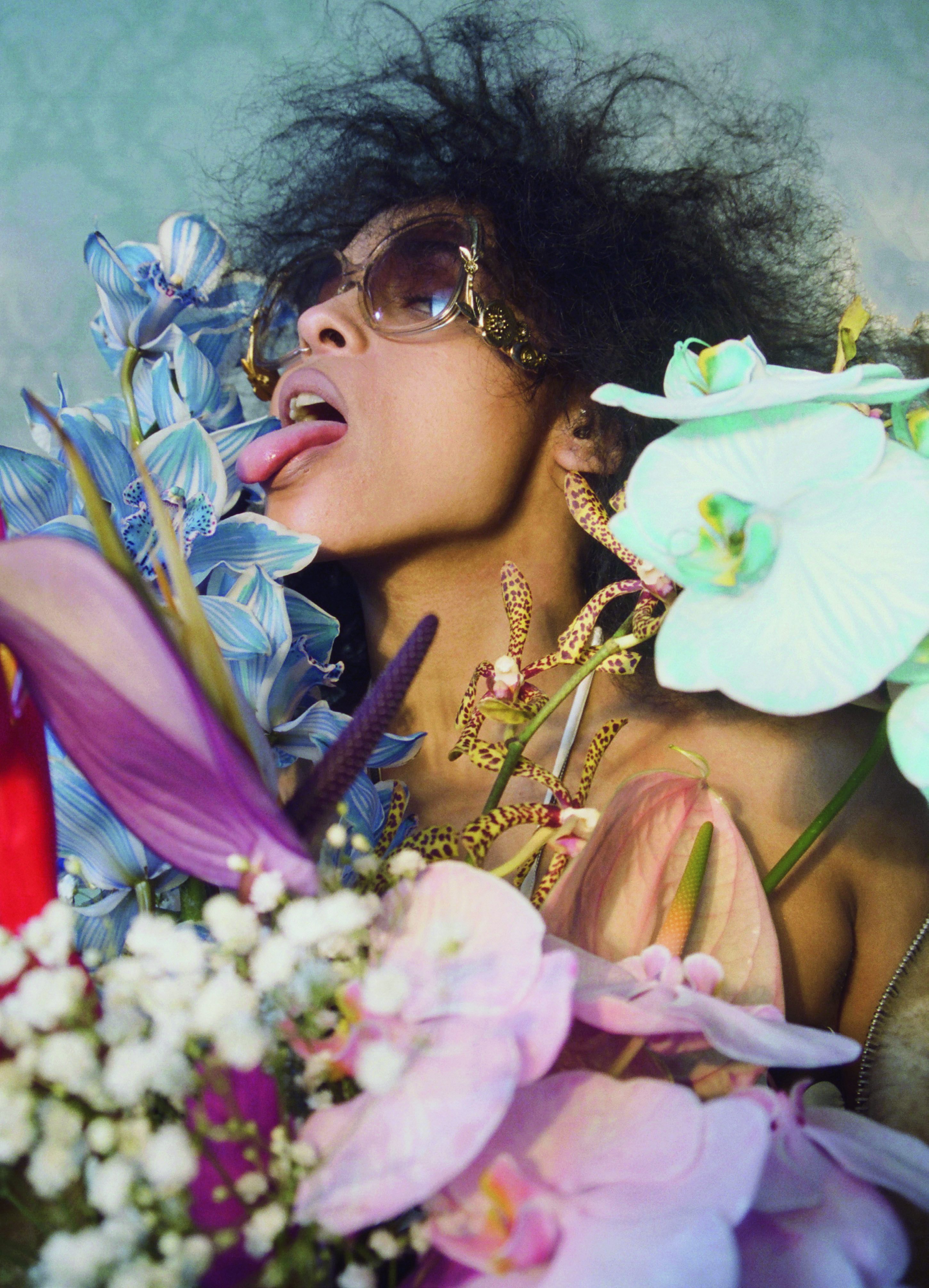 BRRCH (Brittany Asch, New York): Princess Nokia, photograph by Petra Collins for Office Magazine: gypsophila, anthuriums and orchids. Picture credit: courtesy BRRCH / photograph by Petra Collins for Office Magazine
Brittany Asch has transformed the notion of what is considered acceptable in the floral world, standing convention on its head. Often imitated, Asch pioneered the resurgence of dyed flowers, which were typically considered gauche before her thrilling applications. Asch sows surreal landscapes of colour, creating a new world, her world. She invites you to see with her perspective, making of the viewer a voyeur granted a transformative glimpse. Departing from the popular romantic, Dutch Master style, Asch's work is her own, every arrangement a personal piece. Asch has always been an artist, though her medium has changed through the years. In another life, she attended Berklee College of Music in Boston, Massachusetts, where she studied performance, composition and songwriting. This background of sets, costumes and alternate realities has affected her work in many ways, producing a unique perspective on life that she has expressed since 2013 in her floristry project, BRRCH.
Her floral work is extremely lyrical, often dreamy and always commanding of one's complete attention. In a stunning, almost Oz-like image, Asch allows a peek behind her curtain in presenting the flowers she used to decorate her father's grave. Glowing red roses spilling out of a red plastic bucket obscure the 'ASCH' on the tombstone. The same glowing roses seemingly grow from the grave, spotted horizontally throughout the setting. Powder-pink roses expressed to their fullest, dyed moth orchids (Phaleonopsis) in pastel yellow and grey, and one blood-red anthurium, resembling a heart, complete the tableau. Pampas grass sprayed blue, akin to the sky at dusk, frames the scene, with blue grape hyacinth bringing the eye back down, grounded in the earth. It is a private, personal moment, experienced in all its bittersweet beauty. A massive pile of flowers sits atop a pedestal in another work, slipping onto the floor. As diverse as it is unlikely, the flowers range from fluttering peonies to the heavy, obtrusive protea; pigtail anthuriums peek through orchids and tulips. An amalgam of flowers in every color imaginable, each bloom seems to sing, together and to the others. Another graphic work mixes green, pink and blue pampas grass, yellow and pink anthuriums, and blue- and orange-dyed moth orchids, all combined in a beautifully psychedelic array.
Asch's use of unlikely combinations such as these allows each bloom to stand on its own, while also supporting its co-stars. Other images show flowers emerging through clouds of gypsophila, dyed like rainbows. Asch has brought flowers into unexpected spaces in collaborations with art photographers such as Petra Collins, who photographed Princess Nokia licking an orchid for Office Magazine. She has celebrated His Holiness the 14th Dalai Lama with arrangements of marigolds. Using flowers to ornament everything from music videos to art gallery installations, composing other-worldly works of art and bucking conventions, Asch is not your grandmother's florist. She is a true original. Aviva Rowley
A.P. BIO
Doan Ly, New York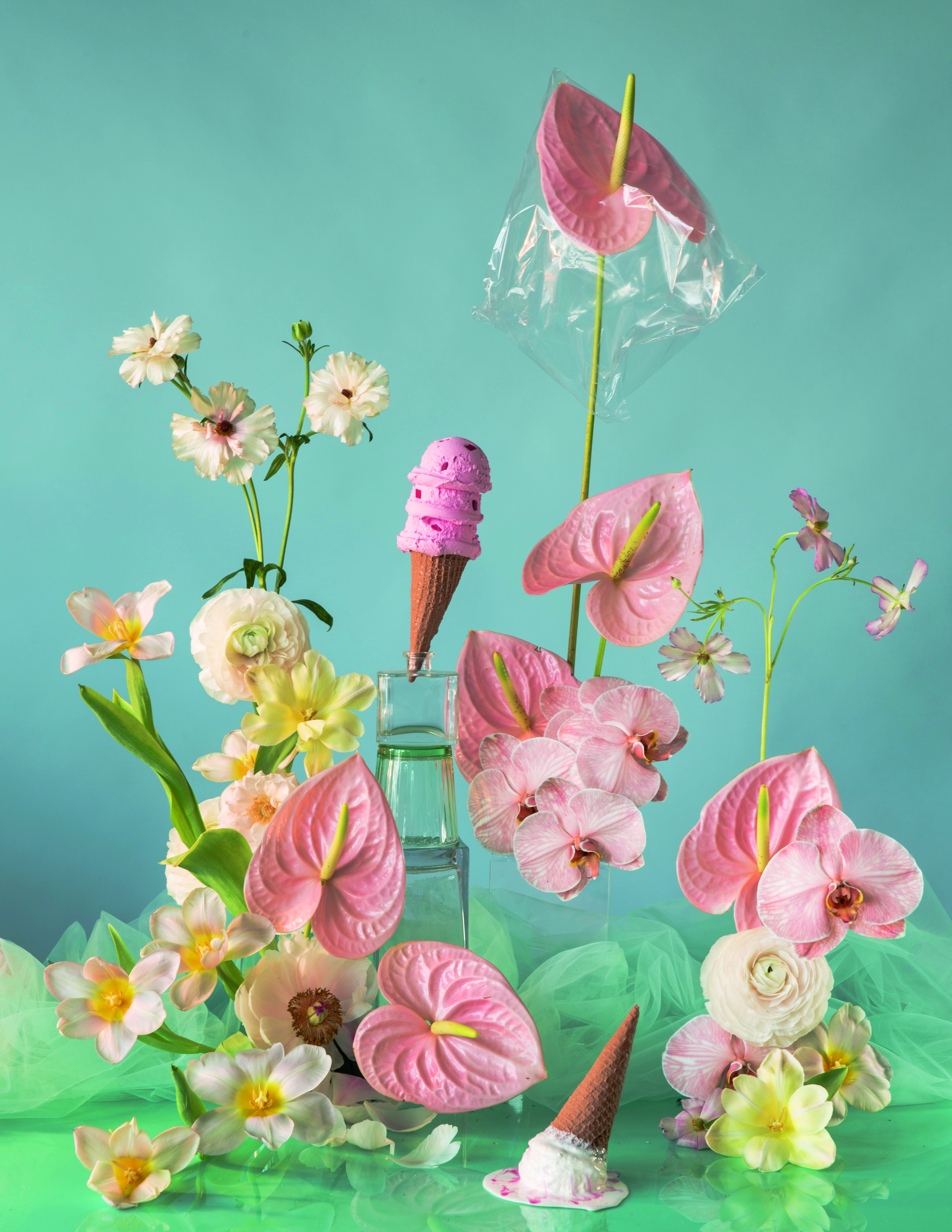 a.p. bio (Doan Ly, New York): fake food shoot for Gossamar magazine – photography, art direction and styling. Picture credit: courtesy a.p. bio
Doan Ly, the founder of a.p. bio, is completely self-taught. In a world of schooled florists, Ly is breaking rules she was never beholden to, producing work that stands out from the crowd and is both unorthodox and inspiring. Ly began her journey with flowers at a friend's plant shop in Brooklyn, where she worked while holding down a full-time job elsewhere. Seven years later she took a leap of faith and opened a.p. bio. During those early years, her artistry with flowers grew in tandem with her study of photography, in which she is also self-taught. Photographing flowers is very different from seeing them in front of you, and Ly's talent for composition and style is highlighted by her ability to express that in a photograph.
Ly is a storyteller, and flowers are her words. As she herself has said, she "want[s] to find a way to take a still life that makes your heart break open." It is as still lifes that the creations of a.p. bio really stand out, and separate her work from the crowd. There is a happy playfulness in the work: melting ice-cream cones spilling onto a pristine glossy surface, surrounded by expressed tulips and towering anthuriums; a delicate Persian buttercup in a crushed soda can, next to a crumpled napkin and a glistening pool of liquid from a can of Mountain Dew; an assortment of the most beautiful, delicate, seasonal flowers the market has to offer, arranged in an ordinary plastic bag, suspended in mid-air. a.p. bio's appearances on social media make it obvious that play is important in Ly's work. While decorating a wedding venue, for example, Ly films her designers dancing, sometimes in slow motion, leaving a trail of petals in their wake—taking a break from the pressure of setting up a wedding to enjoy themselves. It's a rare glimpse into the behind-the-scenes of the floral world, and this love of play shows in the arrangements, each made with love and whimsy.
Ly is also capable of creating stunningly romantic works of floral art. An 'Old Masters' aesthetic is where she started in the world of floristry, and while she has been slowly breaking away from that, there is still romance in her pieces. a.p. bio balances a cheeky sense of humor with traditional romance, and alongside both there is always a palpable reverence for flowers. Behind even the simplest arrangement of a single peony in a glass cup (or a plastic bag) is an artist who is in love with her medium, and with that reverence comes a certain genuineness. Nothing is fussy or overdone, and the flowers are presented as they truly are. To quote Doan Ly, "I am trying to bring joy, which sometimes can even come from heartbreak." - Aviva Rowley
ARIEL DEARIE FLOWERS
Ariel Dearie, New York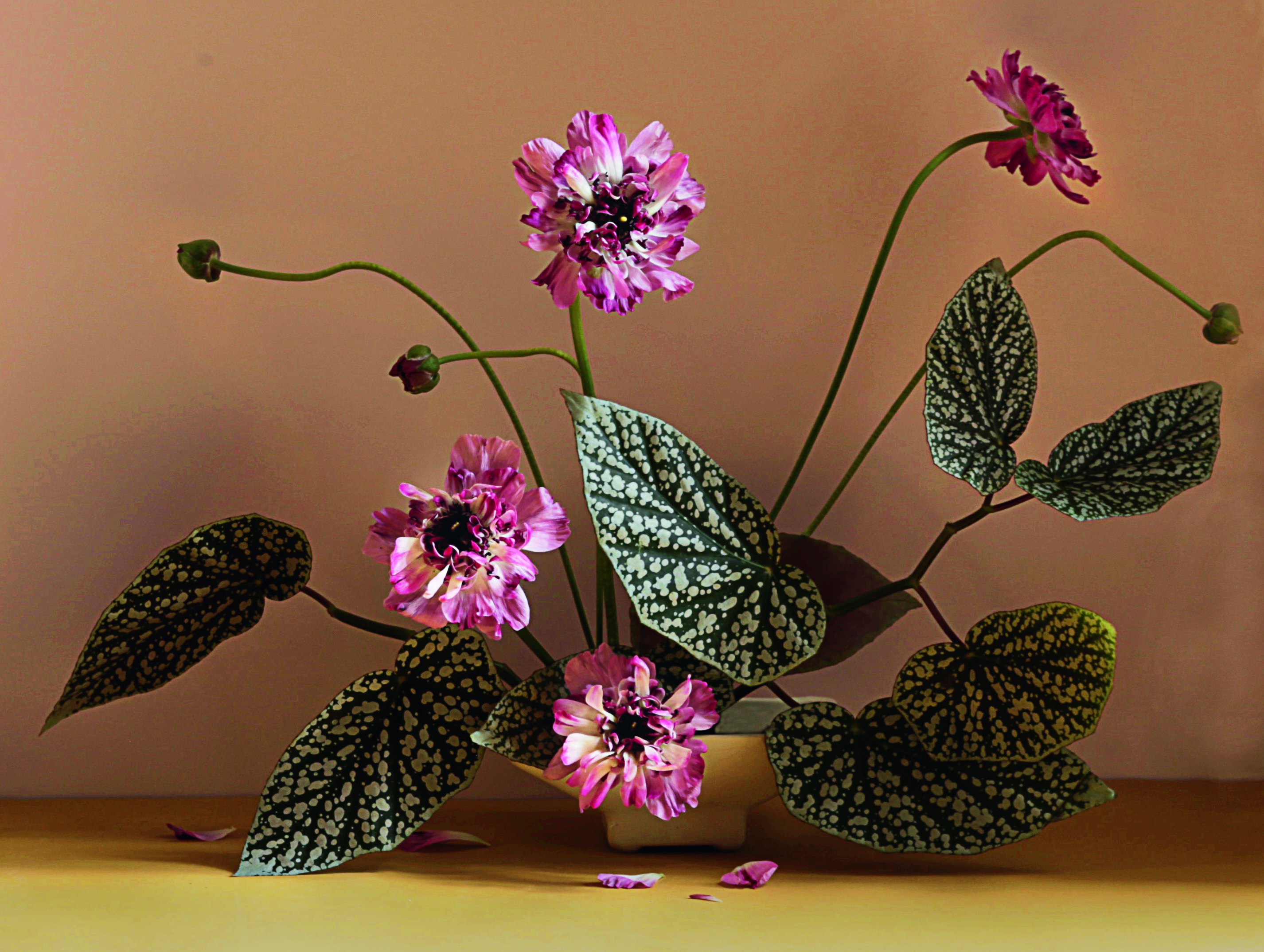 Ariel Dearie Flowers (Ariel Dearie, New York): Persian buttercup and begonia leaf. Picture credit: courtesy Ariel Dearie Flowers
Ariel Dearie is a self-taught florist who grew up in New Orleans, surrounded by rampant nature blooming around her. "In New Orleans," she says, "since the climate is fairly mild, plants grow more wildly and often look overgrown. I describe my style as wild and overgrown, yet elegant and intentional." Moving to New York and being surrounded by concrete made Dearie yearn for that natural environment again. She learned about flowers by going to the market and picking out the things she was most drawn to, never focusing on floral fads but choosing stems based on an appreciation for the flower. She taught herself the language of flowers, which shows in her aesthetic.
Since establishing her business in 2011, Dearie has stuck to this method. Her choice of material depends on what is most exquisite at the flower market in any given season, and she then works to highlight that beauty. With a background in photography, Dearie views her arrangements as if each stem were the subject of a photograph. Every single flower she selects is chosen with serious intent. She carefully observes each bloom and then finds it a home among the other dancers. Every stem is perceived, admired and delicately placed, always considering its singular personality. She gives just deserts to each stem while carefully placing it at the perfect angle among others, noting the relationship between a chocolate cosmos arching its thin neck and the bent elbow of a blackberry stem. Rarely mixing more than a few elements, Dearie creates floral masterpieces that are both cinematic and still, ethereal yet complete. If put behind a translucent screen they would also make beautiful silhouettes, without relying at all on the beauty of the expertly chosen blooms.
Much of Dearie's technique involves subtraction and negative space. A ranunculus looks like a line left by a paintbrush, snaking up into delicate petals. Dearie respects the stem—after all, stems are the paths that lead to the bloom. Marrying her photographic background with her floral talents, Dearie's latest project is a series of prints – an everlasting flower arrangement. The project was inspired by the ephemeral nature of flower arranging and her respect for the flower, by a desire to capture a fleeting beauty that normally would only be seen for one or two days. Dearie's arrangements resemble still photographs of a ballet: one can easily imagine the motion that is frozen in a single click. - Aviva Rowley
RELATED ARTICLES:
Artist Genevieve Belleveau on the Radical Politics of BDSM—And Using Art as a "Bait-and-Switch" Tactic for Consensual Sex Education
Flower Porn: 9 Erotic Portraits of Plants by Famous Artists That Will Put You in a Pollinating Mood
10 Vibrant Flowers That Show Mapplethorpe's Mastery of Color