Bansky is one of the most infamous and mysterious street artists of our time. His work has become so valauble that he created what's reffered to as "The Bansky Effect." Here are four reasons why a Bansky Soup Can print might just be an equally wise investment as a Warhol .
1. You've probably heard of Banksy, but you've never seen him before. Banksy is the pseudonym of a "guerrilla" street artist who began in underground art scene in Bristol during the 1990s. Since then, he has become internationally renown as one of the most infamous political graffiti artists. Banksy's signature stencils use humor to critique political authority, capitalism, and terrorism.
2. Soup Cans evidently riffs off Andy Warhol's 1962 series Campbell's Soup Cans . In contrast to Warhol's ambiguous and affirmative attitude towards consumer society, Banksy's print is a clear critique of the British corporate retailer Tesco. Rather than highlight the various flavors of Campbell's soup like Warhol, Soup Cans repeats the title "tomato soup" in a deadpan aesthetic to cast a critical glance at capitalist society.
3. Although Bansky began as a rogue political street activist, his work quickly became an instant success at auction. In 2006, CNN reporter Max Foster coined the term "the Bansky effect," linking Banksy's success to the rising prices in the new "fine art" trend of street art.
4. It's more important than ever to get your hands on a Banksy original now: the artist's growing infamy has lead to a series of imposters, both on the streets and in blue-chip galleries. Artists like "Mr. Brainwash" have de-politicized street art by creating graffiti paintings directly for commercial sale rather than critical interventions in urban space.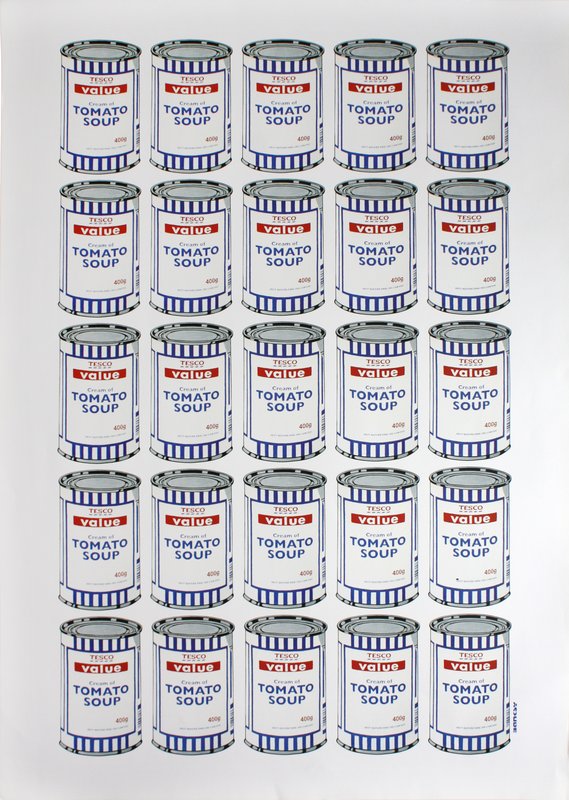 Banksy's Soup Cans (2006) is available on Artpsace for $1,250