Here's what you need to know about Yayoi Kusama to see why her insane-looking pumpkins are sane investments: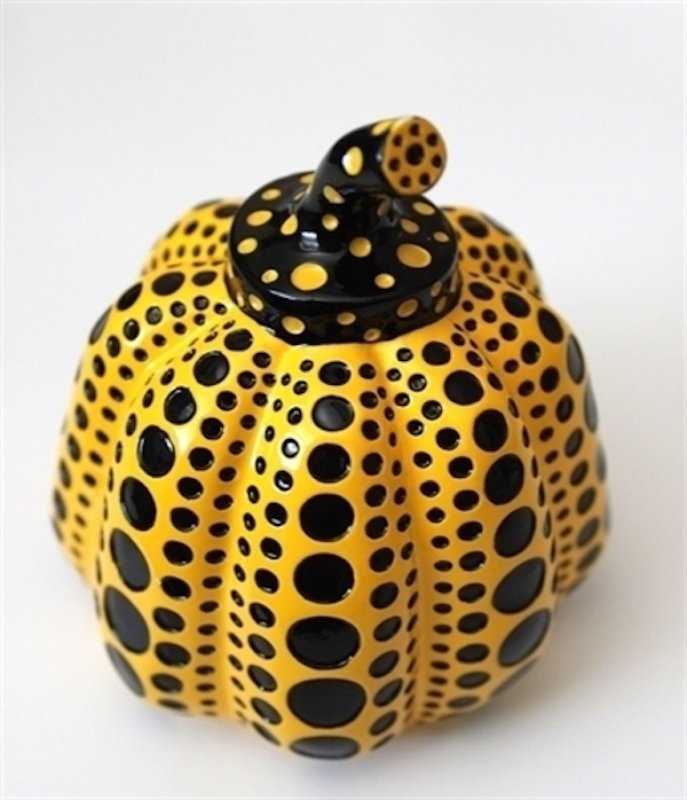 Kusama's Pumpkin (2016) is available on Artspace for $1,500 or as low as $132/month

1. In the 1960s, the Japanese artist quickly became known as a radical feminist figure in the New York Avant-Garde scene when she began creating fully immersive installations featuring her own body, in the nude—often covered in her signature polka dots and brimming with phallic overtones. Since then, collectors have been chomping at the bit to collect her work, which is why we're lucky the artist makes relatively affordable small sculptures like Pumpkin in addition to her large-scale (un-collectable) installations.
2. Collectors aren't the only ones coveting Kusama's fashionable sensibilities. At eighty-three years old Kusama was approached by Marc Jacobs to create what would become one of Louis Vuitton 's most whimsical collections, brimming with the artist's signature polka dots. The designer met Kusama in 2006 and was immediately drawn to her ability to create a "world that never ends."
3. Pumpkin motifs can be found in Kusama's work dating back to the 1950s. (It's always wise to invest in pieces that are recognizable and representative of the artist's oeuvre!) During her youth, Kusama recalls having consumed the vegetable to the point of nausea, and yet retained an attachment to its irregular form. Combining natural organic forms with highly manufactured materials and mutant psychedelic patterns, Kusama underlines the uncanny nature of the "natural" in modern culture. For more pumpkins check out her recent installation, All the Eternal Love I have for the Pumpkins on view at "Yayoi Kusama: Infinity Rooms," opening at the Smithsonian's Hirshhorn Museum and Sculpture Garden February 23rd.
4. When Kusama returned to Japan in the 1970s she checked herself into a mental hospital but continued to produce work. Twenty years later, she returned to the art world and was selected as the first single artist to represent Japan at the Venice Biennale in 1993.